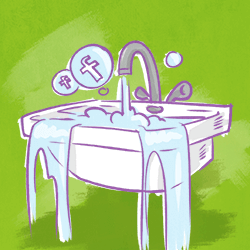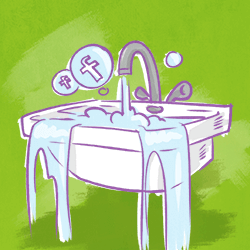 2.4 million pieces. That's the staggering amount of content shared on Facebook every minute.
Leave your head spinning? It's easy to see why.
As a marketer, your job is to find great content to share on Facebook. But more than that...
...Your content must generate mind-blowing engagement.
Because an active Facebook community drives organic reach. It gives flight to your posts, naturally boosting content throughout the news feed.
And with only 2.6% of posts reaching Facebook fans, organic reach might not be dead:
But it's harder than ever to come by.
That's where the content you're posting comes in. Your images, videos, and links become the catalyst for improved engagement.
So lets get you started.
Take a peek at 5 of the best ways I've found over the years to find a never-ending supply of Facebook content that'll spark exponential growth.
How to Find a Never-Ending Supply of Content to Share on Facebook - bit.ly/2baMOST (by @rebekahradice on @PostPlanner)Click to Tweet
How to Find a Never-Ending Supply of Content to Share on Facebook
1. Repurpose Your Own Successful Content
Don't reinvent the wheel. Instead, look to blog content you've already created.
When done right, repurposing can be one of the most stealth tools in your marketing arsenal.
Where do you begin? Look to your popular past content and then determine:
How you can reposition it as new media?
What format will provide the biggest bank for your marketing buck?
This 2-step formula is a powerful strategy we've proven successful time and again.
Here's how it works...
You leverage proven content that continues to perform.
You tap into the popularity of existing networks.
Sound simple? It can be!
But for this to work, you need to start with the data.
Go to Google Analytics and scroll to Behavior - Site Content - Content Drilldown.
Here you'll see a list of your top performing posts. Now do this:
1. Determine if the content is still relevant to your business.
Might seem like an odd place to start, but companies evolve over time.
Dependant on the age of your blog, I assume you have outdated content. I'm even willing to bet you have content that no longer serves your audience or business.
If so, skip through to the posts that are relevant.
2. Pick your top 10 highest performing posts.
Because I know our Facebook fans are looking to increase engagement, this post is a great place to start.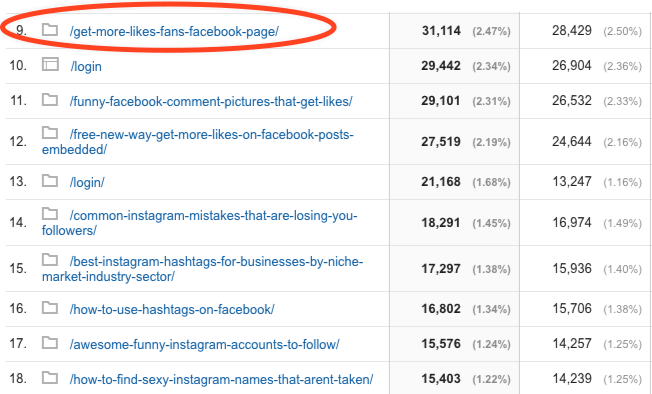 Looking at its performance over time, I can see the content hit our audiences sweet spot.
That's exactly what you're looking for. You also want to consider the platform you're sharing the content on.
Facebook fans, like any other social network, tend to feel partial to that channel. Think about this when posting content around other social networks.
3. Decide how you'll repurpose each post.
Now it's time to decide the best way to repurpose these 10 posts. It could be video, graphic or a short tutorial.
The sky is the limit to how many different ways and in what various formats you can repurpose.
I've tested hundreds of options. The 3 below are my favorite based on reach, engagement, and traffic.
Top Networks to Share Repurposed Content
1. Slideshare
Several years ago, I decided to start uploading my presentations to Slideshare.
At the time, it wasn't viewed as a traffic or lead generator. More an outlet for speakers and presenters.
What I found was the amazing traffic generating powers Slideshare has.
And not just that...
...The ability to tap into the Slideshare audience had massive implications.
Below is a presentation we co-hosted with Tailwind. Given the fact that we're both automation productivity tools, the focus made sense.
Problem was, we had no previous experience with the topic. Seems crazy, right?
What we found out fast was the huge market for this type of content. Automation + tools + strategy became a winning combo for this presentation.
Wthin days, we hit the front page of Slideshare under "Featured Presentations." Uploading that presentation helped us gain:
Targeted Contacts: 732
New Customers: 12
To repurpose an article, all you have to do is pull a few of the main points out of it.
For example, you wrote a post on Facebook organic growth.
Here's your action steps:
Identify the keywords you're targeting. e.g. Facebook organic growth
Head to Google and research a new title. Optimization around your keyword is important within this process.
Go to SEMRush and determine how difficult it's going to be to rank for that keyword.
Test your new headline on Co-Schedule's Headline Optimizer.
Make a list of the top 5 takeaways from your blog post.
Go to Haiku Deck and drop those points into a pre-created template.
Add your cover slide with an optimized title.
Upload your deck to Slideshare and don't forget to add your meta data - aka description.
Voila! Within 30 minutes, you have a presentation that's perfectly repurposed.
Grab the link from Slideshare and add it to Facebook with a quick description.
PRO Tip: Add that Slidedeck to Post Planner and set it to Recycle. Now that evergreen content will continue to pop back up in your queue.
This is a simple solution to keep great content that never goes out of style top of mind.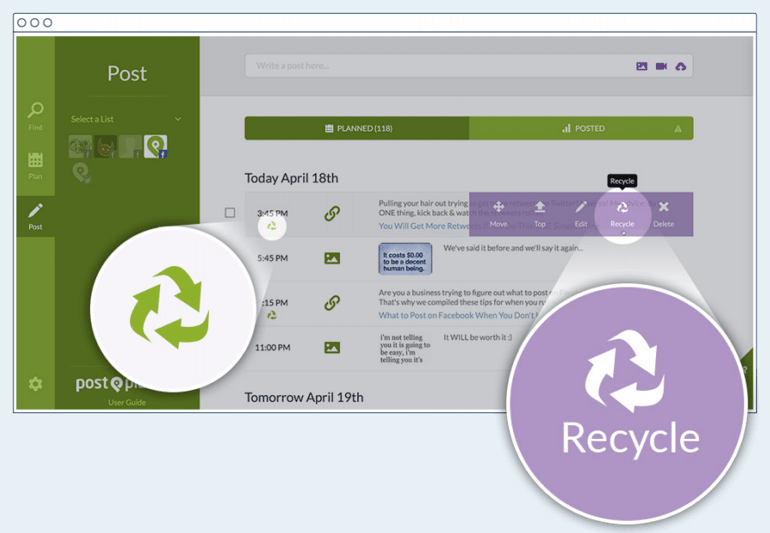 2. Pinterest
I've had a love affair with Pinterest since Day 1. Sure, it might have appeared to be a virtual pinboard on the surface.
But under the hood...
...There was a tool begging to drive relevant traffic to your business and brand.
In January 2015, we launched the Post Planner Pinterest account.
Today?
Pinterest is our 2nd highest social traffic referral source. Only falling behind organic, direct, and Facebook referrals.
And repurposing an article on Pinterest is simple!
Grab one of your top 10 posts and chunk it down.
Here's how:
What 2-3 points could you share in a tip?
Now head to Canva and choose "Infographic."
Pick your pre-design theme and drop your tips into the graphic.
Add info about your company and a call to action.
Upload to Pinterest with your description, grab the link, post to Facebook and BOOM...
You're done. 😀
This is one we've shared on Facebook, Twitter, Google+ and more!
9 Ways to Use Influencer Marketing in Your Social Media Strategy via @konradsanders #ViralChat #GrowthHacking pic.twitter.com/YwhSYrgqj0

— Rebekah Radice (@RebekahRadice) August 9, 2016
2. Get on the Video Bandwagon
Whether it's YouTube, Facebook Live, or Pinterest, one thing is certain:
Video is hot, hot, hot!
And not just that, it's a trust and engagement builder.
As Craig Shipley, Founder of Digital World Series put it,
"Not only does video have a better chance of first page Google search results than other marketing assets, but the click rate for video assets is also higher."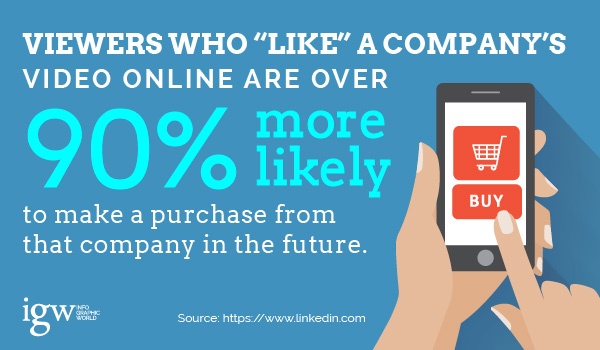 Sure, creating your own video is a great strategy. But you can also leverage other people's content.
Here's 3 ways to find great video content to post on Facebook.
1. Go to YouTube and search your keywords. (e.g. "facebook productivity tips")
Look at the amount of options that you find.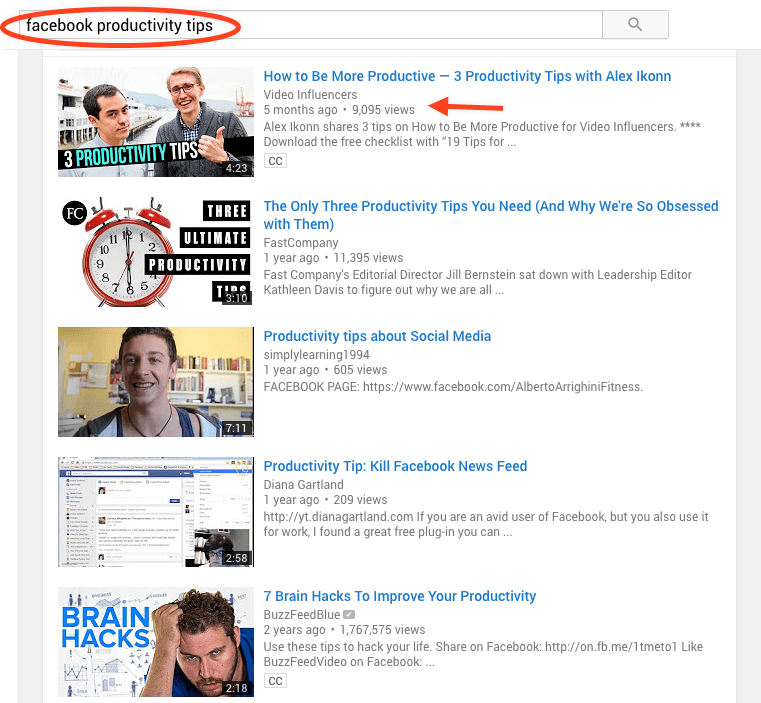 The key here is to whittle these down based on:
Length (keep it under 5 minutes)
Thumbs up vs. thumbs down (should be 20 to 1)
Positive feedback
Views (more doesn't equal better, but it does give you a gauge)
2. Vimeo
Search by category, staff picks, channels, groups and more.
I appreciate the idea that humans (not just machines) are hand picking this content.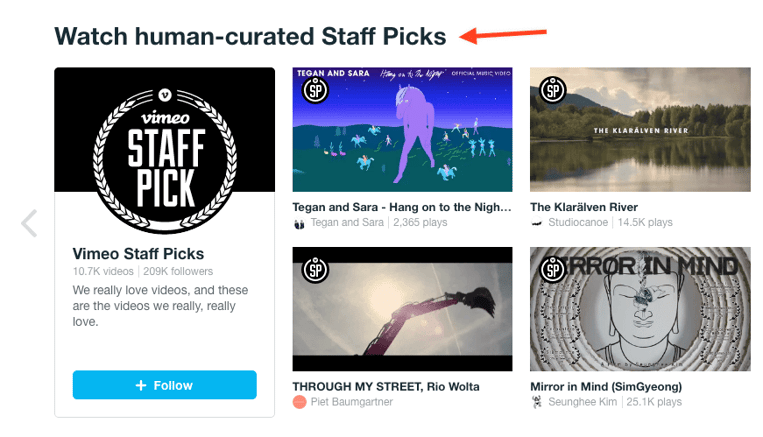 3. Vine
Not everything you post has to be business related.
Sprinkle in fun, engaging and trending content that adds a nice mix to your posting strategy.
3. Find Buzz-Worthy Content in Your Industry
Following trends is human nature. Everyone wants to get in on the top conversation.
But lending your voice to that conversation? Now that's smart marketing.
The key though is to only follow conversations relevant to your business.
Because jumping in and sharing content just for the sake of hijacking a trend or hashtag:
It's a huge waste of everyone's time.
Use Buzzsumo's "Trending Now" feature to explore trending topics in your industry or niche.
Look to posts with high engagement

People love to give their opinions about hot topics!

Timing is everything

Stick with posts that have trended within the last 24 hours
If it's a really hot topic - follow up with additional information.

This gives you the chance to alert your audience before anyone else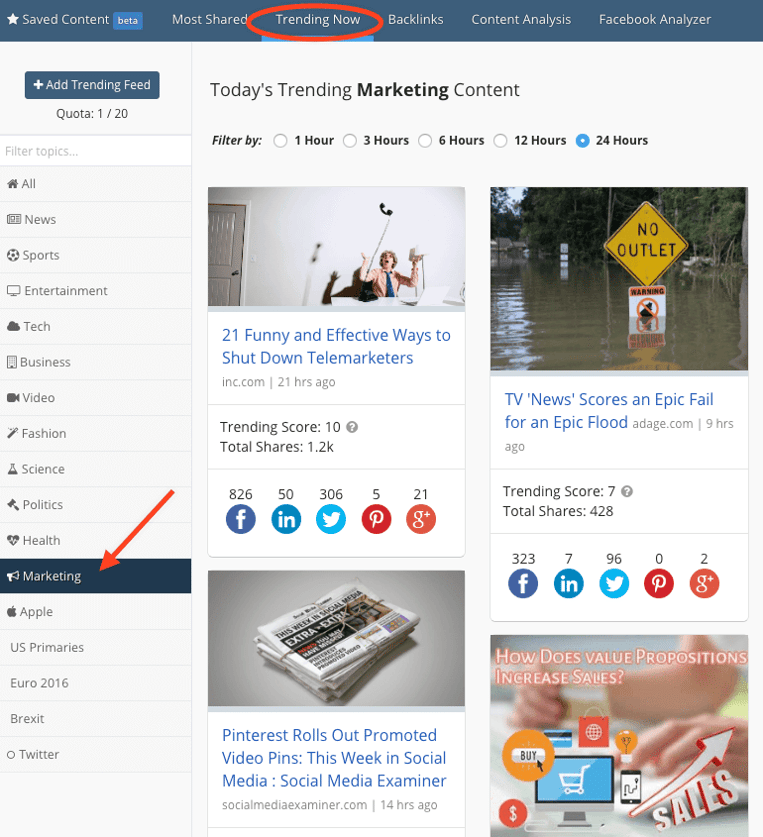 Share this content on Facebook and any of your other social channels.
This not only jumpstarts engagement, but also keeps eyeballs glued to your page.
PRO Tip: Need to get more specific? Just enter your keyword or phrase to filter topics.
Here you can find content based on a search your audience might perform. For example...
Writing an article on how to improve post reach on Instagram? You can use these trending articles as resources within your post.
And don't forget to tag that page in your Facebook post!
4. Sneak a Peek at What Top Pages Are Sharing
Wondering what your competition is sharing and how that content is performing?
There are a few handy tools you can use to spy...I mean, identify how well their audience is responding. 😀
Facebook Insights - Pages to Watch
With this underutilized Facebook feature, you can add any of your competitors to a watch list.
Each day, check in to see what they've posted, how well it performed and who's responding.
Scrolling through the comments will give you great insight into your similar audience's actions...
...And reactions.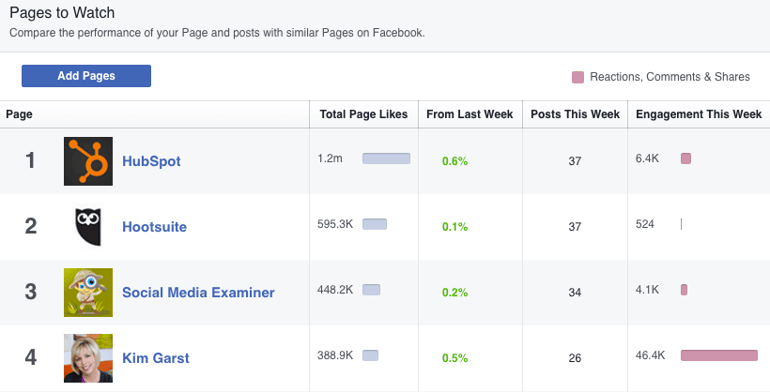 Nuzzel
Nuzzel is beautiful in its simplicity. Connect your Twitter and Facebook account and see what you network is sharing.
But more than that...
...You can see how well their content is performing based on number of shares.
See what's trended within a specific period of time and a list of those connected to you that have shared it.
It's your own curated, never ending supply of content to share on Facebook. (or anywhere!)
Post Planner
Did you think I'd write a post without mentioning our best resource for awesome content?
No way. 😉
Hop into Post Planner. Here you'll find thousands of scientifically proven links, images and status ideas.
Go to Find - Popular and search:
Status Ideas

Thousands to choose from with topics, questions, shout outs and more!
Never worry about a lack of creativity again. Just reach into this list and get your creative juices flowing.
Questions, trivia, Facebook and Tech, holidays, fill-in-the-blank, you name it.

Articles

Most popular content that's scored based on our algorithm. No more guessing, just grab a relevant article that's already proven popular.
Pull engaging content creators (your favorite authors and bloggers) right into the app. Create a folder of your top content and watch the algorithm go to work. Each article will get scored, making it easy to find great content to share on Facebook.

Images

Quotes

Engaging, funny, crazy, beautiful...all powerful in their engagement boosting ability.

Create your own through our Canva integration

Add your quote, question or idea into a pre-created template. Now drop it into your queue and it's ready to post to Facebook.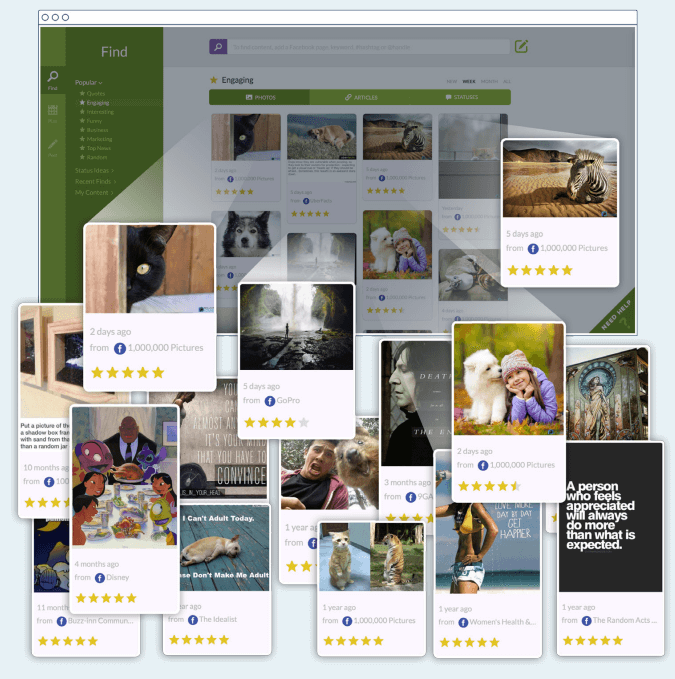 PRO Tip: Tap into this even bigger list of tools the Pro's use to find and curate great Facebook content.
5. Mine Quora for FAQ You Can Answer
Spend much time on Quora?
If your answer is no, I encourage you to head over there as soon as you're done reading.
Quora is a goldmine for answers to your most pressing questions. And not just that...
...Answers to questions your audience is asking daily.
To search quora, just plug in a question your target market might ask. For example,
"Best way to set business goals."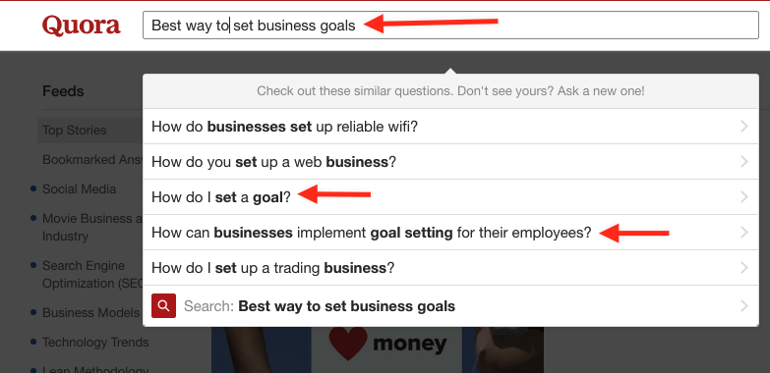 Now scroll through the list of topics that come up. What you'll find is a variety of questions and answers from the community.
Read those questions from your audiences perspective. Think about how you'd respond.
Now use your answer to create a unique graphic.
Why visual marketing?
Because Facebook posts with images see 2.3X more engagement than those without images.
That's a nice advantage over the competition!
It's also the key to the 193% growth we experienced on the Post Planner Facebook page in 2015.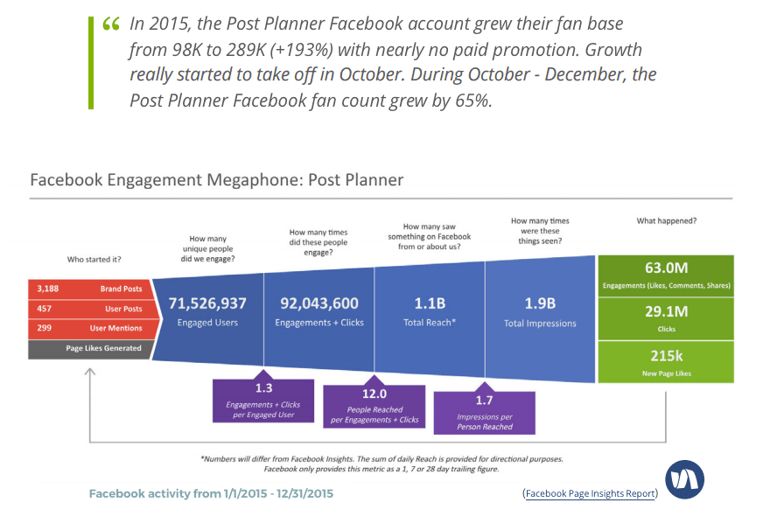 According to the Simply Measured case study,
"For Post Planner, it's all about photos. Although photos only made up 38% of their posts last year, photos were the dominant driver of engagement for the page."
And here's the best news...
...With so many budget friendly tools available, creating images for Facebook is simple.
Here's breakdown of my "13 Must-Have Marketing Tools for Engagning Facebook Images" to get you started.
Final Thoughts
Look around Facebook and you'll see one commonality among popular pages.
Each one knows their audience.
They understand their tastes, likes, and dislikes.
Research yours, get to know them, and treat them as you would a friend.
Build trust, rapport, and respect by consistently sharing exactly what they're looking for.
Because when you do...
...You'll watch engagement soar!