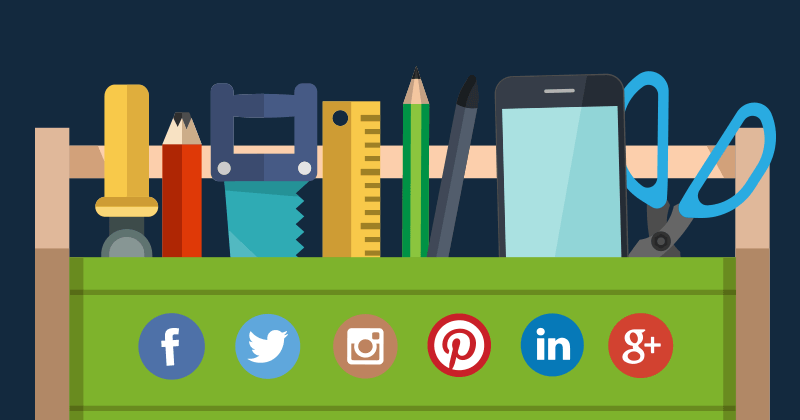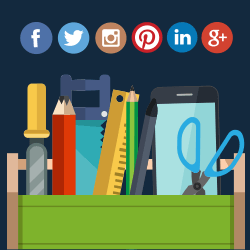 Want to know a secret? It's one savvy Facebook marketers have known for a while.
Visual marketing is the key component to getting your Facebook content seen.
In fact, a study by Software Advice found that graphics are the top way to optimize Facebook posts.
But, what does that mean to you as a business marketer?
You need to get visual...and fast!
But how do you do that with little design skills and an even smaller budget?
Easy peasy!
I've scoured the web to find the top visual marketing tools that will help you create memorable visual content.
And no, I don't mean tools that will break your budget or burn hours within your day.
I chose each of these tools for three specific reasons.
Ease of use (low barrier to entry and little to no learning curve)

Cost effective and in line with a small visual marketing budget

Flexibility to design a brand that's unique to you (and not cookie cutter)
Ready to power up your visual designs? Here are 13 must-have marketing tools for engaging Facebook images.
13 Must-Have Marketing Tools for Engaging Facebook Images
13 Must-Have Marketing Tools for Engaging Facebook Images #Infographic - bit.ly/1mel6to (by @RebekahRadice on @PostPlanner)

Click to Tweet
If you want to create branded graphics in a matter of minutes, Relay is the tool for you.
Relay made the top of my list for many reasons. While it's one of the newest tools on this list, it's evolved rapidly. From the pre-designed templates to the professional grade elements and layouts, Relay has everything you're looking for.
Tired of trying to keep up with the correct dimensions for each social network? No problem. You never have to worry again about what size you should use. With Relay's custom templates, you can create a tweet or Facebook cover image in a snap.
And while you're at it, rather than spending hours adding, removing and manipulating graphic layers, Relay makes the process easy. Choose the layout, then your colors, fonts, and elements to create a branded and visually appealing graphic.
Here's an image Craig Carpenter, founder of Relay, put together after my guest appearance on Kim Garst's Twitter chat, #SocialCentsChat.
What do you get when you combine a great photo with some text within the Word Swag App? A fantastic graphic that is sure to catch audience attention.
Word Swag, an iPhone app, lets you easily combine an inspiring or witty quote, your latest blog post or any other content with a photo of your choice.
With over 290,000 free images, backgrounds, and templates for you to choose from, creating your branded image has never been easier.
Once you select the image, adding the text to it takes mere seconds, What you up with is a piece of visual content that looks like you spent hours creating layers, moving around elements and finding that perfect font.
Here's a design I use often. It's a clean background with my branded orange. Simple and always well received!
Everybody loves inspirational and motivational quotes, which is why they're frequently shared. But if you really want to drive engagement, adding that quote to an eye-catching background is sure to bring results.
QuotesCover is a top choice for anyone looking to create high resolution visual versions of quotes, and in a short amount of time. It has a large selection of templates, backgrounds, and fonts that can help you create and customize your visual.
And even better than that, QuotesCover has thousands of quotes to choose from. Choose from their library, add it to a template based on correct dimensions for each social network and voila - you're ready to post!
Another simple way to find content to add to your graphics is the "Status Ideas" tool within Post Planner. Choose a topic, copy your quote, question or thought starter, and drop it into your graphic. Now customize the background, fonts and colors through their font and color combination tool.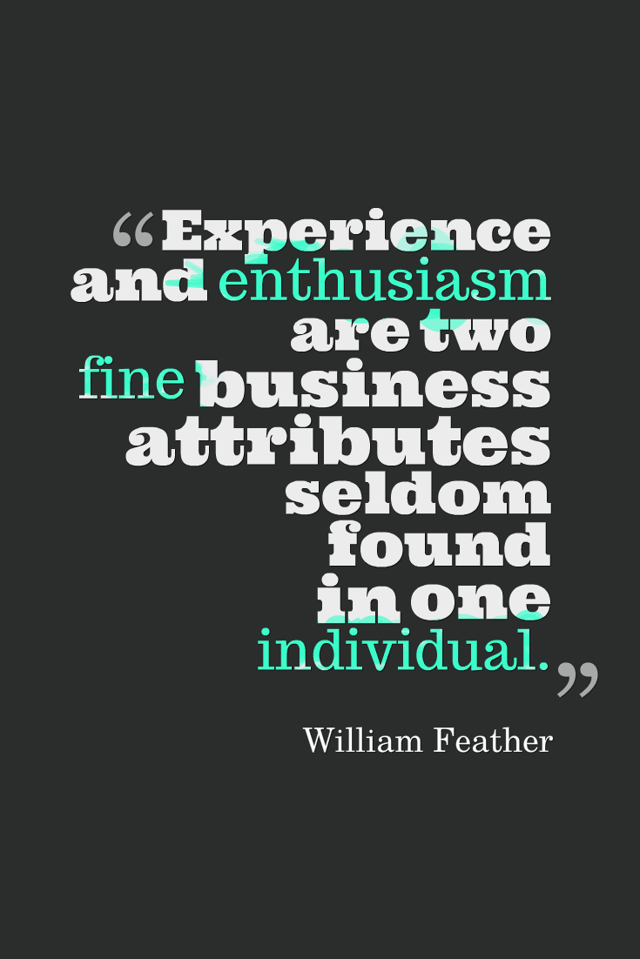 If you've spent time in Photoshop, you know it's not a tool you learn overnight. Sure, PixIr has a similar interface, but this simplified version is much easier to master.
With PixIr, you can edit existing photos or create new designs from scratch. There's a lot of freedom since you can choose a custom image size, upload your own fonts, and so much more. But keep in mind, this isn't a Relay or Canva.
You won't find pre-designed templates, so make sure you have some design savvy.
Pixlr is a web tool, but you can also install it as a mobile app. And - if all you need is a quick fix or simple editing, you can use Pixlr Express and get the task done lickety-split.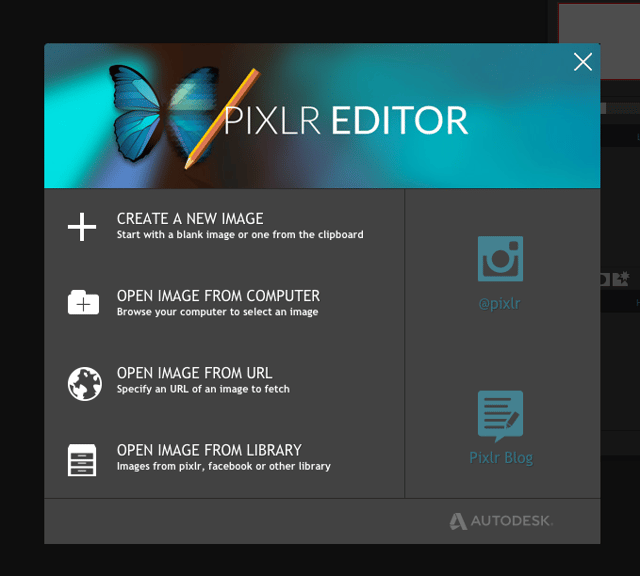 Looking for the quickest way to turn your thoughts into a graphic? Recite is your solution!
Recite won't give you a bunch of fancy options or design choices. It does one simple thing - turns your words into an instantly shareable graphic.
Add text, scroll through your options, choose a design and post to your favorite social network. It's that easy!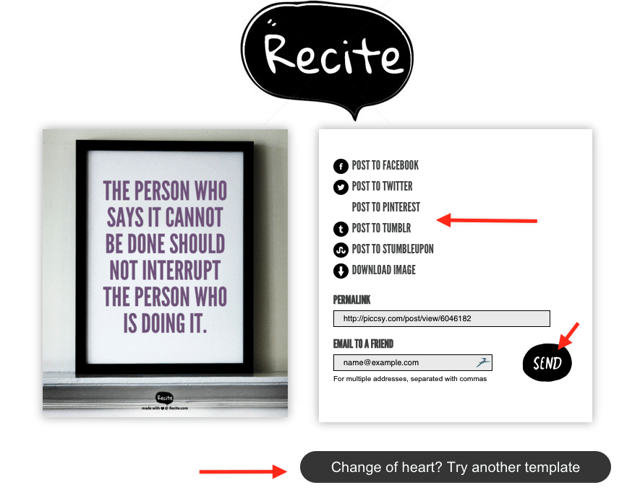 If you find that Photoshop is a bit too complex, but Recite far too limiting - PicMonkey might be for you.
I've used PicMonkey since it's early days and appreciate its user-friendly interface.
You can add text to images, add borders, insert graphics, choose filters, create a collage, and all in a matter of minutes.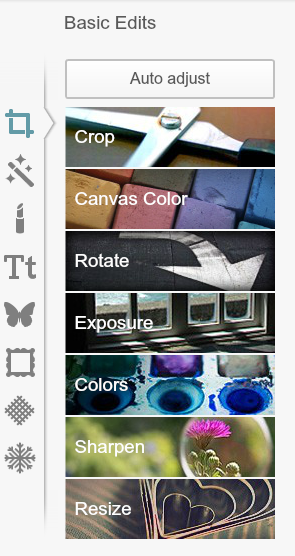 From the moment you log in, you'll find the editing process to be simple and intuitive, making it easy to master.
Not only is Skitch one of the more well-known tools, it's also been around longer than most. Unfortunately, it's also one of the most overlooked visual tools.
Created by the same team that brought us Evernote, Skitch lets you take a screenshot or photo and then edit, annotate, and add on to it.
If you work with a team, it makes communication on projects seamless.
If you spend time training or presenting, you'll appreciate how easy it is to add arrows that draw the eye, circle specific data points, and add instructions to an image.
Use it to create demonstrations, provide feedback, and share opinions about anything on the web.
And if you need to share it, you can post directly to Facebook, Twitter, iMessage, and email. Plus, Skitch is flexible. Use it on your mobile device or as a desktop application.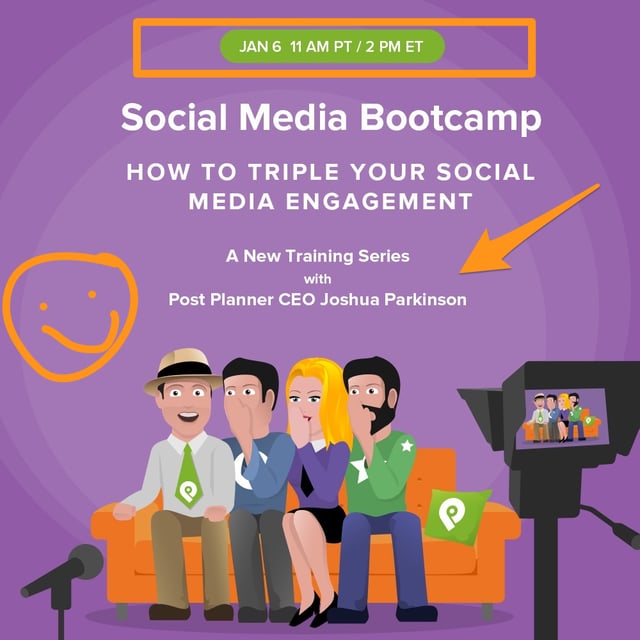 Adobe Post is the new app on the block -- and it has quickly emerged as one of the most impressive visual marketing tools out there. If you've never fancied yourself a designer and don't have savvy design skills, this is the tool for you!
Need to create an image for your Facebook page? Adobe Post has pre-designed graphics that let you modify or completely customize your design.
Open the app, choose your layout, search for images, add elements or text to your image, and customize your graphic to match your brand's look and feel.
Over is one of my original go-to apps. With Over, you can turn your mobile device into an on-the-go design studio.
As a photo-editing app, Over makes it easy to add text, choose your background, font and save or submit directly to your social networks.
Rather than post a generic quote to Instagram or Facebook, use Over to transform your thoughts into eye-catching social media images.
It's simple enough to use, while at the same time providing you with a lot of freedom, especially when it comes to design. Change, edit, customize, and design to create a great looking graphic, captioned photo, visualized idea, greeting card, or anything else.
The app is available on Android and iPhone and has a huge built-in store with a gigantic selection of fonts and other add-ons.
This is our editor, Diana Adams, with her friend Mark.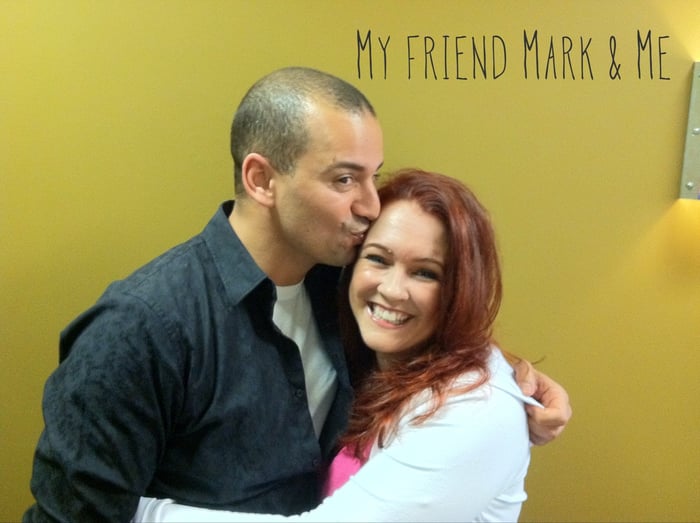 Color is one of the most important parts of great design. Pictaculous will help you find the exact right colors.
Pictaculous is a color palette generator that lets you upload an image, such as a logo or a screenshot of your brand's home page, and get a matching color palette in a matter of seconds.
As soon as you upload, it offers you several perfectly matched color schemes to pair with your image.
The suggestions include universal color codes that you can plug into any tool where hex codes can be added.
With Pictaculous you will never ever again have to worry about getting the shade and color right.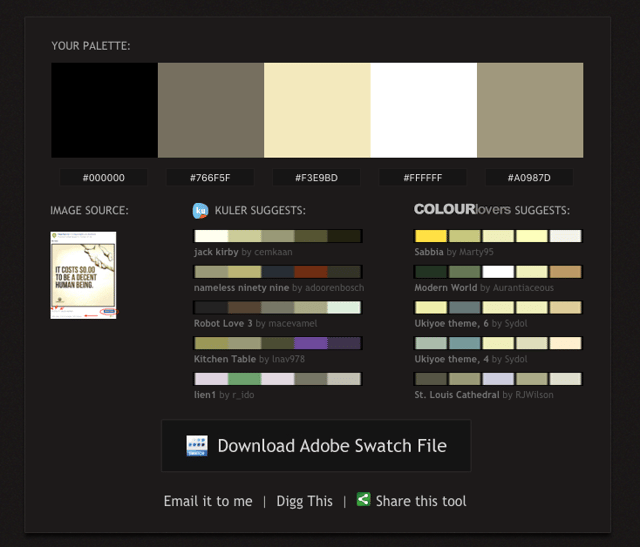 With Aviary, you can make attractive images in seconds. Their easy-to-use interface makes touch up and filtering a breeze.
Plus, the ability to add frames or stickers to your image make this an all-in-one app.
Aviary is a simple and easy to use tool for both iOS and Android that lets you create frames, add new effects and customize your Facebook image immediately.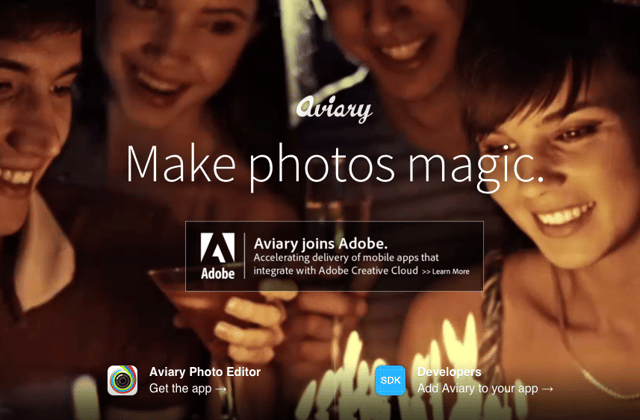 Tired of seeing the same old thing over and over on Facebook? If you're looking for a fresh look, Tangent is your answer.
With Tangent, you can take a boring and blah photo and transform it into a one-of-a-kind work of art.
Within this app, you can choose from 44 unique shapes. On top of that, there are 66 patterns to add as overlays. Each one adds depth and interest to an otherwise simple photo.
Plus, you can scale, rotate and position your images to make them fit your current style.
Colorize your creations with their huge palette to choose from including many popular blend modes for layering.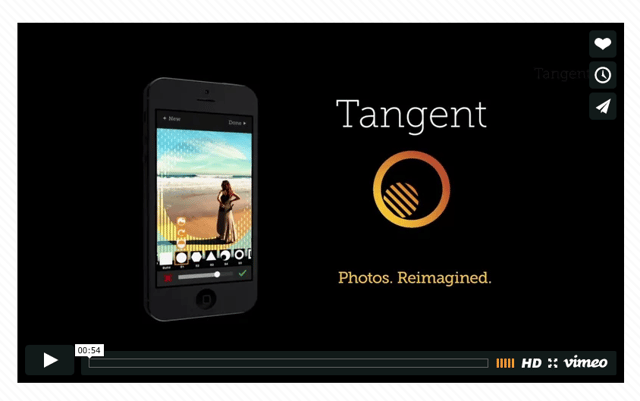 Any social media marketer knows the importance of visual content.
It's also no secret that a significant portion of that visual content must be original if you expect to get great results. But how do you create visually appealing content and do so over and over?
Canva is the answer.
Canva is a great tool for creating attention-grabbing graphics in a matter of minutes. You don't need to have any design knowledge or be skilled in Photoshop to get up and running.
Canva offers templates with appropriate dimensions for an your latest Facebook post, so your days of worrying about image sizes are over.
The many layouts, fonts, sizes, and others factors within Canva make it possible to create professional looking content that will get noticed and shared.
And the best part about Canva? It's right inside Post Planner!
Add your latest blog post title or grab a quote from our Status Ideas. Open up Canva, publish your quote to the app and off you go.
You have one more branded image to fill up your Plan!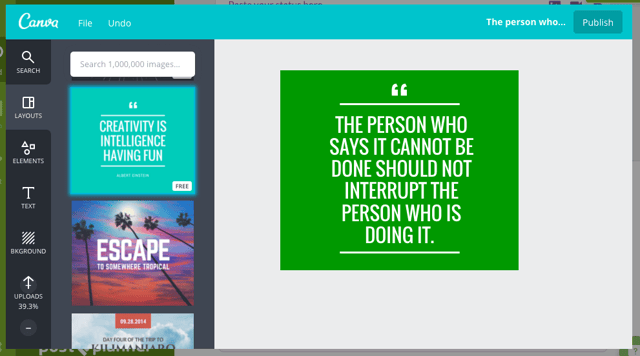 Final Thoughts
As you can see, there are plenty of choices when it comes to graphic creation tools.
The good news? Designing an on-brand graphic that engages your audience and ignites conversation isn't as hard as you think.
It might be a quick pic to share on mobile or an infographic for your latest campaign. Whatever the case, the important thing is to find the tools that work best for you.
Now that you'll be breaking the internet with your engaging new graphics -- what's next?
Want to take your visual marketing skills to the next level? Grab your copy of our free Visual Marketing ebook at the bottom of this page. You'll be glad you did!