Updated: February 9, 2020
Have you ever wondered what type of content you should share on social media?
Or how to find content that will help you get more likes on Facebook and other social networks?
Like it or not: social media is here to stay.
Without a strong (and diverse) content strategy in place...
You risk falling behind.
Because here's the reality:
If you don't serve up what your audience is looking for, your competition will.
That's why I'm sharing 9 awesome types of content you can start using today on social media!
The 9 Types of Social Media Content You Need to Use in 2020
1. User Generated Content

UGC, also known as User-Generated Content, is a brilliant way to increase engagement and reach.

It can also be the source of a warm-welcoming feeling for new and existing followers.

Through user-generated content, they'll see that you care about your audience and engage with them by sharing their created content.

GoPro does this very well.

They're always sharing content that their followers captured using the GoPro.

Here's just one amazing shot from a GoPro user they reposted.
Brands have seen a rise in UGC due to the success and engagement they receive, especially on Instagram.

Reposting customer-made content and crediting them in the posts, makes your customers feel "loved" and cared for by the brand.
In fact, they may even brag to their friends and colleagues about being featured.

And who knows? Those friends and colleagues may decide to create user-generated content too.

If you aren't already sharing user-generated content, especially on Instagram, then you should look into it.

The outcome can be very helpful!.

Key Takeaway: Monitor your social platforms, whether it's Instagram, Twitter, Facebook, etc.

Try to find content that was created with the help of your products, or one that features your product.

Then, go ahead and implement that user-generated content into your social media content strategy.

But don't forget to credit them back.
2. Podcasts

Podcasts have been around for a very long time, but recently they've gained momentum.

Some say they are the new radio (since they are on-demand).

Due to how popular they are, and the benefits of doing them, you should focus on marketing your podcast to get more listeners.

Because some social sites, such as Facebook and Twitter, don't allow direct audio uploads, you'll have to either:
Share the link to the podcast
Create a static image, place the podcast audio over the top, and upload as a video.
This way, your audience can listen to the podcast directly on those social media sites without needing to visit an external page.

This will definitely bring you more success.

Key Takeaway: If you haven't done so already, think about creating a podcast.
Identify what your audience can take away from each episode and create a video with the podcast audio over the top of a static image.
Then share on social profiles, while linking to the official podcast.
3. Livestreams
Live streaming on Facebook is a must.

After you've finished your livestream, you can choose whether you want the content to be available to others afterwards.

This allows other people to view the livestream if they had missed it.

Believe it or not, you can actually use Facebook Live as a lead generating machine.

Depending on the content you're livestreaming, you could promote it within the stream.

Just ask viewers to click on a specific link in the comment section and fill out a form to access an asset you're displaying on-screen or talking about.

That's just one way to utilize Facebook Live to generate leads.
Now that Instagram Live is finally available in the US, UK, and other areas, it's the perfect time to take advantage of this feature. You could do Q&A's, product reveals etc.

The only downside of using Instagram Live is that your content will disappear when you finish livestreaming.

However, looking at that as a positive, you could promote your Instagram Livestream on your social media as an exclusive one-off livestream.

Make it clear that once the live streaming is finished, it won't be possible to watch it again. That little strategy could attract quite a few people.

Key Takeaways: Give live streaming a shot, whether it's Facebook live, Instagram Live, or even YouTube live streaming.

Upload the footage afterwards for those who couldn't attend it live.

Consider focusing on promoting an asset during the livestream in order to get leads and engage with the audience giving them value.
4. Infographics
Everyone loves infographics They're usually eye-catching and informative. Due to this, infographics usually get more engagement and sometimes can rack up quite a lot of shares.

If you're looking to create an infographic but are not sure where to start, Canva has a few templates that can help you get started.

I'd suggest heading over there and giving it a shot.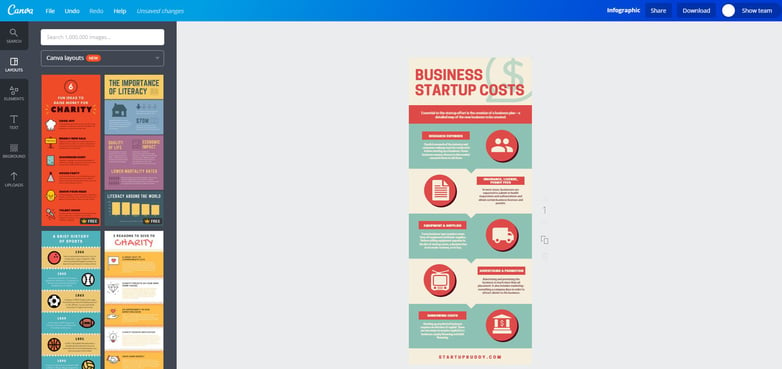 Sometimes I'll share ready-made infographics. They're high quality and provide such great information that the engagement they get is usually quite good.

Marketing Tech Blog has a category of many great infographics.

Key Takeaway: Create eye-catching informative infographics by using Canva or another tools. Then, regularly share them on your social channels for the best results.

Think about reaching out to other companies or key influencers and telling them about your infographic. If you're lucky, they may share it on their social or even embed it in an article...
5. VR Content
VR, otherwise known as Virtual Reality, is a real big hit at the moment. And it's no wonder - brands that are creating and sharing VR type content are seeing an increased engagement.

Some brands are even creating interactive content by using Virtual Reality.

So, if you want to make your brand stand out with the help of interesting content your audience can engage with, it's worth investing in a 360 VR camera.
But don't worry - even if you don't have a VR headset, you can still interact with VR content, whether it's on Facebook or YouTube, etc.

Key Takeaway: Invest in a 360 VR camera, take interesting high-quality images, and share them on your social channels.
Think of creating interactive VR content that could potentially go viral with lots of shares and engagement.
6.Webinars
Believe it or not, webinars can also be shared on your social.

Whilst you may want to gate them to collect emails and other details, once the webinar has finished, you could share it.

Consider uploading the recorded webinar to YouTube, or Facebook or even hosting it on Wistia. Then link to it with the option of gating it, requiring email addresses, etc.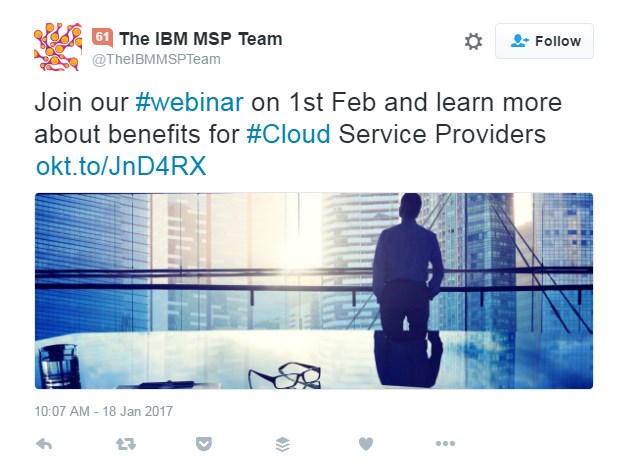 This give your followers an overview and encourage them to sign-up to watch the webinar live.

Key Takeaway: Consider sharing your recorded webinar on social channels, like YouTube and Facebook. Remind your followers to sign-up to join in on future webinars live.

Think about gating the webinar and requiring email addresses. These will be your leads and the people you can freely invite to your next webinars.
7. Client Testimonials
Sharing client testimonials is a great way to get your potential prospects to feel safer about choosing you over a competitor.

After all, it let's them see what current clients have said about the company/product before they make the decision to invest.

Rather than just posting a text based testimonial, you could get them to record it. You can even go a step further and send out/hire a videographer to record them professionally.

This could turn out to be a big success, but only if you have the right set-up and a great relationship with your customers.

Key Takeaway: Share client testimonials on your social profiles.

Then, go a step further and get them to record their testimonial if they can do, or even hire a videographer to record it professionally.

Consider using these testimonials in video ads on social networks.
8. EBooks
Almost everyone loves an eBook when it's something they want to learn about or something that gives them an advantage.

Promote your eBooks across your social media channels and you'll find that they're a fantastic source of extra leads.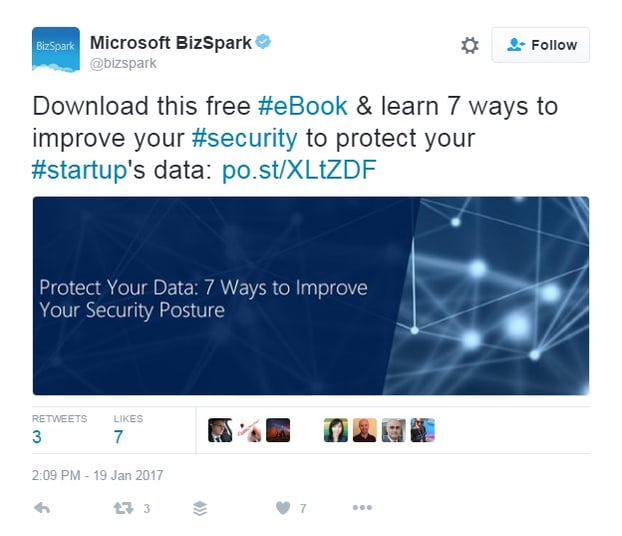 If you're very serious about promoting the eBook, consider paid advertising on the social networks. This will get your eBook in-front of a targeted audience.

This should make your eBook a success, providing you have set-up your targeting options correctly.

Key Takeaway: If you haven't already created an eBook, start putting a plan together to create one.
Then, share it on your social media channels with eye-catching media content and powerful CTA's to get the best results.
Consider using paid ads to reach a more targeted audience.
9. Guides
Guides usually perform quite well when they're based on something interesting and suitable to your target audience.

Whether it's a guide on social media marketing, finding the best content, or even a guide covering how to use your product/service, it can easily be shared on your social channels.
It can even drive a lot of traffic, depending on your promotion strategies.
If you already have guides, then I'd recommend sharing them on your social media regularly, and not just once, as many do.
Don't do it too often though. Experiment and find out what works best.

Just like with an eBook, consider paid promotion across social media channels to get your guides in-front of a targeted audience.

Key Takeaway: Come up with a marketing strategy to promote your best informative and engaging guides across social media.
Also, consider paid advertising to get them in-front of a targeted audience in order to generate more traffic and leads.
Bonus - Recommended Tools For Creating Social Media Content
Now that you know 9 awesome types of content to share on social media, here's a list of my favorite visual marketing tools:


Final Thoughts
I really suggest giving these 9 types of content a try.

Add them to your social media content plan, right alongside your images, videos, and relevant articles.

Do that and you're bound to see an increased amount of website traffic, more leads, and even more followers.

If you have any questions questions then feel free to reach out and tweet me: @_GarethG