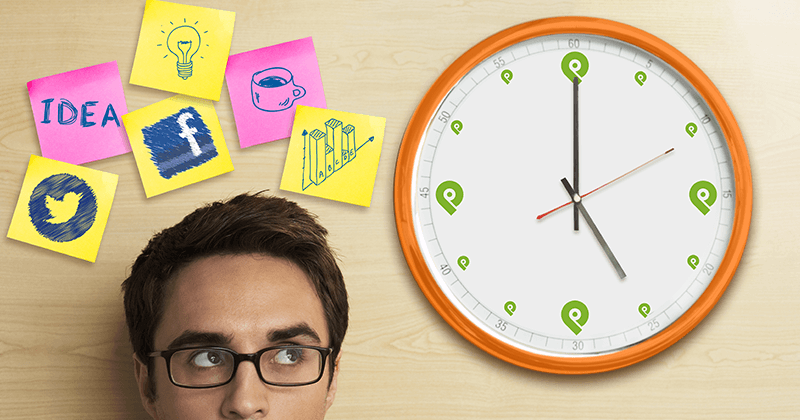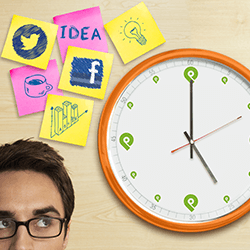 Ready to WIN back time and become a more effective social media marketer?
Social media automation can be the difference between effortlessly GROWING your business...
OR letting your business STAGNATE.
In other words, automation can bring a whole set of benefits to your social media marketing.
If you know how to use it correctly!
(Looking for a quick solution to your social media automation needs? Try Post Planner for FREE today!)
How to Use Social Media Automation to Grow Your Business
In this post, I'll show you how a simple social media automation process can help you grow your business's visibility, audience, leads, and sales.
We'll cover:
Let's get started!

Why is social media automation important?
By this point, some people think:
"Why pay for an extra tool to automate my social media? I can post manually and save my money."
Good point!
You could save a LITTLE bit of money by avoiding social media automation.
But would it be worth it?
There are 4 MAJOR benefits that come with automating your social media.
The best part?
The ROI becomes HUGE when you add them all together.
Let's discuss below.
Reason #1: It saves time
Are you a busy marketer that values their time?
Social media automation can save you TONS of time.

I mention this benefit first because all of the other benefits we'll discuss are the results of the time you'll save.
Think of the time you currently spend on your social media account:
You scroll through influencers' pages to find new trends

.

You scour Google and social media for good content.

You craft status updates, posts, captions, and comments.

You get distracted and scroll through meme pages for a while (we all do it).
How much time does that add up to for your business daily?
An hour? 2 hours?
With automation, here are your new steps:
Find content once a month.

Schedule it.
That's it.
You can even forget about your social media for the rest of the month if you want.
However, instead of setting it and forgetting it, we recommend using that EXTRA time to get the following 3 benefits we'll discuss.
Reason #2: It helps you strategize and plan
When was the last time you sat down to think about your 6-month or 1-year plan on social media?
Most business owners don't even really have time to answer messages on Facebook, much less craft a long-term strategy.
When you save hours and hours with social media automation, you can take the time to sit down and plan out your posts for the next quarter.
The time you take to strategize will unify your social media posts.
Instead of making random flavor-of-the-day posts, you can weave a real message into your social media content.
Every minute you spend strategizing helps you form a BETTER plan of attack on social media.
This will earn you more engagement AND more followers in the long term.
Reason #3: It improves the quality of your content
How many times have you gotten to the end of the day ONLY to realize that you forgot to make a post on Facebook?
You're tired.
So you scroll through Google looking for something – anything – that even kind of relates to your business.
After 10 minutes, you find something halfway decent and post it.
We always say that the way to get more likes and engagement on social media is to provide more VALUE.
Unfortunately, these mediocre posts don't add value to your page.
So they aren't helpful to your followers or your business.
However, if you automate your social media, you can take your time to find the best piece of content.
If you have a tool that helps you find content, it's even easier (more about that in a minute).
In other words, social media automation helps you keep the quality of your content high, which:
Brings more engagement

Attracts new followers

Presents a better image for your business
Reason #4: It keeps your page consistently interesting
Have you ever come across an Instagram page or Facebook page that was just… boring?
There are plenty of ways to make a social media page boring:
Too much of the same type of content

No variation in style, tone, or presentation

Not enough activity

Bad/low-quality content
The LAST thing you want is to be one of those pages!
Social media automation can help you keep your page interesting because it gives you the time to take a step back and honestly assess your content.
In other words, planning helps you consider what your viewers will find interesting and helpful, then post that content regularly.
It's not rocket science, but people miss out on these benefits of social media automation because they think they can do it on their own!
How to use Post Planner to automate your social media
Are you now convinced that social media automation is something your business NEEDS?
Learning HOW to automate social media posts isn't difficult.
This section will look specifically at how to use Post Planner to automate your social media.
1. Set up your social media accounts on Post Planner
Post Planner can connect to:
Facebook

Instagram

LinkedIn

Pinterest

Twitter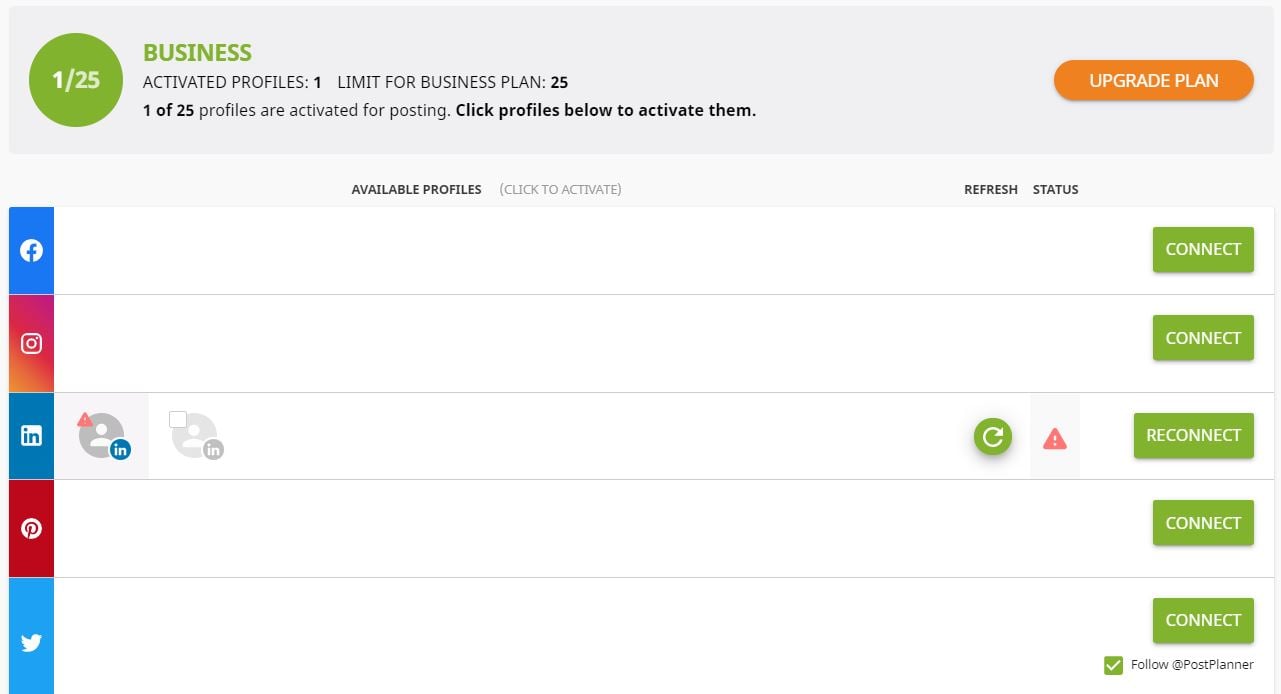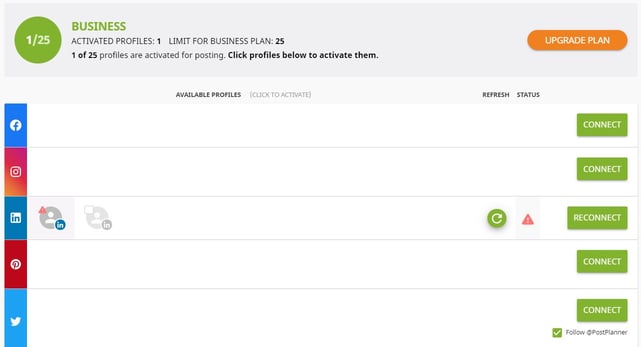 To connect each of your social media accounts to Post Planner:
Click on the Settings icon in the top-right corner

Click on

Social

Networks on the left-hand side

Click "Connect" next to each of the profiles you want to link to Post Planner
For each profile you connect, Post Planner will post automatically to that channel, so we recommend connecting them all!
2. Plan your social media content schedule
Once you've connected your accounts to Post Planner, your next job is to create a posting schedule.
Your posting schedule tells Post Planner when it's allowed to post content to each of your social media channels.
For example, you may want to post at 3 PM on Facebook and Instagram, but at 5 PM on Twitter and LinkedIn.
You'll use your schedule on Post Planner to make sure everything gets posted at the right time.
To set up your posting schedule:
Go to "Publishing" on the top-left corner.

Click "Queue Plans" on the left-hand side.

Select days, times, and content types that are eligible at each time.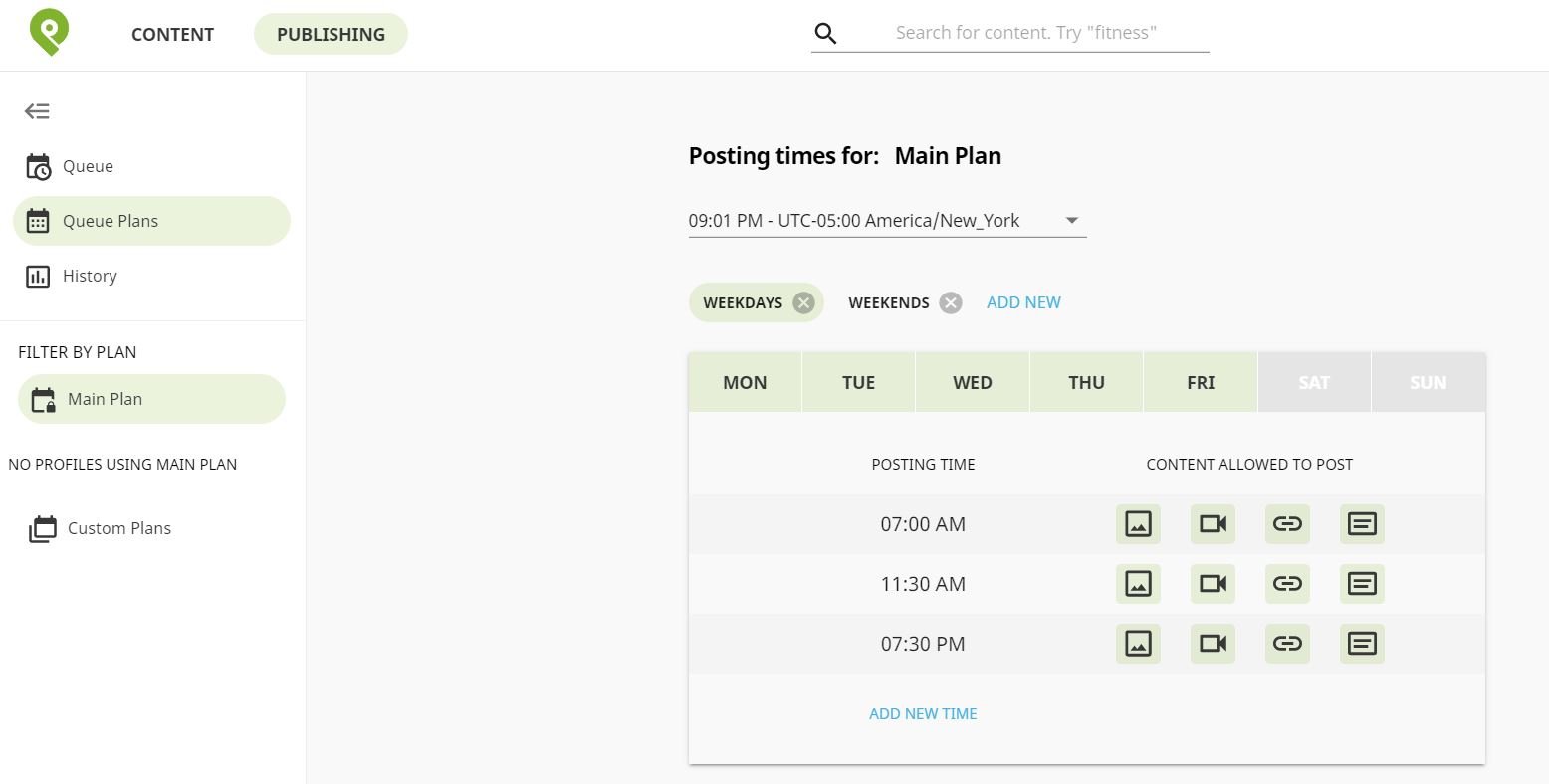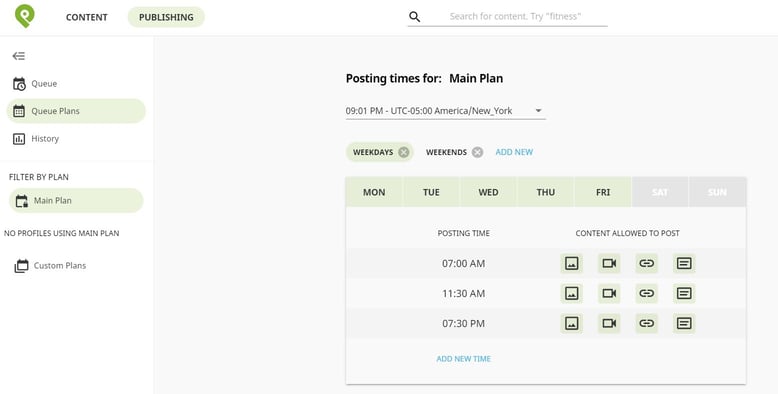 Now, any content you select (which we'll show you how to do in a moment) will automatically populate this posting schedule.
3. Scan pre-made content streams
Here's where the real magic starts.
Post Planner makes it easy to automate your posting AND content discovery much more manageable.
Post Planner gathers sources from around the internet and puts them together in content streams.
These content streams are organized by the type of content they contain.
When you're looking for something related to your niche, do a keyword search and see what content streams other Post Planner users have created for that keyword.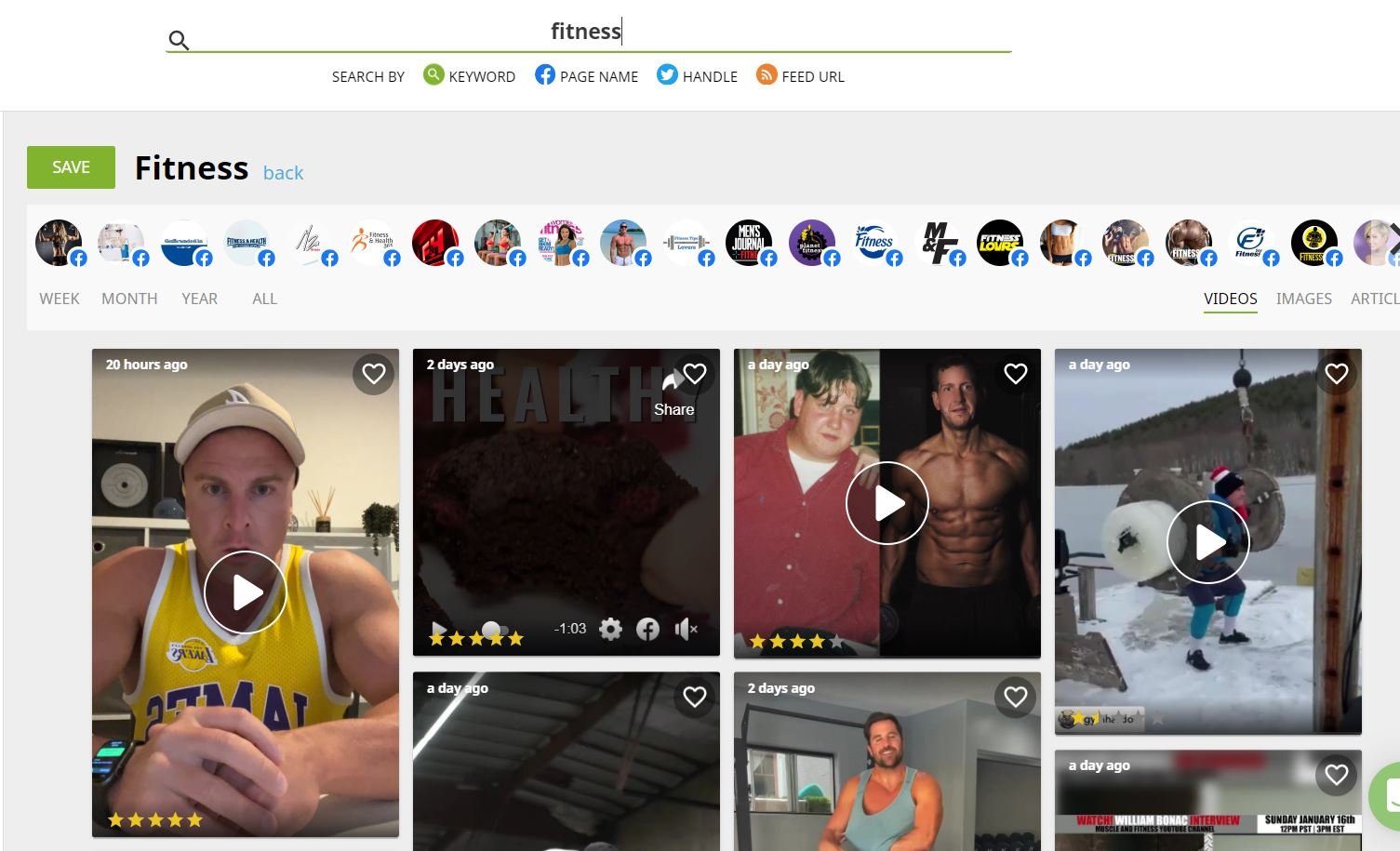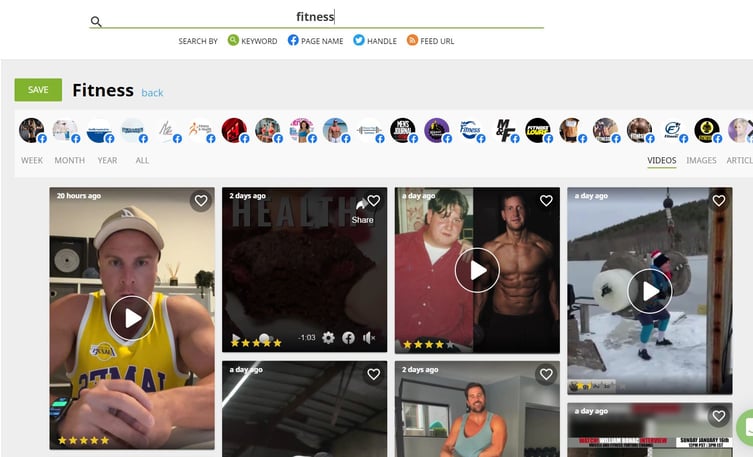 If you're looking for general content that does well with a range of audiences, try some of the content streams in the "Find" tab of the Content page.
Post Planner automatically includes:
Popular Industries

Quotes

Conversation

starters

4. Create custom content streams
What happens if you can't find premade content streams that contain the content you want?
Just make your own!
To make a new content stream:
Perform a keyword search

Select the feeds you want to add to the content stream by clicking the plus icon when hovering over them

Click "Save to stream"

Name the stream and save it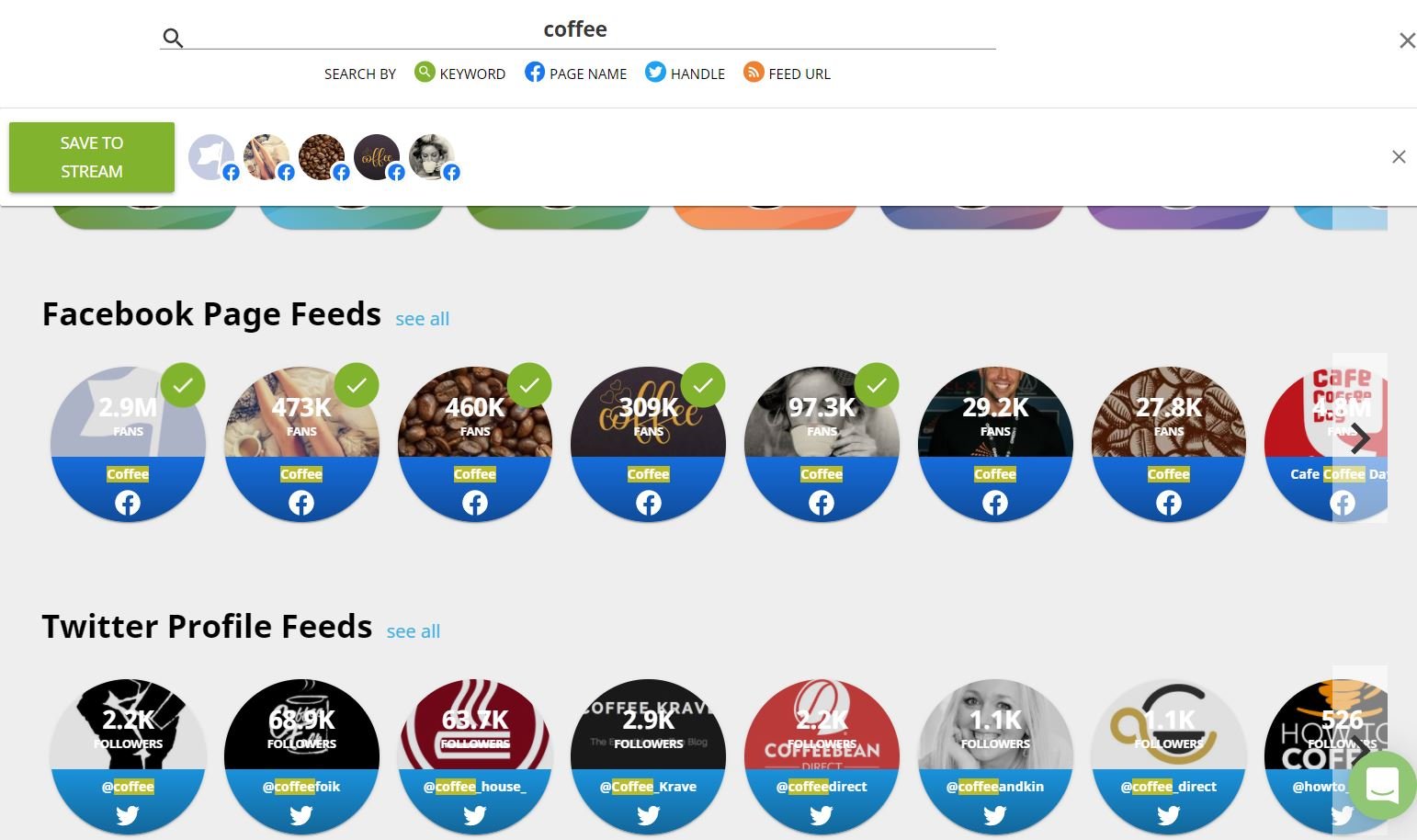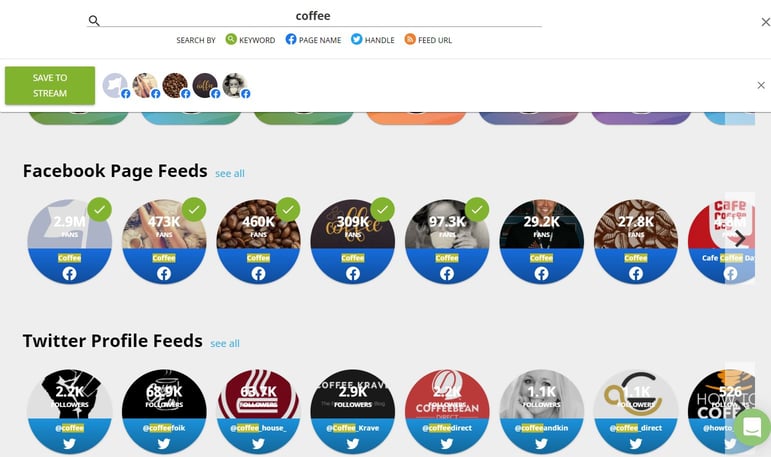 From now on, that content stream will continuously refresh with new content from the feeds you selected.
5. Add content to your calendar
Now that you've got your social media posting schedules ready to go, let's fill them up with content.
When you find a piece of content you like, just hover over it and click "Create Post."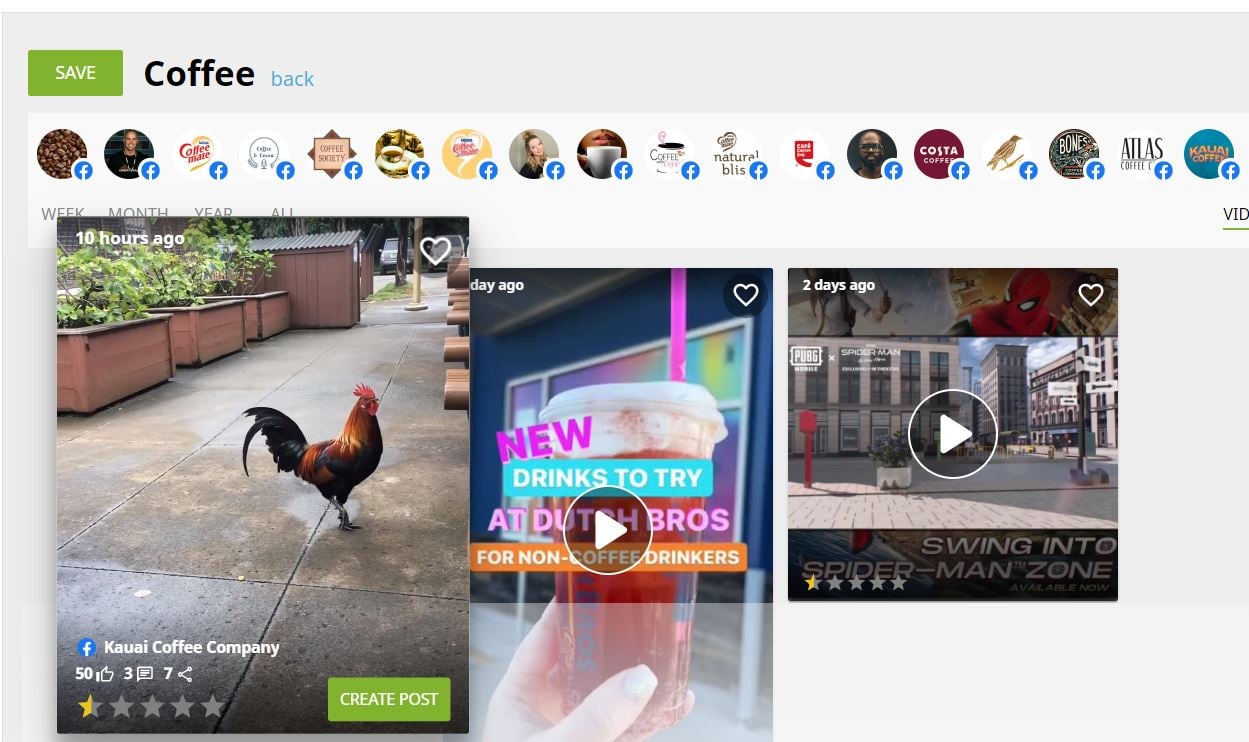 Post Planner will take you to a page where you can add a caption or comment to the content.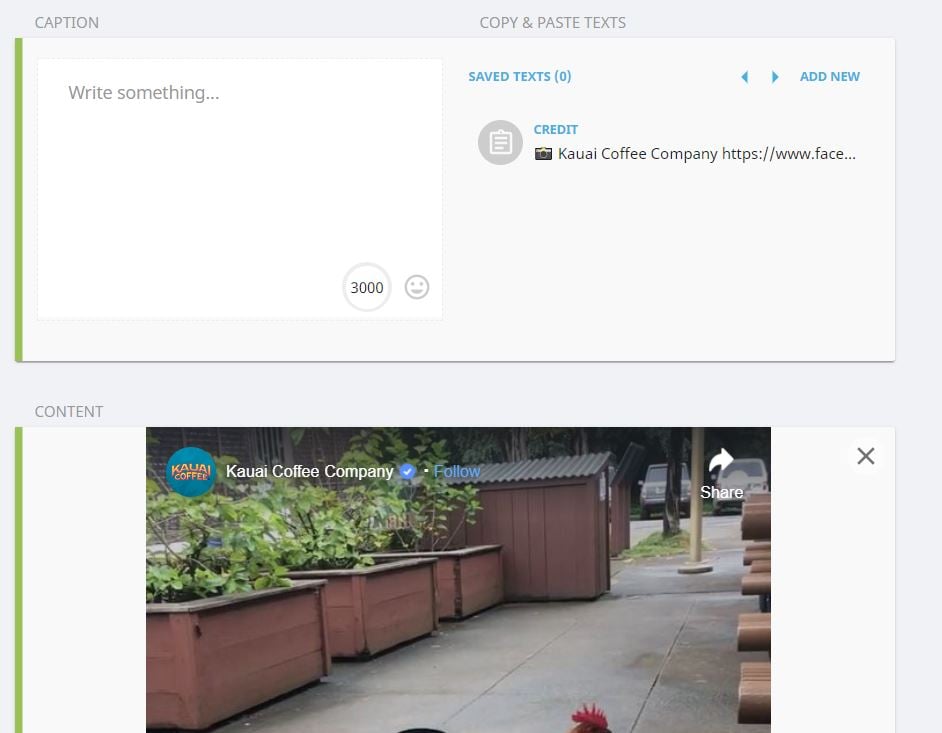 After you're done customizing your post, just click "Add to queue."
That's all there is to it!
Post Planner will do the hard work of figuring out WHEN and WHERE to post the content you selected.
Your posting calendar will automatically update to show you when each post is scheduled.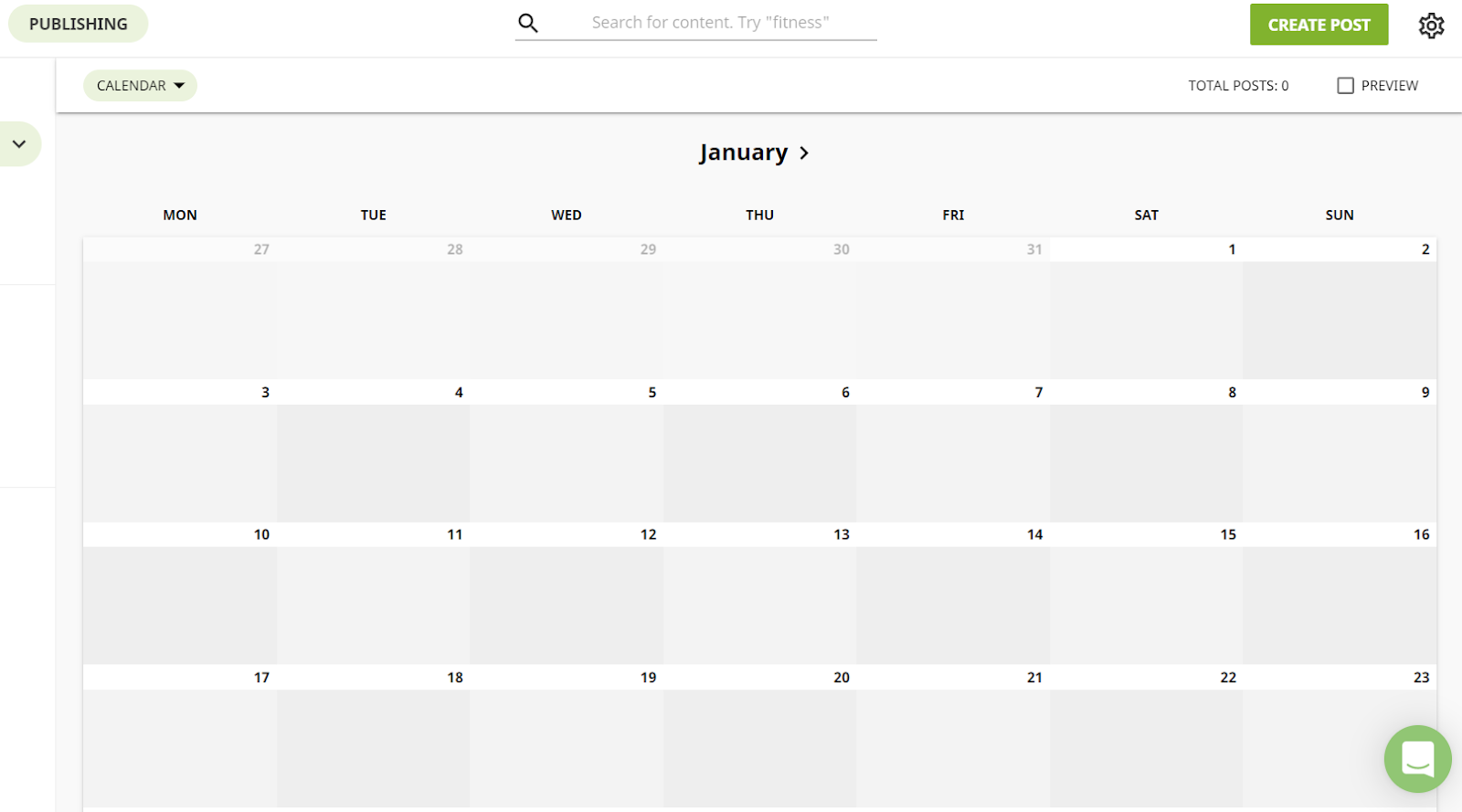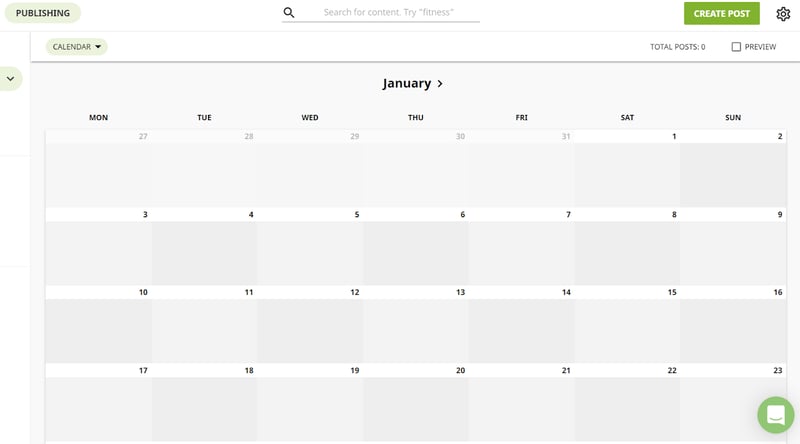 Now you can just rinse and repeat this process until your calendar is chock full of great content!
6. Recycle content
Don't let your evergreen content go to waste by only posting it once.
Instead, make sure that you recycle your best content back through your content calendar periodically to cash in on the ENGAGEMENT those posts bring.
Post Planner makes recycling content very straightforward.
When you're making a post, just toggle the Recycle button.
Then, post Planner will automatically add the post into your schedule every so often.

How to keep your social media content interesting
As you can see, finding content is easy.
The hard part is finding INTERESTING content.
Even harder than that is keeping your audience interested in your content for months and years.
Let's look at 5 ways to ensure your audience doesn't get tired of your posts after a week.
Vary your content
Perhaps the most crucial step you can take to ensure your audience doesn't get bored of your content is to mix it up regularly.
In other words, don't ONLY post videos or articles.
You should be posting a good mix of:
Videos

Pictures

Visual content like infographics

Funny content like memes (bonus points if they're relevant to your niche!)

Articles
Post Planner makes this easy by giving you the ability to filter your content streams by content type.
Just click the type of content you're looking for, and Post Planner will just show you that type.

Share custom photos with Post Planner
If you can't find a picture to go along with your post or article, Post Planner has you covered.
You can use their content studio to customize and design visual content for all your posts.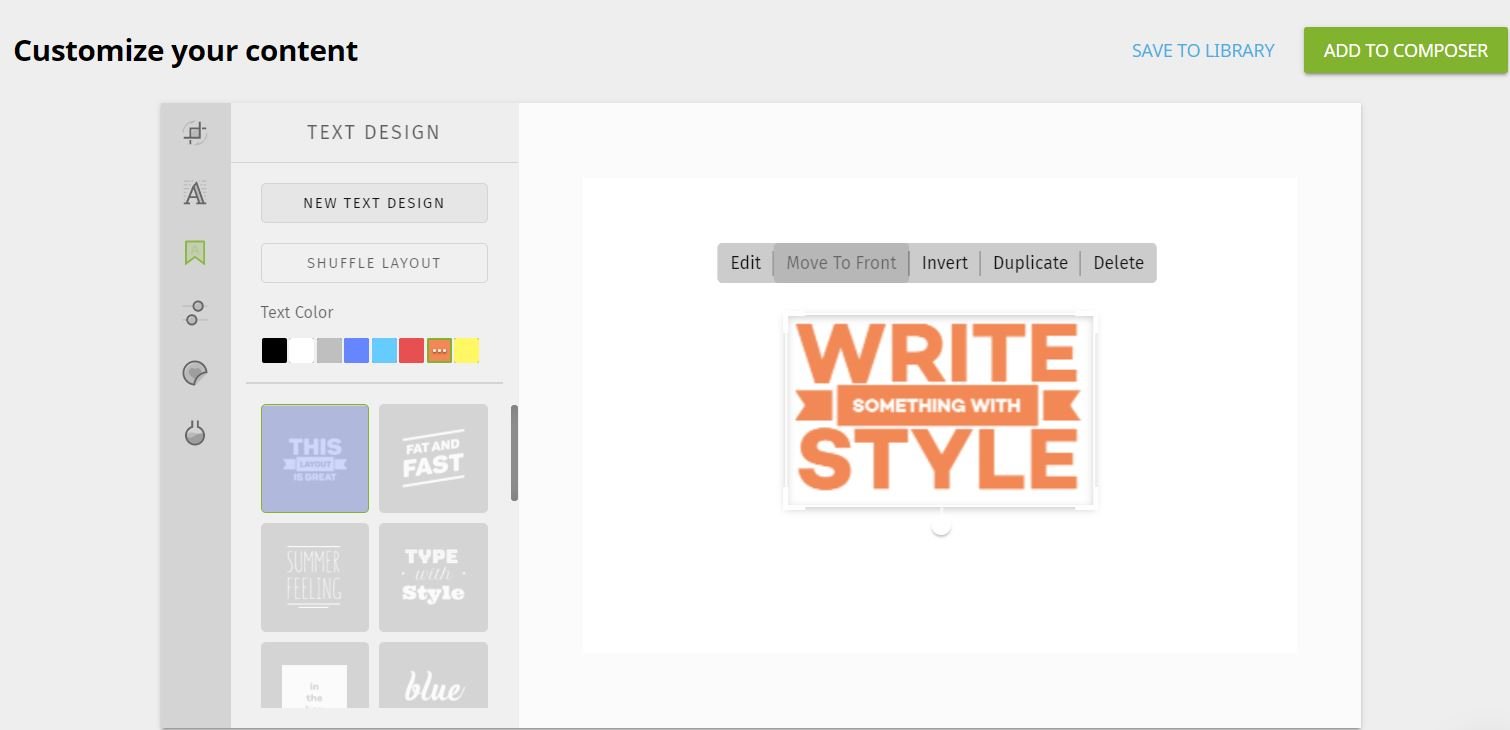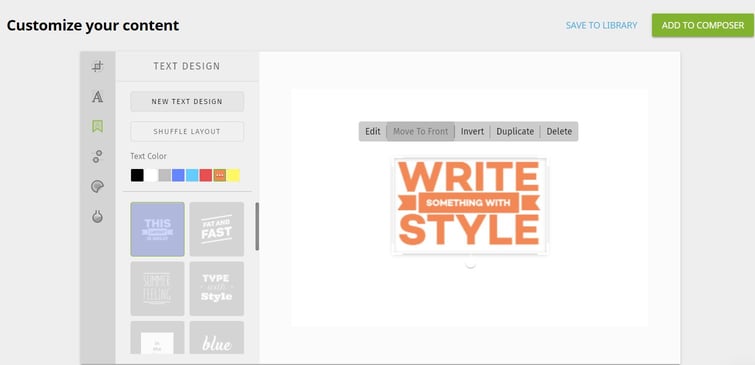 When you're done customizing your visual content, just add it to the composer to use it in a post.
Mix in your content
Using Post Planner's content discovery tools, it's easy to forget to create your own content!
Curated content from across the web is fantastic for keeping your followers engaged.
HOWEVER, you should never stop creating content.
Do you have a blog?
Try posting links to your newest articles across your social media channels.
Does your business have an office?
Try posting pictures "behind the scenes" to help your audience get to know your better.
Did you hear something that struck you as interesting?
Why not share it with your audience in a status update?
In other words, get creative and post things that help your audience get to know YOU and your business!
Keep up with trends in your niche
Trends change almost DAILY.
As a business owner, one of the most important things you can do is keep up with all the current trends in your niche.
There are 2 excellent ways to do this:
Follow influencers in your niche

Use Google Trends to see what people are searching for online
Influencers' livelihood depends on knowing what is popular, so following them can help you get the inside scoop on what you should be posting.
Google Trends allows you to see how many people are searching for specific keywords. It also helps you identify similar keywords in your niche.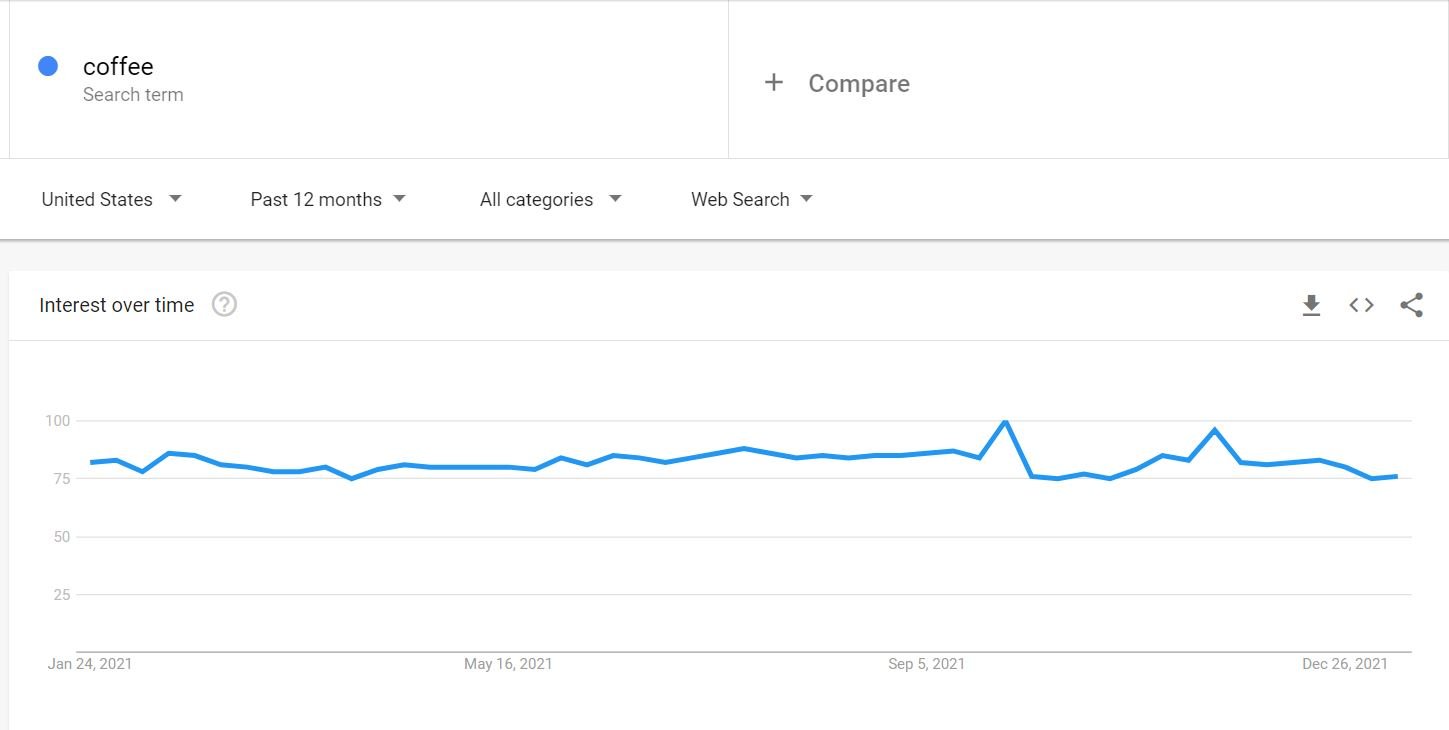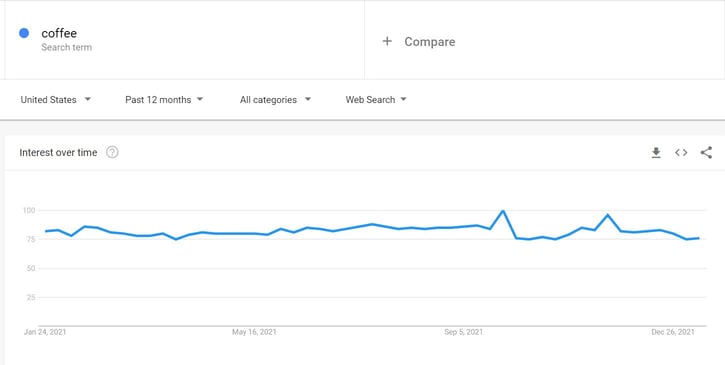 Use both of these methods to make sure you're constantly updated on the latest and greatest in your niche.
Interact with your audience
As you start posting to more of your social profiles, you'll begin to notice that your audience begins to grow.
And you'll start to get MORE engagement on your posts.
This is where the true growth of your business begins.
This is where you start connecting and interacting!
Now, you can sit back, relax, and just interact with the people who start engaging with your posts.
It's not the social media automation alone that'll grow your business.
It's the engagement from the people who start responding to those posts that will.
Look for that engagement everywhere – public comments, private messages, emails, etc.
The more responsive you are, the more results you will see from your efforts.
In other words, let your audience get to know you, and they'll repay you with engagement!
Best Social Media Automation Tools
Before we wrap up, let's look at some of the social media automation software on the market.
There are plenty of tools available, but we're going to look at 3 of the most popular.
Each has strengths and weaknesses, and ultimately you have to decide which one works best for you, your business, and your budget.
Post Planner has 2 main functions:
Post automation

Content discovery
Both of these features go hand-in-hand with each other.
As you use Post Planner to find curated content from around the web, you'll quickly fill up your automated posting schedule.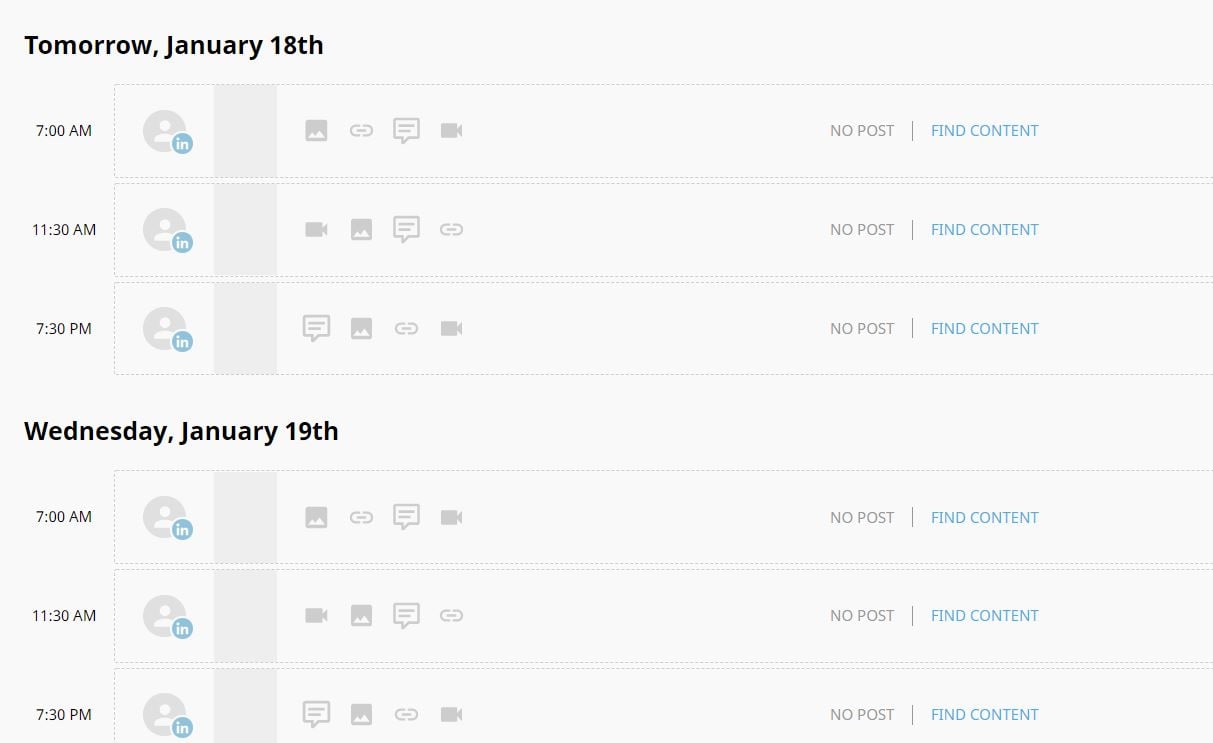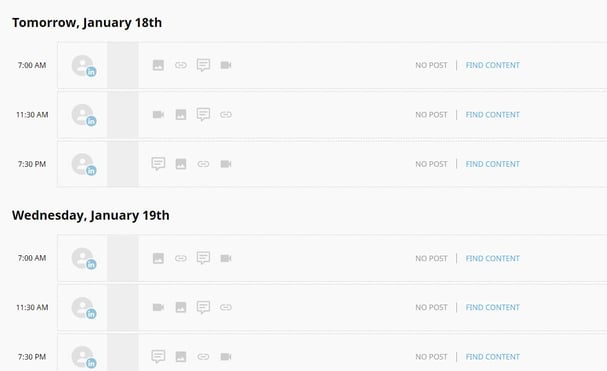 To discover content, you can use the thousands of premade content streams that source content from all around the web.
Post Planner ranks each piece of discovered content out of 5 stars to help you see how likely it is to succeed on your page.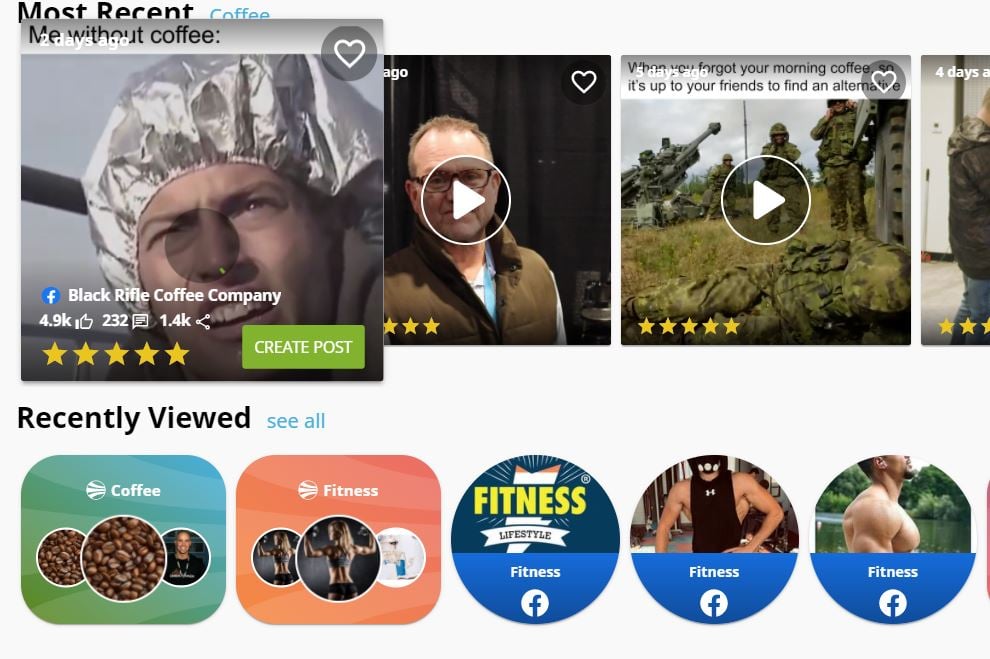 In addition to its 2 core functionalities, Post Planner also offers a visual content studio that can help you create engaging visual content for your audience.
Post Planner starts at just $5/month for small businesses, offering larger plans if needed.
It offers a free trial with full access to its features.
2. Hootsuite
Hootsuite is another social media tool that offers a range of functionality in addition to post planning and scheduling.
The core function of Hootsuite's social media automation tool offers advanced post planning features. The planning features Hootsuite offers are designed to be used in collaboration with a team.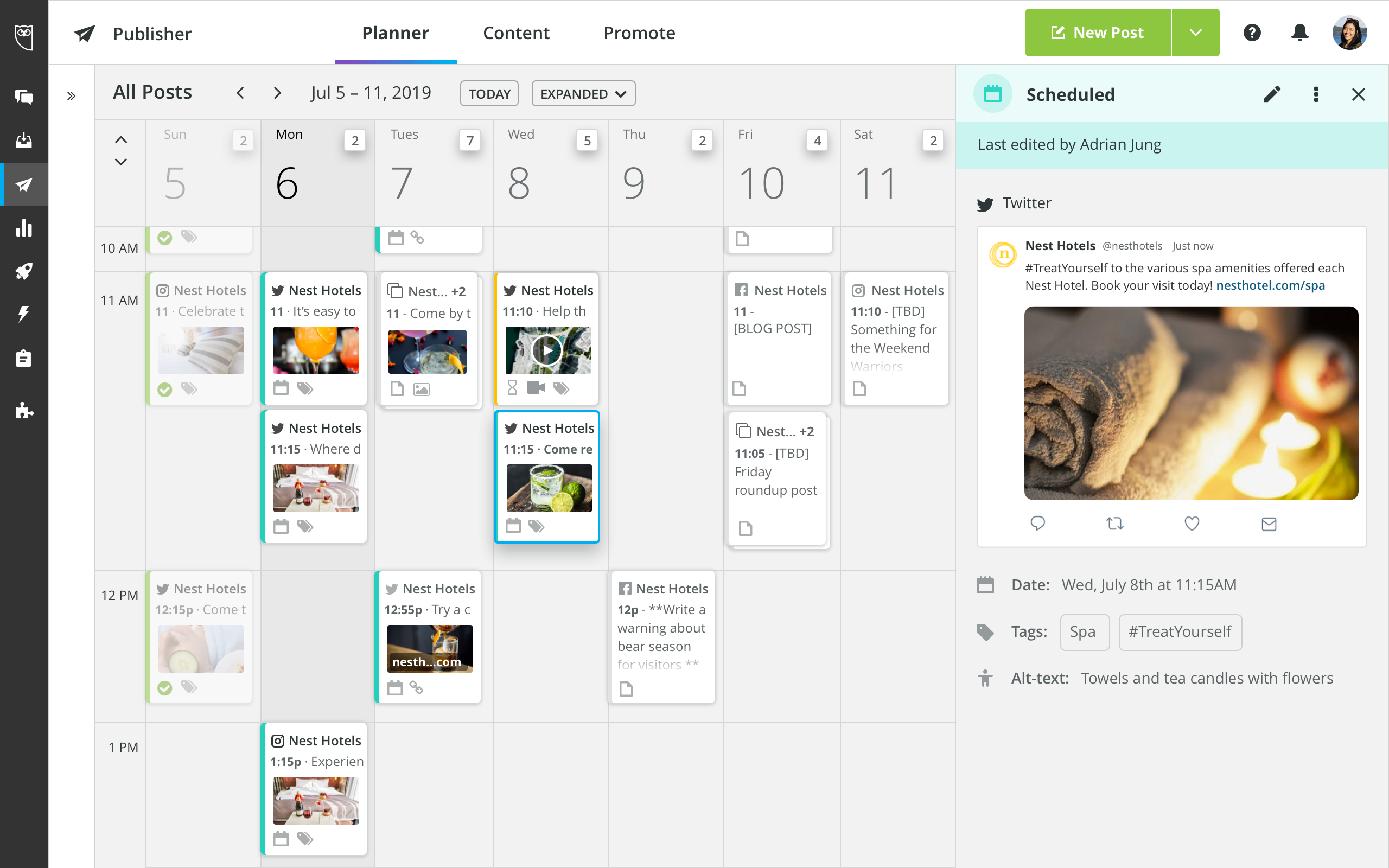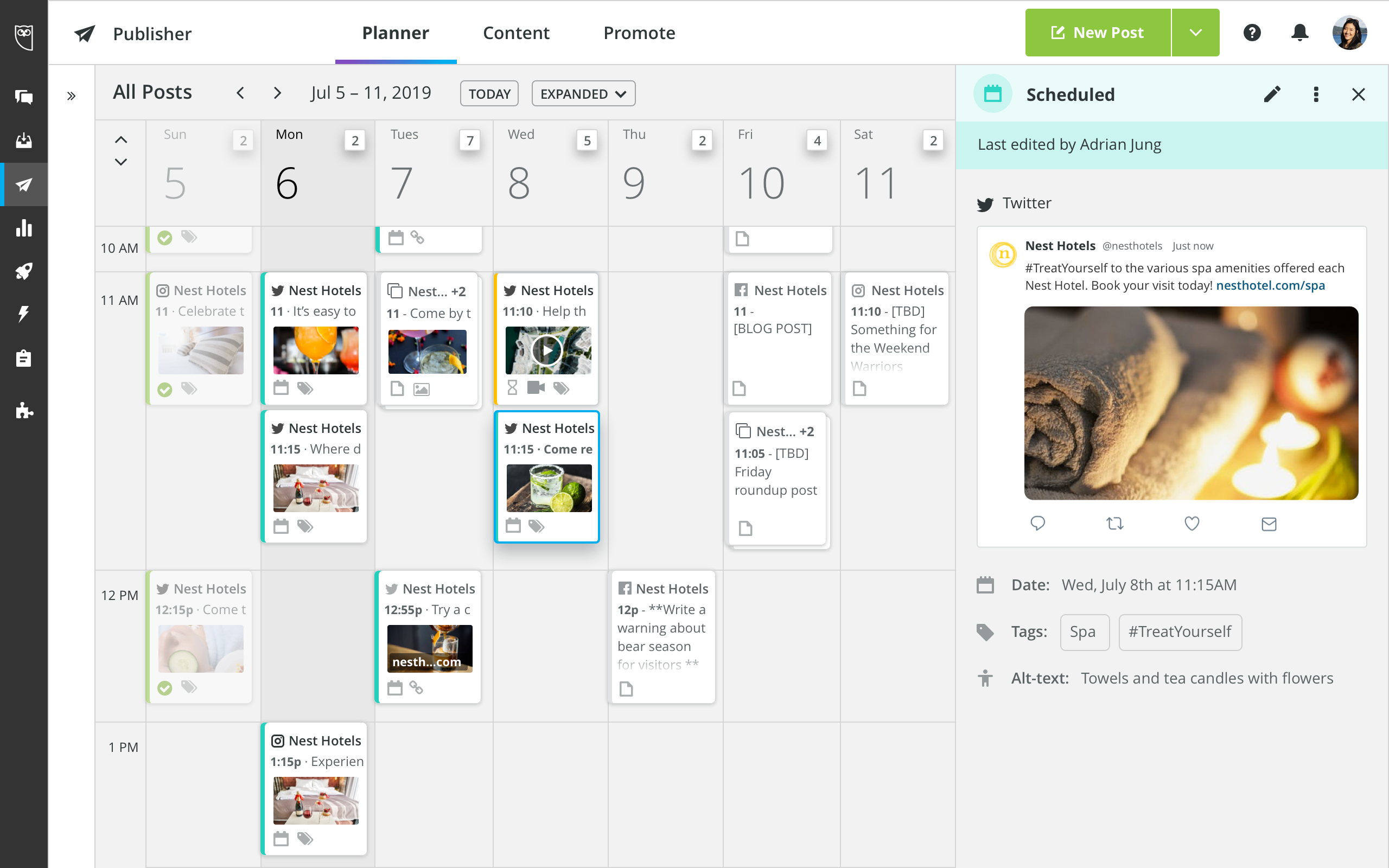 Hootsuite's Composer tool allows you to design and edit your own engaging visual content for your planned posts. Finally, you can use Hootsuite to find curated content by searching with hashtags, locations, or keywords.
Hootsuite's plans start at $49/month, with larger plans available if needed. It also offers a free 30-day trial.
3. SocialPilot
SocialPilot offers similar social media scheduling tools. Interestingly, they also integrate with Google My Business in addition to the other, more traditional social media platforms.
SocialPilot's advanced post composter helps you optimize your posts for multiple social media platforms simultaneously.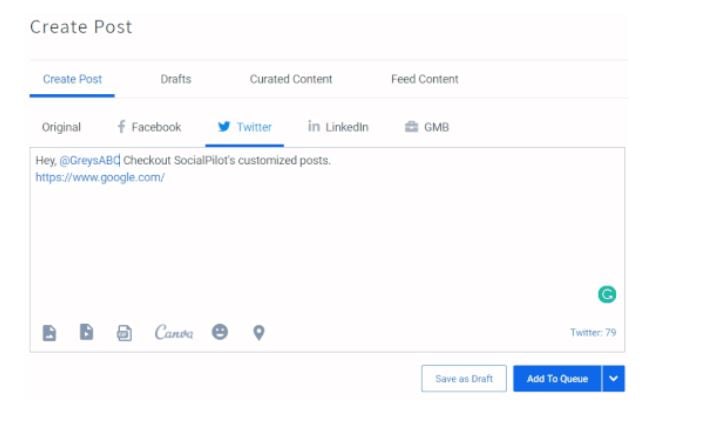 To help you find content, SocialPilot curates content from around the web and sorts it by category, keywords, influencers, and recency. When you find content, you can add it to your posting schedule.
SocialPilot plans start at $25.50/month, and it offers a 14-day trial.
Start social media automation TODAY
What's next?
Your first task is to get your main social media accounts flowing with excellent, consistent updates.
Then, put a plan in place to ensure that you don't miss out on the engagement opportunities that result from those updates.
The more you can automate, the more you can focus on getting to know your audience, which helps you grow quicker than ever.
How have you used automation to help your social media accounts grow?
Let us know in the comments below!