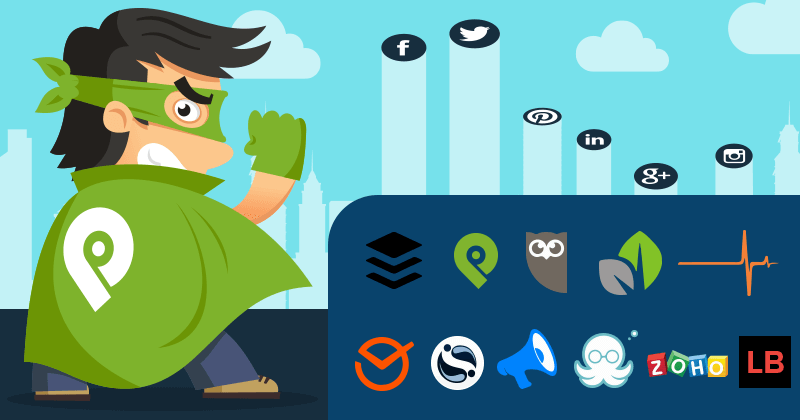 It's Thursday afternoon. You know from your Facebook Insights that your audience is online now.
This is the perfect time to post, but you don't have anything prepared.
You stop what you're doing and go into panic mode. You want to find the right piece of content to post, and fast.
You jump over to Twitter and check out the influencers on your Twitter lists. What are they posting about? You check the trending topics.
10 minutes later you decide on the perfect piece of content for your Facebook audience -- and you post it. Whew!
Sound familiar? We've all been there.
It's that "fire fire!!" feeling that comes from not preparing your social media content in advance.
Warning: Manually posting all your social media content has been known to cause stress and anxiety. Possible side effects... you'll get burned out on social media and it won't be fun anymore.
All joking aside, it doesn't have to be that way!
All you need is a scheduling tool and your struggle will be over.
Imagine what it would be like to pop onto social media for 15 minutes in the morning and 15 minutes in the afternoon to engage with your audience.
You can use that time to answer questions, make new connections and get into those important conversations.
You can do all that rest assured that your hand-selected content is being published at strategic times.
Is it starting to make sense?
That's what happens when you schedule social media posts. It takes a huge weight off your shoulders!
(and it saves you a ton of time)
In this post, I'll show you how to schedule social media posts like a pro.
We'll talk about:
Popular social media scheduling tools
How to determine your optimal posting schedule (including frequency)
Content (the ratio of content and how to find content)
How to collect data to help you fine tune your scheduling strategy
Let's get started!
How to Schedule Social Media Posts Like a Pro [Infographic]
You're still not convinced you need a scheduling tool?
Maybe these 6 logical reasons will convince you!
1. It will give you more time for other important social media tasks
Suddenly you'll have time to interact with your audience. Write a blog post. Do some testing. Make new connections.
Your scheduling tool will post your content for you even while you're away from your desk. This will save you tons of time!
The BIGGEST reason to schedule social media posts is because it will help you regain control of your time. You'll be able to overcome the massive social media time suck many people experience daily.
2. A scheduling tool encourages consistency
Create a schedule and stick to it. While this might have been challenging before -- social media scheduling tools make it easy.
Post consistently with ease -- which will keep your social media profiles active and engaged.
(If you're using social media for your business, remaining active and engaged is important!)
3. You'll be able to post at optimal times
Post your content at optimal times for engagement based on your data -- and tweak your schedule as needed.
4. You'll have content ready to post ahead of time
Create a schedule and plan your content ahead of time!
Schedule your evergreen content to post for the next few weeks or month -- and then drop trending content into your schedule as it arises.
5. You'll be able to keep track of posted content
See your post history easily. Depending on the tool you use, you'll also be able to see the engagement metrics for each of those posts.
This brings me to number 6...
6. Repurpose or recycle your content with ease
Seeing the engagement metrics for each post gives you valuable data.
This data will help you determine which pieces of content resonated with your audience. Use this data-driven approach for deciding which posts to repurpose into new media or recycle (post again).
Post at the Perfect Times
Why is it important to be strategic about when you post on social media?
Because the lifespan of your social media posts is shorter than you probably realize.
If you want to get noticed in the Facebook news feed or in that fast-moving Twitter stream, it's important to post at just the right time!
Wiselytics analyzed a million tweets to determine the lifespan of a tweet.
According to their data, your tweet stays alive for 24 minutes (Moz previously reported it at 18 minutes). They also concluded that the average life of a Facebook post is 90 minutes.
When you consider how many people are competing for our attention on social media -- you start to understand the importance of posting at the optimal time.
When you find the best times to post -- you'll increase traffic to your website, engagement and social shares!
What is the best time to post?
That's a great question, and there is more than one way to answer it.
Like everything else -- it comes down to how much time you have budgeted to get the best answer.
The fastest way to get the right answer is to use a scheduling tool with a built in algorithm that analyzes when your audience is online.
For example, Zoho automatically schedules your content to go out when your audience is most likely going to see your posts.
Perhaps you prefer to do the heavy-lifting yourself...
Analyze your Facebook Insights and Twitter analytics to determine when your audience is online.
You can also use a tool like Moz's Followerwonk -- which is designed to help you dig deeper into these analytics.
Also consider whether people are reading your posts on their mobile device.
If so, determining the most optimal time can be tricky. Mobile users pop in and out of their social networks throughout the day.
CoSchedule compiled quite a bit of research on this topic. You can find it at: What 10 Studies Say about the Best Times to Post on Social Media.
In a nutshell, they determined that if the majority of your audience is in the United States -- post in the Eastern time zone.
If the majority of your audience isn't in the United States, determine where they are. After you determine the location -- post at these optimal times in that time zone:
Facebook
Saturday and Sunday at 12–1 p.m.
Thursday and Friday at 1–4 p.m.
Wednesday at 3 p.m.
Twitter
Wednesday at noon and 5–6 p.m.
Monday–Friday at 12–3 p.m. and 5 p.m.
Experiment with 2–3 a.m., 6–7 a.m. and 9–10 p.m.
LinkedIn
Tuesday at 10–11 a.m.
Tuesday, Wednesday, and Thursday at 7:30–8:30 a.m., 12 p.m. and 5–6 p.m.
Google+
Wednesday at 9 a.m.
Weekdays at 9–11 a.m.
Pinterest
Saturdays at 8–11 p.m.
Any day 2–4 a.m. and 2–4 p.m.
Fridays at 3 p.m.
Instagram
Monday and Thursday at any time other than 3–4 p.m
Videos
Any day at 9 p.m.–8 a.m.
Experiment with 2 a.m., 5 p.m. and Wednesday at 7 p.m.
It's also worth noting that CoSchedule found that people are extra happy on Fridays.
You may see a higher engagement rate on your funny, positive, happy content if you post it on Fridays. (since that content falls into the happiness index)
At Post Planner, since we have an international audience, we post around the clock!
We often schedule social media posts to go out at :45 minutes past the hour.
The reason for that is because we know many people have meetings and appointments that start at the top of the hour.
By posting at :45 past the hour -- we hope to catch them on their phones when they pop into social media before those meetings and appointments begin.
These are our Twitter posting times for @PostPlanner: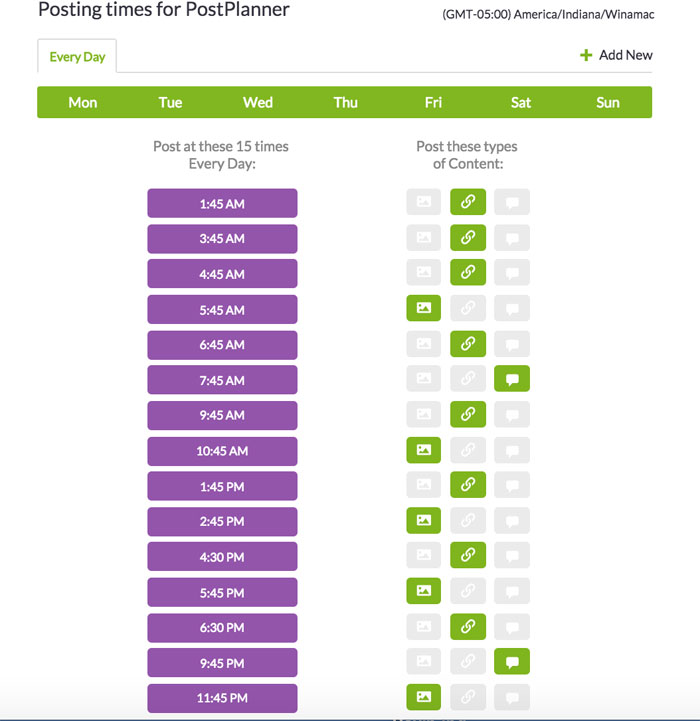 Now that you know when when you'll post, let's talk about the content itself.
Consider Using a Content Ratio
As a sophisticated marketer -- you know there's a balance in the type of content you share on social media.
You want to keep your audience engaged and paying attention. The best way to do that is to mix it up.
There are many different social media content ratios.
Try doing some testing -- come up with your own content ratio that works for your specific audience based on the data you collect.
I use the 5-3-2 rule. It's what works for me.
The 5-3-2 rule is a guideline that makes sure I don't share too much or too little of a certain type of content.
For example, if I want to schedule 10 tweets, I would divide up the content like this:
5 tweets with other people's content
3 tweets with my own content
2 personal tweets
The personal tweets might be a photo of my city or anything that lets my audience relate to me on a more personal basis.
The magic of this content ratio is that it takes the focus off you and puts it on your audience.
This is key if you want to build a reputation as someone who brings value to the community.
It will also prevent you from falling into the trap of only posting promotional content. (which is an easy mistake to make while you're scheduling social media posts)
Optimize Your Posting Frequency
Social media professionals have seen it a million times...
There are some social media accounts that post a lot more than others -- and they still get a ton of engagement.
Then there are other social media accounts that try to do the same thing -- and they fall flat.
What's the difference? What's the optimal posting frequency?
If you've been to our Post Planner Blabs, you've heard us talk about increasing your posting times... but ONLY if you can do it without sacrificing:
The quality and value of your content
The relevancy of your content
Your ability to engage with your audience
Buffer put it best when they said -
Post as often as you have engaging, entertaining or useful content to share.
In Day 4 of their Social Media 101 Training, Buffer recommends this posting frequency:
Facebook -- 2 times per day at most
Twitter -- 3 times per day or more
LinkedIn -- 1 time per day
Google+ -- 3 times per day at most
Pinterest -- 5 times per day or more
Instagram -- 1.5 times per day or more
I recommend you start off using these posting frequencies as a general reference.
As you dive into your analytics, test and schedule social media posts -- you'll find the frequency that works best for your audience.
Now it's time for the good part!
Social Media Scheduling Tools
We've created an infographic below with 11 of our favorite social media scheduling tools.
You can obviously use these tools to schedule your posts -- but many of them offer much more than that.
Each tool has its own unique value prop in the industry. The tool or tools you choose to use will depend on your needs and your budget.
I suggest you download this infographic to your desktop so you have it handy as you consider each tool.
Once you find the scheduling tool that's right for you -- you'll be blown away by how much more efficient you'll become!
I'm going to give you an example of how easy the process is.
Each tool is different. I'll use Post Planner in my example.
1. Click the Plan Tab in Post Planner.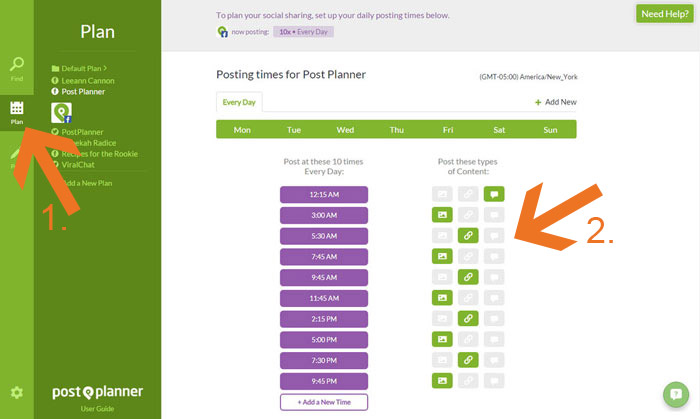 2. You'll see you have the ultimate flexibility to schedule your posts on any day and any time.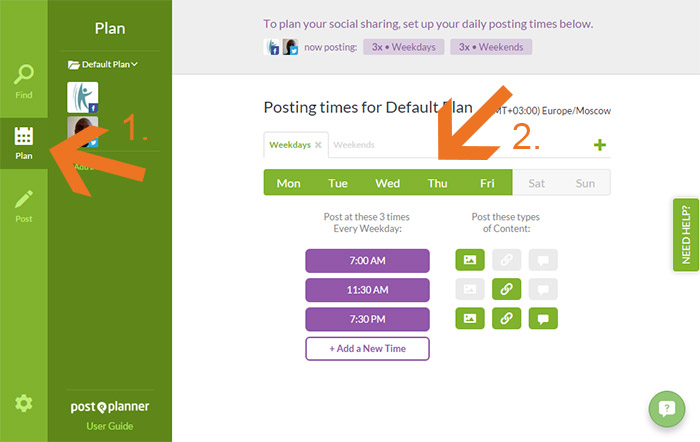 Now you have a set schedule!
Any posts you add will automatically post at the scheduled times you choose for that content type (images, links, text updates).
Yes, it's that easy!
Now it's time to FIND some great content to post
With Post Planner, this is super easy to do too.
1. Click on the Find Tab.
2. You'll get lots of options to find popular content (based on categories) and status ideas. All of this content is audience-tested and proven to be successful on social media already.
3. You can also create your own folders of niche content by searching for Facebook pages, keywords, #hashtags or @handles.
4. Once you find something you like -- click the share button to add it to your schedule/plan.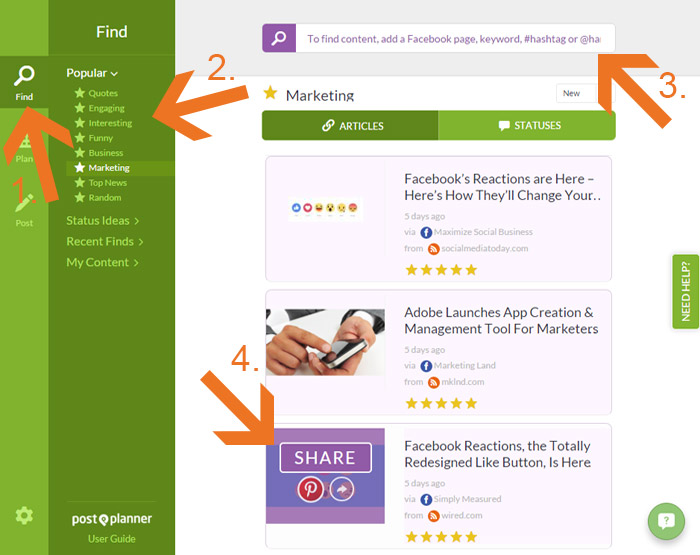 Recycle Your Content
If you have evergreen content -- you may want to consider reposting it.
Recycling your evergreen content will allow you to continuously drive traffic to your blog over time.
It will also give people who missed your post the first time the opportunity to see it and engage with it again.
In Post Planner, you can setup your content to repost by clicking the recycle button.
You'll never have to manually repost your evergreen content again!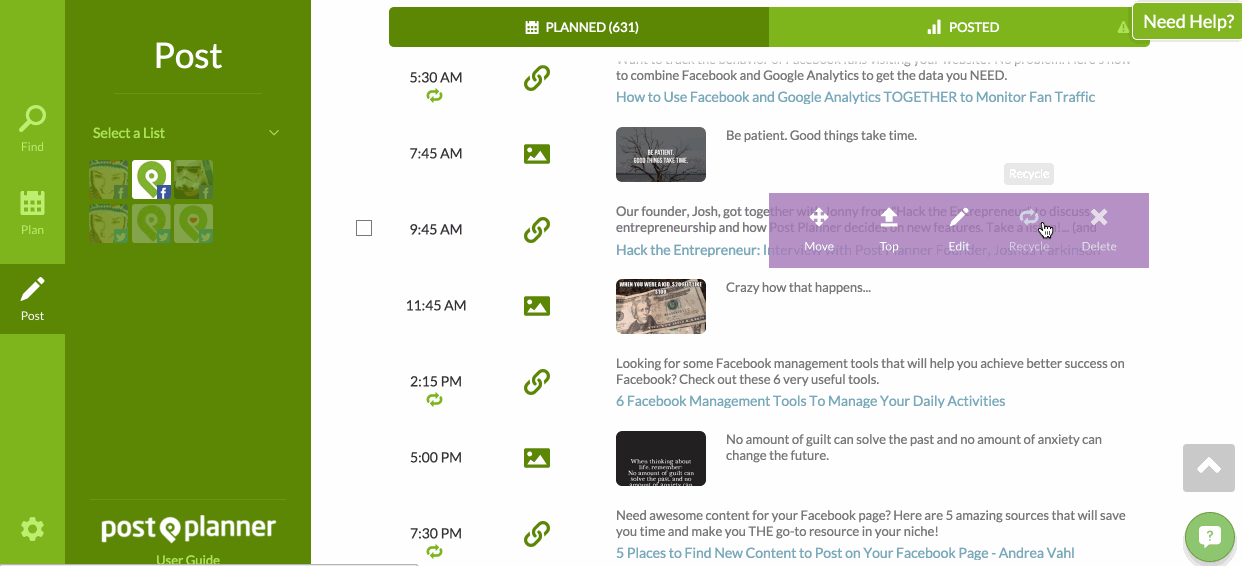 Interact with Your Audience
Now that you have an automated system in place to schedule social media posts -- you'll have more time to engage with your fans and followers!
Communicating and interacting with your audience is important for your business. Make sure you don't automate 100% of your social media!
You'll see tremendous benefits from social media when you engage with your audience.
And using social media scheduling tools frees up your time so you can do that.
Track Your Results and Put Your Data into Action
Be sure to test and gather data along your journey!
Then put that data into action so you can continuously get more from your efforts.
Most (not all) of the tools listed in the infographic below give you insight into your shares, likes, comments, views, etc.
Combine this data with your Facebook Insights, Twitter analytics and other social analytics tools.
This info will help you determine if you need to:
Increase or decrease your posting frequency (for specific social channels)
Post more or less visual content
Change your social media content ratio
Engage with your followers more
Change your posting times
And more!
Final Thoughts
In today's fast-paced social media climate, it's hard to keep up.
There's always more to read, more to post and more people to interact with.
By choosing one of the social media scheduling tools below -- you'll be able to get ahead.
That feeling of rushing to find the next piece of content to post will melt away.
Choose your times and frequency carefully -- and remember to test, test, test! (and tweak, tweak, tweak)
You'll find the most success when you schedule social media posts if you:
Pay attention to your content ratios and mix it up
Repost your evergreen content
Interact with your audience
Track your results and put that data into action
We talked about all of these things in this post -- and each one is as important as the next!
Download our infographic and keep it handy. Try the various versions of these scheduling tools to see which one feels best for you and your brand.
Soon, you'll be scheduling your posts like a pro!

Share this Image On Your Site