As a small business, you know generating leads through social media is getting harder with each passing year.
And as brands perfect their strategies, expanding via multi-million dollar annual lead generation campaigns, smaller brands are left struggling to compete.
Look to Coca-Cola, GE, and McDonald's who operate through the sheer force of a large budget and full time social marketing teams.
The little guys (you + me) have to rely on hard work and creativity to break through the crowd and build a following.
Using the right tools (the ones that don't break your budget) can help!

Below I'm sharing 9 social media tools you can't afford to ignore if you want more leads.
DOWNLOAD: Ready to navigate the Facebook algorithm in 2018? Grab a free copy of our easy to follow guide!
9 Social Media Tools You Can't Ignore If You Want More Leads
Listen to Your and Your Competitors' Customers
1. SentiOne
Want to attract customers? You have to listen to them and know what it is they're looking for.
Social listening is one of the most powerful tools we have to do this, as platforms provide a more open means of learning more about our target audience and responding in real time.
SentiOne is part social listening platform, part reputation management solution.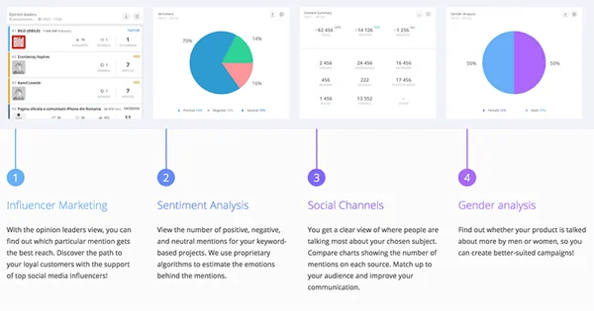 What makes SentiOne stand out in the crowd of competitors is their actionable insights.
You can see your most engaged community members, identify influencers ("opinion leaders"), discover when your brand is most actively discussed (to monitor more carefully at that time and day), etc.
It's a great way to work out a more effective strategy when it comes to being present, engaging and posting.
2. Socedo
Most social media platform tools are aimed at customer driven leads. But what about those brands that have a B2B focus?
Socedo is a lead generator that brings you warm valuable possibilities from across the globe, based on your company's needs.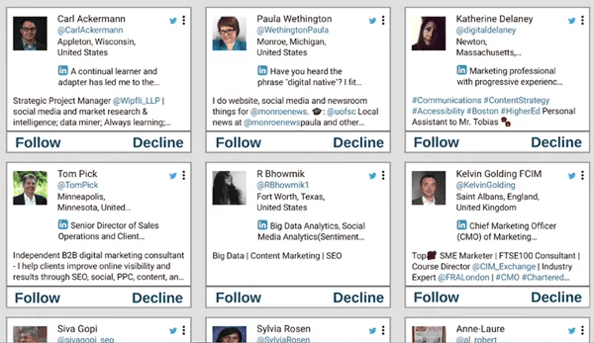 Socedo helps you treat important social media users as leads allowing you to search a social media user base, interact with them (via public and/or private messages) and monitor your conversations with lead generation in mind:
Search using an array of advanced search options
Compare your interactions to improve efficiency
Segment your contacts
One unique aspect is that they have a plan specifically aimed at startups, which is helpful if you only need some of their features and don't want to pay for the ones that would be more relevant to a traditional business model.
Pricing is on request only.
Create a More Suitable Product for Social Media Users
3. Uscreen
Social media is tricky when it comes to generating leads or sell anything right away.
It almost always needs an extra step in the middle, i.e. a "sub"-product that would draw people in and tie them in to your brand.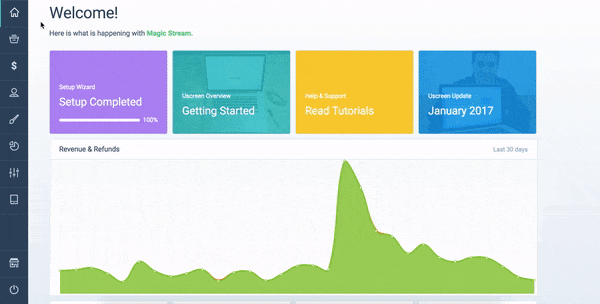 Consider creating a separate product just for that purpose, for example:
A downloadable ebook or a whitepaper to encourage your social media users to opt-in before downloading
A survey related to your industry (especially if you are into a B2B business, this would help your future customers to adjust their marketing tactics)
A self-hosted video course which would turn your social media users into your on-site community
Uscreen is the platform that would help you accomplish all of the above. With it, you can put together a video course and offer extra downloads, all hosted on your own domain.
Uscreen manages the whole process of turning social media users into verifiable leads, including email marketing campaigns which you can use to finally sell your actual product or service when they're most willing to buy.
Uscreen also lets you create a custom smart phone apps to encourage your leads access your brand from their preferred device.
Craft Better Social Media Updates
4. Serpstat
Now form a more integrated content strategy to go along with your product.
Your Google stats will go up alongside your social ones, which is only going to help you build better leads from one end to the other. This is one of the more versatile tools that will do the work you put into it.
Serpstat shows you all kinds of popular related phrases and more importantly, groups them into subtopics, allowing you to expand your content and craft a more diverse social media updates improving your social media discovery.
5. Buzzsumo Facebook Analyzer
A multi-feature tool, it will help you conduct content research while getting an idea of what it is your customers are talking about across the web.
You'll be able to form a cohesive social strategy using these suggestions, based on popularity.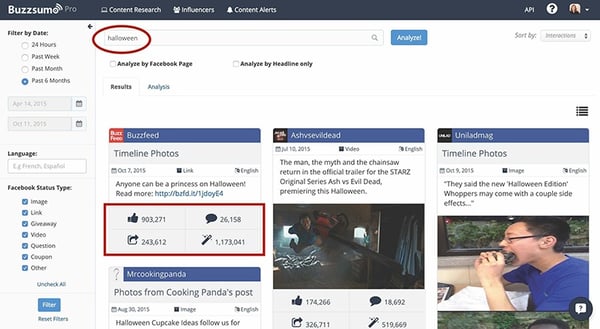 What kind of engagement do popular Facebook pages trigger in your niche? Is there an opportunity for you to emphasize on (if not steal from) that success?
Buzzsumo Facebook Analyzer allows you to search through public Facebook updates in your niche, sort them by the overall number of engagement and sort them by type (videos, questions, links, images, etc.)
Build Real Twitter Following
6. Narrow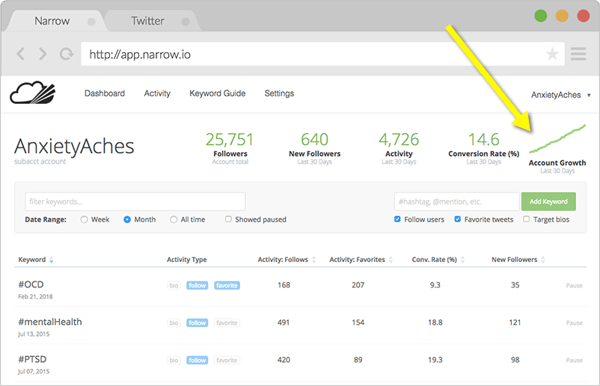 Twitter is not easy to build following for and most users resort to follow-unfollow tactic that can get an account banned.
Apart from being a risky tactic, it is also a low-effective one: Those semi-auto-generated followers are not engaging much and thus don't bring in more leads/conversions.
Narrow is a nice tool that aims at changing businesses' following acquisition strategy. The tool lets you discover and monitor popular topics and conversations in your niche and grow your following by interacting with those conversations.
It also comes with handy analytics feature allowing you to adjust your tactics, research your audience and better understand your social media audience.
Know You and Your Competitors' Influencers
7. TalkWalker
Hashtag campaigns are amazingly useful, but many brands don't use them because they can be so hard to track and measure.
If you have the right tool you'll find it is much easier than you would think to watch over hashtag campaigns.
Talkwalker is free for unlimited searches that stretch over seven days. So it is limited in its scope but still pretty great for keeping an eye on individual campaigns. Long term ones are better off on a paid service.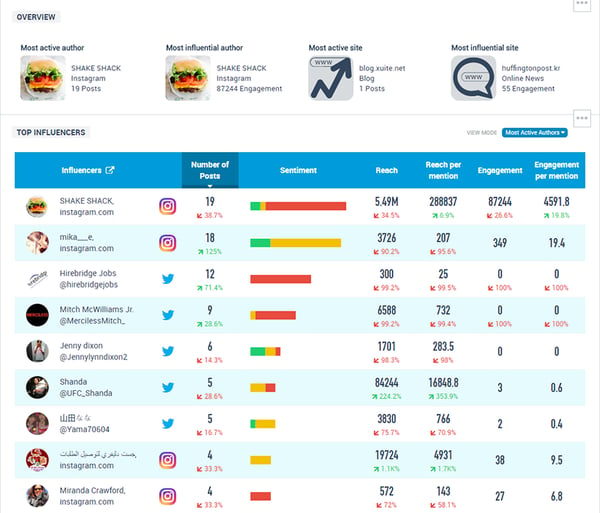 One of the most useful premium features is the ability to find active influencers using a certain hashtag.
Try running it for your competitor's branded hashtag and you'll get the sortable list of active social media influencers using the hashtag on Twitter or Instagram. Now try reaching out to them and drawing them to your brand.
For Wordpress users, there are more hashtag-monitoring options to look at, so look around before upgrading!
Learn Your Competitors' Weakest Points
8. GoFish
According to a study by HelpScout, up to 80% of tweets about consumer reviews are negative. That matches up well with what we know about consumers and their habits:
Customers are less likely to talk about a good experience and more likely to take to social media when they have a bad one and are angry.
You can't afford not to know about what people are saying about you. But you cannot also afford not to know what customers are saying about your competitors.
You can build your social media lead generation campaign around those competitors' weak points (without naming your competitor but stressing on what you offer to fix those issues).
GoFish monitors all across the social web for any mentions so you can nip problems in the bud.
To better explain how this concept, look at MeWe in the context of recent Facebook privacy scandal. MeWe is being marketed exactly on the basis of what customers are leaving Facebook for, both on-site and on social media.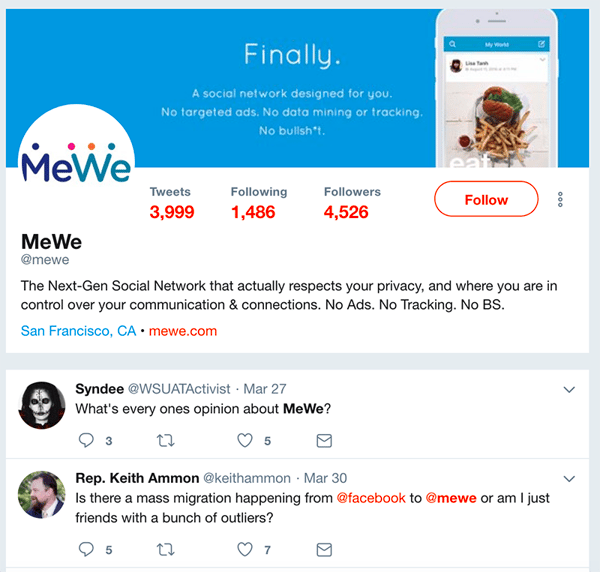 Adopt a Customer Relationships Manager
9. Hubspot
HubSpot is the granddaddy of social media monitoring tools and one of the best in the business.
Unlike many other management platforms the point isn't to watch all your conversations or accounts. It is prioritize your interaction so you have more meaningful engagement.
They're more expensive than most, but worth it if you are serious about your social campaigns.
On top of that HubSpot also offers a free CRM that will let you record and organize your social media leads. You cannot increase what you cannot measure and organize, so give this platform a try!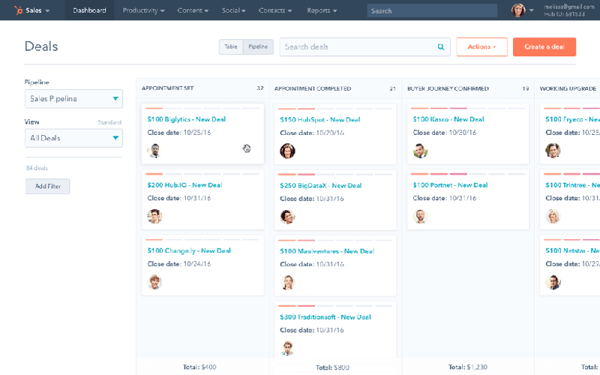 Over to You...
Do you have a tool that you feel belongs on the list?
Is there on lead generation tool that's made a big difference for your business?
Let us know in the comments!