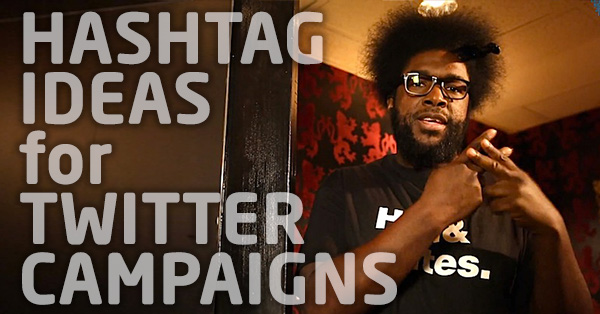 Hashtags are everywhere!
#YOLO, #WTF, #cute!
These days you can't escape them. And you better get used to it because hashtags aren't going anywhere.
On Twitter, using hashtags is a great way to get more attention for your tweets. And hashtags should be a big part of your social media marketing campaigns.
So don't be nervous!... Everyone is doing it. But here are a few ways to avoid looking like a dork:
Keep hashtags short (1-2 words)
Know the meaning of your hashtags (misusing a sensitive hashtag is a NO-NO)
Use hashtags that are relevant to your business
Here are 6 cool hashtag ideas your business can start using on Twitter.
6 Killer Hashtag Ideas to ROCK Your Next Twitter Campaign
1. Contests
Any Twitter contest worth its salt needs a solid hashtag!
Use the name of your company in the hashtag if you can. And remind others to use the hashtag in their tweets about the contest.
Here's why every Twitter contest needs a hashtag:
Keeps your contest organized
Helps easily track contest activity
Makes it easy to choose a winner
Want an example?
KLM ran this awesome contest on Twitter:
Psst... Don't tell your friends: YOU can win 2 tickets for the last MD-11 Flight. http://t.co/0uif3w8WW7 #BYEBYEMD11 pic.twitter.com/Q48DGtcWFu

— Royal Dutch Airlines (@KLM) October 25, 2014
2. Trending Hashtags
Trending hashtags usually relate to topics that are being discussed a lot in your area.
Businesses should watch the trending local hashtags for opportunities to meaningfully contribute to discussions.
>> Click to Tweet <<
And in the end, using trending hashtags in your tweets is a good way to get Twitter followers fast.
Try adjusting your Twitter settings so you can see local hashtags. If you're using a computer, the trends box is on the left side.
You can view trending topics in most any location.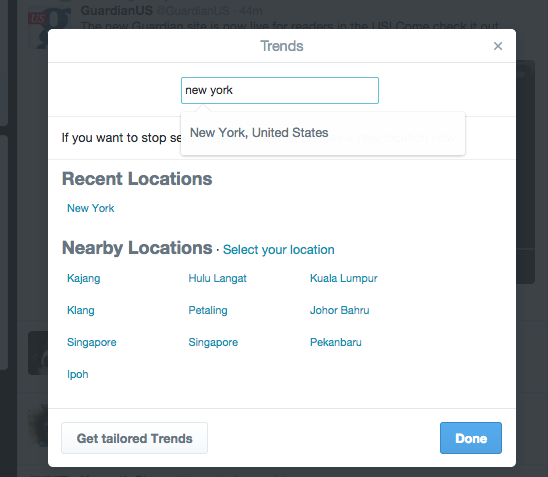 If you see a trending hashtag that is relevant to your business -- use it.
This helps you engage with other Twitter users & gets more people to see your tweets.
3. Topics Matter
When using Twitter for business, use hashtags that are relevant to what you tweet about.
Is your tweet about #blogging? Is it a #quote? Let us know with a hashtag.
Starbucks shows how it's done:
Pour-over, Pour-over — let flavor come over. #StarbucksReserve #Coffee ☕ pic.twitter.com/OY3CffYWWy — Starbucks Coffee (@Starbucks) October 26, 2014
4. Location
You can also use hashtags to show others where you're tweeting from.
Are you in New York?... London?... Australia?... small town, Texas?
You'll get more followers on Twitter if you add your location to your tweets with a hashtag.
>> Click to Tweet <<
Like this:
Night time Instagram missions in NYC, photo: @MrBenBrown #newyork http://t.co/dBkIpXuSvp pic.twitter.com/HJJ4UlOTck — Louis Cole (@funforlouis) October 25, 2014
5. Twitter Chats
Many businesses host Twitter chats to get more exposure online.
So once you've built a loyal following on Twitter, you should organize a weekly chat to discuss important topics in your industry.
Twitter chats work great for building relationships & getting fans familiar with your company.
>> Click to Tweet <<
Here's a recent tweet from a chat organized by Expedia. Expedia even gave away a prize to get more people to participate.
Now onto Q2: What movies, TV shows, and books show the more exotic side of travel? #Expediachat — Expedia (@Expedia) October 22, 2014
6. Industry Hashtags
There are likely many hashtags on Twitter that only relate to your industry. Learn what they are & use these hashtags in your tweets.
Fitness fanatics, for example, use the hashtags #fitfam, #fitspo and #TransformationTuesday.
Because...Its not a great day until I WORKOUT. Why do you do it #FitFam

— Gary Sethi (@Gary_Sethi) October 28, 2014

Using hashtags specific to your industry will let you reach the right audience at the right time.
Important Takeaway
Let's review the 6 ways you can use hashtags in your Twitter marketing campaigns:
Contests
Trending Hashtags
Topics Matter
Location
Twitter Chats
Industry Hashtags
But with hashtags comes great responsibility. Remember there is a fine line between marketing & spam.