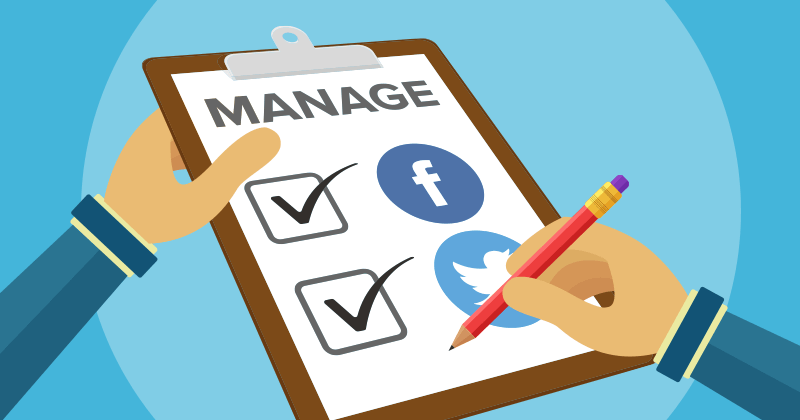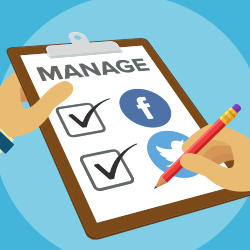 Tired of trying to find the best way to manage social media?
Not sure how to juggle your online marketing activities?
There's no doubt about it, keeping up with social media can be time consuming.
But it doesn't have to be. Believe it or not, you can manage all that's coming at you.
How? By putting a system in place to find, plan and post your social media content.
With a plan, you can create a strategic approach that will allow you to get in and get on with your day in less time.
And even better than that? You can produce stellar results!
In our most recent Post Planner Bootcamp training, we took a look at the steps we've taken so far to create a solid social media foundation. They are the why, what and who of your strategy.
Then we broke down the "how" -- how you'll manage each moving piece to create a consistent and successful social media presence.
Want to learn how? Let's dive in!
Top Ways to Manage Social Media (and Avoid Burnout)
Top Ways to Manage #SocialMedia (and Avoid Burnout) - bit.ly/1PWp3e5 (by @Yessayer on @PostPlanner)

Click to Tweet
In our first training, we discussed why it's so important to be data-driven in what you post.
This means leveraging audience-tested content. Sure, you can do that in Post Planner, but I also shared a way to do this with any content. (check out my spreadsheet)
This will allow you to determine how any piece of content will perform before you ever post it. Pretty cool, right?
So as you scour Facebook or Twitter, when you you find a great piece of content, you can make an informed decision before randomly posting.
The idea is that you don't have to create new content every time. You can stand on the shoulders of giants.
Seek out what's working and what's already audience-tested. You can also create new content based on this data.
What was the big takeaway from our first training? You have to be data-driven.
In our second training, we talked about how to find those giants to stand on.
I shared Facebook techniques to help you find pages within your niche and content that's relevant to your audience.
We did that through a hypothetical Health, Wellness, Nutrition business. (HWN)
As we talked through this business and Facebook page, the details gave insight into how any company could find the best content to share on social media.
Here is the background story to help you better understand.
The HWN business makes money by selling health and nutritional coaching. Most of the business comes through the website, where there's an active blog.
Here's a few details about the blog:
We publish 5-10 blog posts per month
We've been doing that for about 6 months, so we have around 40 blog posts to share
30 of those are evergreen posts
So, let's say we share one of these posts per day on social media, and then we recycle (or re-share) them. We now have a month's worth of content that we can put on autopilot by planning ahead and scheduling that content to post.
We'll also add our newly written blog posts to this recycled content -- so we continue to build up that list.
This is the engaging content that will get social media fans and followers back to our website. Once they're interested in our content -- now we can monetize them.
We'll turn them into customers, subscribers, ad-clickers, page-viewers -- whatever makes us money.
This is where I challenged you to think about your own business goals. What are you looking to get out of social media and who is it you're looking to connect with?
If you don't know the answer to these questions -- you're going to have a difficult time finding content that resonates with your audience.
In our next training, we talked about planning your social media content.
I reviewed my fishing analogy. It's the easiest way to understand how content distribution works and how engagement really works.
Not familiar with the analogy? Here's a look at our infographic with a few of the basics.
You'll need 2 types of content to instantly boost your social media engagement -- chum and baited hooks.
You're trying to influence the behavior of your fans with your social media marketing -- and using these 2 types of content together will help you do that.
Your chum content is the highly engaging visual content that attracts people to your page.
This could be a viral photo, a funny meme or even an image with a powerful quote on it. It's eye-candy content that drives engagement.
Use this content to chum the waters!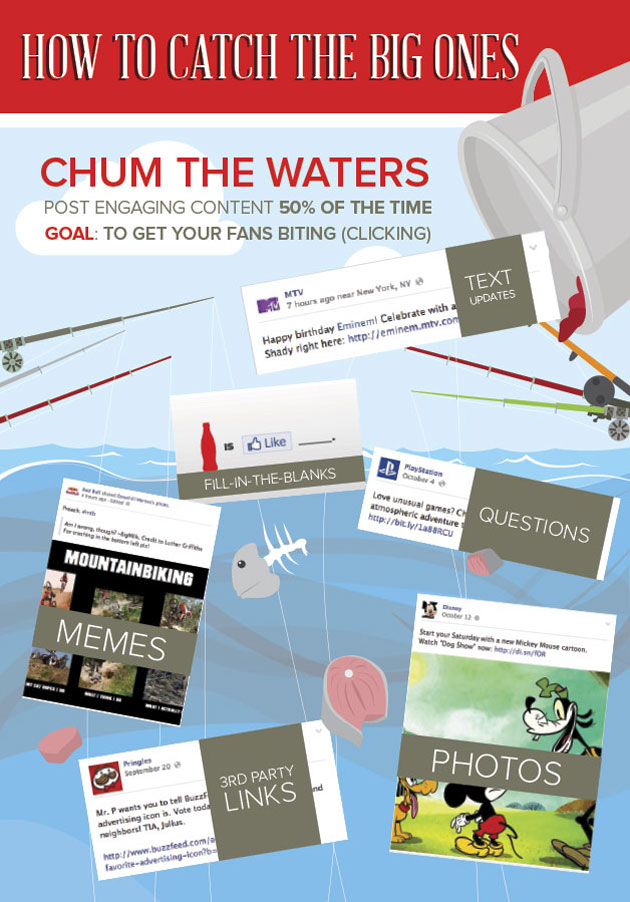 Your baited hooks content is what will bring people back to your blog or website. Once you've chummed the waters, throw a baited hook into the water too!
Those baited hooks turn people into customers, which drives your business forward!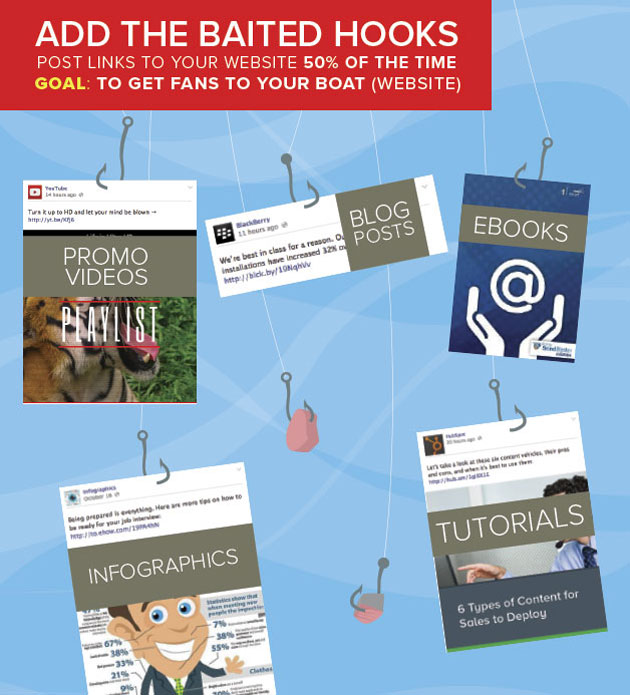 This is the social media marketing metaphor that drives our social media strategy -- and it can be a best practice for you as well.
To improve social media engagement, you need to attract and catch the fish. (your audience)
4. How to Manage Your Social Media
In our latest training, we dove deeper into how to find, post and plan your content. But most of all, we shared how to manage all of that content in one location.
Rather than running all over the web, why not add all of your content sources - blogs, Facebook pages, Twitter profiles, Instagram profiles and keywords - into Post Planner?
Begin by sharing other people's content. This will diversify your content (rather than only sharing your own content) and will keep things fresh.
It also allows you to build relationships with others in your line of business while establishing you as the go-to professional.
Once you start sharing other people's content, you'll want to add in your own content. Begin to add in your own quotes or create branded quotes from people who have influenced you.
As you can imagine, quotes are a powerful way to create conversation, raise awareness around your expertise, build authority within your space and engage your community.
Your next step is to increase conversation around your posts. This means adding context around your content.

For example, why did a certain post you're sharing or a specific quote inspire you? Make sure to add your thoughts and talk about why you loved that article or quote and what it means to you.
Quotes can humanize you and your business and help you establish rapport with your audience -- but they're worthless when shared without your comment/thoughts added to them.
Here's an example from Marie Forleo. You'll see here that she adds her thoughts and attribution to the page (location) where she found it.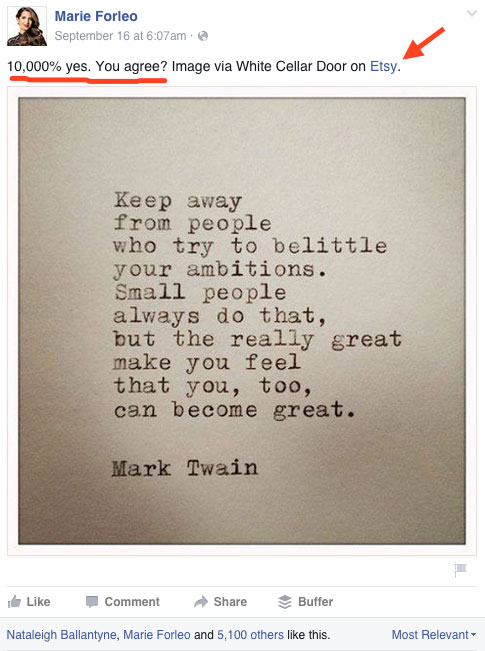 On the flip side, here's what you don't want to do. Don't just drop a link with a picture without adding any context to it.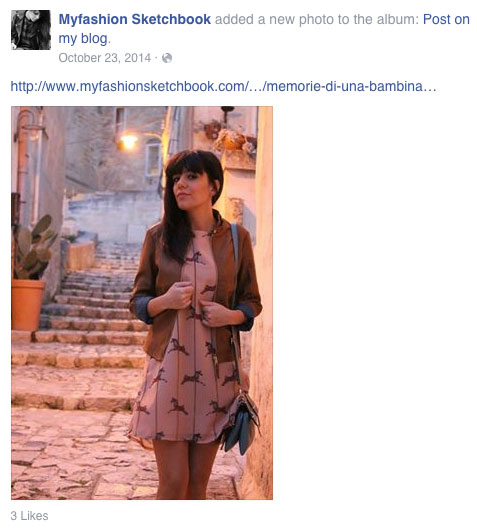 Putting context with your content allows your audience to gain a deeper understanding into you and your business. It's what will resonate with people and drive engagement.
It will also create differentiation as you look to separate yourself from the other companies doing the same old thing online.
Final Thoughts
Managing social media can feel overwhelming. From the content curation to the evergreen promotion, building an online presence takes time.
So don't just stop at the basics. Put a plan in place that allows you to expand the shelf life of your content and keep it in front of a whole new audience.
What do I mean by this?
If you're posting to other social networks, cross-promote that content.
Take a look at the Twitter, Pinterest and Instagram integration within Post Planner. Think of all the ways you could put your great content to use on other channels.
Pull in your own Instagram images or those of others sharing similar content and then sprinkle it throughout your Facebook postings.

Pin your evergreen content to Pinterest.

Tweet a popular Instagram post.
The sky is the limit! The key is to always test. See what works and what doesn't. Then modify and optimize.
By using proven content to predict results, and by putting strategy behind it, you will get your life back.
That overwhelmed feeling that you need to find content to post will melt away!
Join us for our next live training on February 3rd at 11am PT | 2pm ET by clicking the orange "Reserve My Spot" button below.
We'll see you there!
Watch the Full Training Replay