Twitter has become an undeniable mover and shaker in the content marketing world.
With over 86% of Twitter users turning to it daily as a top resource, staying active is vital to getting seen.
And yet, knowing what type of content to tweet is still a top frustration for most businesses.
That's where our years of testing comes in.
If you're a small business owner, marketer or self-professed data geek, we've got what you need.
11 of the best types of content to tweet, all backed by the stats and facts to make data driven decisions.
Looking for ways to optimize your Twitter marketing strategy? Check out these 21 super stealth ways to get more followers on Twitter!
What Content To Tweet: All The Twitter Stats, Facts, And Data You Need
Videos
Let's talk video. It's a big deal on social media, but especially on Twitter.

Need proof? Here it is:
But how do you leverage that immense power?

Respond to Tweets With Video. It will take a second of your time

face but will get your tweet noticed and help your audience put a face behind your brand.

Go Live on Twitter to Share Real-Time Events. Sharing a video around a live event increases brand favorability by 63%.
Do a How-to-video. S

hare educational or instructional videos that bring real value to your audience.
How to avoid "text neck" syndrome, linked to long hours spent on your mobile phone. https://t.co/bCR45OCxY3 pic.twitter.com/Uc07dbXeY9

— The Straits Times (@STcom) March 22, 2017
Tease a New Product or Upcoming Event. This is a fantastic way to build buzz and get people talking and clicking.
Animate Your Visuals. Breathe new life into your images by using tools such as Adobe Spark to create short videos or gifs from the graphic.
Jump On Trending Topics. See what's currently trending on Twitter and create a video around that topic.
Run a Twitter Video Ad. Video ads elicit a higher response:

+80% Memory encoding
+53% Personal relevance
+8% Emotional intensity
Here are a few tips to note when creating and sharing videos on Twitter:
Start your video off with a Bang! An early story arc, leads to a 58% increase in a user watching a video past the first 3 seconds.
Include a call-to-action. Tell the audience what their next step is and they'll be more likely to take it.
Feature people. Videos that show people in the first few seconds see a 133% increase in response.
Keep it short. Shorter videos of 15 seconds or less are more likely to drive memory encoding than videos of 30 seconds.
Add text or subtitles. Videos with text are 11% more likely to be viewed. They also generate 28% higher completion rates than those without them.

2. Infographics
People rarely have the time to read long drawn-out articles. They want facts and information, and they want them fast.
Let's face it, many people are visual learners. That's why it's not at all surprising that Infographics are so popular.

Just take a look at the numbers:
Infographics are 30X more likely to be read than textual articles.
Infographics are liked and shared 3X more than other any other type of content.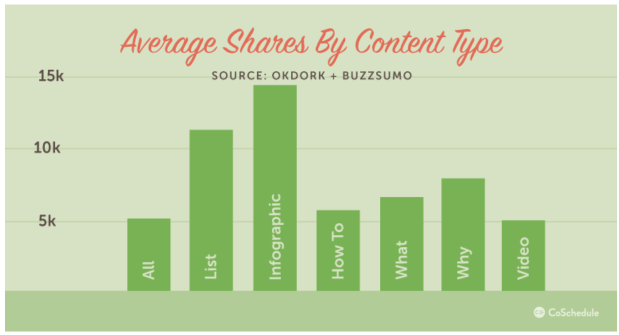 You can share both, the infographics you create and ones you've discovered.
If you create your own infographic, you can use it to drive engagement and get lots of leads.
Psst! These hacks are the secret to Twitter success! Grab your free #Infographic: https://t.co/0jchgA2mgf #socialmedia #twittermarketing pic.twitter.com/CQUYe7fzBY

— PostPlanner (@PostPlanner) March 21, 2017
Here are a few tools you can use to create your infographic:

Once you've created an infographic or have found one you want to share, go ahead and tweet out a link to it.

But don't forget to mention that it's an infographic!
3. Evergreen Content
Search Engine Watch analyzed their top 10 best performing pieces of content. The results showed that besides the SEO category page, the most popular pages were all evergreen articles.

And it's easy to see why. Evergreen articles:
Don't add to the noise
Boost shelf life of your top content
Save time you would have spent creating new content
One of the best things about evergreen content is that there are so many types of content you can share:
Blog posts
Training guides
Ebooks
Video tutorials
Podcasts and interviews
How-to checklists
#Influencers are out there in the long grass, learn how to find them on #Twitter! https://t.co/uv3UOVR7i0 #outreach pic.twitter.com/HEUUFzgIgP

— Ian Cleary (@IanCleary) March 22, 2017
4. User Generated Content
If you take a close look at some of the top brands on Twitter, you'll notice that many of them share user-generated-content.

And that's not surprising. UGC showcases your fans, helps build a community and provides social proof.
In fact, 45% of online shoppers are more likely to shop on websites offering personalized recommendations.

But that's not all:
Here are a few ideas on how you can tap into user-generated content.
Crowdsource ideas for new products, titles, etc.
Create a unique #hashtag and encourage users to use it to share their content with you.
Retweet complimentary tweets.
Thanks for the kind words @mordecaiholtz! https://t.co/SDQ88H4GTi

— PostPlanner (@PostPlanner) March 19, 2017
One thing to keep in mind is that not everybody will be comfortable getting their content shared.

So, unless it's a piece of content the user voluntarily submitted to you, make sure to always ask a user's permission before sharing the content.

And always, ALWAYS give credit where credit is due.
5. Visuals
Ok, you've probably heard about the value of visual marketing a thousand times.
But, I can't talk about the type of content you need to be sharing and not mention visuals.

Especially since:
Tweets with images are 34% more likely to get retweeted that tweets with no images.
Content with relevant images gets 94% more views than content without relevant images.
Colored visuals increase people's willingness to read a piece of content by 80%.
So, make sure to create and share some images that are attention grabbing and visually appealing.

Whether it's a stand-alone visual such as an inspirational quote, or it's an image that accompanies a promotional tweet, make it stand out.
How to Maximize Your #Facebook Reach https://t.co/j2DicN1xOU by @MariSmith via @smexaminer pic.twitter.com/Xv7rKDf8vA

— Michael A. Stelzner (@Mike_Stelzner) March 20, 2017
Here are a few tools you can use to create fantastic visuals:
6. Lists and How-to's
Twitter users love lists and how-to's.

And why wouldn't they? Lists and how to's offer value and do so in a clear and precise way.

It's not surprising that they get 3X more retweets than any other type of content.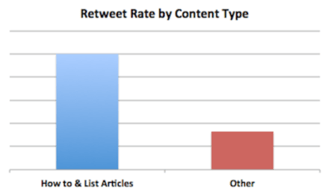 How-to posts or videos educate the audience and teach them something new. If you share this type of content I suggest you:
Share valuable information that positions you as an authority and valuable source.
Teach how to do something with the help of your product or service.
If you're creating lists, make these concise, straight to the point, and full of information your audience will find valuable.

Here are some how-to's and lists you can share:
Ideas
Answer Faq
Share Industry Tips
List Your Favorite Resources
Show A Step By Step
Offer Quick Tutorials
Beginner's Guides
7. Behind-The-Scenes Posts
Remember, people are looking to connect with people, not brands.

And behind-the-scenes posts are one of the best ways to build personal connections, trust, and brand loyalty.

This is important because:

So, give your audience an inside, more personal look, at who you are and what makes your brand tick.

Here's what you can do:
Give a behind-the scenes look at the team and their daily life.
Show how your product is created or how your team works from the inside.
Do a tour of your office or the place where all the "magic" happens.
Go behind-the-scenes at team photo day in latest edition of the DubShow 📷 pic.twitter.com/zmryRwU5Ru

— GoldenStateWarriors (@warriors) March 21, 2017
8. Inspiring or Image-Based Quotes
If you're still not sharing image-based quotes, you must be living under a rock.

Image-based quotes are everywhere and they're steaming HOT with engagement!

In fact:

One of the best things about creating such quoted image is that it's so easy to do! In fact, you can create an eye-catching quote-image in a matter of minutes (or seconds if you're super fast).

There are lots of easy ways to create such images and tools to help, but I prefer to do it all without leaving Post Planner.

I suggest you give it a try, especially since it can save you time and effort. Here's how:
Open up Post Planner's Popular section and look under "Status Ideas." I personally love the "Deep Thoughts" folder, but you can use any of the other ones.
Find a quote you like and add it into the composer (Click "Share" and Paste).
Now click on the Canva icon on the right and you'll be taken to Canva. Add your text in and create your image.
Click publish and your image will be added into the composer. Now all you've got to do is schedule your tweet. Voila!
9. Interactive Content
You might have noticed that content marketing is becoming less about the message you write and more about the experience you create.

Perhaps that's why interactive content does so well on Twitter: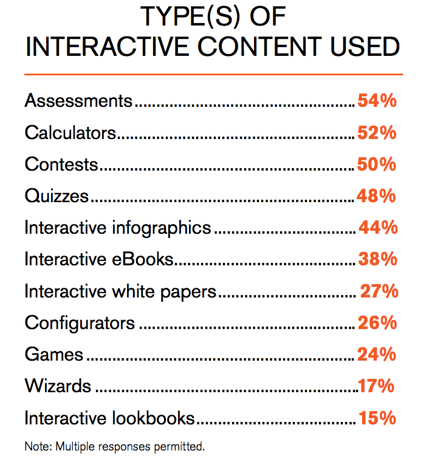 Source: Content Marketing Institute
This type of content gets the user actively engaged and participating.
Here are a few types of Interactive content you can share:
Assessments
Calculators
Quizzes
Contests
All of these create a unique experience that can't leave the user indifferent. So, I strongly suggest you make interactive content a part of your Twitter marketing strategy.
10. Engaging Questions
What's the best way to get your Twitter followers to respond to your tweet?

Ask them a question! Twitter users love to answer questions, especially ones that are quick and easy-to-answer, and ones that ask their opinion.

Did you know that engaging questions:

It's true! So, don't be shy - ask away!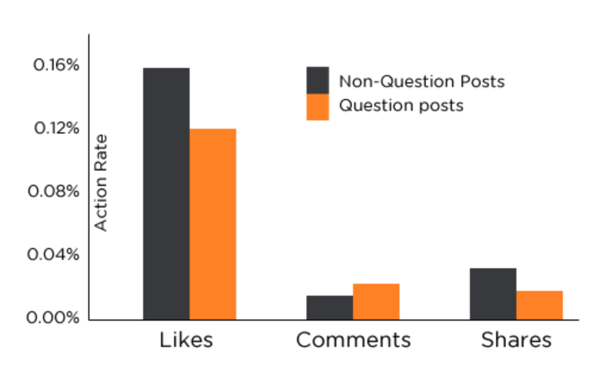 Source: Buffer
Here are a few things you can ask:
Questions that ask users' opinion in a industry related topic or news
Questions that gather opinion and ideas on product or service-relaed issues
General questions that have may have nothing to do with your niche but are engaging nevertheless. Questions like:

What are your favorite tips for getting through the day without caffeine?
What's the first thing you do when you get home from school or work?
Would you rather be able to read people's mind and influence them, or rewind time 1 hour
How many e-mails do you get in a day?
You can come up with these on your own or you can check out Post Planner's Find - Status Idea section and look under Questions. There are hundreds of questions to choose from.

As soon as you've chose your question, you need to decide how you want to share it:
As a text tweet
As an image (add your question to a great background).
11. Content That Evokes Positive Emotion
Remember: people on social media want to be entertained — not sold to.
The more positive emotions your content manages to evoke, the more engagement it will get and the more momorable it will be.
There's proof of that:

Just 42% of positive experiences are forgotten, compared to negative emotions' 60%.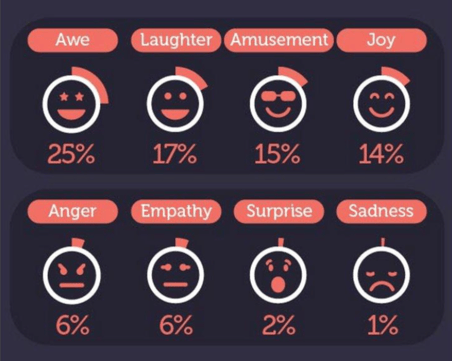 So, go ahead and share content that awes and amuses your followers. It can be as simple as sharing:
Inspirational quotes
Funny quotes, images, or videos
Memes
Jaw-dropping stories or videos
12. GIFs
Everyone loves GIF's. They're easy to tweet, consume and share. Not to mention that they speak to your audience when words just won't do the trick.

No wonder Giphy, serves more than 1 billion GIFs per day to more than 100 million Daily Active Users!

You need to tap into that trend and share GIFs on your Twitter profile. Here are some ways to use GIFs:
Show off a product
Tell a story
Explain a process
Thank users
Almost 1000 followers on @Twitter and almost 450 in @twitch #TeamEmmmmsie #B_SQUAD

Thank you for all the love and support!! pic.twitter.com/fXiZM46Ovh

— Bass Mstr NL [TeEm] (@Bass_Mstr_NL) March 22, 2017
You can easily find GIFs to share at Giphy.com, but you can also create your own. Here are some tools to do that:
Just consider this: if "a picture is worth a thousand words", then a GIF must be worth thousands!

And you can fit it all into Twitter's 140 character limit!
Final Thoughts
As you can see, we've found multiple types of content that performs well on Twitter.

Your job is to test out them out and see which types of content your audience responds best to.

Tweet, analyze, and tweak. Tweet, analyze, and tweak.

Now, over to you: what kind of content do you like to share on Twitter? What do you find the most effective?