Want to write better social media content?
Looking for ways to improve your engagement on every social network?
You've come to the right place!
Below I share 5 ways you can create clickable content that gets more likes and shares.
Read on to learn what to say, how to say it, and what works best on Facebook, Twitter, Instagram, and more.
5 Ways to Write Social Media Content to Get More Likes and Shares
1. Identify your Audience
There's two steps within this first part. Both will help you know, understand, and better serve your target market.
STEP 1: Know your audience
Identifying your audience is knowing who your audience is and what they want. It requires the creation of a persona that reflects your audience.
That takes knowing the preferences, tastes, and inclinations of your audience.
But finding them is different than building an audience.
The latter is the motivation of your content marketing strategy and should be differentiated from knowing the audience. Your overall goal is to build your audience through your content marketing strategy.
However, you can't create good content if you don't have an idea who the person is or what they want. Stop shooting in the dark and take the time to get to know people actively searching for your company.
STEP 2: Find the niche of your target audience
In order to know your audience, you can employ the following:
Google Analytics: This helps you get some insight on your audience. For example, demographics, content preferences, preferred channel for acquisition, etc.
BirdSong Analytics: As far as social media is concerned, BirdSong is a great way to analyze Facebook pages. It gives you an in-depth analysis of how your competitor is fairing on Facebook; showing the type of content that has worked for them. It continues to give intricate details as to the specific time and day in which they trigger interactions on their pages. The wording of their posts are also analyzed, showing commonalities and variations used.
Fanpage Karma: This tool enables you to identify the most engaged social media followers of your competitor. It can be essential to know what you are up against when devising your content.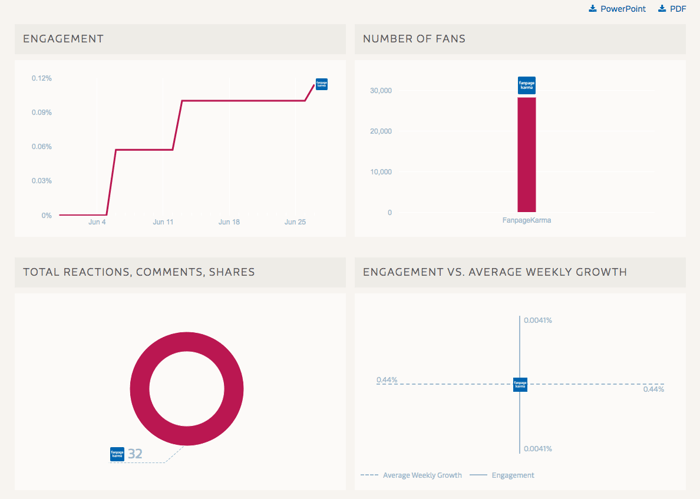 Knowing your audience is critical. Most content doesn't get clicks, likes or shares because it wasn't tailored to the right audience.
You might have written great content, but the fact that you shared it with the wrong people downplays your efforts.
Take the time to get to know your audience. This will help you greatly in sharing content to only those who need it. It saves time and resources while increasing the click rates of your content.
2. Use a Catchy Headline
In the online space and even in print media, any content is initially judged by its headline.
It's the first thing people see or want to look at before considering whether to read the content. That makes the headline one of the most important parts of your content.
When writing for social media audiences, many writers tend to overlook this aspect. This may lead to detrimental effects as no effort is made to engage the readers with the headline.
This will ultimately result in low click rates if you get any at all.
In light of the above, it comes as an imperative to craft a headline that engages readers. In order to come up with such a headline, the following aspects should be considered:
Relevance - The subject of your post should be in tandem with the headline. This is to say, if you're talking about cars, your headline should be about cars and not bicycles. Don't aim to use click-baiting headlines. These tend to attract people, but are out of context with the subject of your content. A disregard for relevance will disappoint your readers; which will result in losing them altogether.
Brevity - Your headline should be brief and concise. Shorter headlines have a more significant impact than longer ones.
Quantification - When writing your headline, make a point of quantifying facts by use of numbers. People are more inclined to click on headlines that have numbers since they tend to be more specific. They also enable the reader to know what to expect from the post.
Power words - The use of power words makes your post more intriguing. It makes the writer sound intelligent too. It also adds credibility to your entire post. Use power words like "Best tips, "Top tips," to build trust.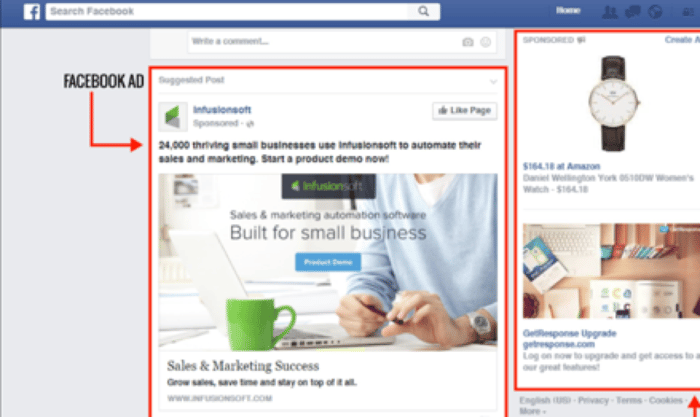 You also want to use different headlines for different social networks. Various social networks attract different audiences, this means a standard headline won't work.
Create a unique headline that will resonate well with each of these social networks. A study by Buffer and CoSchedule found that certain words were more shareable on Facebook, Twitter, Pinterest, and LinkedIn.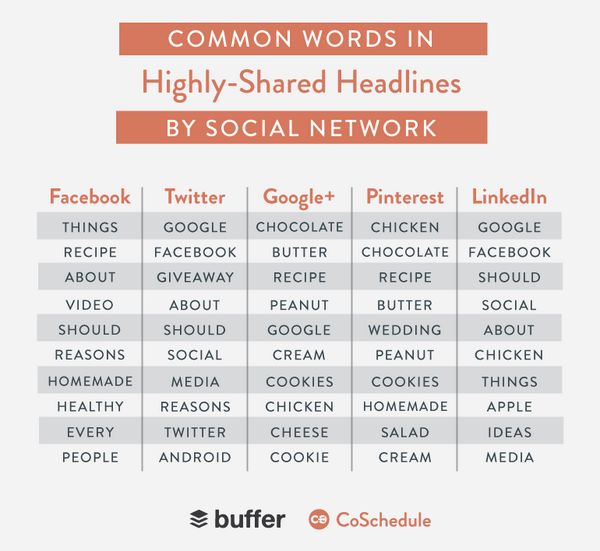 You also want to add an element of curiosity to the headline to entice the reader to click on it. Use a controversial phrase or assertion that will hook the reader from the beginning.
You can use tools like Fiverr to assist you in coming up with a catchy headline that arouses curiosity.
3. Post Sharable Content
The underlying factor that leads to a drastic reduction of clicks on your social media content is the fact that you didn't make it shareable.
Write for your reader and give them the freedom to share it when and how they want.

An easy way of making your post sharable is by first ensuring that it's relevant to your target audience.
This will motivate them to share the post with people in their networks including family and friends. Even random followers on Facebook or Instagram may stumble upon your content and read it too.
Another way of making your post shareable across social media is by adding social media buttons to the original content.
Whether it's a blog, podcast, or video... make your buttons conspicuous so that anyone who scans the content can easily see it.
Some writers design them in a way that they move as the readers scroll down the page. This way the reader is more likely to use the social media button since it's following them dynamically.
You can also ask your reader to share the content. This could be done at the end of the post. Motivate the reader to share the content through a well-thought phrase.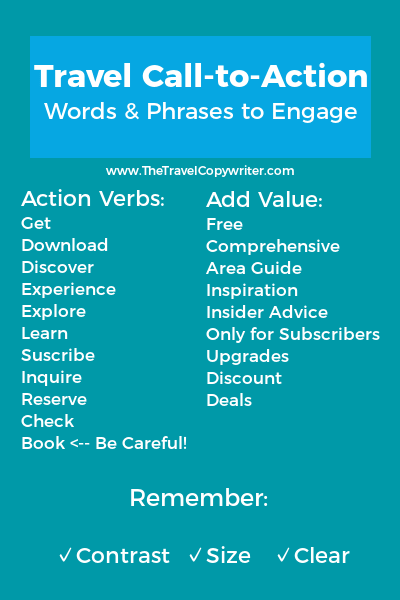 For example, if you're in the travel industry, you might use, "Book Now." If the reader was touched by what you wrote, they might actually be moved to share once you give them a slight nudge.
Creating a call to action will also drive the reader to share your content. This especially holds true where adding a CTA to your Facebook page can increase the click-through rate by 285%.

4. Utilize Visual Aids
Visual information has proven to be effective in conveying information faster than text.
It's also useful in spicing up your content and attracting attention.
In fact, a reader may click on your content because they saw some visual information in it.
As a writer, you could leverage the power that visual aspects have on your content to make your content clickable over various social networks.
If you take a closer look at content created and posted by businesses in social networks, they all tend to have a visual aspect.
Images
Infographics
Videos
GIFs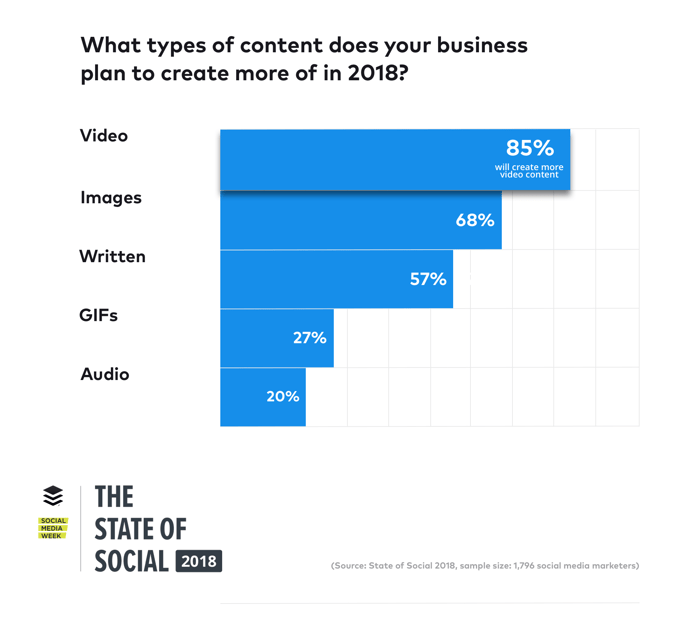 But as you can see in "The State of Social 2018," a closer analysis reveals that visuals get more shares and clicks.
Facebook alone reports an average of 8 billion daily video views. That's HUGE!
And even if you don't feel you have the time or skills to create your own, there are tools like Adobe Spark that make it a breeze.
If you're not able to make your own, you can use stock images that are available on various sites like Shutterstock or iStockPhoto.
But remember...
... When you use anyone's content, always acknowledge the source of the images or videos to avoid copyright infringement.
5. Embrace Simplicity
It's a well known fact that most online users skim through their Facebook and Instagram feeds.
To capture their attention, make your content easy to read.
Embrace simplicity and remove words that don't help the readability or shareability of your content.
Use clear and uncomplicated language they can easily understand and the message free of jargon. If you like using pompous words, avoid them entirely in your social media posts.
Writing content or presenting it in a complex way may be doing you more harm than good. It intimidates those who cannot understand your content.
You may ward off potential reads just because the reader thought they were 'too dumb' to understand what you were writing.
It also makes online users reluctant to share the content since most people tend to share what they know. In essence, embrace simplicity as much as possible.
To increase the simplicity of your content, do this:
Use an active voice in your posts
Use short words and phrases
Use short and simple paragraphs
Use easy sentence structures
As you consider the above 5 tips, ensure that you approach your social media content strategy with a big brand mindset to get you those clicks.
A big brand mindset is typically an approach that companies (over 50 million) use in their social media strategy. It entails:
Identifying where customers interact
Creating content that people want to talk about
Listening to customers through social media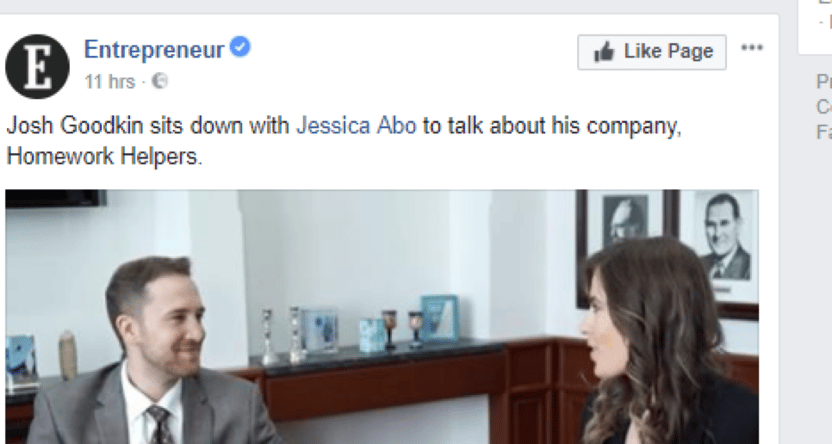 Just like Jessica, identify your customers
The big brand approach is effective in engaging your social media followers.
Conclusion
Social media is a powerful tool for promoting and marketing your content.
But with the increasing number of content shared on social media, it becomes difficult for a lone marketer to create content that gets clicks or shares.
Even so, all that's needed is a working strategy to make an impact on social media.
The 5 ideas above will help you write clickable content that is successful on every social network.
Apply them contextually and improve your social media content success rate.