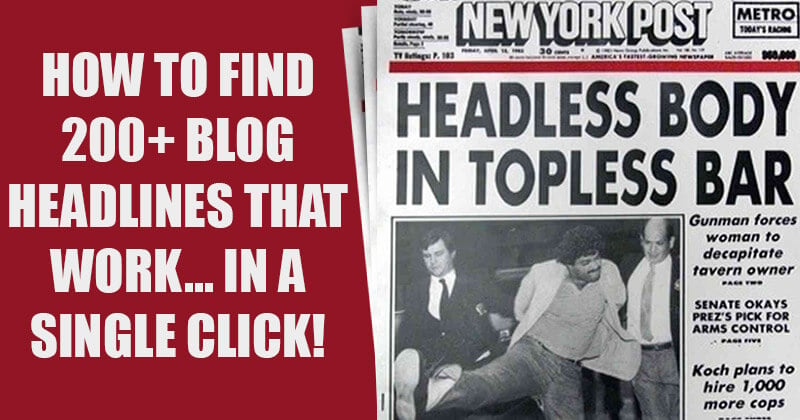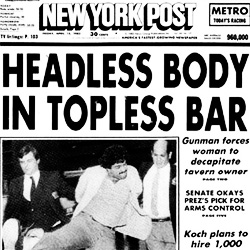 What's the hardest thing about blogging?
For me the hardest thing (other than staying focused!) is figuring out the best headline for my blog posts.
There are times when Josh & I spend literally hours thinking over a headline.
That may sound silly -- but the reality is the headline is often more important than the content itself.
Blog Headlines that Work
Neil Patel from Quick Sprout had this to say:
One of the simplest ways to boost your conversion rate is by tweaking your headline copy. If you don't believe me, just look at KISSmetrics.com, I was able to boost my conversion rate by 40% by simply adjusting the headline copy.
Neil is referring to headlines of sales pages or landing pages here, but the same is true for blog posts -- especially when you're selling a product on your site.
Brian Clark from CopyBlogger says this about headlines:
Your headline is the first, and perhaps only, impression you make on a prospective reader. Without a headline or post title that turns a browser into a reader, the rest of your words may as well not even exist.
Suffice it to say the headline of your blog post is key when it comes to getting people to read your content.
If your headline isn't compelling enough, people won't click it on social media sites or in emails -- and no one will end up reading your article.
How to Find Blog Headlines that Work
There's never been an easy way to identify the best headline for a blog post.
Often times I replicate the headlines from other successful bloggers -- or I follow blogging tips from various experts about the types of posts that seem to get read most often.
For the past few months, I've been following some tips from Chris Brogan via his Blog Topics course -- and it's really helped me improve my blog headlines.
But even with the help of great tips, there's still a ton of work to do if you really want to craft a catchy headline.
I'm going to assume that you've found the keywords that fit your headline & keyword strategy -- and also have a good search volume.
If not, you should check out Moz as they have great keyword info & tools:
Once you find the right keywords, however, the onus is on you to craft a killer headline -- one that people will actually click.
Well lucky for us, our good friend Ian Cleary from Razor Social recently wrote an article for Social Media Examiner titled "45 Social Media Tools & Tips to Improve Your Marketing".
In the post, Ian mentions a tool called "Tweak Your Biz Title Generator"

Out of all the tools he mentions, this one really caught my attention.
Here's what Ian has to say about it:
A great blog post title makes a significant difference in the traffic you get and the number of times the post is shared.

The Tweak Your Biz Title Generator displays a variety of possible titles to use based on the keywords you enter.
To my surprise, the site does exactly what he says -- and does it quite well!
How to Tweak Your Biz Title
The tool is really easy to use.
Decide on your keyword or keyword phrase
Enter it into the search box
Choose whether your keyword is a noun or verb
Decide how you want the results to appear
Click Submit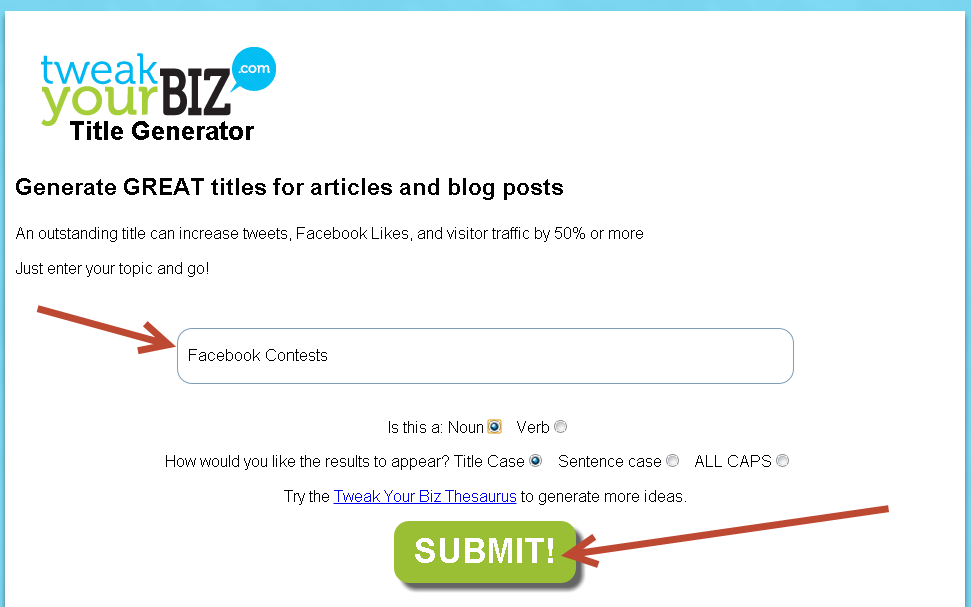 Since the topic of "Facebook Contests" is really hot right now (after Facebook changed the promotion rules), I chose that as my keyword & hit submit.
The result was a wide array of blog headline categories:
Lists
Best
How To
Questions
Love
Sex
Celebrities
Secrets
Snark
Business
Motivation
Problem
The Kitchen Sink
There are actually so many different categories of posts to choose from I can't even get a good screenshot of the results!
From the "Lists" category alone, I get these headlines to choose from:
Apply These 6 Secret Techniques To Improve Facebook Contests
Believing These 6 Myths About Facebook Contests Keeps You From Growing
Don't Waste Time! 6 Facts Until You Reach Your Facebook Contests
How 6 Things Will Change The Way You Approach Facebook Contests
Facebook Contests Awards: 6 Reasons Why They Don't Work & What You Can Do About It
Facebook Contests Doesn't Have To Be Hard. Read These 6 Tips
Facebook Contests Is Your Worst Enemy. 6 Ways To Defeat It
Facebook Contests On A Budget: 6 Tips From The Great Depression
Knowing These 6 Secrets Will Make Your Facebook Contests Look Amazing
Master The Art Of Facebook Contests With These 6 Tips
My Life, My Job, My Career: How 6 Simple Facebook Contests Helped Me Succeed
Take Advantage Of Facebook Contests - Read These 6 Tips
The Next 6 Things You Should Do For Facebook Contests Success
The Time Is Running Out! Think About These 6 Ways To Change Your Facebook Contests
The 6 Best Things About Facebook Contests
The 6 Biggest Facebook Contests Mistakes You Can Easily Avoid
The 6 Most Successful Facebook Contests Companies In Region
Think Your Facebook Contests Is Safe? 6 Ways You Can Lose It Today
Thinking About Facebook Contests? 6 Reasons Why It's Time To Stop!
6 Places To Get Deals On Facebook Contests
6 Reasons People Laugh About Your Facebook Contests
6 Amazing Facebook Contests Hacks
6 Awesome Tips About Facebook Contests From Unlikely Sources
6 Creative Ways You Can Improve Your Facebook Contests
6 Easy Steps To More Facebook Contests Sales
6 Effective Ways To Get More Out Of Facebook Contests
6 Enticing Ways To Improve Your Facebook Contests Skills
6 Examples Of Facebook Contests
6 Facts Everyone Should Know About Facebook Contests
6 Guilt Free Facebook Contests Tips
6 Incredible Facebook Contests Examples
6 Incredible Facebook Contests Transformations
6 Key Tactics The Pros Use For Facebook Contests
6 Facebook Contests April Fools
6 Facebook Contests Mistakes That Will Cost You $1m Over The Next 10 Years
6 Facebook Contests You Should Never Make
6 Life-saving Tips About Facebook Contests
6 Little Known Ways To Make The Most Out Of Facebook Contests
6 Mesmerizing Examples Of Facebook Contests
6 Most Well Guarded Secrets About Facebook Contests
6 Must-haves Before Embarking On Facebook Contests
6 Places To Look For A Facebook Contests
6 Questions You Need To Ask About Facebook Contests
6 Reasons Abraham Lincoln Would Be Great At Facebook Contests
6 Reasons To Love The New Facebook Contests
6 Reasons Why Having An Excellent Facebook Contests Is Not Enough
6 Reasons Why You Are Still An Amateur At Facebook Contests
6 Reasons Your Facebook Contests Is Not What It Could Be
6 Ridiculously Simple Ways To Improve Your Facebook Contests
6 Secrets About Facebook Contests They Are Still Keeping From You
6 Signs You Made A Great Impact On Facebook Contests
6 Simple Ways The Pros Use To Promote Facebook Contests
6 Solid Reasons To Avoid Facebook Contests
6 Steps To Facebook Contests Of Your Dreams
6 Stories You Didn't Know About Facebook Contests
6 Strange Facts About Facebook Contests
6 Stunning Examples Of Beautiful Facebook Contests
6 Stylish Ideas For Your Facebook Contests
6 Super Useful Tips To Improve Facebook Contests
6 Surprisingly Effective Ways To Facebook Contests
6 Things To Demystify Facebook Contests
6 Things You Can Learn From Buddhist Monks About Facebook Contests
6 Things You Didn't Know About Facebook Contests
6 Things You Have In Common With Facebook Contests
6 Things You Must Know About Facebook Contests
6 Things Your Mom Should Have Taught You About Facebook Contests
6 Tips About Facebook Contests You Can't Afford To Miss
6 Tips For Facebook Contests Success
6 Tips For Facebook Contests
6 Tips That Will Make You Guru In Facebook Contests
6 Tips To Reinvent Your Facebook Contests And Win
6 Tips To Start Building A Facebook Contests You Always Wanted
6 Tips With Facebook Contests
6 Tricks About Facebook Contests You Wish You Knew Before
6 Unforgivable Sins Of Facebook Contests
6 Unheard Of Ways To Achieve Greater Facebook Contests
6 Very Simple Things You Can Do To Save Facebook Contests
6 Warning Signs Of Your Facebook Contests Demise
6 Ways Create Better Facebook Contests With The Help Of Your Dog
6 Ways Facebook Destroyed My Facebook Contests Without Me Noticing
6 Ways Facebook Contests Can Make You Invincible
6 Ways Sluggish Economy Changed My Outlook On Facebook Contests
6 Ways To Get Through To Your Facebook Contests
6 Ways To Immediately Start Selling Facebook Contests
6 Ways To Keep Your Facebook Contests Growing Without Burning The Midnight Oil
6 Ways To Master Facebook Contests Without Breaking A Sweat
6 Ways To Reinvent Your Facebook Contests
6 Ways Twitter Destroyed My Facebook Contests Without Me Noticing
6 Ways You Can Get More Facebook Contests While Spending Less
6 Ways You Can Grow Your Creativity Using Facebook Contests
6 Ways You Can Reinvent Facebook Contests Without Looking Like An Amateur
6 Ways You Can Use Facebook Contests To Become Irresistible To Customers
Using 6 Facebook Contests Strategies Like The Pros
Warning: These 6 Mistakes Will Destroy Your Facebook Contests
You Can Thank Us Later - 6 Reasons To Stop Thinking About Facebook Contests
You Will Thank Us - 6 Tips About Facebook Contests You Need To Know
A ton of results!
Btw, the tool randomly chose the number 6 as the list volume.
You could easily change that number to reflect the content of your particular post. And if you submit the same keyword again you'll notice the number changes.
The Blog Post Chicken & Egg
Looking at these headlines, I could quickly come up with a bunch of blog posts to write -- and easily figure out content to fit the headline.
Often times here on our blog, I'll decide on the headline first & the content later -- I probably do it that way about half the time.
Once the tool gives you all of these results you could simply copy & paste them into a Word doc or Excel file.
Or you could print or download them right from the site as shown below: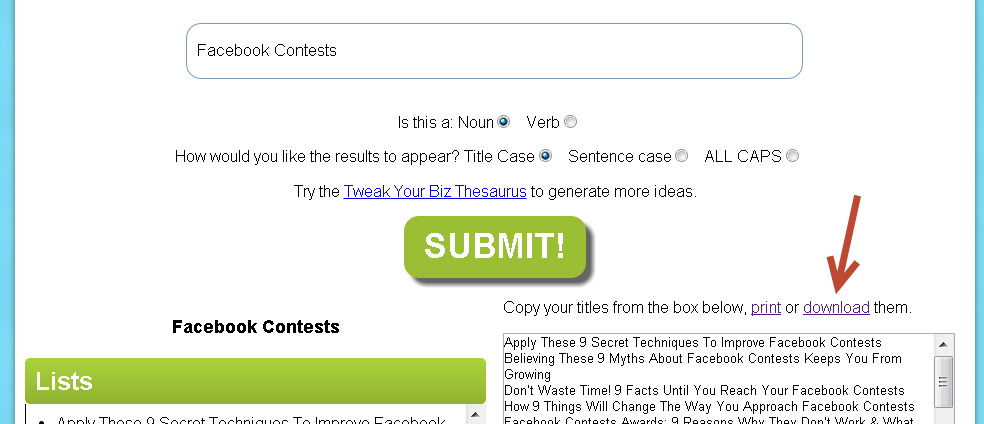 Actually, my attempts to download only sent me back to the main page to submit a new keyword & never let me download anything.
Hopefully they'll fix that. But it's just as easy to copy all the results from the box on the right hand side & paste them into your own file.
Even with this small glitch this tool is fantastic!
A huge time saver!
Just to show you the tool works I entered the keyword phrase "blog headlines that work" & chose the headline of this article from the "How To" section!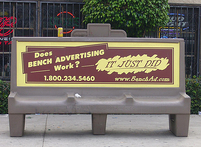 I'm sure you've seen billboard or park benches that say something like "Does Outdoor advertising still work? It just did!"
So if you're reading this blog post then obviously the title generator did its job.
Ie. it created a compelling enough headline to warrant your click... yeah that click you just made a few minutes ago. ;)
How's that for instant social proof!