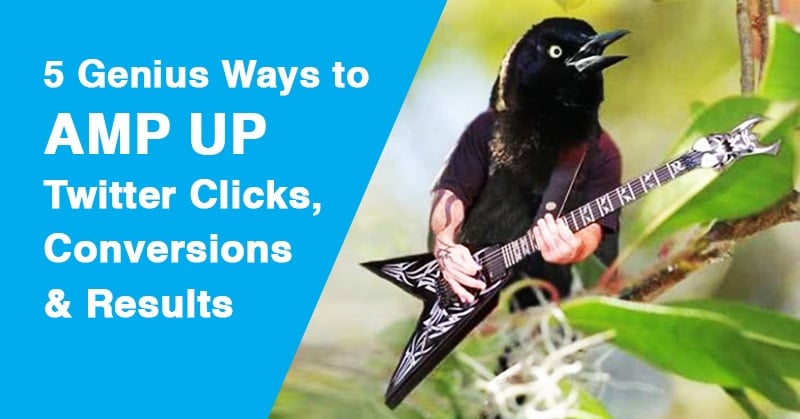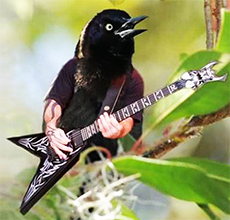 Are you getting "shout-it-from-the-rooftop" returns from your Twitter efforts?
Come on, tell me the truth...
You're wondering if spending time on Twitter is worth it at all, right?
I knew it!
That means you're one of the zillion tweeters who wants to see tangible results from Twitter.
Whether it's more Twitter clicks, interactions or conversions -- you need to know how to measure a return on your investment and time.
So lets make your Twitter stats soar!
Take a look below at my 5 surefire ways to better convert your traffic... and AMP Up Twitter clicks, conversions and results!
>> Click to Tweet <<
5 Genius Ways to AMP Up Twitter Clicks, Conversions and Results
Here's the first thing to know: Twitter is NOT primarily for traffic generation, nor is it for converting traffic into customers.
Trying to totally evaluate your Twitter results by the typical numbers people use (clicks, conversions, followers, etc) makes you focus on the wrong stuff!
Twitter is a people-connector! Traffic and conversions come as a BONUS.
Most of your time on Twitter should be geared towards interacting with followers and providing value to them (invest ~10% of your Twitter time going for clicks and conversions).
Run Twitter tests to do your best!
The lifespan of a tweet is extremely short. You can tweet the SAME URL multiple times each week -- experimenting with wording, formats and time slots.
Test until you find something that works well in terms of driving traffic and conversions -- then test some more.
Of course, there are drawbacks to the short lifespan of a tweet too: It's difficult to tell what has really worked if you change more than one thing at a time, and you can't tweet the same thing too often without coming across as spammy.
Twitter stats compared to other social channels
There's been plenty of research (sometimes contradicting) on how various social media traffic converts.
Twitter never comes in the leader, but most rank it 3rd -- behind Facebook and Pinterest.
I've already said that traffic stats are NOT the best way to evaluate Twitter or to view Twitter, but here's where the platform currently stands in relation to other channels:
Let's look at 5 ways to boost your Twitter presence and Twitter stats across the board.
>> Click to Tweet <<
1. Boost your Twitter stats by using Twitter Cards
Twitter supports rich markup to help you control how your URLs look when they are tweeted. Here's an example of a rich tweet: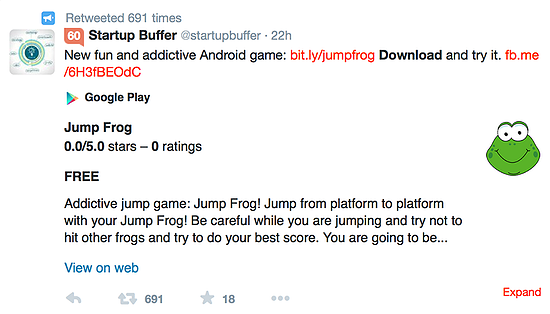 Rich tweets allow you to publish much more than 140 characters to Twitter. Here are the 7 types of supported Twitter Cards:
Summary
Summary with large image
Photo
Product
Video/audio player
Gallery
App
You can get more info on each card type straight from the horse's mouth -- right here.
Twitter advertisers (only) can take advantage of the **Lead Generation Card** (see the screenshot) to make list-building a snap: Prospects click once to show interest, then one more time to send their contact info to you.
BAM. Done.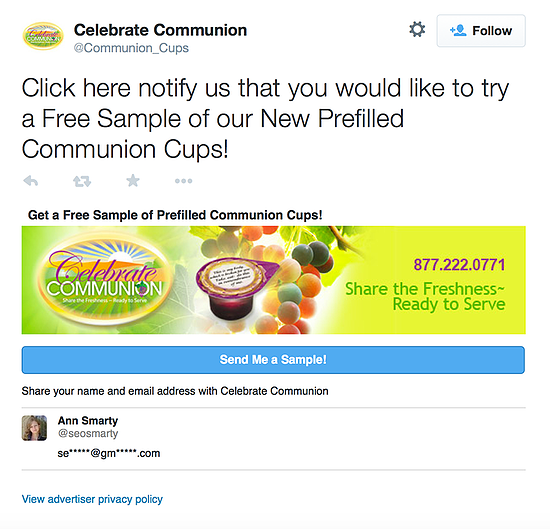 Twitter Analytics loves Twitter Cards -- it gives you a list of best-performing links within your cards, performance across card types, influencers tweeting your URLs, pro tips that help you test cards -- and a whole lot more.
If you aren't yet excited about analytics, get out your dancing shoes on and fire up some Twitter Cards. You'll be doing the Scot Hop soon.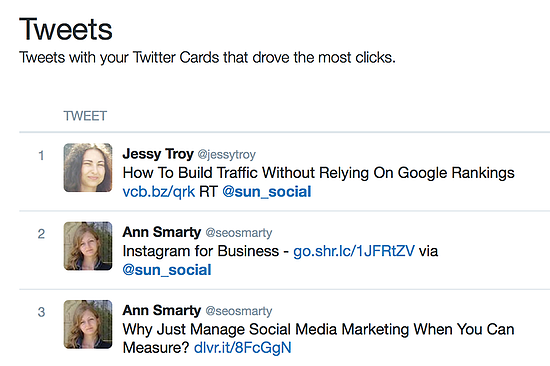 2. Use these 3 Twitter copywriting makeovers to get your message HEARD
A. De-Clutter your tweets to make your call to action stand out
Fewer distractions drive more clicks to the tweeted links. We love tagging people and using hashtags.
Both tactics are awesome for extending your reach, but keep in mind that both @username and #hashtag become linked content when tweeted, so avoid saturating tweets with links -- that buries your call to action (link to your article or website, etc).
B. Tweet it like you mean it -- don't be afraid to make an offer
A Twitter study of promoted tweets (2013) found download offers to be the most productive Twitter call to action. The data was pulled from 20,000 randomly selected Promoted Tweets.
Here's how Twitter put it:
Promoted Tweets in timelines that explicitly ask people to download accompanied by a link increase URL clicks by an average of 13%. Promoted Tweets in search that feature this call to action also increase clicks by an average of 11%.
Hey, if your offer is VALUABLE, there will be a segment of people who WANT IT (your target audience). Don't tell me you're "not a salesperson." EVERYBODY is a salesperson.
Nothing happens until someone makes a sale -- whether you're convincing your son math really is important or bringing a new client on board. Sales is a part of life. Get over it!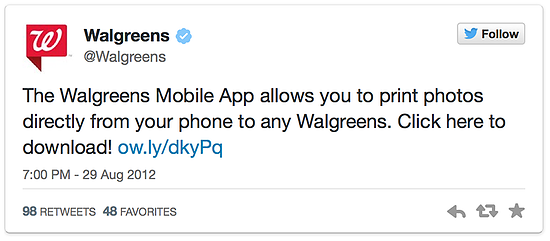 C. Tell the reader what to do and don't mince words when you do it
We've already alluded to this, but I'll follow my own advice and make it absolutely clear. State your case with zero-tolerance ambiguity.
People are leery about clicking on something they aren't sure of. Leave no room for doubt.
Take a look at these 2 examples from HubSpot: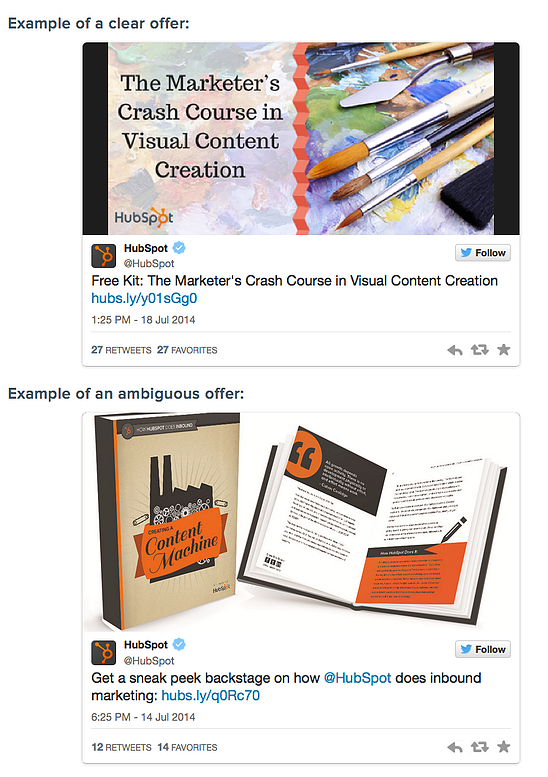 Here are those Twitter copywriting ABCs one more time -- stated a little differently
Make your call to action stand out
Provide enough value that you are never ashamed to ask for a click
Be absolutely clear about what you are offering and what is expected of the prospect
>> Click to Tweet <<
3. Send your tweets while your audience is awake & active!
Marketing begins with knowing your audience. If you can't put a finger on where your primary prospect lives, when she is online, and what she hopes and dreams for... stop worrying about marketing until you can determine who you are marketing to (yes, Twitter can help you with that).
There are some rules of thumb (ever-changing) and some interesting research findings -- but the bottom line here is: Know thy audience.
Most of the data says higher engagement comes at quieter moments and days:
Get more retweets late at night (TrackMaven analyzed over 1.7 million tweets to determine that)
Get higher engagement on the weekends (Dan Zarrella puts it at 17%)
Reap more clicks between midnight and 6 am (says Neil Patel on Kissmetrics)
Does it sound like you need to work days and hang out on Twitter all night?
You're right! (here's how I do that)
Why should you care about retweets and click-throughs? At the end of the day, the more buzz you generate, the better your call to actions, and the more you get involved with potential customers or clients... the more conversions you will show at the end of the month.
Business IS sales. No sales. No business.
4. Target your tweets and fine-tune your Twitter stats with hashtags
Using and monitoring relevant hashtags (#) increases your reach. That's because #hashtags target your tweets better to those interested in a particular topic or brand. A fun tool for hashtag exploration is Hashtagify.me (how cool is that?)
Want to know who the most influential person for #Twitter is? How about for #socialmedia? Here's a fun fact for you: Both titles are held by the same guy -- @RealTonyRocha.
But you don't know Tony? Well, get on over to Twitter (after finishing this post) and find out! Rocha has over 2 million followers on Twitter. What would it do for your business or brand if he decided to mention you now and then?
Answer: A LOT!
Go pro with a social media dashboard
I use Cyfe to monitor hashtags (and a whole lot more).
I monitor keywords of primary importance (so I can participate in related discussion)
I keep watch on my competitors (to listen to what my competitors' customers talk about)
I stay in touch with my industry Twitter chat hashtags and memes (to embed myself in the larger community)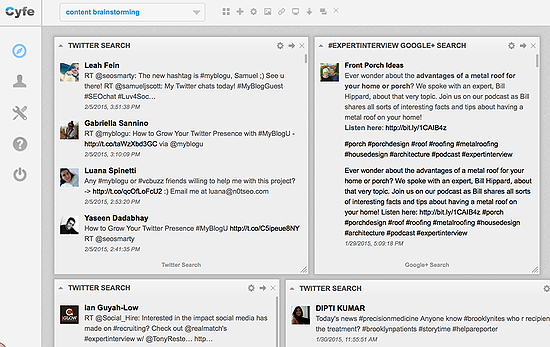 5. Keep up with conversions by taking advantage of these cool tools
Don't overlook the power of Twitter Analytics
Twitter has one of the best social media analytics anywhere. It's free, simple to use and provides great insights. It does have conversion tracking -- but only for ads and promoted tweets.
Check out Oktopost for plugging the gap between social media and lead generaton
Conversion tracking helps you better understand which of your tactics is working and which aren't. (And there are times when the results can be surprising.) Smart marketers keep amplifying the things that work and letting go of what doesn't.
That can be tough -- but it's necessary for any real success. Face it: you don't know everything. If the results proof your pet theory wrong, shake it off, heed the data and keep on going.
My personal choice for a conversion tracking tool is Oktopost. By inserting a bit of code on the pages I want to track, I can tag and segment traffic to events I want to measure.
Here's a brief overview of how that is set up: Conversion tracking with Oktopost.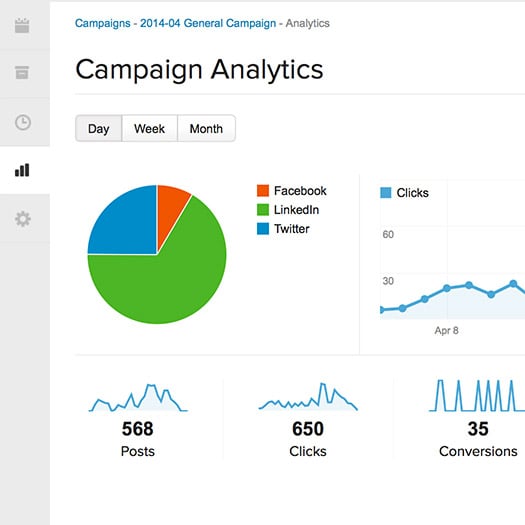 Takeaways -- Simple Ways to Get Your Twitter Stats Soaring
Build connections and create brand awareness with Twitter -- those are the platforms strong points
Offer download links in your tweets -- downloads are Twitter's most effective call to action
Make sure your call to action is clean, short and clear -- don't confuse your audience
Test constantly to identify your own best Twitter tactics
Remember to post at night (use a scheduling tool like Post Planner) -- the late hours can be the most effective hours
Monitor your progress to identify best-working conversion tactics, then expand on them (try promoted tweets)
What are your Twitter conversion tips? Have I missed something you think is crucial?
Please share in the Comments below!
____________________
RECOMMENDED ARTICLES: