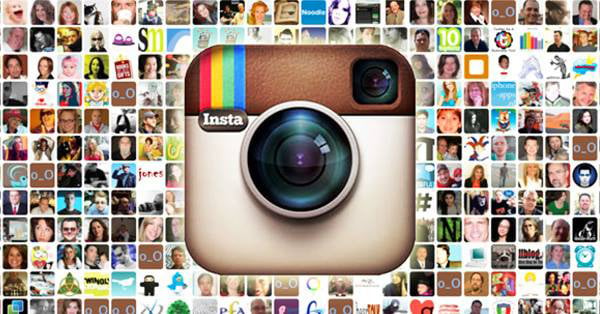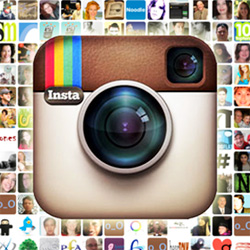 Do you use Instagram to grow your business?
Wait!
Before you answer that, let's look at some impressive Instagram stats:
150 million active users (60% outside the US)
60 billion total photos posted
1.2 billion Likes per day
55 million photos uploaded per day
So if you aren't using Instagram for your business, the real question is... WHY?
Today I have some Insta-tips that my partner and I use for our business.
Together, we run Leneys -- an online fashion store.
We started using Instagram in 2012 to get more exposure for the company -- and we're building lots of momentum!
We picked up 2,000 new followers in just the past 2 months -- check out how much our Instagram following has grown since January 2013: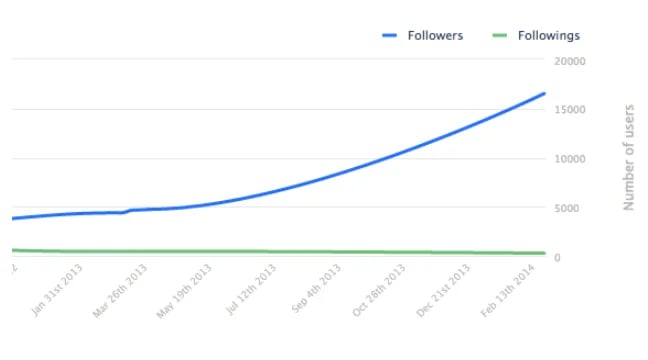 Instagram really works!
We've gained repeat customers and we're always testing new tactics and finding ways to improve.
Here are 6 things that have worked so far:
6 Easy Ways to Get More Instagram Followers
1. Post AWESOME photos!
On Instagram, beautiful photos are a must.
Photos are how people communicate on Instagram & the app is a great way to share your story with the world.
Here are some suggestions if you're struggling to think up photo ideas:
Your products
Your employees
Behind-the-scenes shots
Throwback Thursday (#tbt) -- use the #tbt hashtag on Thursday to share photos from the past
Shots from the city where your business is located
Here's how Spyhouse Coffee Roasters rocks Instagram: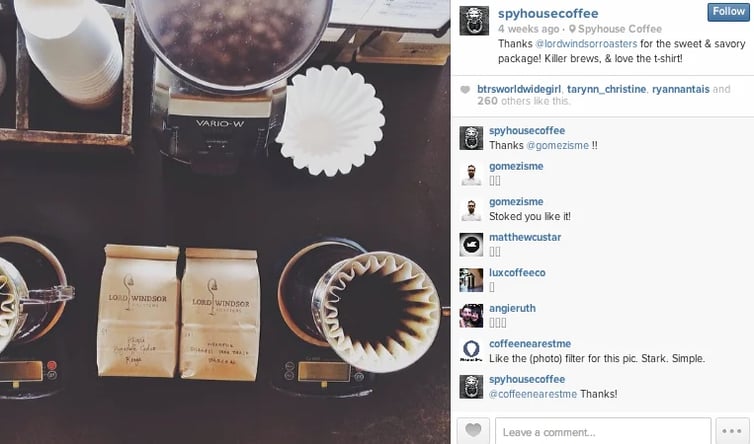 Make sure to add descriptions to your photos to get more interaction from followers.
And remember, it's easy for people to scroll right by if the pics don't quickly catch their attention.
Improve the appearance of your photos by adding a filter or simply sharpening the contrast.
The extra effort won't go unnoticed.
We use these tools to spruce up our pics:
2. Use popular hashtags
You can get more Instagram followers by using popular hashtags to get your posts in front of more users.
But don't go overboard.
Only use hashtags that are relevant to your photos. For example, when posting a photo of food, don't use the "scenery" hashtag just because it's popular.
Sometimes businesses try to create their own hashtags, which usually doesn't work. If your business doesn't have a huge following, just use popular hashtags like #tbt, #photooftheday and #love to promote your posts.
According to Webstagram, here are some of the most popular Instagram hashtags:
#love
#instagood
#me
#like
#follow
#cute
#photooftheday
#tbt
#followme
#tagsforlikes
And check out the current TOP 100 most popular hashtags here:
I keep track of popular hashtags in my industry and I ALWAYS refer to that list before I post.
3. Know your audience
Know as much as you can about your audience -- including their habits and likes.
This is especially important when deciding what and when to post.
I use Statigram to study my Instagram followers. The chart below tracks the engagement from our audience in relation to when we posted.
Of course we'll continue to use these analytics as we test different strategies.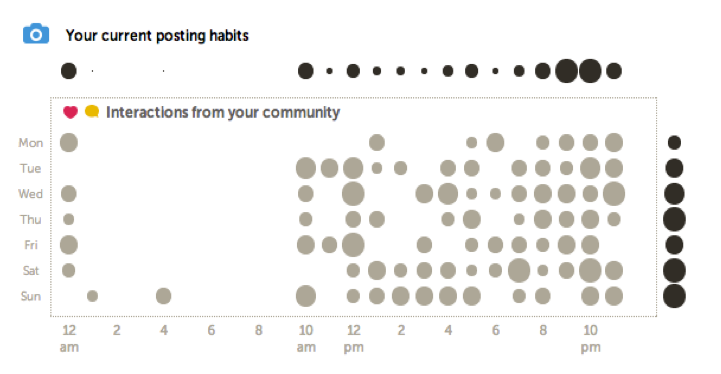 4. Seek out influencers in your industry
Networking online with influential people in your industry is a great way to get tons of free exposure.
But it isn't easy. Building healthy relationships takes time. So be patient!
Engaging with influencers helped launch our company on Instagram.
We've expanded our reach and gained new customers by building relationships with bloggers, designers and other well-connected fashion aficionados and fans.

First, identify the top influencers in your industry. Find them and strike up conversations on Instagram. After you've built rapport, contact them via email for more detailed interactions.
Get them to notice you and your company!
Once they know you, strengthen the relationships by sending VIPs gifts from your business.
But remember, it's pointless to send a gift without first establishing a connection, because the person won't know who you are.
If they love your business and your product, they might just share a photo of your gift with their Instagram fans -- exposing your company to a whole new audience.
Check out this example from fitness guru Bella Falconi: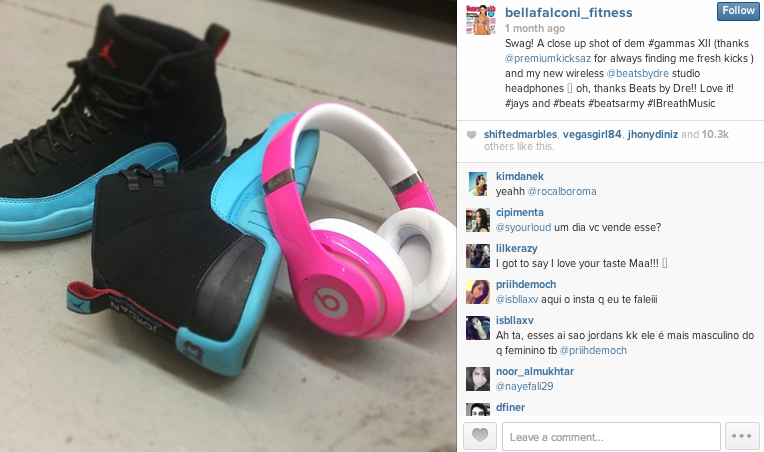 5. Share Instagram photos on other social media channels
No brainer, right?
Sharing your Instagram photos on your other social media accounts -- Facebook, Twitter, Google+, etc. -- is a great way to boost visibility for your brand.
Make sure your Facebook fans know you have an Instagram account -- and ask them to connect with you there.
And don't forget to provide your Instagram username with the request!
This is important because Instagram probably wasn't the first social network you chose to promote your business. After all, it was established later than Facebook and Twitter.
So remind ALL your fans that you regularly post Instagram pics.
6. Run a contest
A contest is an awesome way to get people talking about your company. Search the #contest hashtag on Instagram and you'll find more than a million photos.
Here are some EASY contest ideas you can run today:
Use this Hashtag: fans use your hashtag on their photos -- you choose a winner
Theme Photos: fans follow a theme you pick and post photos based on that theme -- you pick a winner
Re-post: fans re-post your photos on their Instagram accounts -- a so-called "regram" -- you pick a winner
Here's a fun weekly contest from Counter Culture Coffee: (fans post photos of how they brew or drink their coffee with the #anybrewanycoffee hashtag)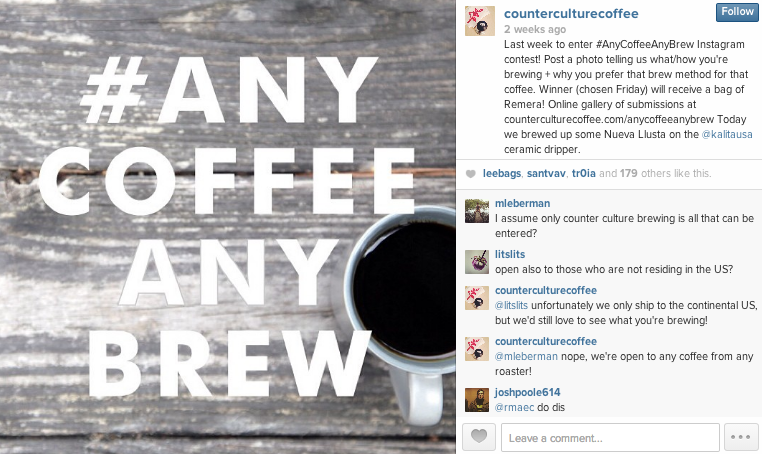 And here is more of my advice for hosting a contest on Instagram:
Moving Forward
So are you going to start using Instagram for your business?
If you plan to... or if you already use it and are doing well, please share your best tips.
I could use some new ideas as I create marketing strategies for my company.
What's next for you?
Are you ready to up your visual game on Instagram?
Grab your copy of our free ebook below.
You'll be glad you did!