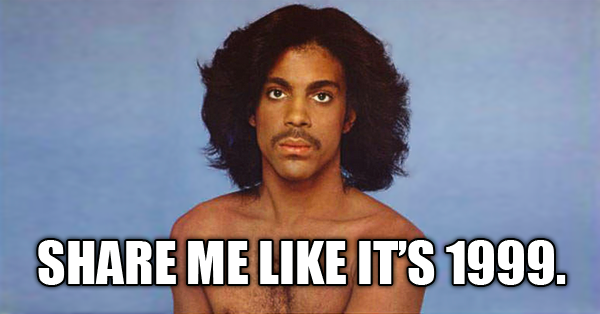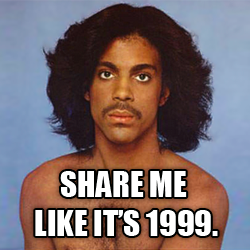 It's easy to feel lost on the roller coaster of content marketing.
Trends & tactics change quickly, and we lose track of what to focus on most.
This article explains 5 key tactics you should use when executing a content strategy for your business.
These include:
Making images a top priority
Pushing your limits by wearing many hats
Contributing to other websites
Sticking to your strategy
Networking with industry heavyweights
Oh yeah... and also partying like it's 1999.
In other words, you should channel Prince!
Granted, Prince was bigger back in the day ("Purple Rain" came out when I was -4).
But you have to respect more than 35 years of awesome.
So today I'll tell you about 5 content marketing lessons I learned from Prince, and how you can use examples from the artist's career to inspire some of your best content yet!
5 Content Marketing Tactics I Learned from Prince
1. Make images a top priority
Prince always knew that if you catch the eye of your audience, half the battle is already won.
This year will be the year of visual content -- content that's easily shared & consumed.
And Prince exemplifies this! He is the infographic of musicians.
>> Click to Tweet <<
So focus your content strategy on using strong images in these ways:
3 blog posts per week -- all with strong lead images to boost sharability
Monthly infographics that present stats in creative, easy-to-digest ways
Weekly Slideshare presentations that deliver tips, news & statistics graphically in easily embedded formats
Soon we won't differentiate between "visual content" and "long-form content" -- everything will just be referred to as "content".
Just as videos & images in social media posts perform better than text & links for generating engagement from fans -- the same holds true for your blog & other content.
But these images must be high quality.
So take a cue from Prince -- powerful imagery lures screaming fans!
2. Push your limits by wearing many hats
On his first album, "For You", Prince produced, arranged, and composed -- AND played 27 different instruments.
If you plan to produce like Prince, you'll need to wear several hats yourself -- a graphic designer's being 1 of the most important.
Now, I'm not telling you to buy Photoshop & start going to night school, but you have to step up the quality of your content by putting time & effort into the appearance.
Here's a FREE tool that can help
GIMP is a free photo editing & content producing tool. I use it for all my lead images & most of the graphics in my Slideshare presentations.
There are tons of free tutorials online if you hit a wall -- and you'd be surprised at how good you'll get by just messing around with it for a couple weeks.
That said, producing a more complex piece of content like an ebook, may require a program like InDesign.
Make your most valuable content as visual as possible, including:
Ebooks
Micrographics
White papers
Slide presentations
If you expect ebooks, infographics & even blog posts to generate leads for your business, invest in professional graphic design tools to make this content as beautiful as possible.
And the designer hat isn't the only new hat you'll wear as you try to stay on top of the latest content marketing trends -- other duties include:
Videographer
Actor
Scriptwriter
Web developer
Public relations specialist
Brand representative
Salesperson
Inbound marketer
Influence marketer
Social media marketer
SEO
Etc, etc, etc
3. Contribute to other websites
Prince has written for some of the biggest performers of the past 3 decades.
These performers include everyone from Carmen Electra & Alicia Keys to Jay Z, Stevie Nicks & MC Hammer.
And these relationships benefit all sides -- Prince receives a songwriting credit, while the singers record a piece written by one of the most prolific & talented songwriters of all time.
Guest blogging provides opportunities for similar collaboration with influencers in your industry.
I know that Matt Cutts, the head of Google's webspam team, recently came out against guest blogging, claiming it's a dying practice & that websites should stop publishing posts from guest contributors entirely.
I agree with Cutts -- to some degree.
Guest blogging for the sake of link-building is a terrible practice that needs to stop -- because it lowers the quality of online content & gives brands bad reputations.
That said, guest blogging is also an awesome way to build relationships with colleagues & influential people in your industry.
>> Click to Tweet <<
Websites that accept guest contributions often have rigorous editorial processes that ensure they only accept high-quality posts from reputable writers. This kind of merit-based content syndication is one of the coolest parts of this field.
Besides, you have to guest blog because it:
increases brand awareness
helps promote bloggers in social media
drives traffic to your website
and (perhaps most importantly) is a fantastic way to build relationships with influencers in your industry
4. Be persistent
Prince released his first album in 1978. In 2007, he performed to his largest audience ever at the Super Bowl halftime show.
And Billboard magazine called his performance the greatest Super Bowl halftime show ever.
That, my friends, is persistence.
And persistence is equally essential in content marketing.
This is something I discuss with clients & peers all the time. There is no single best practice or strategy that can make your brand awareness skyrocket overnight.
>> Click to Tweet <<
The best strategy -- the true best practice -- is to properly implement these ideas over time.
Stick with your content calendar, and when something works -- GO WITH IT!
But content marketing is also incredibly dynamic. So test your content relentlessly.
And watch your competitors like a hawk.
Facebook recently launched the "Pages to Watch" feature within Facebook Insights. Pages to Watch lets businesses with between 100 & 10,000 fans see the performance of their competitors' Facebook Pages.
>> Click to Tweet <<
You can view their page engagement, the number of posts, and overall profile increase on a week-by-week basis.
Pretty cool!
While pages receive notifications when someone adds them to Pages to Watch -- they won't see the name of your page when you add a competitor.
Persistence is critical to your content strategy -- because only by writing a lot do you learn how to write well. Only by constantly working on visuals do you learn to create awesome images.
And only by communicating often with powerful influencers in your industry do you see strong results from those marketing efforts.
The list goes on & on.
5. Network with industry heavyweights
Prince & Beyoncé rocked it when they appeared together at the Grammy Awards in 2004.
And cooperating with others can similarly affect your content strategy.
Here's how:
Influencer marketing doesn't just benefit you. Industry heavyweights also benefit from the smaller guys thinking they're awesome (this has helped Mari Smith develop her successful brand).
Participating in webinars, Twitter chats & other presentations with industry experts spurs engagement -- and it benefits the influencer by making it easier for them to land speaking opportunities in the future.
Guest blogging on influencer sites builds your audience reach -- while also providing valuable, high-quality material for blogs that need your killer stuff.
Yes, these tactics can be some of the most intimidating parts of our job. Reaching out to influential blogs & people in your industry can be a scary thing.
Here's what I recommend:
Be authentic
Do not send mass emails
Pitch a specific idea & explain why you think it's awesome
Do not cold call -- engage with influencers first by commenting on their blog or via Twitter, Google+ or LinkedIn
Conclusion
Prince has had his ups & downs, but his path exemplifies the paths taken by many great content marketers.
>> Click to Tweet <<
You can't anticipate what's coming around the corner -- but if you stick to what you're good at & play to your strengths, you can stay ahead of the competition.
Remember to support your beautiful content with high-quality research & writing -- and to reach out to influential websites & people, using the marketing & social media tips I provided here.
And I'll say this now -- I will buy a beer for the first content marketer who rocks it by changing their name to a symbol. :)