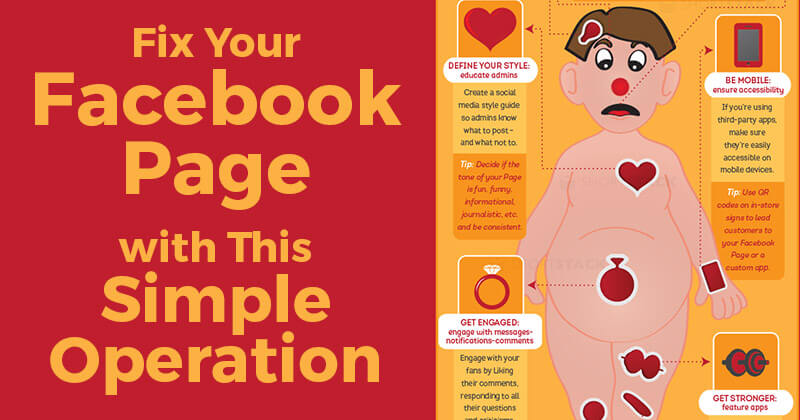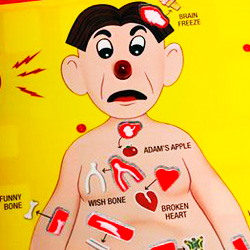 Remember the shear panic you felt when the buzzer went off in the old "Operation" game?
I know I do -- still scares me to this day!
And I could never get the dang "spare ribs" out without hearing that buzzer!
I bring this up because I have some ideas I want to share with you -- ideas I pulled from the folks at Socially Stacked.
Fix Your Facebook Page w/ a Simple "Operation"
Below are the key takeaways -- along with some embellishments of my own!
Express something important about your brand
Include a clear call to action (yes this is allowed now!)
Remember: a news feed story shows to fans when you add a new cover
Include a URL in the description whenever you change your cover photo
Get Smarter: Utilize Insights
Check your Insights at least once per month
Monitor to see what posts are performing best
Leverage Insights for Ad targeting
Stand Out: Enhance Status Updates
Include a photo with many status updates
Follow the 70/20/10 rule
Post as often as you can get engagement
Define Your Style: Have a Personality
Educate all page admins on the communication style of your page
Decide on a tone - fun, funny, informational, journalistic, etc.
Be consistent
Be Mobile: Always Be Accessible
More than half of Facebook users access FB on mobile only
Ensure your page's 3rd party apps are accessible on mobile
Shortstack recommends using QR codes (personally I think these are dead, but I may be wrong)
Get Engaged: Build Your Tribe
Engage with all messages, notifications & comments
Like your fans comments
Respond to all questions -- even criticism
Call fans by first name when responding
Leave negative feedback on your page so others can see how you respond
Get Stronger: Feature Your Best Apps
Make sure only your most important 3 apps show on your Timeline
Use a Call to Action in your app thumbnail
Keep apps up-to-date & relevant
Get There Faster: Utilize Facebook Ads
Target users with ads to gain interested fans
Use Sponsored Stories & Promoted Posts wisely
Learn to use Power Editor (only for Advances users)
Don't Forget The Details: Leverage the About Section
List your url first -- you don't need the 'http://'
Fill out completely
Be keyword mindful
This is your "Elevator Pitch" -- use the space wisely
Be Flexible: Swap out your Profile Photo
Shortstack recommends changing the profile photo to reflect the seasons (only do this if you are good at graphics -- otherwise leave it)
Complement your cover photo -- be consistent with your branding