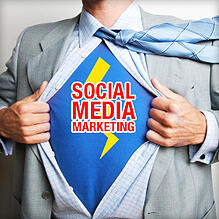 Wondering how to become a social media manager or community manager?
Not sure exactly what that entails?
Most social media marketers help businesses grow their online communities.
This usually includes:
writing and scheduling posts
running ads
replying to fans
creating graphics
Your duties as a community manager or social media manager will most likely depend on your job description, time, budget and expertise.
There are many places to learn about how to become a community manager or social media manager.
One of the best is a training program from Andrea Vahl and Phyllis Khare called Social Media Manager School.
How to Become a Social Media Manager in 6 Steps
Let's do this! Here are the 6 steps...
1. Build a Community of Your Own

Before you can sign up clients you'll probably need to have a thriving social media presence of your own.
Create accounts on all the major social media websites and familiarize yourself with blogging, email marketing, search engine optimization and graphic design.
If you can't market yourself... you'll never be able to market for others!
2. Find Clients
Finding clients is difficult for even the most seasoned social media marketing agencies.
Learn where your ideal potential clients hang out online then distribute great content and start conversations that will drive traffic to your website.
You should also attend networking functions, conferences and other industry events.
3. Manage Your Time
Managing accounts on Facebook, Twitter, Google+, YouTube, Pinterest and other social media websites takes lots of time -- time you can't afford to waste!
I've been guilty of scrolling aimlessly through my news feed for hours. Don't do this!
Andrea and Phyllis suggest having systems in place that help you organize tasks and complete work on time for your clients.
The key is finding a system that works for you.
One of the things I strongly advise doing is creating a social media calendar. Not only will a calendar save you lots of time, but it will help you stay organized and always a step ahead. Here's an infographic with all the steps to creating the perfect social media calndar.
4. Manage Your Money
One of the first questions an aspiring social media manager asks is:
How much should I charge?
And this is a difficult question to answer since markets vary from place to place and discipline to discipline. Start by finding out what your competitors charge to determine whether you should charge more or less than they do.
Also, make it easy for customers to pay by doing recurring billing.
And sometimes a high-quality proposal can land you the job. Be sure your presentation looks good and is easy to understand.
5. Learn Advanced Marketing Skills
Most prospective clients will know the difference between good and bad social media.
You'll need some advanced skills if you expect to stand out!
These advanced techniques include:
Optimizing YouTube videos with descriptions, tags, titles, annotations, etc.
Custom Facebook apps
Custom Twitter and YouTube headers
Knowledge of hashtag marketing
Knowledge of webcasts, Google+ Hangouts, email capture forms, etc.
6. Mobilize, Baby!
Today, a strong mobile presence is a must!
If customers can't find and interact with you on their mobile devices, you might as well not even exist.
Make sure your website is fully functional on mobile.
Want to Become a Social Media Manager?
The best social media managers can do their work poolside with their smartphones!
And while many people try to enter this wonderful field -- some fail miserably.
Those who succeed do so by keeping their training up to date, by reading the best blogs and articles written about social media, and by maintaining an up-to-date social media calendar.

Andrea and Phyllis created this infographic to provide even more information about how to become a social media manager.
Be sure to take a look!