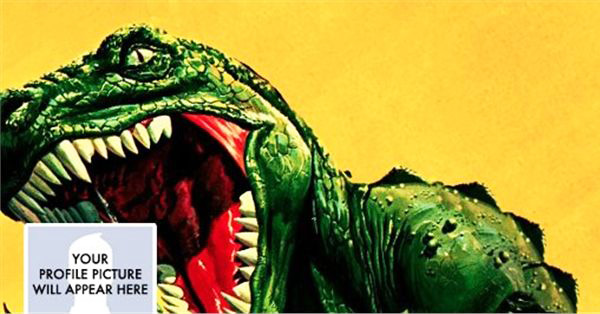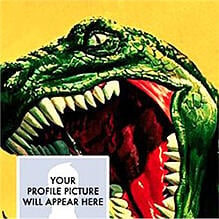 Your cover photo is the most important real estate on your Facebook page.
It's the first thing people see when they visit your page.
So you HAVE TO make it awesome!
Personally, I change my Facebook cover photo every couple months because of this. I get bored looking at the same thing day after day.
It's like I'm always wearing the same T-shirt... and only Mark Zuckerberg can get away with that! :)
In this post, I show you 6 ways to create awesome Facebook covers. These are probably tools & tactics you haven't heard of before, so pay attention!
6 Surprising Ways to Make Awesome Facebook Covers
Get ready to trick out your cover photo!
1. Crowdsource
One of the best ways to decide on a powerful cover photo is to crowdsource.
>> Click to Tweet <<
Ask your fans & followers what they think would make an awesome Facebook cover.
You can do that in one of 2 ways:
Ask Your Community (on any social network)
Use Crowdsourcing Websites
Websites like 99designs let you harness their communities with design questions about images, logos, web pages & yes, Facebook cover photos!
Plans start at $149.
Here's one organized by Mobityze: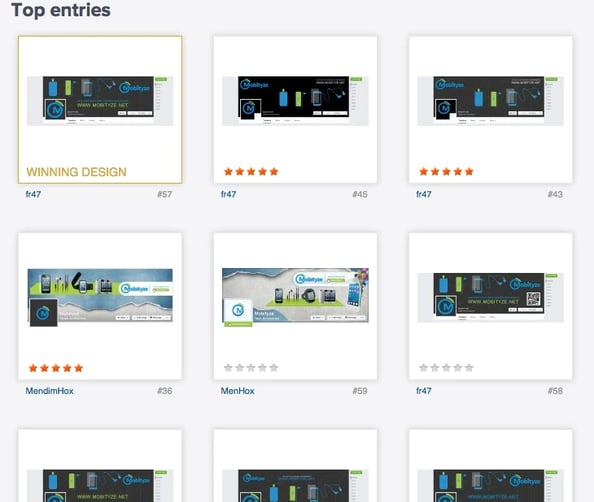 The crowd liked this image best:

2. Cool Generators
A tool called Tricked Out Timeline is one of the quickest & easiest ways to create awesome Facebook covers!
>> Click to Tweet <<
You just need your profile pic & you're good to go.
Here's how it works.
1) Upload photo or use current Facebook photo

2) Crop photo
3) Click "Done", download image & upload to your Facebook page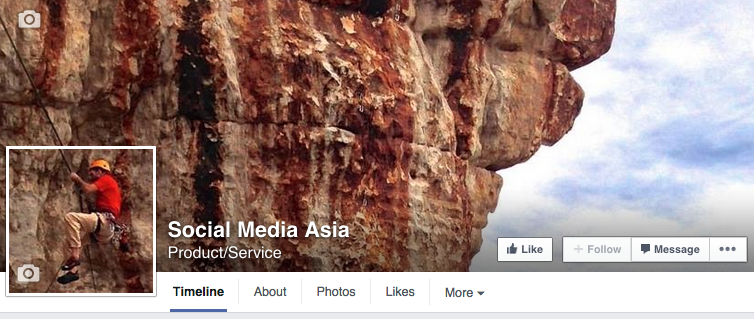 3. Canva
Canva makes my life easier in so many ways!
I use Canva to design & generate professional-grade cover photos in minutes. It's a very useful tool!
I just use the Facebook Cover templates provided by Canva.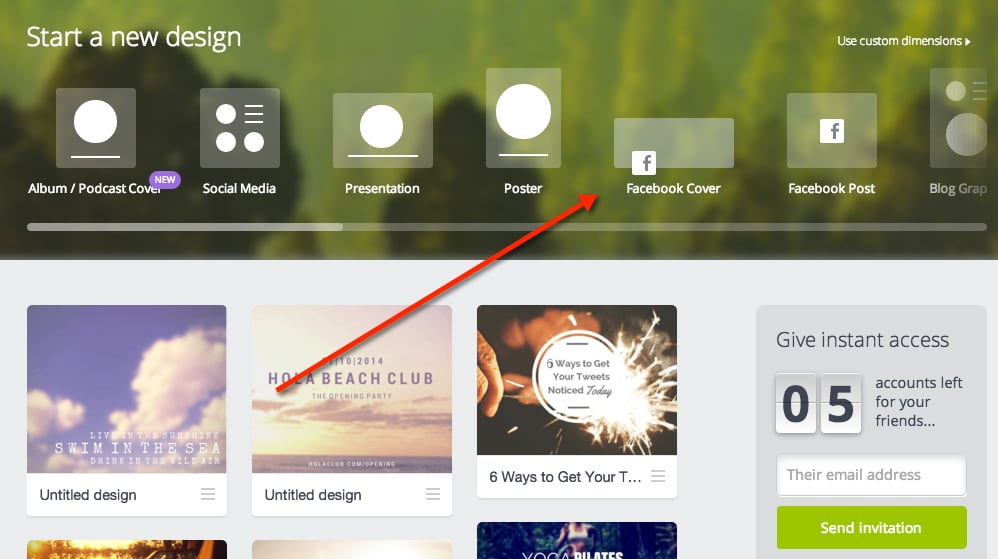 It's easy to choose a template & add it to your Facebook page. You can purchase some of Canva's fancy templates & images for just a buck!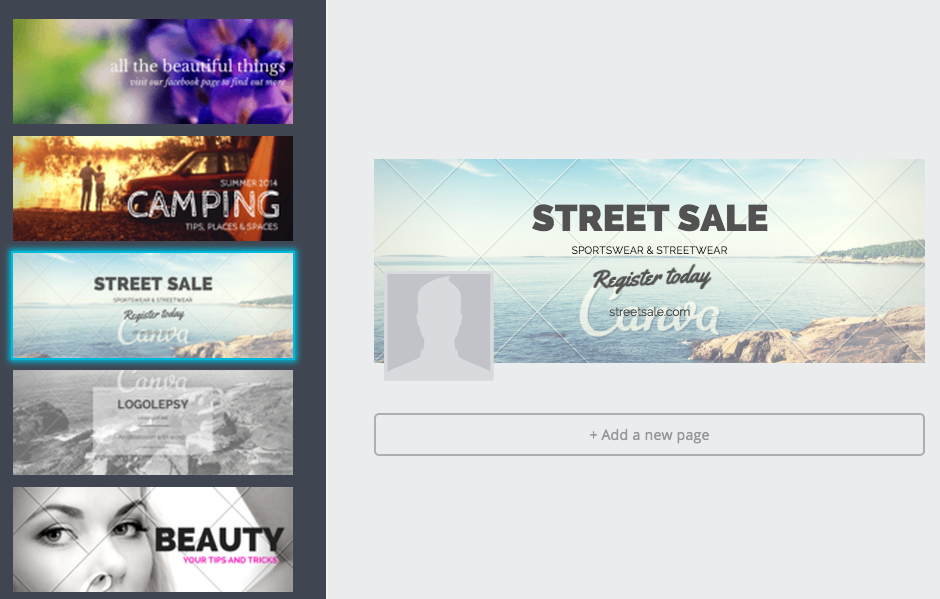 I finished my new cover in about 5 minutes... really!
4. Photoshop Templates
Use Photoshop PSDs.
PSDs are layered templates that let you easily edit & save files in Photoshop.
Search for Photoshop PSDs on Google to get started. I got mine from Creative Market -- my go-to site for design stuff like Facebook covers.
5. Start from Scratch
If you're going to create awesome Facebook covers from scratch, first you must get the dimensions right.
>> Click to Tweet <<
Here are dimensions for a Facebook cover photo:
851 pixels wide / 315 pixels high
Use Photoshop or a free service like Pixlr to create your image. Starting from scratch doesn't have to be complicated!
Use websites like Unsplash to find free photos & graphics. Ten new photos are uploaded every 10 days.
I made this cover image by uploading a photo to Pixlr: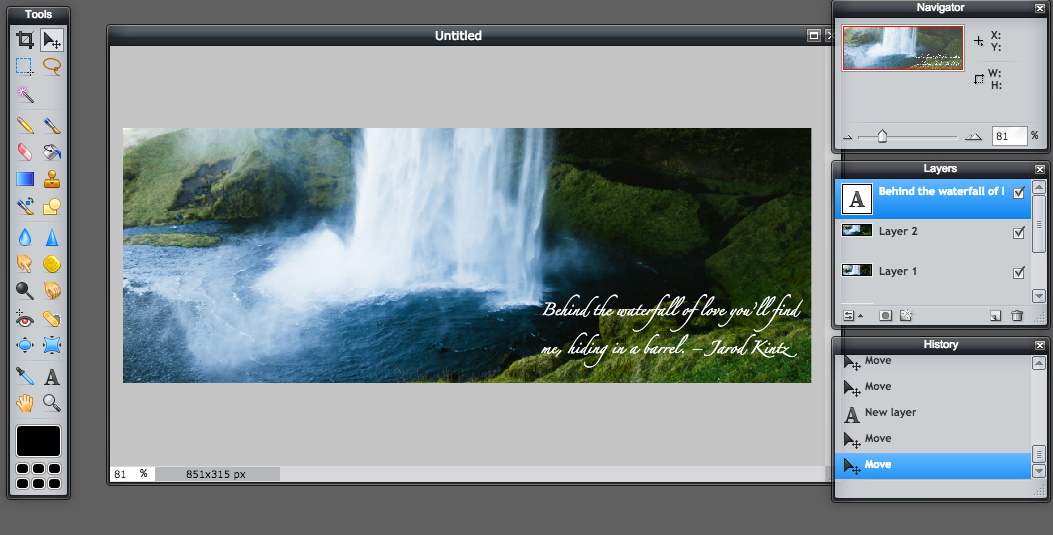 6. Hire Somebody
If all else fails, you can always hire a professional designer to create a Facebook cover for you.
The website Fiverr is a great place to start!
Your Cover Photo is Key
Because your cover photo is the first thing people see when they visit your page, yours needs to be as creative, memorable & eye-catching as possible.
So make it look good!
And please add your best cover photo tips in the comments below.