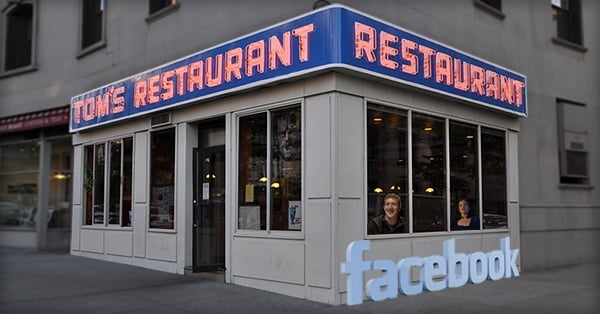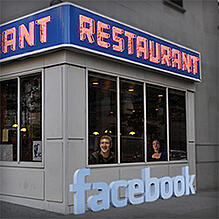 Do you run a shop or restaurant?
If so, you probably face at least one of these problems:
Not enough new walk-in customers
Not enough customers coming back
Getting new customers through the door is tough!
And making an employee stand outside handing out flyers doesn't always help because human traffic fluctuates.
What about customers not returning often enough?
That actually isn't always your fault.
Many customers don't return daily or weekly because they want variety. And in fact, you're lucky if they return even every couple weeks.
But whether you're facing the low walk-ins or returns -- or both -- better Facebook tactics can definitely help you get more customers in your store.
So let's talk about how to improve your tactics.
How to Use Facebook to Get MORE Customers into Your Store
>> Click to Tweet <<
The 2 best ways for store owners to leverage Facebook is to:
Generate campaign ideas
Drive traffic to their stores
So let's talk about the best way to do each of these.
How to Use Facebook to Generate Campaign Ideas
Here are 3 ways you can use Facebook to generate promotion ideas that'll excite your target audience.
1. Steal from Competitors
Many business owners don't spend enough time watching how their competitors do things online.
That's because spending time on Facebook takes away from other important activities. Here are some ways to save time when analyzing the movements of your competitors.
Search for credible list articles with good restaurants to follow.
You can also use Graph Search to find lots of great restaurant pages on Facebook.
It's easy to use Graph Search to find restaurants almost anywhere. Type "Restaurants in [Location]" and you should see a list like the example above.
You can even find out what restaurants those in a particular age group in a location like by typing:
Restaurants in [Location] liked by people above 24 years old and below 30 years old
Pretty cool, right?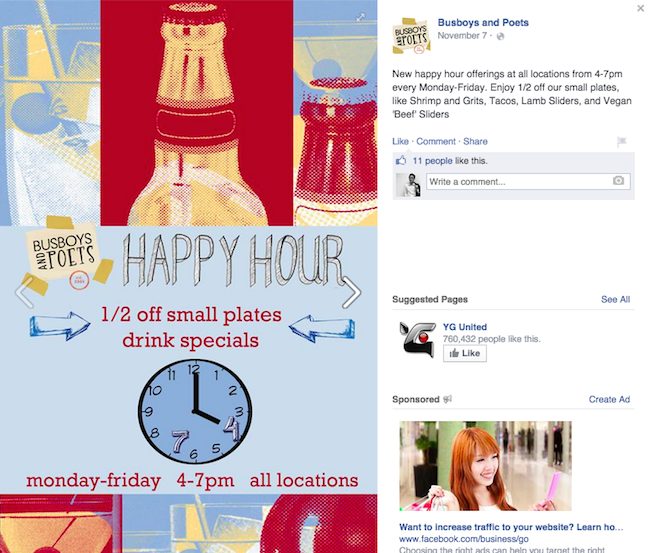 Pick a page then look at the restaurant's promotional campaigns -- like the "HAPPY HOUR" you see above.
Take special note of what they offer during these campaigns, and whether fans respond to the offers. In general, here are some ideas you should look out for:
Student meals
Specials for seniors
2-course and 3-course meals
FREE meal for a child accompanied by a parent
Promotions in commemoration of national holidays
Cash return vouchers for dining a certain number of times
All-you-can-eat deals
Off-peak hour discounts
Membership discounts
2. Listen to Customers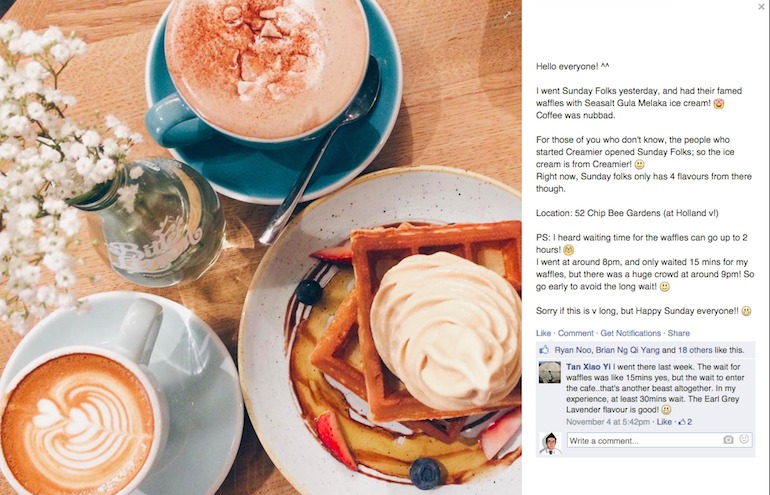 Above is a post from a Facebook group I belong to -- where cafe-hopping food enthusiasts come together to share new discoveries.
A group member visited Sunday Folks, a cafe in Singapore, and shared her experience with the group. Sunday Folks can make use of this feedback when considering changes like special accommodations for take-out orders, more tables & chairs & online updates when the cafe is almost full.
Competing restaurants can follow Sunday Folks on Facebook to see how the business engages with customers & gets people to visit the restaurant.
3. Build a Community
Create a Facebook group for your business & invite customers to join.
>> Click to Tweet <<
This is an awesome way to build a community!
The goal is for return customers to join the group, so you can survey interested Facebook users about ideas for promotions, menu changes & ambience.
Testing ideas in the group will help your most loyal customers connect with your business in a deeper way. Tell them about a new seasonal menu item & let group members taste the dish before the official launch.
The more customers interact with you on Facebook, the more often they'll return for a drink or meal.
How to Use Facebook to Drive Traffic to Your Business
Now that you have some new ideas for getting customers to notice your restaurant, now it's time to get new people to walk through the door!
That's where Facebook REALLY comes in handy. And the 2 best tactics involve:
1. Facebook Offers
A Facebook Offer is a special post that lets users claim an offer online then redeem the special at your business.
Since only a few people redeem offers they claim on Facebook, along with creating the offer & running Facebook ads to promote it, you must also design the offer in a way that encourages people to redeem the promotion in person.
Try hosting a giveaway or contest, where those who visit your restaurant have a chance to win free food or a special gift. Only those who visit the restaurant are eligible to win!
How to Create Facebook Offers
Creating a Facebook Offer is easy. First, go to your Ads Create tool.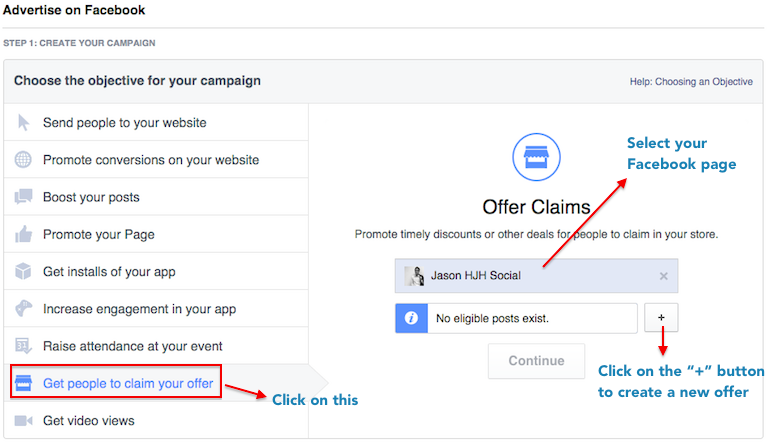 Once you're on that page, click "Get people to claim your offer", select your Facebook page & click the "+" button to create a new offer.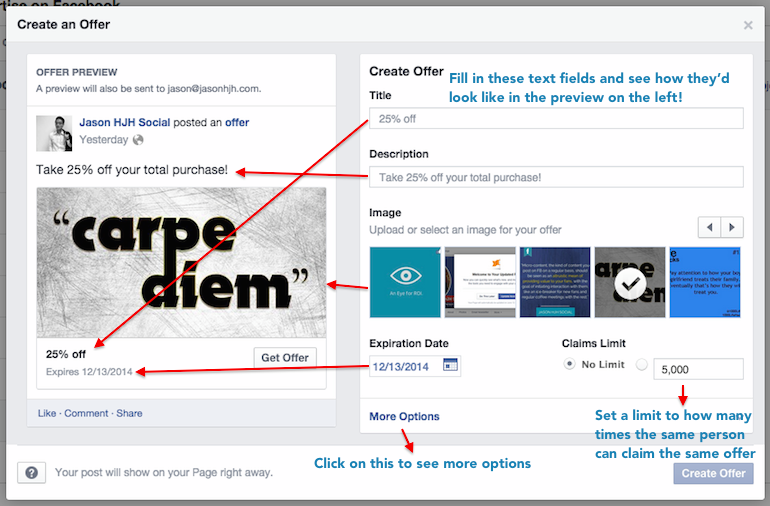 A pop-up should appear similar to the example above. Fill in the title & description text with your promotional copy, then preview the offer on the left.
Next, click "More Options".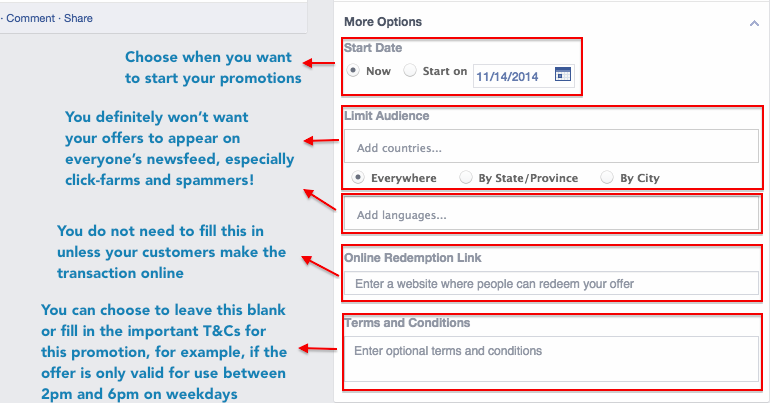 Here you can:
Choose when to start your promotion
Limit who sees your offer using geographical & language limits *IMPORTANT!*
Provide online redemption link if customers make the transaction online (not applicable to most restaurants)
Create terms & conditions to protect your business from people abusing the offer
Complete each section & click "Create Offer" to set up an ad to promote your special. Creating an ad for your offer is just like setting up any other Facebook ad.
2. Local Awareness Ads
You can also use Local Awareness Ads to promote campaigns on Facebook.
Local Awareness Ads are one of Facebook's newest ad offerings for small businesses.
>> Click to Tweet <<
You can choose to show Local Awareness Ads to people who live near your business & those who recently visited a place nearby.
As a consumer, if you saw an ad for a restaurant near you, would you be inclined to try it?
I would. And that's the idea behind Local Awareness Ads.
Probably the best thing about Local Awareness Ads is they include a call-to-action button labeled "Get Directions" (see the screenshot below). This is a simple, intuitive way to show customers in your area exactly where your business is located.
How to Create Local Awareness Ads
Creating a Local Awareness Ad is easy.

Start by selecting "Local Awareness" as your ad objective. Then select your page -- as Jasper's Market did in the example above.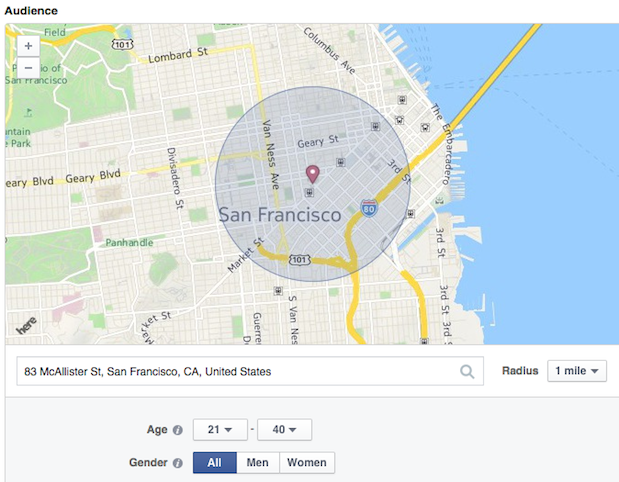 Next, enter your business address (if you haven't already done so) on your Facebook page.
The map above should zoom into your business location & show you the option for choosing how far you want your ad to reach.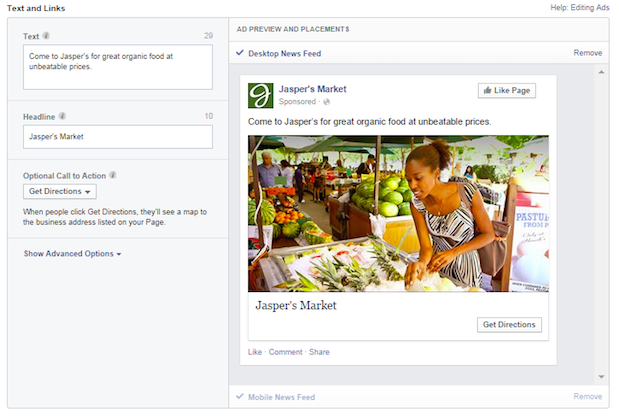 The rest of the setup is easy. Just make sure to create the "Get Directions" button so people instantly know how close your restaurant is to their homes.
3. Third-Party Apps
Facebook Offers & Local Awareness Ads can work well if you have a highly relevant targeted audience. This means that you either need a large & engaged fan base or a well-known brand.
What if you haven't started taking Facebook seriously, though?
Here's a simple solution: run regular campaigns using third-party apps to grow your fan base & email list.
>> Click to Tweet <<
Ideally, you should host campaigns regularly to keep your fans coming back & attract new followers. These efforts will quickly grow your fan base.
But there are a few no-nos when running these campaigns:
Don't attract prize hunters
Don't condition fans & customers to expect free stuff all the time
Don't use Like-gates that violate Facebook's rules
Let's take these one at a time:
Don't attract prize hunters
Prize hunters are the worst kind of fans! I classify them as "fake Likes".
Here are some ways to prevent prize hunters from Liking your page during a promotion:
Choose prizes wisely

! The prize you choose should only be winnable by people who physically visit your restaurant.

Use smaller prizes for early campaigns & a big prize at the end

. For example, you may offer dinner for 2 for the first campaign, followed by a 1-for-1 promotion (a free side dish for every main course ordered), and finally a big drawing for real customers with valid receipt numbers. The smaller prizes won't interest prize hunters & they'll leave when they realize that they won't get another shot at a free meal.

Require more than just email addresses to enter

. This will ensure the same person doesn't enter more than once. You could also ask for their address or phone number when they register. But don't require both since that's troublesome to fill in, and some fans might think you're asking for too much personal info.

Require winners to collect prizes in person

. Especially when offering vouchers that can be used later. Avoid sending prizes in the mail.

Offer priority reservations on special occasions

-- like Christmas & Valentine's Day. If your restaurant is relatively popular, doing this instead of giving away free meals, discounts & other price-related incentives is a great idea.

State explicitly that more than one entry is not allowed

. And make it clear that those who try to enter more than once will be disqualified.
Don't condition fans & customers to expect free stuff all the time
If you give away lots of discounts & gifts, your customers will expect cheaper prices & freebies all the time.
And they'll delay purchases in anticipation of a discount.
Instead, you should always put a small ask behind every giveaway to get more value out of your campaign, which may require you to coordinate things outside of Facebook. For example:
Ask participants to pay with a tweet or Facebook post to raise awareness about your restaurant
Ask fans to snap photos of themselves dining at your place in order to participate in the promotion -- instead of just entering personal info every time.
Reward customers who describe a positive dining experience at your restaurant. Ask them to submit reviews on your Facebook page, TripAdvisor & Yelp! Include a text box where they can insert a link to their review on those sites. To prevent fraud, you can require participants to type in a unique snippet of text like "#foodie" inside their "About Me" section to verify their identity.
Don't use Like-gates that violate Facebook's rules
As many of you know, Facebook banned Like-gates. But despite the new rules, some businesses still use them: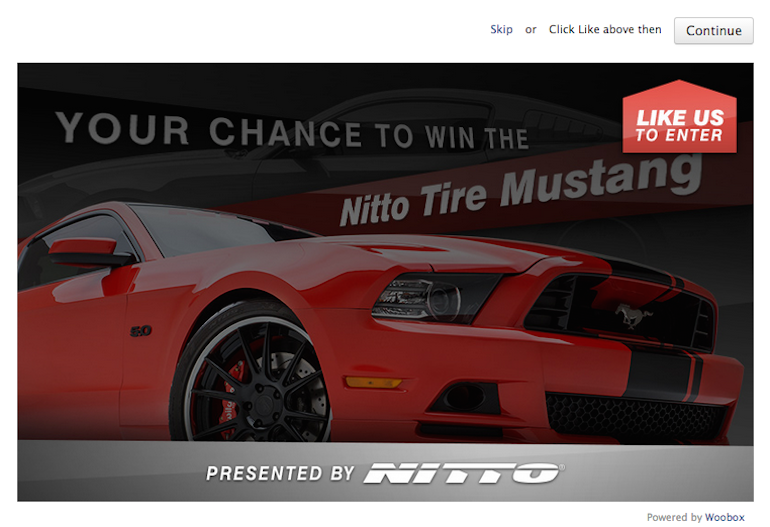 Click "Skip" and you won't have to Like the page to register.
But some giveaway organizers still try to dupe contestants into thinking they must Like the page in order to enter the promotion.
Even though you may no longer Like-gate your campaigns, you can still use email-gates. In other words, you can require users to sign up with their email addresses before they receive an exclusive promotion via email.
Apps like TabSite introduced this feature in response to Facebook's Like-gate ban.
Summary
Remember, no amount of social media marketing will help your business if your food, location or service is bad. Facebook & other social media platforms are also not the best places to do direct marketing.
If you haven't yet established a presence on Facebook & haven't invested enough effort into building strong relationships with fans, you'll likely see little return from the promotional campaigns discussed in this article.
Customers won't flock to your restaurant just because you offer them a deal. So you better start building your Facebook community today!
There are many ways to use Facebook to get more walk-in traffic at your business.
Restaurateurs, what techniques work best for you? Will you try the tips I suggested in this post?
Please share your ideas & opinions in the comments below.