How do you use Facebook groups for business marketing?
It's actually not that hard.
Below I cover 10 strategies you can use today to drive more sales via Facebook groups.
How many Facebook groups do you belong to right now?
10?
20?
100?
You're not alone.
Facebook groups are used by 1.8 BILLION people every month.
In other words, Facebook groups are VERY popular.
But can you use a Facebook group to market your business?
Of course you can.
Facebook groups can help increase brand awareness and engagement with your community.
You can even use clever strategies to drive REVENUE!
Let's talk about 10 clever ways to do so.
And if you're looking start automating your Facebook group content today, start a FREE trial of Post Planner's social media scheduling tool. Create a FREE account here
How to Use Facebook Groups for Business Marketing: Top 10 Tactics
There are a couple of things you need to keep in mind about Facebook groups.
Facebook Groups are all about building a community.
But to build that community, you need to do 2 things:
Bring the right people into the group

Provide value to your members
This will make it a win-win for EVERYONE.
Here's what you'll learn about Facebook group marketing:

What are Facebook groups and their purpose?
Facebook groups are online social media communities with shared interests.
In other words, they're a place where you can make friends and network with LIKE-MINDED people.
It's a lot like "school clubs" from back in the day.
People can bounce ideas off of one another to share helpful knowledge to fellow community members.
There are 2 different types of Facebook groups:
Public groups — A group where ANY Facebook user can see content and post in the group.

Private groups — A group where users have to request access to join and may be required to answer specific questions and agree to the rules (set by the admins).
Facebook group admins are usually the people that began the group. They set the rules, provide background on the group, and invite others to join in.
Now, let's look at an example of a Facebook group in action.
A solid Facebook Group is Sam Oven's Consulting Community.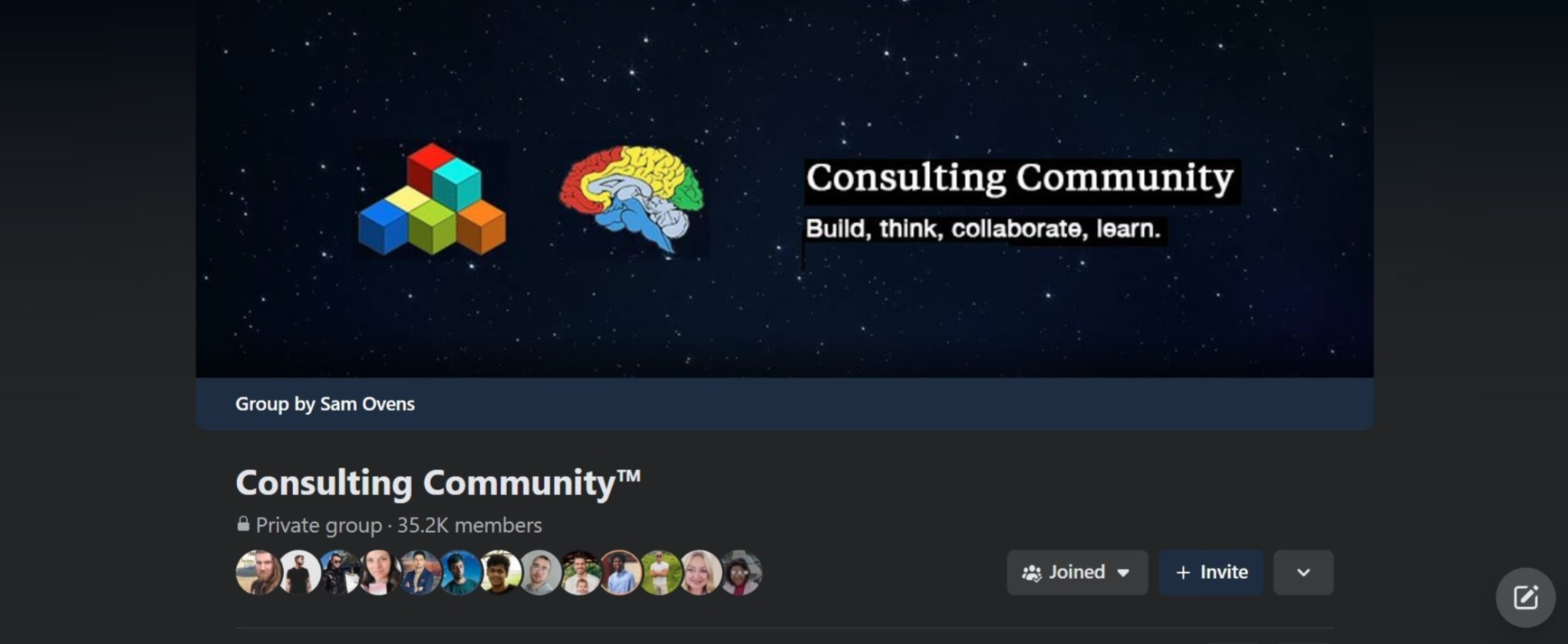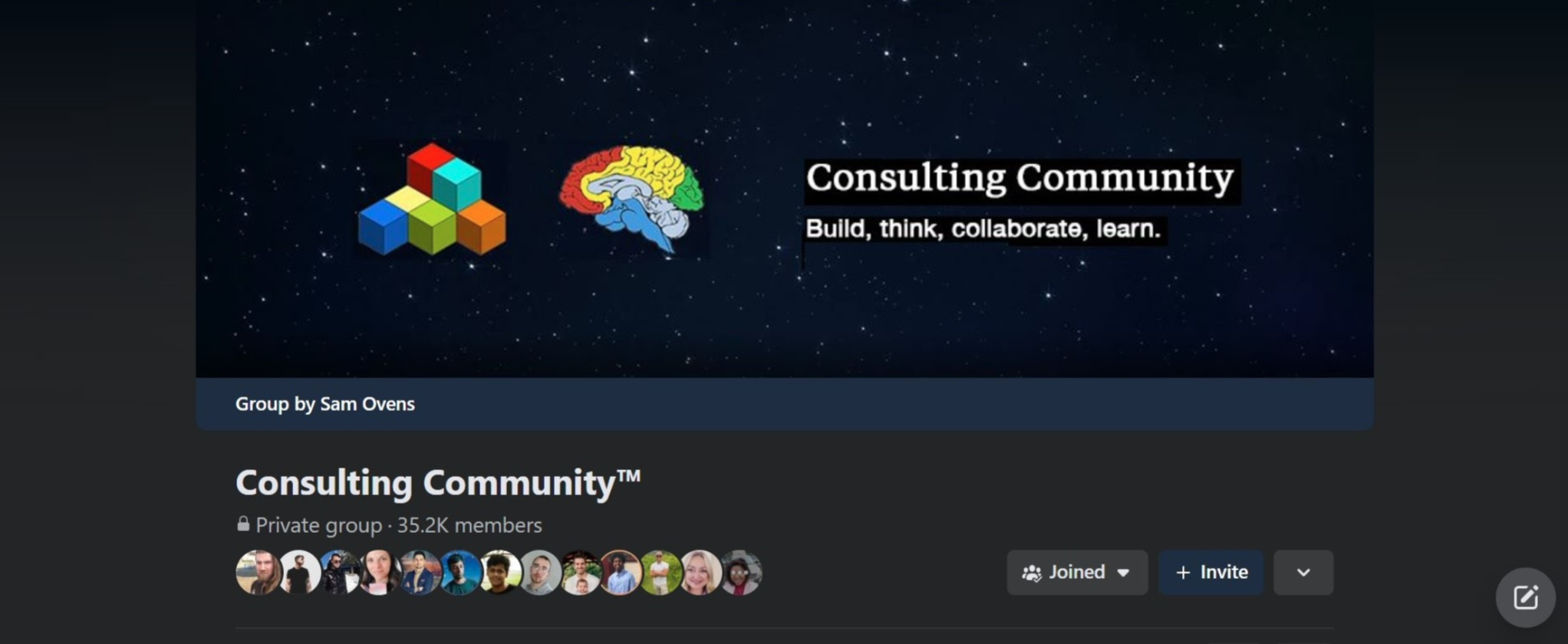 It's a private Facebook Group with over 35,000 members, made up of consultants from various industries.
Consulting Community provides a place for consultants to share stories and lessons from their consulting experience.
The best part?
It's not filled with self promotion-spam and elevator pitches — just REAL value!
Obviously, there are a few members that use their Facebook profiles to market their services. Afterall, it's a group of 35,000 consultants.
But most of that promotional content is filtered out naturally, as people are more engaged in consulting tips and trends.
Can you use Facebook groups for marketing your business?
Yes, you can market your business using Facebook groups, whether you start one OR join one.
As mentioned above, you need to provide value and NOT sound salesy or spammy.
The best way to gain traction?
Start a conversation to get users to engage with your content!
Once users see the value you provide, they'll be more likely to check out your business's Facebook page to learn more about what you offer.
That's why every business needs to have a Facebook page that drives users to take action.
In other words, think of your Facebook page as a landing page that can drive traffic to your website.
Unfortunately, most companies don't optimize their Facebook page and miss out on the extra benefits!
Here are a few ways you can improve your business's Facebook page to drive action:
Post consistent quality content (social media schedulers like Post Planner automate this)

Create a clear bio about what your company does for its customers

Link to your website and other social media platforms

Include testimonials, user-generated content, and reviews

Grow your following - this will help with social proof (this will take time)
Every time a user interacts with your content, it's an opportunity to gain a customer.
Your Facebook page should be used as a vehicle to market your business.
10 Clever ways to use Facebook groups for marketing
1. Provide value to customers
Does your business have customers?
Then, it'd be wise to make a Facebook group for your customers.
When you create a private group for customers only, it allows them to discuss your product, services, or goals with like-minded people.
This leads to more benefits, such as:
More social proof

Product improvements from insider feedback

Better positioning from more customer data

Thought leadership in your industry
Providing value can be as simple as sharing helpful tips related to your product.
You can also solve a group member's problem by pointing them towards a different product you offer (again, don't be too salesly).
Try including a link to your website or collecting emails so you can follow up with customers further help (more on this later).
Here's an excellent example of a group that provides value to customers:
Dennis Heenan created this group to answer questions from customers & motivate others:
2. Discuss current events
Groups are also great places to keep up with current events in your industry.
For example, if you were an Instagram marketer, you might join Instagram Influencers, Brands, & Professionals.
Here, members discuss the latest happenings (and issues) in the world of Instagram.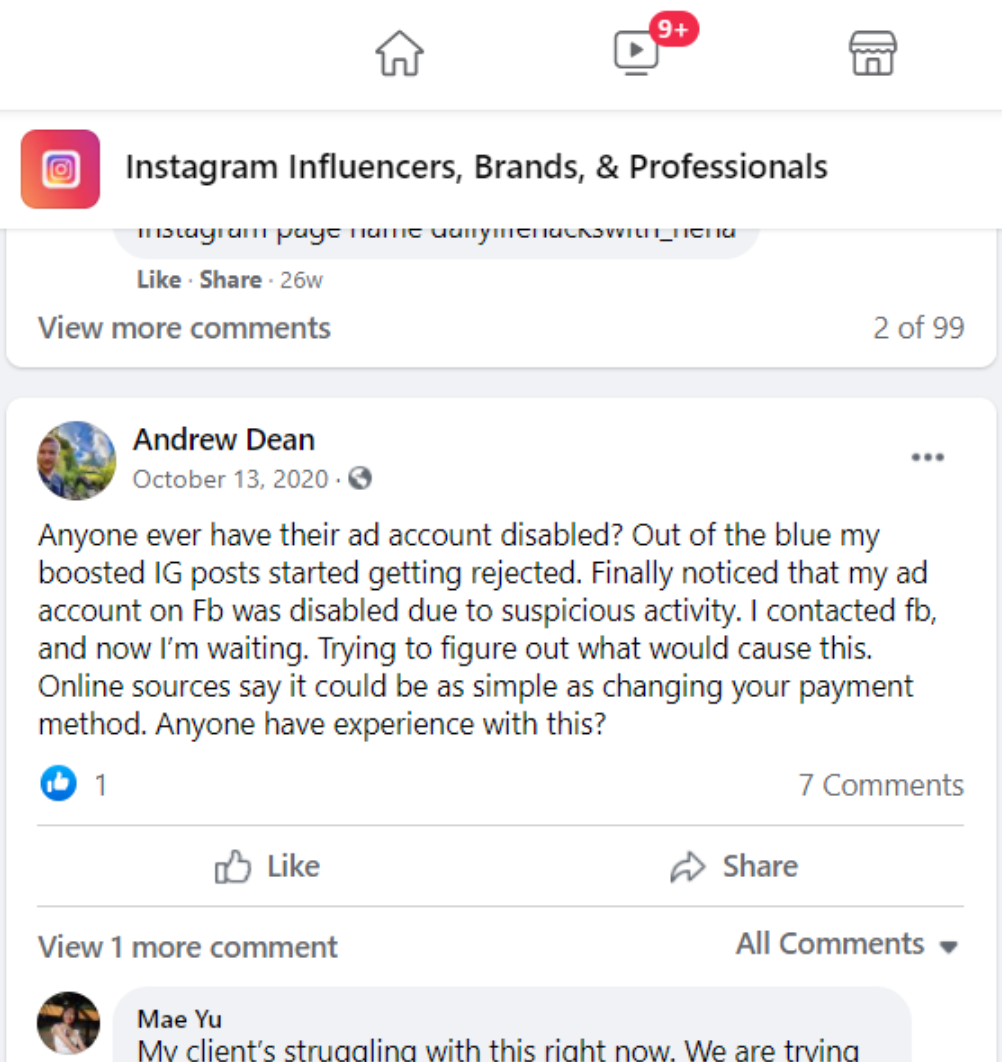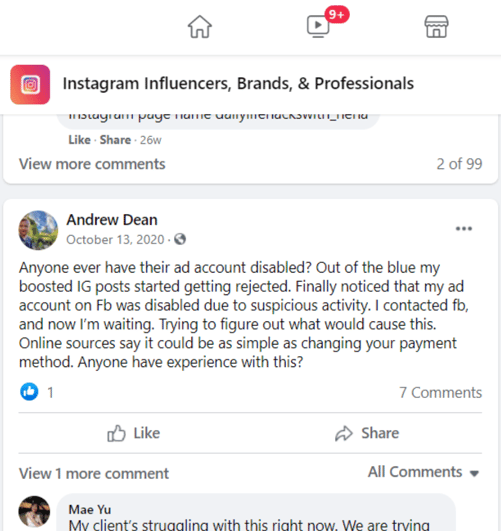 Facebook groups are perfect for discussing current events within your business and industry.
This helps people stay updated and learn big lessons that they'll associate with your brand.
3. Build your community brick by brick
Don't forget the Facebook marketing basics: it's not about you!
As you provide value, it may take time for more members to join.
Here are some ways of getting people into your group:
Promotion on other social media platforms

Email marketing (create a funnel to your group)

Customer service (promote the group as a way to get further help)

Have industry friends promote your group

Send website traffic to your group
The more people that join your community, the greater the opportunity to build trust and gain a customer.
AND get this:

81% of consumers mentioned that they need to trust a brand before buying from them.
Savvy marketers know the power of a strong following. Think of some major companies like Apple and the community-based following they have created over the last decade.
They took the time and built their following brick by brick, and you can too.
4. Work with brand ambassadors
When considering how to start a Facebook group for business, one of the best reasons might be to keep in touch with your biggest fans.
Building better relationships with Facebook fans can be invaluable for your company. And a group like this lets your advocates connect.
Think of making these ambassadors your admins to help share value and promote what you offer.
You can also have your ambassadors test out new product features before you release them to your customer base — kind of like a "beta testing group."
Brand ambassador examples:
Loyal customers

Friends in your niche

Partner companies

Mentors

Industry celebrities
5. Promote your events
A Facebook group is pretty handy if you organize lots of events.
These events can be in-person, over video conferencing, you name it.
Facebook groups can be used to let members know what's coming up so they can mark their calendars and join in.
When it comes to event promotion, mention it MULTIPLE times to stay at the top of your group's mind.
If you only mention it once or twice, people won't see it or forget they ever did.
6. Collaborate with your team
Do you have a diverse team of people working from various locations?
Create a Facebook group to keep in touch with your employees & promote company culture.
How does this tie into marketing?
The company group you create can be where your team brainstorms marketing strategies AND shares customer and industry information!
7. Test certain services or offers
Innovating is challenging.
Sometimes you'll be scratching your head when trying to develop new innovative products or ideas for your company.
And if it were easy, there would be a new "next big thing" every week.
The solution?
You can learn what problems need to be solved by getting in touch with your community.
Customer feedback is one of the most effective ways to create new products.
Here's an example of how Trey Cockrum created a content plan for a Facebook Live Video simply by asking his group what they wanted him to cover.
8. Follow-up with people
Great interviewers follow up AFTER the interview.
Likewise, great salespeople follow up post-sales to make sure their customers are satisfied.
Following up is one of the oldest business practices out there.
Why?
Because it works!
So how can you use Facebook groups to follow up?
Facebook group settings allow you to set questions people have to answer before someone joins your Facebook group.
You can ask potential group members for their email and mention that it'll be used for follow up emails.
This does 2 great things:
It gives you an extra way to follow up

It lets them know you'll contact them
At the end of the day, people just want to know you care.
So if you take the time to follow up with a customer, it shows!
9. Talk about a case study
Case studies are a great opportunity to show what your product has done for people.
This can open the door for newer group members to see what you can do — and possibly buy from you.
Why?
Because you're showing a proof of concept in a real-world fashion!
Here are 5 tips to create a compelling case study according to master marketer Neil Patel:
Do your case study on someone your ideal customer relates to

Tell the whole story from beginning to end

Make it easy to read (skimmable, using bullet points, images, and short paragraphs)

Use actual data and numbers

Mention specific strategies & tactics used to get results
10. Show your human side
It's easy to get sucked into the numbers, impressions, and content ideas when marketing.
But one of the most significant overlooked aspects is showing the human behind the business.
This doesn't mean you have to tell your whole life story.
Instead, talk about your own experiences and explain your perspective and thought process behind your reasoning.
People DON'T want to work with robots.
So the more human and personable your brand is in Facebook groups, the more likable it'll become.
Is a Facebook page or group better for business?
Before we answer that, here's the difference between Facebook pages and groups.
Facebook business pages are where you can share public updates about your business and use them for advertising.
Facebook groups, on the other hand, take on a more conversational and community approach to marketing.
So which is better for your business?
Honestly, it's best to have BOTH.
A Facebook Business Page and a group go hand in hand.
Your business page acts as a landing page for visitors, while the groups are where you add value-driven content.
Facebook pages and groups can be used to attract new customers and increase brand awareness.
5 Steps to create a Facebook group for your business
Follow these 5 steps to create a Facebook group for your business.
(For more detailed directions, check out our quick guide: How to Create a Facebook Group: Quick Guide)
1. On a desktop, click the "Groups" icon at the top of your screen. (on mobile, the "Groups" icon may be at the bottom of your screen, then click the + sign on the top right-hand side).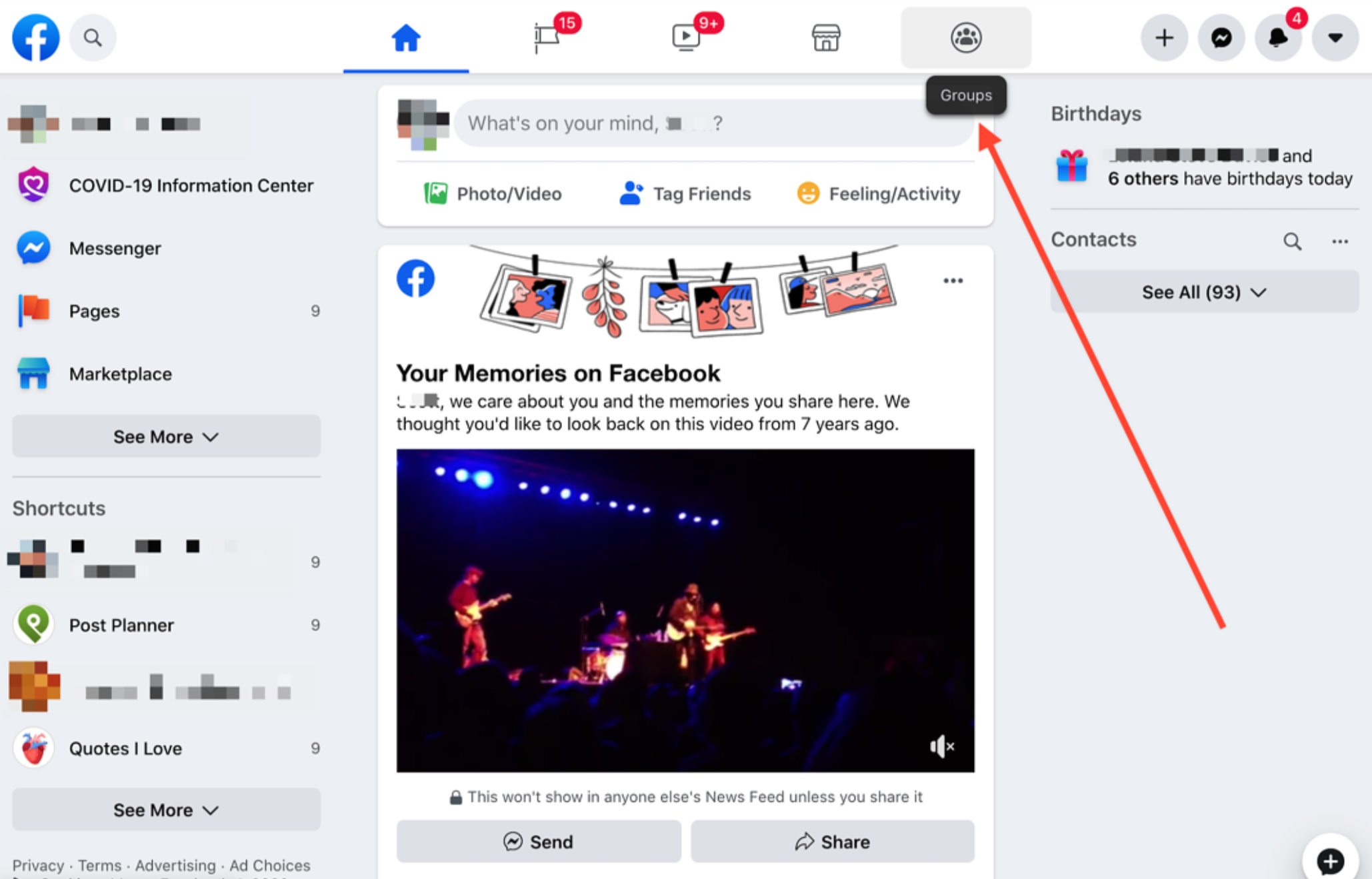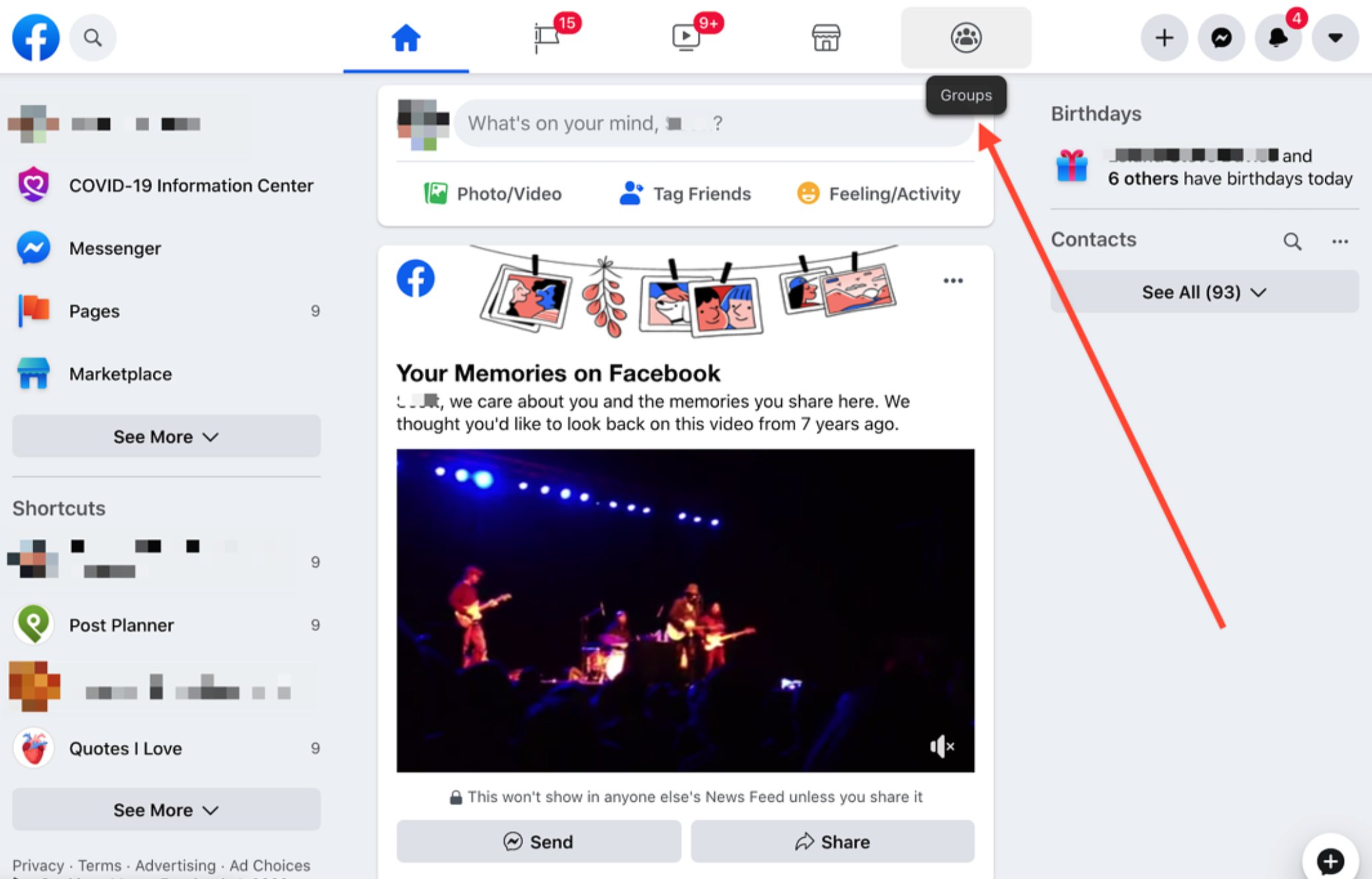 2. Enter your group's name.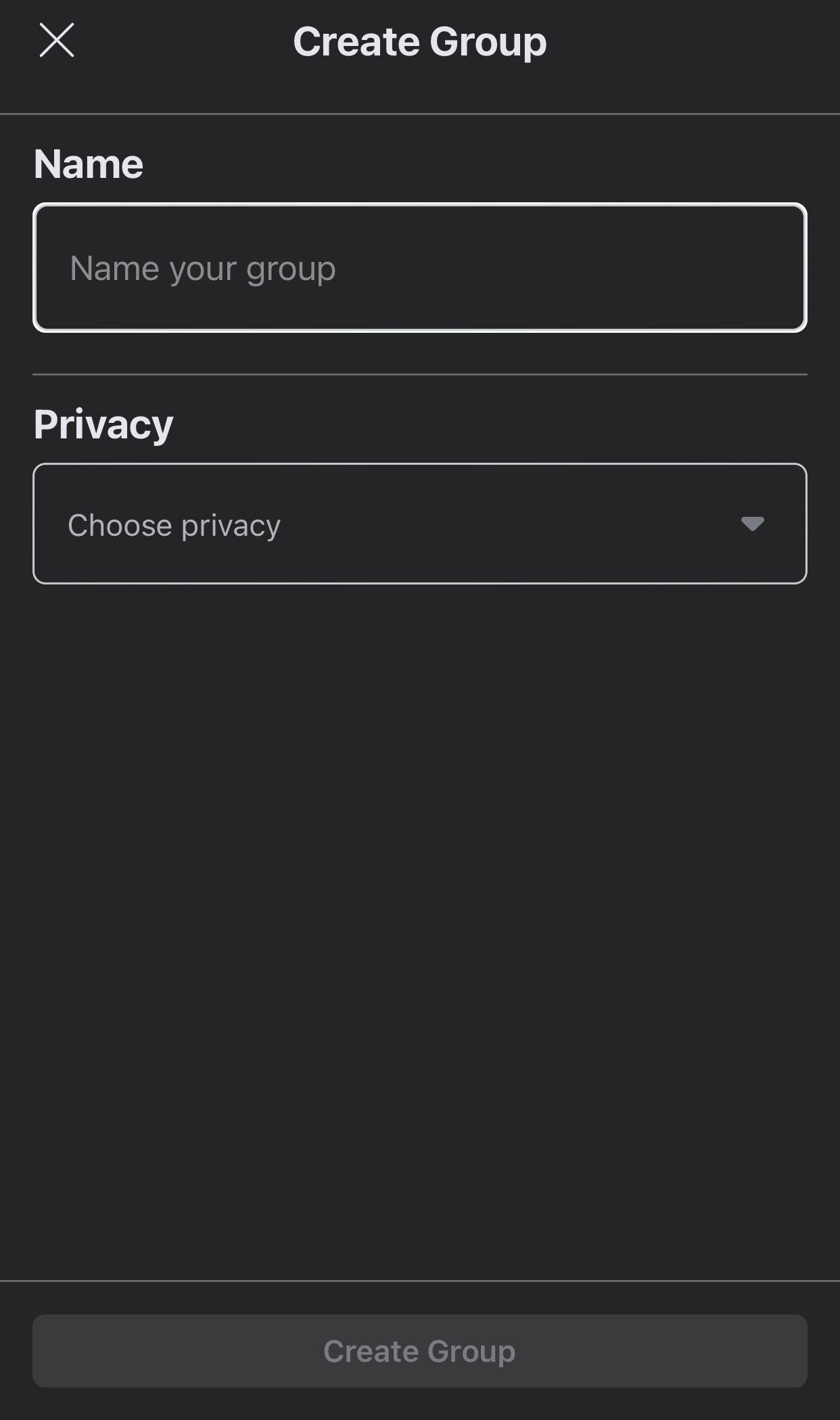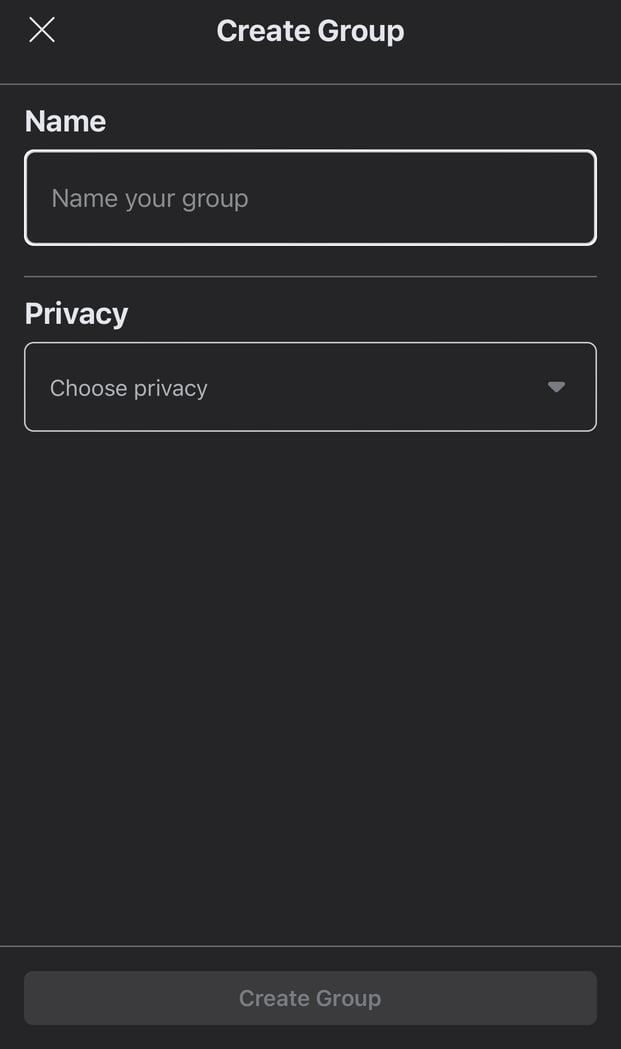 3. Choose your privacy option: public or private. If you choose private, select whether to make your group visible or hidden.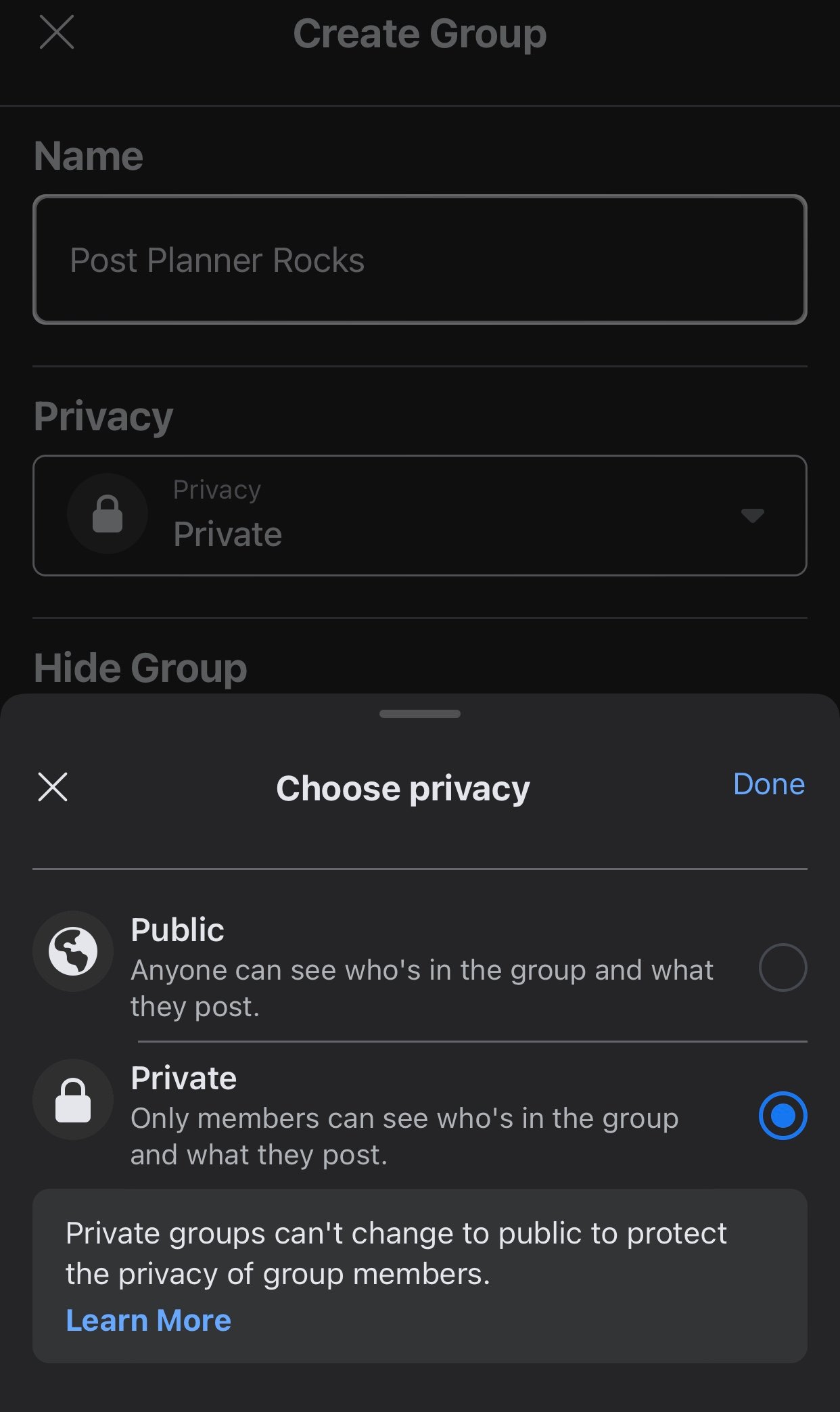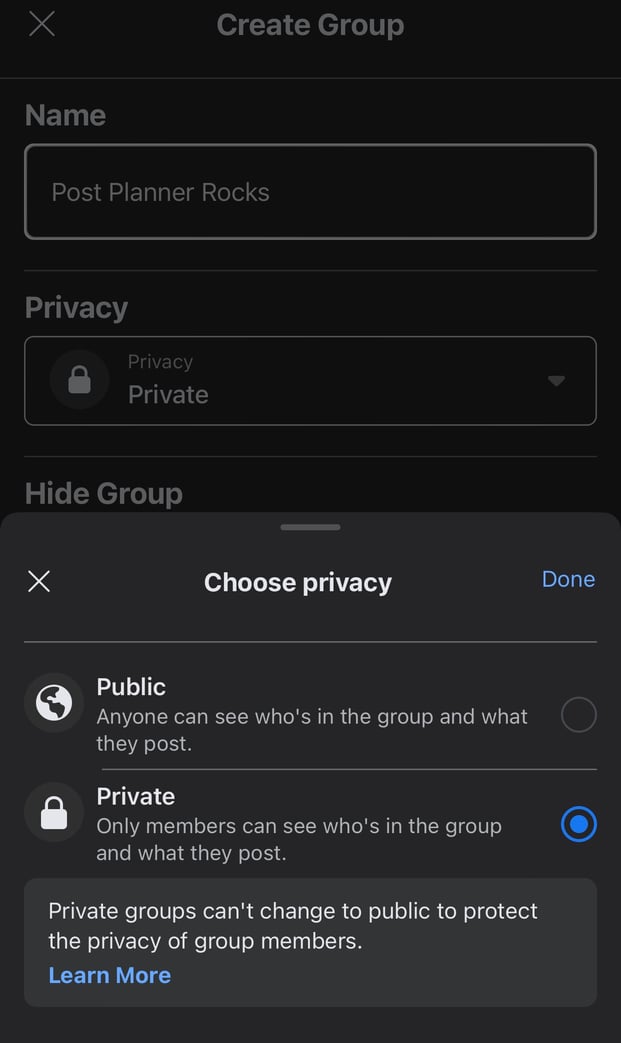 4. Optional: Invite people to your group, then click "Done."
5. You can choose to add a cover photo and description.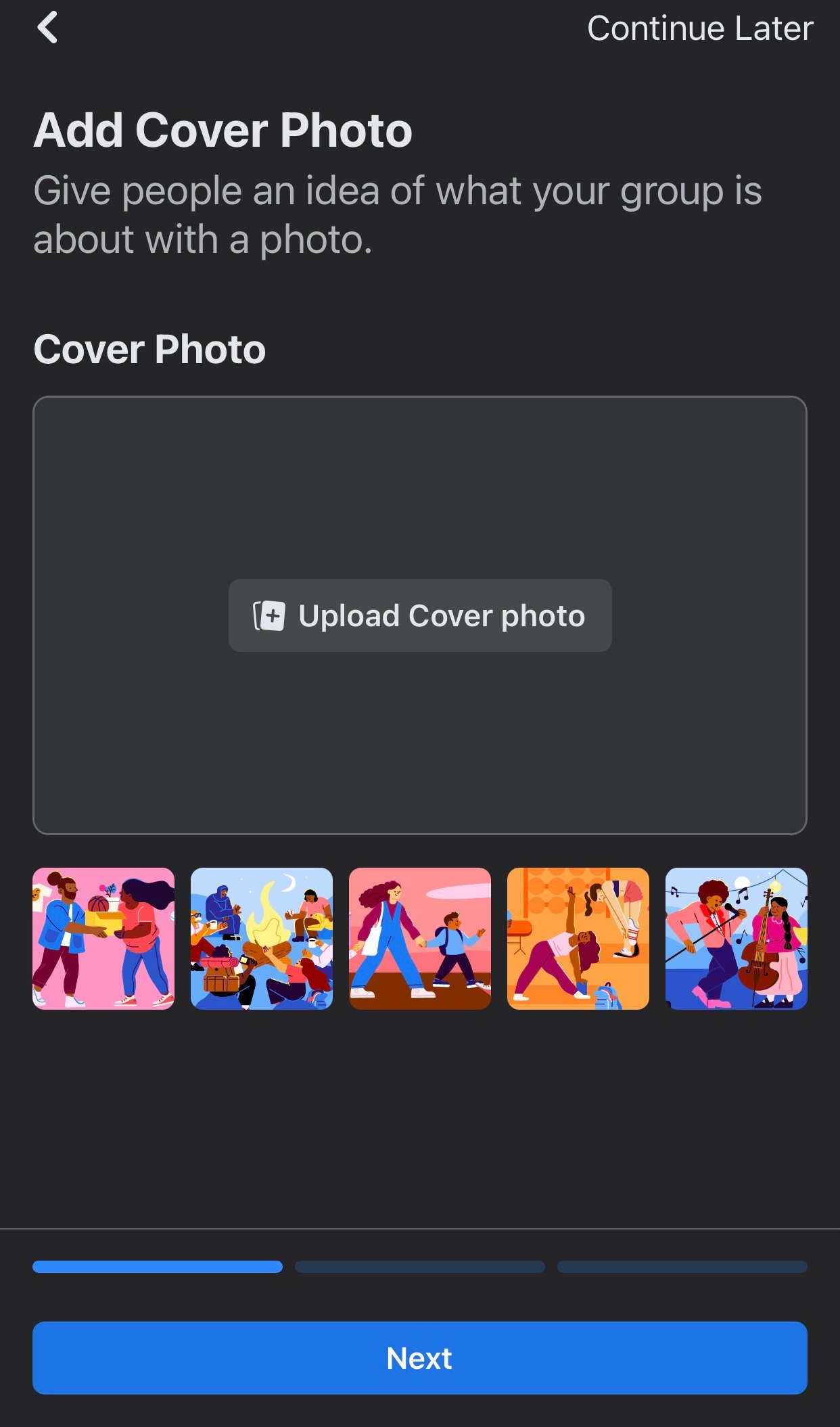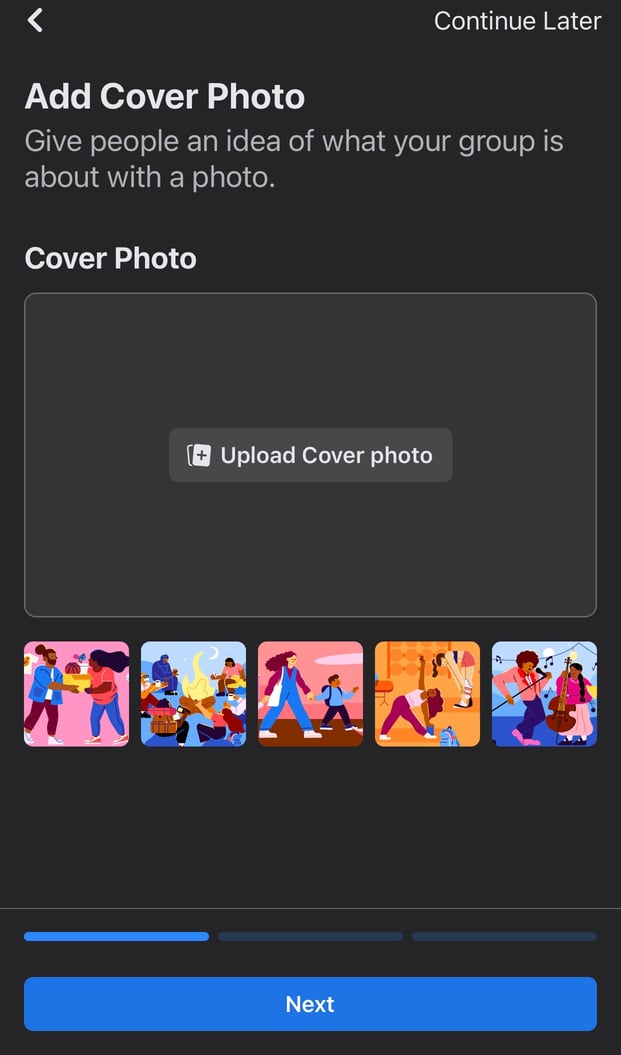 How do I add my business as a Facebook group admin?
1. From your Newsfeed, click "Pages" at the top of your screen and select your page. (If you're on mobile, it may be on the bottom of your screen).
2. Click "Groups" below the cover photo. If you're on mobile, scroll the top bar to the left until you see "more." Tap on it, then tap "groups."
3. Click "Link Your group" to add the page as an admin or click "Create Group" to make a new page with it as the admin.

Facebook group best practices:
Tips to get started
Follow these Facebook group best practices if your business is just getting started on Facebook.
1. Add group rules and policies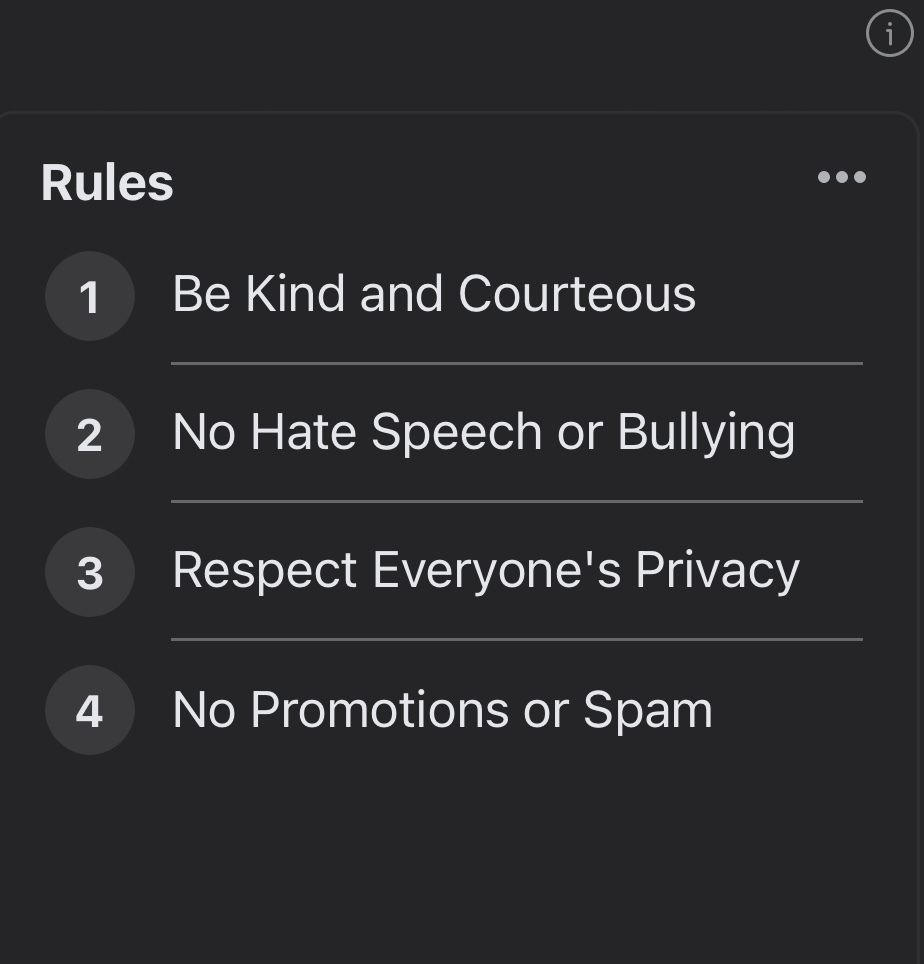 Some Facebook groups tend to "die" because they fall victim to spammers.
And it gets so bad to the point where people either leave or stop engaging in the group altogether.
To keep the integrity of your group on par, add groups rules for people to adhere to.
(Facebook lets you do this when you access your group page as an admin.)
THEN, make sure you enforce the rules and have other admins monitor the group consistently.
2. Pin important posts for everyone to see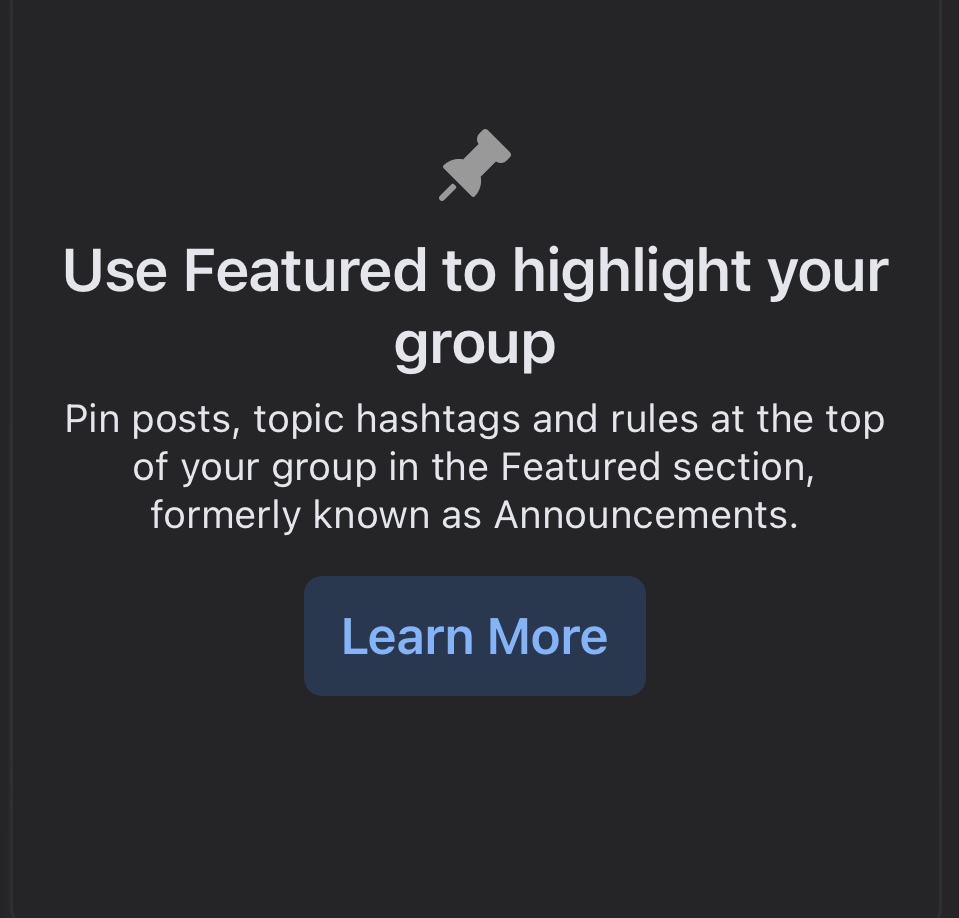 Pinned posts appear at the top of your page so everyone can see them.
A pinned post can act as a business announcement or even a friendly "welcome to the group." Here's Russel Brunson doing this on the ClickFunnels Facebook group page:
3. Make it as valuable as possible
Again, effectively marketing your business on Facebook groups comes down to value.
The more information, case studies, and education you and your ambassadors can provide — the better.
If you can couple this with a sense of patience, your group will grow year over year.
Can I schedule Facebook group posts using Post Planner?
From lead generation to audience connection, Facebook Groups can be a marketer's best friend.
Unfortunately, posting on social media can be a hassle and take time away from critical tasks for businesses.
That's why I recommend using a social media scheduler like Post Planner.
Create and schedule content that MATTERS within minutes with Post Planner.
Create a FREE Post Planner account today to streamline your company's social media.