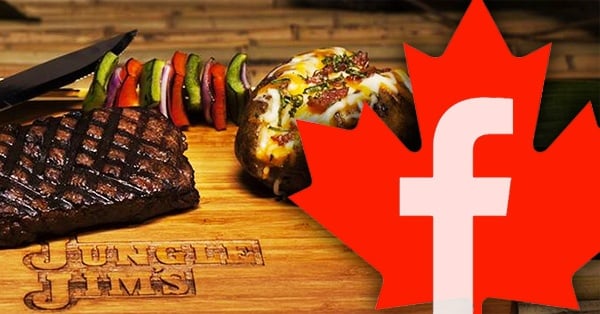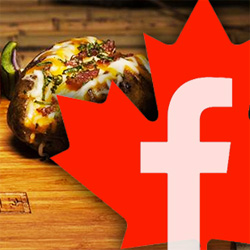 Restaurants can do a lot on Facebook.
After all, who doesn't like to follow the page of their favorite barbecue, coffee or sushi place?
I recently wrote about more than 50 restaurant Facebook pages from every state in the U.S. – analyzing 5 critical elements:
Cover photo
About section
Apps
Posts
Engagement
Some of the restaurants were doing well, while others had room for improvement.
That post was a hit! -- so I decided to go north & find 13 Facebook pages for restaurants in Canada – 1 from each province/territory.
The goal was to review a wide variety of pages -- burgers in Alberta, cupcakes in Saskatchewan, a Wayne Gretzky sports bar & a sushi joint in the Yukon territory that I just couldn't resist.
If you run a Facebook page for a restaurant (or any other business) you probably have questions like:
What should I use as a cover image?
How do I use apps to promote my business & get more fans?
What are the best post types to get engagement from fans?
How can I find/create content my fans will interact with?
How often should I engage with fans on my page?
This article shows how some restaurants are addressing these challenges while presenting cover images & posts from 13 Facebook pages across Canada.
I explain what these page managers do well & ways they could improve.
So let's check out the 13 pages!
But stick around till the end where I summarize the key takeaways for getting more fans, converting them into customers & generating bigger ROI on Facebook.
13 Facebook Pages for Restaurants in Canada (ONE per Province)
Do you follow your favorite restaurants on Facebook?
As you scroll, I hope you add some of these fan pages to your list.
Make sure to Like each one & visit the pages to get a closer look.

Stuff Done Right
Cover photo & profile image go well together
Profile photo is branded with a logo that is recognizable in the news feed
Strong About section with address, telephone number & hours of operation visible on Timeline
Compelling Instagram feed easily viewed from app thumbnail
Branded Twitter app looks good
Great job hiding Like count from Timeline -- if only all restaurants did this
Ways to Improve
Missing out on web traffic by not including descriptions & links with cover photos & profile images
Apps must be current -- Events schedule could probably be updated more often
Different calls-to-action could increase fan engagement -- ask more questions & use fill-in-the-blanks
Engage more with fans on the page -- perhaps thank those who leave reviews
Use reviews as opportunities to begin conversations with fans
Surprisingly, this question didn't go far with fans:

Stuff Done Right
Cover photo with strong branding & effective call-to-action -- what could be better than oysters & skiing?
Quote from the owner in the longer About section is a nice touch -- "It's all about celebration. Celebrate food, celebrate wine, celebrate life"
Based in Whistler, British Columbia -- posts occasionally showcase the local area
Ways to Improve
Posts with stronger calls-to-action are needed to get more Likes, comments & shares
Use apps to host contests, display menus & show restaurant's other social media feeds
Restaurant could engage more with those who post on the page
Here's an article with info about how to interact with your Facebook fans:
This Facebook post had the bistro partnering with the hotel where the restaurant is based: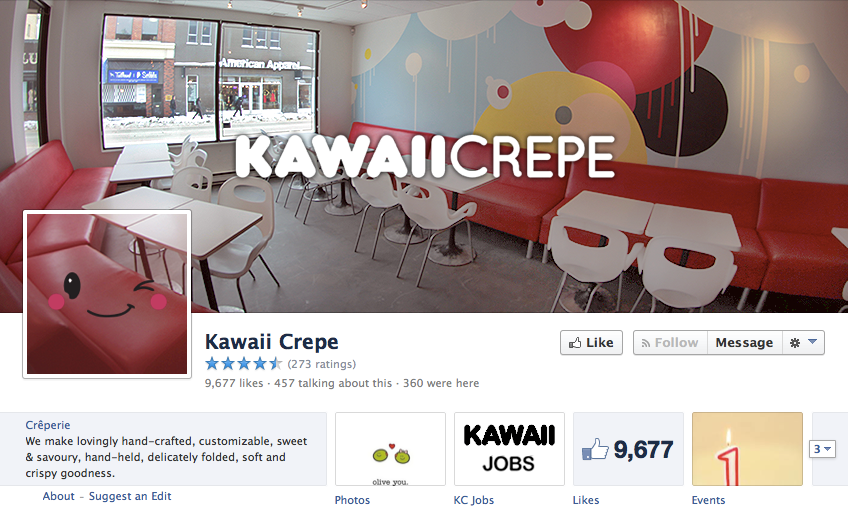 Stuff Done Right
Integrating cover photo with profile image provides wicked branding
Lighthearted colors, logos & post make me WANT to like this company
Branded apps have information about jobs & catering
Page managers often interact with fans
Page is very visual with a strong mix of photos & text updates
Ways to Improve
Display contact information & location in short About section on Timeline
Hide Like count from the app thumbnails that are visible on Timeline
Update Events schedule or remove that app from page
This kind of sappy humor gets fans Liking:

Stuff Done Right
About section on Timeline displays address, telephone number, hours & the type of food
Great branding on many of the posts -- logos, promotions, calls-to-action, etc.
Apps are updated with some tasty promotions -- Wild Wacky Wing Night Wednesdays & Steaktacular Thursdays!
Envelope of Fortune app has potential with its professionally produced video -- great example for other businesses!
Ways to Improve
Hide Like count from the top (visible) row of apps
Staying on topic is important -- but more non-promotional posts might increase fan engagement
At least engage with those who leave restaurant reviews on the page
This promotion has been used often in posts: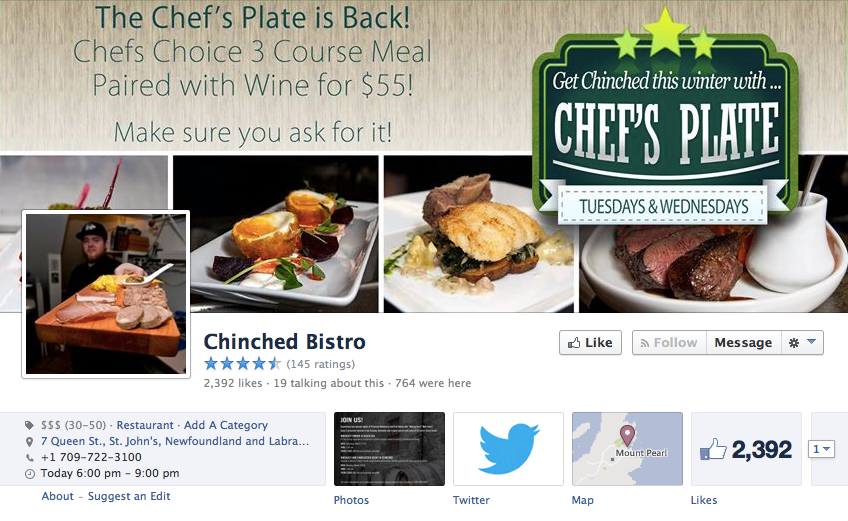 Stuff Done Right
Twitter app looks great
Page managers interact with fans
Mix of different types of posts -- photos, links & text updates
Ways to Improve
Post fewer promotional updates
Ask questions or post fill-in-the-blanks to get fans to respond
Include a description of restaurant in About section
Post more consistently
Interesting update:
Stuff Done Right
Logo as the profile image looks amazing alongside posts in the news feed
Twitter feed looks good
Menu app is useful -- perhaps use stronger branding on Menu thumbnail
Good mix of photos, links & text updates
Ways to Improve
Update Events app more often & make that thumbnail visible on Timeline
There are several positive reviews, but interacting more will help build relationships with your fans
This image update was funny & topical:

Stuff Done Right
Consistent sports-related messaging shows the power of branding targeted at a specific audience -- even if you don't have an NHL legend to promote
Logo makes an effective profile image, which is sized OK
Short About section on Timeline has all the basics: type of place, address, phone number & hours
Like count is hidden from app thumbnails visible near top of the page
Ways to Improve
Update Events app -- hasn't been updated since the Super Bowl
Engaging with fans could help build brand loyalty
Add custom adds to do giveaways, contests & increase sales with Facebook
Great way to promote restaurant during the Olympics:

Stuff Done Right
Events app updated
Trip Advisor app has recent positive reviews
Cover photo is unusual & compelling
Ways to Improve
Fewer promotional text updates -- boost engagement by posting photos & links with calls-to-action like questions & fill-in-the-blanks
Captions on cover photo & profile image should have descriptions & links to the website
Interact more with people who post comments & reviews on page
This text update got some shares: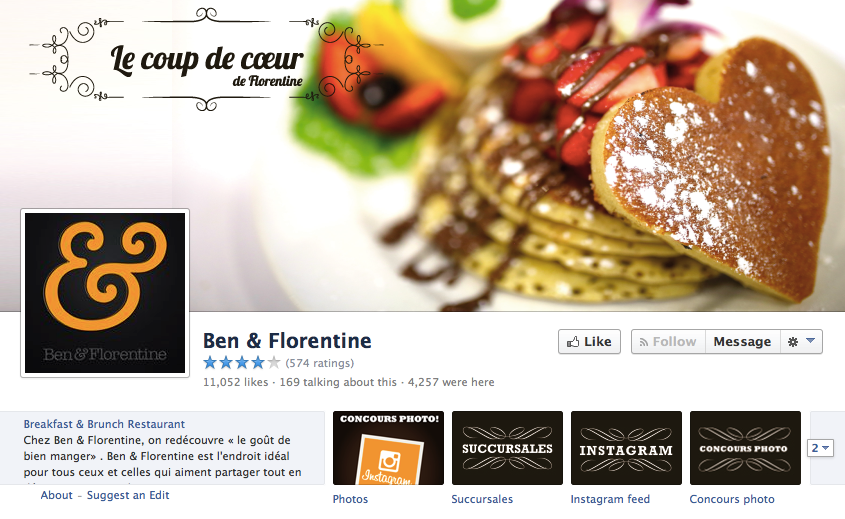 Stuff Done Right
Branded app thumbnails are a few of the many things this page does right
Photo contests are a great way to get engagement
Like count hidden from Timeline
Logo as profile image provides strong branding
Ways to Improve
Include contact information in short About description that appears on Timeline
Interact more with fans
Test different posting strategies -- try posting at least once a day
Use Timeline to promote contests on your page:

Stuff Done Right
Cupcake photos see steady engagement from fans
Awesome cover photo -- captures easy-going spirit of page
Though it could be sized differently -- logo makes a compelling profile image
Ways to Improve
Remove Notes app or at least hide it from the Timeline -- a note hasn't been added in months
Update Events app or remove it -- schedule hasn't been updated in years
Use more apps -- start by hosting contests & giveaways
Fewer promotional posts -- don't be afraid to stray off topic on a fun page like this
Use strong calls-to-action in posts to generate engagement from fans
No shortage of cupcake porn on this page:
Northwest Territories: Trek

Stuff Done Right
Great use of logo for the cover & profile images
About section is complete -- with contact information visible on Timeline
Trip Advisor & Events apps work OK
Ways to Improve
Use fewer promotional text updates
Post more photos & links
Pay to boost posts to get content in front of more fans
Hide Like count from Timeline
Use more apps -- promotions, giveaways & contests
A typical post for Trek:

Stuff Done Right
Compelling cover photo showcases intriguing local area
Updated events app
Ways to Improve
Hide Like count from the Timeline
Post a more interesting mix of content to boost engagement -- use lots of photos & links
Great cross-promotion with organizations in the community:
Yukon: Fusion Restaurant (This restaurant is now closed)

Stuff Done Right
About section on Timeline has all the basics -- address, phone number & hours of operation
Lots of sushi pics -- which are some of the most popular posts on the page
Ways to Improve
Update events app more often
Posts should showcase local surroundings
Make use of more apps -- contests, giveaways, build mailing list
Description on cover photo is good, but caption should also contain link to website
Profile image should also have a link
Funny memes are good for a Like or 2.
Key Takeaways
Here are the main takeaways that you can apply to your page:
1. Cover photo
Use high-quality, branded cover images
Include a caption on the cover photo -- so if a fan clicks it, they can read a description & click a link to your website
Logos make great profile images -- they should be optimized to look great in the news feed
Resources:
2. About section
Complete the section & include:

Contact info with your website, address & phone number
Hours of operation
Price range & payment methods
Services & food type
Description, history & other unique info
3. Apps
Hide the fan count
Use apps for contests, reservations, events, menus, newsletters, etc.
Add high-quality images as app thumbnails
Resources:
4. Posts
Post a strong mix of updates every day -- include:

text updates: questions, fill-in-the-blanks, inspirational quotes, trivia
photos (funny, inspirational, or of your food)
links to your website

Use contests & giveaways to get visitors to:

provide their email
check-in at the restaurant
comment on your posts
Resources:
5. Engagement
Respond to all fans who post on your page in a reasonable time period (within 24 hours, if possible)
Resources:
Those are some tips you can use to improve your page. Now post your favorite restaurant Facebook page in the comments below.