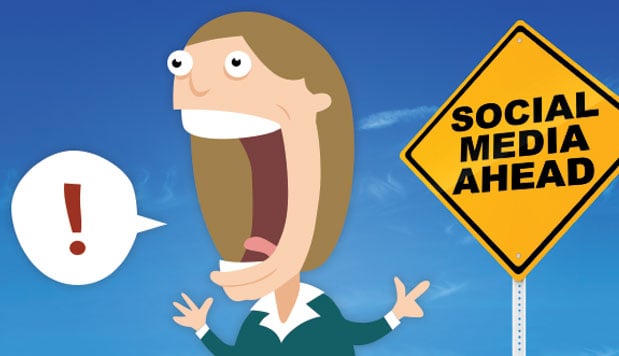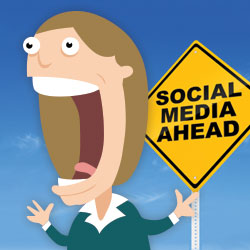 We all know how important social media is for your company's marketing plan.
If you're still unconvinced (is that even possible?), remember that Internet users now spend 4x more time socializing on Facebook than searching on Google.
I can personally attest to this. As much as I love Google, I only use it when I need a question answered.
On the flip side, I spend hours mindlessly scrolling through my Facebook news feed without realizing it.
Another thing to remember: of the 2.1 billion Internet users, 1 billion are on Facebook. If math isn't your forte, that equates to around half! Yes, half of all people using the Internet are on Facebook!
Hopefully these 2 stats help stress the importance of social media marketing for your company.
With that said, it's not always easy to build a following on social media sites -- like Twitter & Facebook. It's tough to get Followers & Likes!
Fret not, dear reader, for I had the incredible honor of interviewing some influential women in social media marketing on this very topic.
So without further ado, please check out their tips.
Get More Followers and Likes by Listening to These 7 Women

Eve Mayer
Social Media Delivered | Twitter | Google+ | LinkedIn
1. What's the best strategy to get more followers on Twitter?
Growing a large Twitter following has certainly become more difficult during the past year with changes to Twitter -- but here are the top few suggestions I would make:
Follow your followers. If social media is a relationship, you should follow those who follow you.
Use the appropriate frequency. For the most part we find that about 7 to 10 tweets per day on average does the trick. Why? It's usually enough to get seen but not so much that people get sick of reading your tweets. Of course this is an overall guideline, not a hard & fast rule.
Give your audience the content they crave & deliver it via "The Social Media Business Equation" -- which I explain in my book. This equation teaches people how to use the appropriate mix of the right type of content including information, entertainment, interaction & conversion to the goal of the Twitter account.
And, since this is social media, the largest & most important activity in this equation is interaction -- which includes both listening & responding to those in the Twittersphere.

Deborah Lee
Debsylee | Twitter | Google+ | LinkedIn
1. What's the best strategy to get more followers on Twitter?
Be proactive. Go & follow people! Too often we sit & wait to be followed -- and the problem with this strategy is that everyone else is doing the same.
Unless you're already a huge established brand or Lady Gaga, you really have to take the lead.
2. What's the best strategy to get more Likes on Facebook?
Although Facebook & Twitter are often mentioned in the same sentence, they're two very different experiences & used by people with very different aims & motives.
Twitter is like an online cocktail party where conversations are quickly established & dynamic. Facebook pages, on the other hand, offer the user a very different, more static experience -- so the perception can be that interaction is not so free-flowing.
As with any social media platform, long-term success is accrued over time -- so my advice is to continue reaching out to users & publish great content that will draw them into a 2-way dialogue wherever possible.

Maddie Grant
SocialFish | Twitter | Google+ | LinkedIn
1. What's the best strategy to get more followers on Twitter?
I'm not sure my 16,000 followers counts as high compared to some people's follower counts. :)
But the best way to grow followers is to have a robust follow strategy -- meaning that YOU follow people that are relevant to your business or interests, and you engage with them, and they follow you back.
Slow & steady wins the race.
The best way to find those people is through search (searching for relevant keywords) and through lists. Once you find a couple good people to follow, look at the lists they're on & follow those people, as well as the people who follow them directly.
But be careful not to hit the Twitter follow limit -- which is in place to stop spambots who also try & follow thousands of people in hopes of getting followed back.

Laura Fitton
Hubspot | Twitter | Google+ | LinkedIn
1. What's the best strategy to get more followers on Twitter?
The best strategy is DON'T try to get a high following. Try to get a deep one. You are better off with a small but highly targeted & highly engaged, relevant base of followers.
You get that by:
Taking extremely good care of the followers you already have. Follow them back. Read their stuff. Answer their questions. Share their best stuff & shine a spotlight on them.
Thinking very specifically about who you want to attract & what kind of information & content they would be attracted to. Then create or curate that kind of content.
Proactively going out & following really targeted people -- and then actually listening to & engaging with them, similarly to how I describe in #1 above.
2. What's the best strategy to get more Likes on Facebook?
I really don't know much about getting Facebook Likes, except to say that if you're applying the Twitter advice above, and providing really great shit on your Facebook page, people will have a reason to "Like" it in the first place.
As Jay Baer says: on Facebook you're competing with people's spouses, friends & family for attention, so you had better be good. Strike that, amazing.
The only other way a company gets me to Like their page in any meaningful way is if I really & truly love the company. Maybe their product or mission is just awesome. Maybe my friends work there.
My impression of Facebook is that if you rack up Likes by simply gaming the news feed for them, they are useless. They will only set you up for failure by depressing your EdgeRank if people who Liked your page never engage with any of your content -- or worse, flag, block or otherwise negatively react to it.

Kristi Hines
Kristi Hines | Twitter | Google+ | LinkedIn
1. What's the best strategy to get more followers on Twitter?
Engagement is really the best way to get followers.
I started by seeking out other bloggers in my niche, connecting with them on Twitter, chatting with them by answering questions, and tweeting their posts. It's been a slow & steady process, but if you don't obsess over it & keep engaging, you'll grow an audience in time.
If all you do is tweet without ever having conversations with people, you won't see as much growth unless you happen to be a large brand.
The other strategy is to link to your Twitter profile whenever you can:
your website
your blog
your author bio on guest posts
your email signature
your forum signature, etc.
Make it easy for people to find & follow you, and you're bound to gain more followers.
2. What's the best strategy to get more Likes on Facebook?
Facebook is a personal network for most -- and many people don't like a lot of the ways businesses can use their Likes.
When you Like a business, for example, they can pop more of their ads into your News Feed -- and they can also create ads telling others that you like their page (unless you configure your settings properly).
So the goal businesses have to take is to make people want to Like their page, no matter the cost. Running contests & offering free content that is revealed by a Like are great ways to incentivize someone Liking your page.
Placing a Like button for your page in areas around your website where people will be most excited about your brand is a plus too -- on the confirmation page after you've made a purchase or right after a stellar piece of content, for example.

Lori Ruff
Integrated Alliances | Twitter | Google+ | LinkedIn
1. What's the best strategy to get more followers on Twitter?
It boils down to this:
Consistency -- If you don't show up, no one will know who you are! They may know about you -- but actually knowing you is where trust is built & top of mind loyalty is engendered.
Appropriate Volume -- Since many of your followers will have rather small networks (the average active Twitter following is currently 208) you want a good mix of tweets that don't come all at once or so often that you overwhelm your network.
Focus on the core purpose of each profile -- If the Twitter profile is a business profile, you will still be engaging but the updates & content will be much different than for a personal Twitter account, even if that account has a business focus.
2. What's the best strategy to get more Likes on Facebook?
It was easy for people to get overwhelmed on Facebook because it grew so large so fast. For a while, when you reached the maximum of 5,000 friends, the platform also included the pages you Liked in that number. So a lot of the larger connectors told everyone about this & said "be careful how many pages you Like!"
I think it is loosening up a bit now, but it's still difficult.
You have to appeal to the user's emotions and/or sense of value received. Do I actually "Like" this page & do I want to get updates? Or, do I know the public figure or the business owner or the "person behind the page"?
Taking those questions & asking yourself if you do provide value without posting too often (varies based on multiple factors, but starting with 1-3 times a day with a new page should be ok). Do the people you want to "Like" your page "know" you? What can you do to build a relationship & garner a sense of trust with your followers? What are the things they post about & respond to?
You should pattern you efforts after that investigation.

Renee Blodgett
Magic Sauce Media | We Blog the World | Twitter | Google+ | LinkedIn
1. What's the best strategy to get more followers on Twitter?
I have been on Twitter and other social networks for many years, so the biggest advice I can give is to be patient & relevant.
Getting a following takes perseverance & time. It also takes a commitment to engage with your community on a regular basis & listen to what they have to say.
Being real in your response & responding with intention will go a long way.
2. What's the best strategy to get more Likes on Facebook?
Facebook likes are likely harder because it is a more cluttered medium.
With Twitter, I can create various topic lists that I can follow in a stream -- which allows me to be focused when I view my tweets & select to view a particular list anytime.
You can create & follow Lists on Facebook too. But if you don't use them, Facebook can fill your news feed with a lot of clutter. So the thought of adding more to your already cluttered news feed feels a bit like signing up for another piece of direct mail you may not want.
3 Tips: be relevant, concise & don't over-post.
And there you go
If that's not convincing enough, I don't know what it is.
What are your thoughts? What strategies do you use to boost your Twitter following or get more Facebook fans? Be sure to comment in the section below.