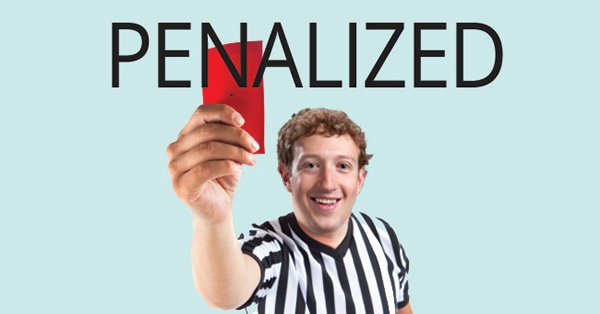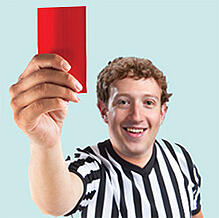 WHUT?!
(EDITOR'S NOTE: This article is based on a November 14, 2014 announcement by Facebook)
Facebook is changing the news feed algorithm again??
It's true. The bossman Zuck has decided to crack down on "overly promotional" posts -- and limit their visibility in the news feed.
Does this spell trouble for businesses trying to market & sell on Facebook?
According to Facebook, here's what users don't want to see in their news feed:
Posts that solely push people to buy a product or install an app.

Posts that push people to enter promotions and sweepstakes with no real context.

Posts that reuse the exact same content from ads.
I have mixed feelings about this update. I understand Facebook wants to keep users happy.
Happy users mean more time spent on Facebook!
But this move could hurt the small businesses that already struggle with the demands of Facebook marketing -- companies that don't have the budget or expertise to launch effective Facebook ad campaigns.
>> Click to Tweet <<
New Facebook Update Will Penalize Promotional Posts... and Businesses?!
In this post, I have 5 tips for businesses out there that might be impacted by this new Facebook update.
1. Listen
Find out what your fans & customers want from your page.
Why did they Like your page to begin with?
>> Click to Tweet <<
Ask your Facebook fans what they'd like you to post on your page. Test different types of posts to see what your fans like & respond to the most.
Your Facebook Insights will provide data to help you determine what your fans want to see on your page. Don't be nervous about checking your Insights as often as possible.
2. Post a Mix of Content
I wrote recently about the 3 Ps of Facebook marketing:
Get Personal

Have a Purpose

Promote!
This new Facebook update makes it even more important to follow the 3 Ps -- and post a wide variety of content on your page.
My advice is to avoid being overly promotional on your page. You can do this by posting a strong mix of personal & purpose-driven content that provides value for your audience.
3. Be Your Brand
The best marketers on Facebook understand this.
You should build your personal brand by providing value to your fans -- instead of just pushing your products & services all the time.
Show people how to use your product & how it can benefit them -- what it looks like in action -- and what happens if they don't use your product.
Facebook pages for Quest Nutrition, Red Bull & GoPro show some excellent examples of this.
4. Buy Ads
Pay once in a while for extra Facebook reach.
The days of free advertising on Facebook are gone. Facebook is a serious marketing platform where you must understand some basics in order to succeed.
Start with baby steps when it comes to Facebook ads. Pay to boost a few of your posts to see how others respond.
Here blogger Scott Ayres explained how he boosted a few posts to increase sales:
5. Use Outside Sources
When you can, try to get your Facebook fans using your other online marketing channels.
For example, we often encourage our Facebook fans to visit our blog & sign up for our newsletter.
Summary
With all these new algorithm changes, Facebook is forcing businesses to change the way they market to fans.
One thing is for sure: relationships will always be the most important thing.
And this new algorithm change makes building solid relationships with your fans an even higher priority.