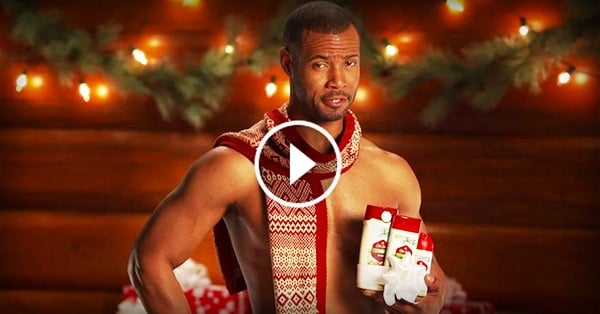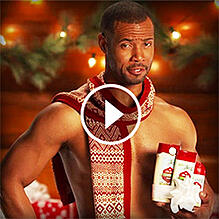 Everyone loves a good story!
Stories help shape the way we view the world & guide us in our decision-making.
Today I'll show you how to use the power of storytelling to connect with your customers on Facebook.
Before you start telling fans what your business is up to, it's important to provide context about how you got started. This helps customers connect with your message & brand.
To do this, use Facebook Milestones to highlight important events in the evolution of your company.
Milestones work great for telling fans how & why you started your business!
Once you've established the necessary foundation -- here are 7 ways to use Facebook to expand your story for your customers & fans.
>> Click to Tweet <<
7 Ways to Use Facebook to Tell Your Company's Story Online
1. A Picture's Worth 1,000 Words
According to a recent study by VFM Leonardo, photos on Facebook get Liked twice as much as text updates.
And posting images is an amazing way to get fans to connect with your company online.
Make sure your images are powerful & tell a story about your business.
Here's an example from Barack Obama that got a mere 4.4 million Likes!
2. Your Cover Image Tells a Story
Your cover image is the first thing people see when they visit your page. Use it to tell your story!
>> Click to Tweet <<
Don't overlook your Facebook cover image. It's more important than you think.
Fans see your cover image in 2 main ways:
Visiting your Facebook page
Hovering over the name of your page
Your cover image should let your fans know what you do & how your product or service helps improve their lives.
These ideas will help get you started:
Customer Testimonials
Company Slogan
Showcase Your Products
3. Behind-the-Scenes Shots
A good story can help your business build better relationships with customers & fans.
Use your Facebook posts to take your fans behind the scenes.
Talk about product development, new events or just share a pic of what's going on around the office.
Add quotes from your employees & post an occasional video.
Buffer often shares pics from outings like this: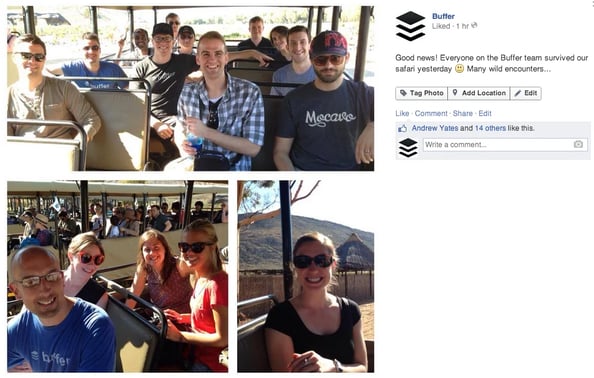 4. Spotlight Your Customers
The best stories about your business come from customers!
Ask fans & customers to create content for your Facebook page & website. Many will love to share their feedback with your community.
Here's how Belkin gathers user-generated content: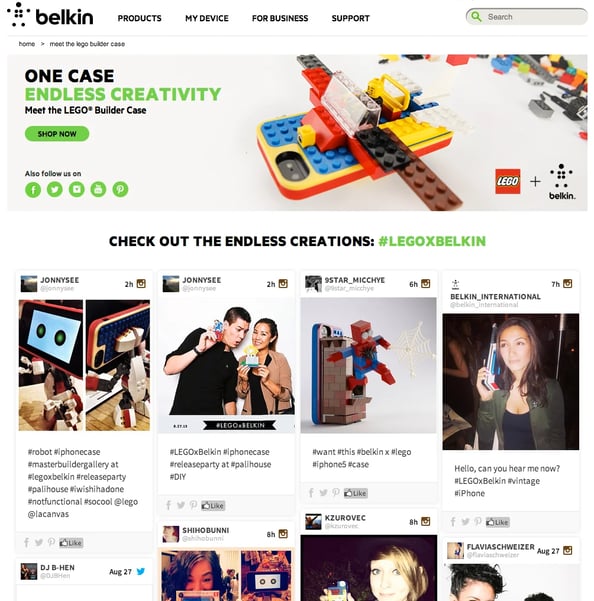 5. Announce New Products
Once fans are excited about your story, it's easier to get them jazzed about your products & services.
In the run-up to a product launch, use Facebook to create anticipation for your new stuff. This works a lot better than posting just once around the time of the launch.
Stories can consist of sneak peeks at the product, behind-the-scenes pics & entertaining, informative videos. Share new information about the launch each time you post.
Let your Facebook fans use your new products before the products are available to the public. This is a powerful goodwill gesture for your community.
Michael Stelzner made this awesome preview for his new project:
6. Tell Your Story With Video
An experiment by Pat Flynn recently revealed the value of posting videos on Facebook.
One of Pat's videos got 70% more engagement on Facebook than YouTube.
Facebook videos help showcase products & allow satisfied customers to provide testimonials about your business. Video is also a powerful medium for connecting with fans!
Old Spice used this video to hobnob with fans last Christmas:
7. Share Plans for the Future
To hold the interest of your fans make sure you let them in on your plans & ideas for the future.
>> Click to Tweet <<
Now that your fans are interested in your story, the last thing you want to do is lose that connection & engagement on your Facebook page.
Discussing your plans for the future lets fans feel important & involved. And they're more likely to stick around!
Post about future product ideas, design concepts or new services you'll be offering. Get your fans interested in your company's future!
Conclusion
Telling interesting stories helps customers connect with your business.
There's no doubt about it!
So try using the methods I described in this post to get more engagement & build up trust with your fans.
Try to tell a story your fans will never forget!
In the meantime, answer this question: If you could write a book about your business, what would you call it?
Please comment below -- I'd love to know.