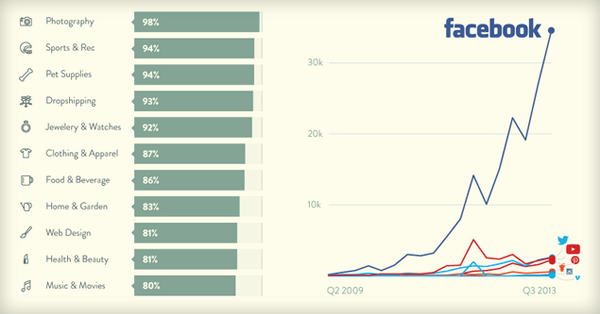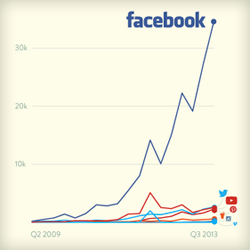 Want to social media to grow your business online?
Are you wondering which platform will generate the best ROI?
Thanks to the team at Shopify, we may have an answer.
One word: FACEBOOK!
Shopify analyzed data from about 37 million social media visits, which led to more than 529k ecommerce orders for Shopify merchants.
These 12 websites helped generate the sales:
Facebook
Pinterest
LinkedIn
Instagram
Reddit
Vimeo
Vine
Hacker News
Polyvore
In this post, I'll show you the highlights from the study -- then show you the infographic & my key takeaway.
Here's Why Facebook Will Drive the MOST Sales For Your Business
Traffic
Facebook claimed a whopping 63% of all social media-driven visits to Shopify stores.

Orders
Facebook was responsible for 85% of all Shopify orders generated by social commerce.
The website dominated industries like photography, sports & recreation, & pet supplies.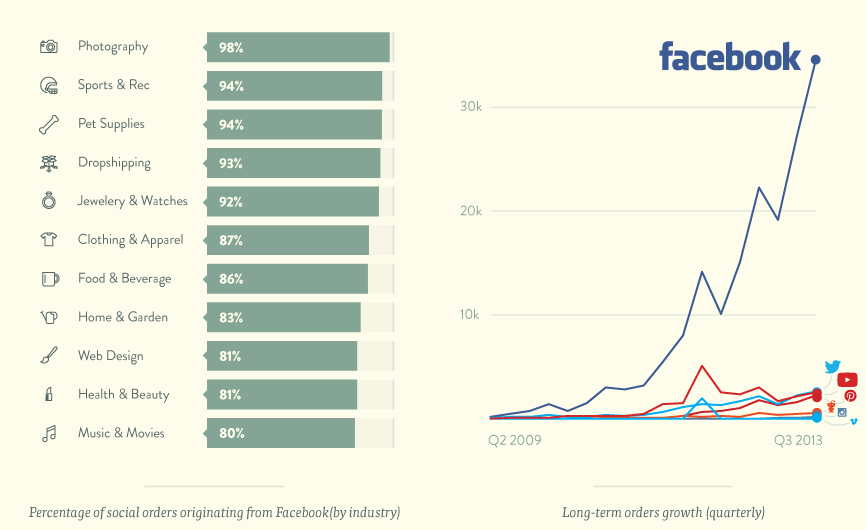 Average Order Value
Here's the one place Facebook lost ground. The social media website had an average order value of $55 -- lower than Polyvore, Instagram & Pinterest:

Conversion Rate
But Facebook bounced back in the conversion category.
About 1.85% of Facebook users who visited Shopify stores placed orders.

But despite dominating 3 of these 4 categories, there are industries Facebook hasn't taken over yet:

Key Takeaway
No matter your niche, Facebook is a crucial part of your content marketing strategy.
The site drives more web traffic & converts more sales than any of its competitors.
Check out the infographic from Shopify for more proof:

Your Turn
As a business owner, have your social media accounts driven many sales?
Tell me in the comments whether you've bought something from a company you found via a social media site.