I recently posted an update on the Post Planner Facebook page that got HUGE response from fans.
I was looking for some new fan pages to review, so I asked people to tag their fan page in the comments.
To my surprise, the post got over 100 comments -- all requesting Facebook fan page reviews!
Overwhelming? Yes.
Exciting? Heck yes!
Here's the actual post:
The truth is, I love looking at the fan pages of our fans -- and I also love offering any insight I can to help them leverage a Facebook page for business.
While scanning the comments, one page caught my eye -- and that's the one I'll be writing about today.
It's called Forgotten Farms -- and it belongs to a photographer in Canada named Michelle Ward.
I love this page partly because of the high-quality photographs & partly because of my obsession with old farm houses.
So let's get started with the review & hopefully today you'll pick up some new Facebook marketing tips.
4 Easy Ways a Photographer Can Leverage a Facebook Page for Business
1. Use an Amazing Cover Photo
This cover photo is amazing!

The old truck covered in snow looks absolutely beautiful.
And the box to the left tells me the name of the page & what they do -- and without getting in my face & trying to sell stuff.
Awesome!
I see way too many pages overdoing it with pushy sales pitches on their covers. Remember: when it comes to cover photos, less is more. Tweet This!
You should create your cover photo with a couple things in mind:
your cover photo is the 1st thing people see when they go to your Facebook page
when someone likes your page, your cover photo is shown in the news feed of that person's friends
In other words, your cover photo is your best shot at making a great first impression on people. So aim to impress!
Looking at past cover photos for Forgotten Farms, they've kept the same layout -- using powerful images with small, colored text boxes to the left.
And they've only changed the cover photo 4 times in the past year!



Read this post for other ideas about the great ways to use your Facebook cover photo:
2. Post High-Quality, Eye-Catching Posts
Since she's a photographer, you'd expect Michelle's page to have plenty of amazing photos -- and it does!
Here's a recent post that caught my attention & got her Facebook fans to interact:
The fact that she shot the photo with her iPhone blows me away!
And with more than 300 Likes, 30 shares and 60 comments, the post is a huge success.
Remember -- the page only has about 4k Likes. So this post garnered Likes from roughly 8% of her fans.
Again, a huge result in my book. That number would excite anyone I know who's running a Facebook page.
Scrolling through the page, I found more images that are great quality -- but also ones that have fantastic content in the text portion of the post: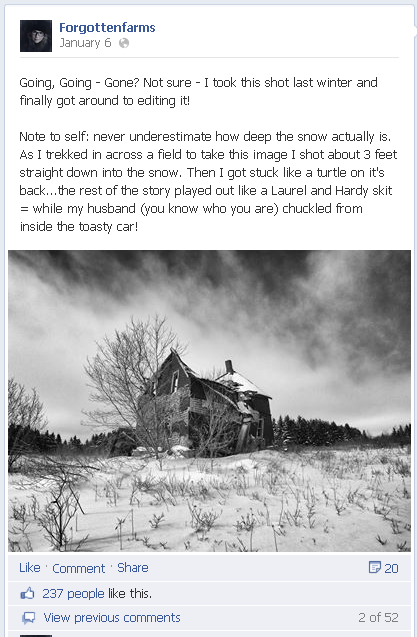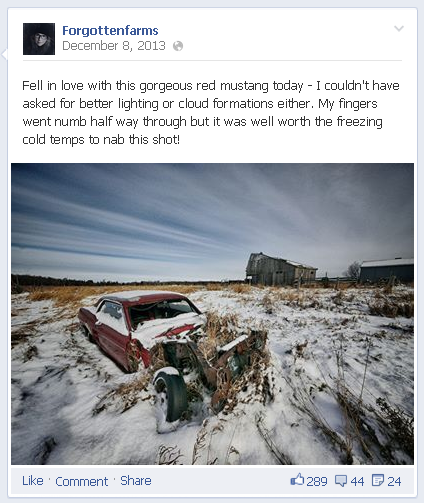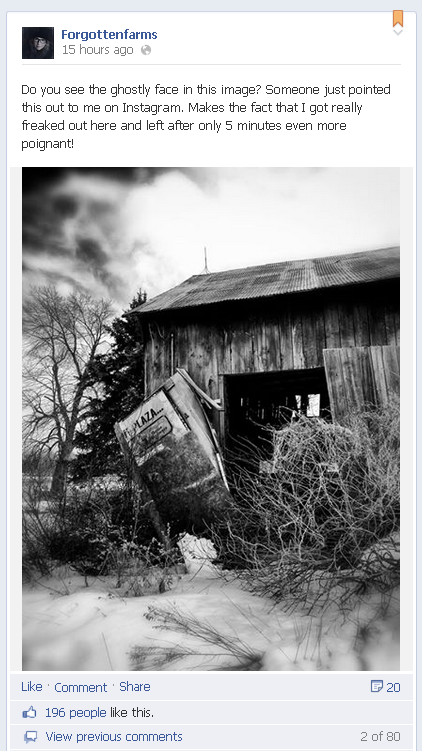 Strong images & great copy lead to engagement -- and yes the amount of text in her updates may break the "rule" many gurus spew about how updates shouldn't be longer than 80 characters.
That's OK! Michelle seems to know best the best post types for her page.
Since longer updates work well on her page, she should continue posting them, while also testing to see what shorter posts do for fan interaction.
3. Be Human
One thing I've always taught is that Facebook page managers MUST act human.
What I mean is they need to engage in conversations with their community -- especially with fans who comment on their posts.
One of the worst things the manager of a Facebook business page can do is post an update, have followers comment on the post & then never engage with these fans.
That doesn't make the folks who took time to comment feel very good. And Forgotten Farms doesn't have this problem.
They do a great job replying to fans -- responding to almost every comment left on the page -- and even including the names of fans in their replies!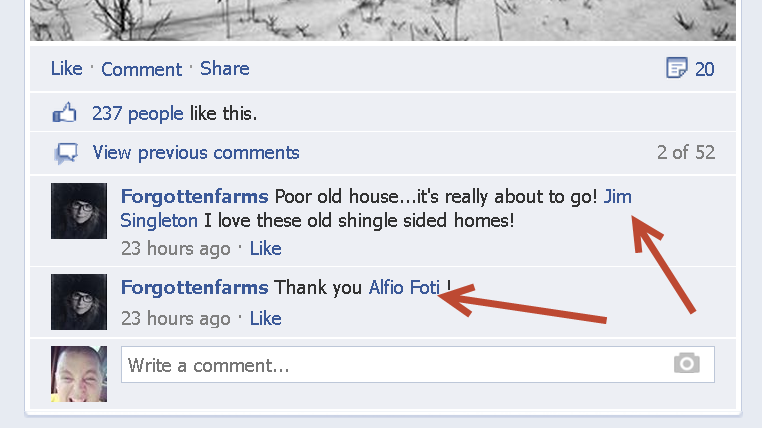 This is crucial to running a successful fan page -- yet many page owners just don't make the effort.
I understand it's difficult to reply to every comment. But make sure most fans get a response -- especially those who ask questions.
4. Use Custom Page Apps
If you're a photographer, what you probably want to highlight most on your Facebook page are your photographs.
Forgotten Farms does this well by using an Instagram tab app called Instatab.
I'm normally not a big fan of an Instagram tab, because most users only post personal pictures -- mainly photos of their food!
But it works really well on this page, as shown in the screenshot below: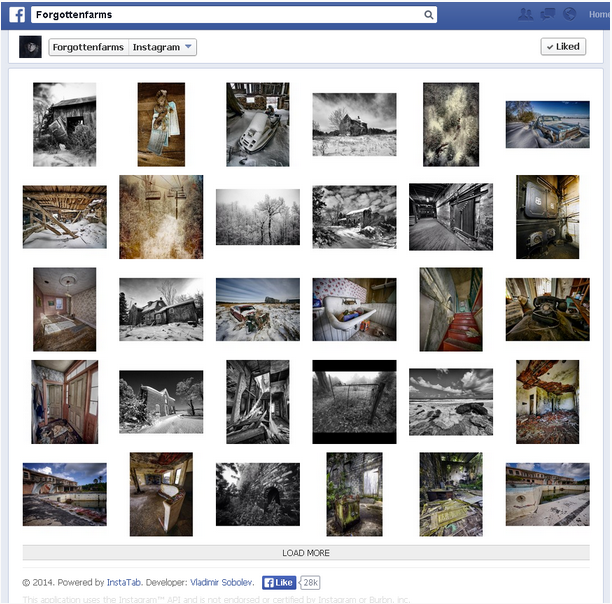 The app lets photographers showcase their work from Instagram -- and Facebook users can Like each piece while also sharing & leaving comments.
My Recommendations
Here are some things I'd recommend Michelle do to make her Facebook page perform better:
Add a website URL to the About section

Every business should put their website URL in the short description that appears in the About section. This is a great way to drive more website & blog traffic.

Ditch the Twitter app

Tweets on a Facebook tab just don't make sense to me & seem out of place.

Change profile photo

The profile picture on the page is simply an image of the photographer. If the page were Michelle's Forgotten Farms then perhaps the profile image would make sense. But it's not. So I would use a logo on Facebook, Twitter, Google+ & Instagram so there's consistent branding.

Gather emails via a tab app

The page is not using a custom app to gather email addresses -- which is crucial for long-term growth of a business, both online & off. Michelle could set up a tab that gathers email addresses for a newsletter or Timeline contest.

Hide the LIKE App

I'm not a fan of the Like count being noticeable at the top of the page. It doesn't provide customers any useful information & may actually cause more harm than good. To hide the fan count below the fold, Michelle would need to install at least 1 more app (so the Like count can be moved to a hidden position).

Post More Links


I don't know Michelle's goal for her Facebook page, but I assume it's to raise awareness of her amazing photos so she will get more jobs & sales. If that's the case, she should mix in more link posts to drive people to her website & portfolio.

Follow Through

I noticed a post in late December mentioned a contest planned for the new year. Well, 13 days into 2014 I still see no contest posted on the page. Never promise something to your followers that you are not prepared to deliver. Facebook is even guilty of this -- remember that "new" news feed they announced in March 2013? Users can be unforgiving if you tell them one thing & do another, so be sure to have a plan in place before posting about something you may not be able to deliver.
Overall...
Overall, I think Michelle is doing a fantastic job with her page. She definitely has at least one new fan!
If you're a photographer doing business on Facebook, I'd recommend you also try applying some of my advice to your Facebook page.
And if you do, please be sure to let me know the results.