Want to use a Facebook raffle app to spice up your timeline?
This article teaches you how to use Facebook contests to grow your fan base.
Question: are you looking for a new strategy for generating leads?
Try this:
Post a status on Facebook.

Ask people, "Could you please give me information about yourself so I can sell things to you later?"

Watch the leads roll in.
I'm kidding. 🤣
But sometimes that's how we think we're going to generate leads.
We act like people will BEG us to add them to our marketing lists just because they like us.
Unfortunately, that's not how it works... We actually have to offer an incentive to generate leads.
That's where a Facebook giveaway app comes in handy.
4 BEST Facebook Raffle Apps to Run a Contest & Pick a Winner
First, we need to ask an important question: "What the heck is a Facebook raffle?"
Put simply, a Facebook raffle is any type of competition on Facebook where people enter with the chance of winning something.
Pretty simple, right? But why would anyone do that?
There are a few good reasons to run a Facebook raffle:
Generate leads

Gain followers

Increase shares

Make sales
A Facebook raffle helps you accomplish these goals because it requires people to like, share, or provide information to enter the competition.
In other words, everyone who enters has to either:
Provide you with a referral

Engage with your post

Or give you their contact information
In this article, we're going to talk about:
Is a Facebook raffle a good idea?
Back in the dark ages, Facebook didn't support contests on its platform.
These days, you can run a contest right from your business's page without even using a third-party app.
It's incredibly simple to run a Facebook giveaway now…
But is it worth it?
I think it's a great idea to run a Facebook contest — for small businesses especially.
When you run a Facebook raffle or other interactive content, it piques your viewers' interest.
For example, 81% of users say that interactive content grabs attention better than non-interactive content. In addition, 66% say that interactive content like contests boosts audience engagement!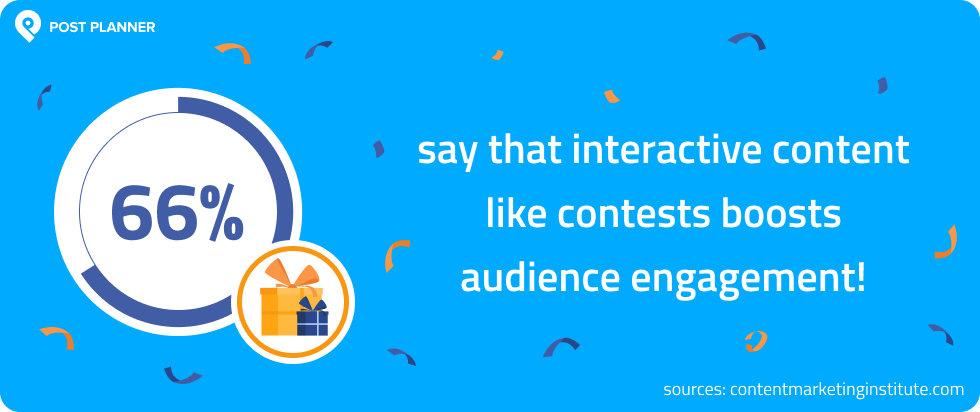 What does that mean for you? It means Facebook contests WORK!
How to run the best Facebook giveaway
Before we jump into talking about the best Facebook raffle apps, let's go over the basic procedure of running a great giveaway.
Don't skip over these tips because your preparation here will massively impact how you choose to run your giveaway. It affects:
Which app you choose to use

What you decide to give away

What you decide to do with your new leads
Let's jump in!
1. Decide what information you want from each participant
The very first thing you need to think about is the goal of your giveaway. Ask yourself questions like:
What info do I need to be able to follow up with participants?

Do I just want new followers, or do I want sales leads?

How will participants enter the giveaway?
This information will help you decide both which app you'll use and how you'll construct your giveaway.
Think carefully about these questions! If you don't have a clear purpose in mind, a giveaway will not accomplish anything helpful.
2. Choose your prize
Put yourself in your viewers' shoes.
Would you take time out of your day to participate in a raffle if the prize was a $5 McDonald's gift card?
Me neither.
In other words, your prize needs to be good enough to attract participants! It also needs to be something that you can AFFORD to give away.
If you're a startup or a small business, you probably shouldn't offer a Tesla as a prize. It just doesn't make financial sense.
On the other hand, you should make sure that your prize makes sense given the price of your product.
For example, if you're a consulting service and your average bill is $2000, a $50 off coupon isn't that attractive. $500 would be much more compelling!
3. Choose your app
Once you've decided on the 2 points above, you're ready to pick your app.
Read through the descriptions of our top 4 raffle apps for Facebook, then decide which one suits your needs and your budget.
We've decided to include a couple of free Facebook contest app options and some paid options.
So no matter what your budget is, you should find something here that works for your company.
4. Create your post
You're finally ready to start your very own Facebook giveaway contest!
Before you launch your post, make sure that it includes all of the most important details:
How to enter

What the prize is

When the winner will be announced

Call to action (SHARE with your friends!)
Finally, construct a catchy post that makes your giveaway hard to resist!
5. Select a winner and publish your results
Have you ever wondered how to pick a random winner from Facebook page likes?
Wonder no more! Your Facebook raffle app will choose a random winner so you can be completely unbiased.
After picking the winner, you should immediately contact them to let them know that they've won.
Finally, construct another post letting your followers know who won. You should also make it clear that you followed through on giving away the prize.
Transparency about giving away the prize will increase trust in your page and make it more likely that people will participate in future giveaways.
The top 4 Facebook raffle apps to run a giveaway
You're ready to run a Facebook lucky draw contest now!
The only thing you're missing is the Facebook giveaway app!
We've chosen 4 of the best Facebook raffle apps currently available on the market.
Here, we've broken them down by features to make sure that you're able to make the best choice for your business.
After reading about the apps here, we recommend giving each of them a try.
A trial will help you decide which one will work best for you.
Facebook
Contest App
One of the easiest ways for someone new to contests to launch their first giveaway is to use a native Facebook app.
The most popular Facebook app for these giveaways is the Contest app.
Through the Contest app, you can customize the entry form to collect any data you want from your Facebook fans (just make sure that you aren't breaking any of Facebook's terms of service).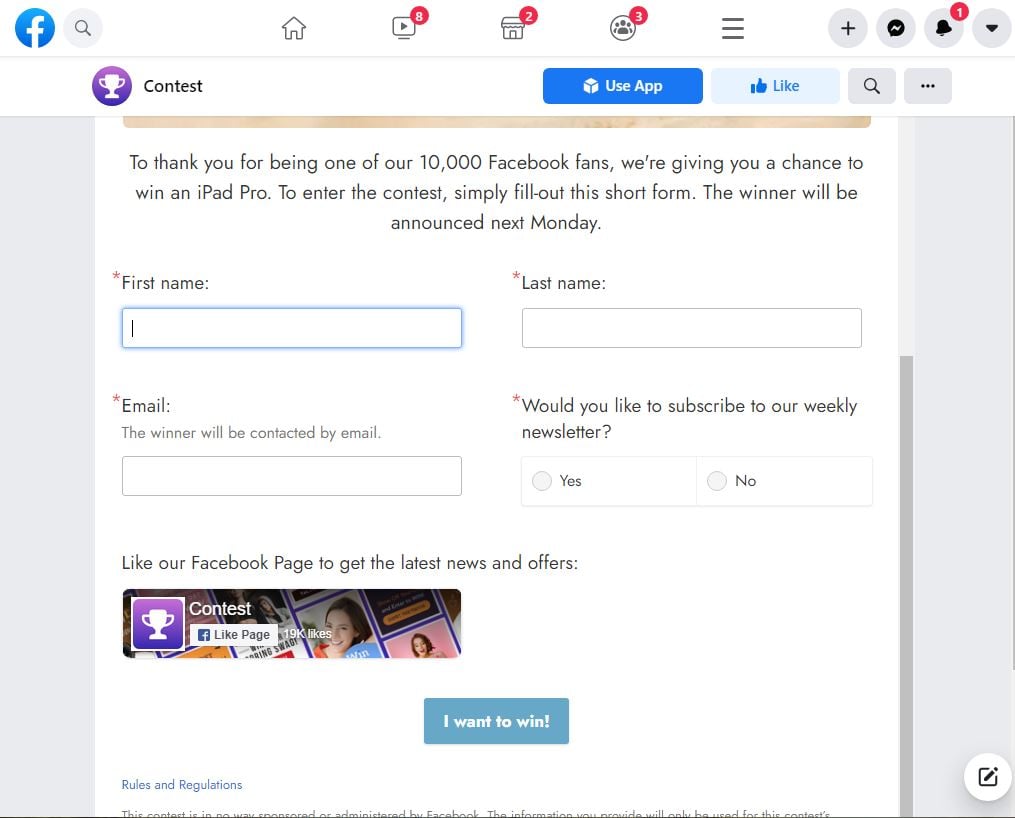 Fully customizable forms make it super simple to gather data, and the app will automatically pick the winner for you.
Best of all:
This app is FREE to use! All you have to do is enable the app through your Facebook profile, and you'll be ready to go.
This app is best for:
People on a budget. New businesses or smaller businesses will benefit from the simplicity and the cost-effectiveness of the Contest app.
Even though you may miss out on some of the advanced features that other apps have, you'll still be able to run terrific contests with this Facebook lucky draw app.
EasyPromos
EasyPromos is one of the oldest Facebook raffle apps in the game.
In other words, it has experience on its side.
Not only can you run Facebook contests from EasyPromos, but you can also run:

Entry form giveaways

Instagram giveaways

Twitter giveaways

Various types of contests (like photo contests)

Games and other interactive content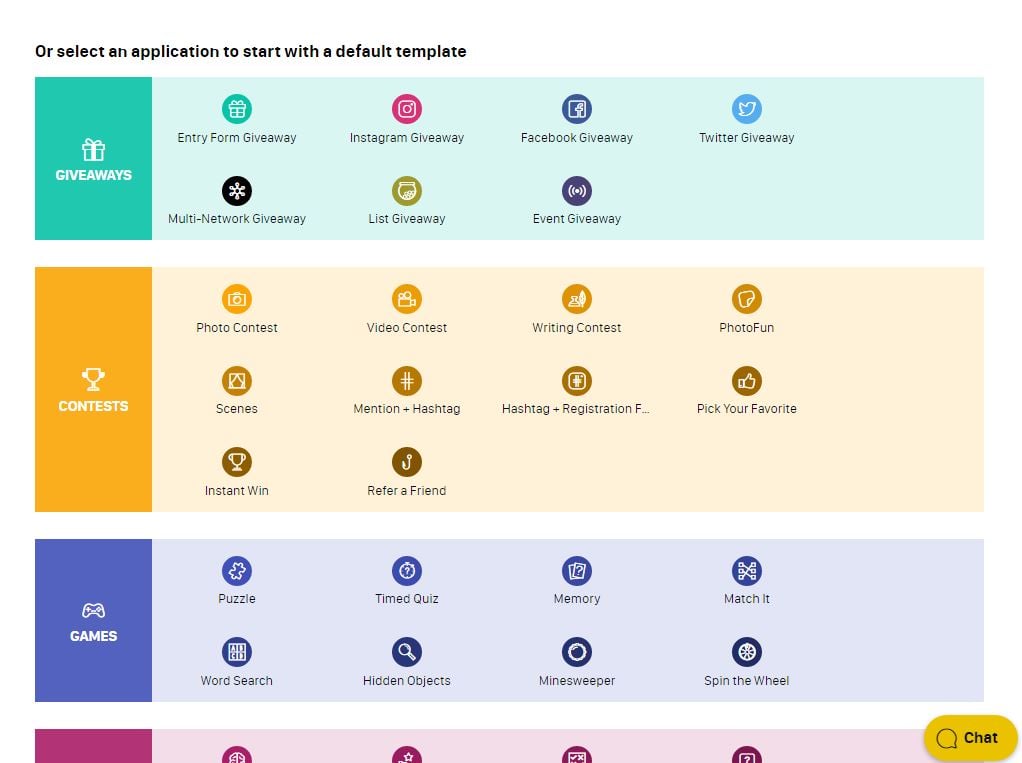 EasyPromos also has easy-to-follow templates to help get your creative juices flowing. Of course, you can still customize whatever you want, including the entry requirements.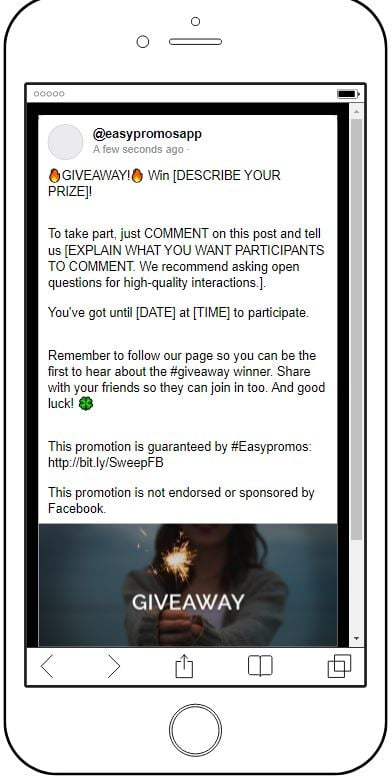 This app is best for:
Businesses that need a bit more customization than the free options allowed.
With a base cost of only $29/month, EasyPromos is well within the budget of most businesses, but it gives you a ton of options for flexible promotions on multiple social media channels.
If you have a much larger business, the price will go up accordingly.
However, most people will find that the EasyPromos pricing plans are reasonable for them.
Wishpond
Wishpond is another extremely flexible app that'll give you control over a wide variety of promotional materials.
Even if you're only interested in the contests that Wishpond offers, you'll get 12 different types of contests that you can use on multiple social media channels.
However, Wishpond also includes tools to work on:
Landing pages

Pop-ups

Online forms

And more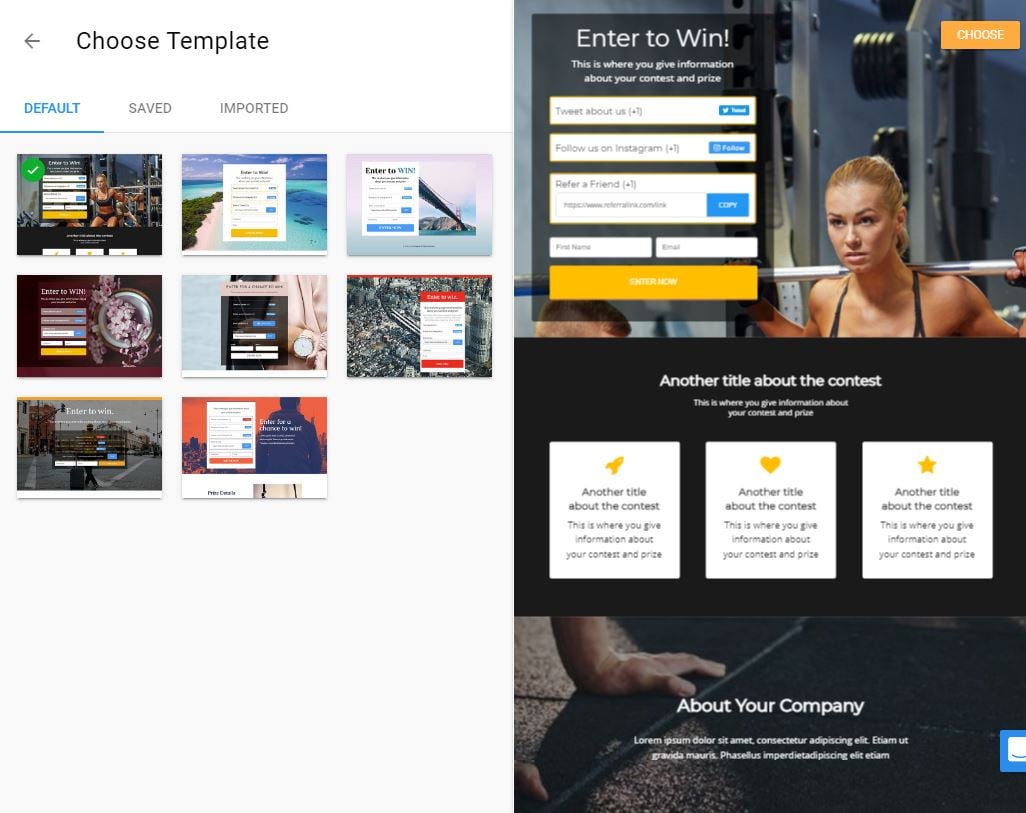 Wishpond offers excellent templates for you to choose from, making it easy to create a professional-looking contest for your Facebook followers.
Finally, Wishpong has over 40 app integrations that allow you to combine it with plenty of the other services that you're already using.
The flexibility and ease of use make it an excellent choice for many businesses.
This app is best for:
Businesses that are looking for a turn-key promotional system and are willing to pay slightly higher prices for it. Wishpond's broad offerings make it excellent for people that don't just need to do Facebook contests.
The entry-level plan of $49/month offers unlimited social media contests and many other features.
If you're only looking to run a single social media contest, you may even be able to get by just by participating in the 14-day trial.
Woobox
If you're looking for one of the most tried-and-true giveaway apps on the market, Woobox is it.
Woobox essentially acts as a Facebook contest picker. You tell Woobox what to pick from (likes, comments, reactions, etc.), and it randomly selects from the participants.
This system allows you to be totally unbiased when picking your winners.
In addition to the comment picker, Woobox has other promotional capabilities like:
Landing pages

Forms

Polls

Popups

Other types of contests
You can use Woobox on Instagram and Facebook, giving you flexibility in your contests.
Another cool feature is the instant win option. If you do an instant win contest, participants will have a chance of winning right away. This type of contest even further incentivizes participation.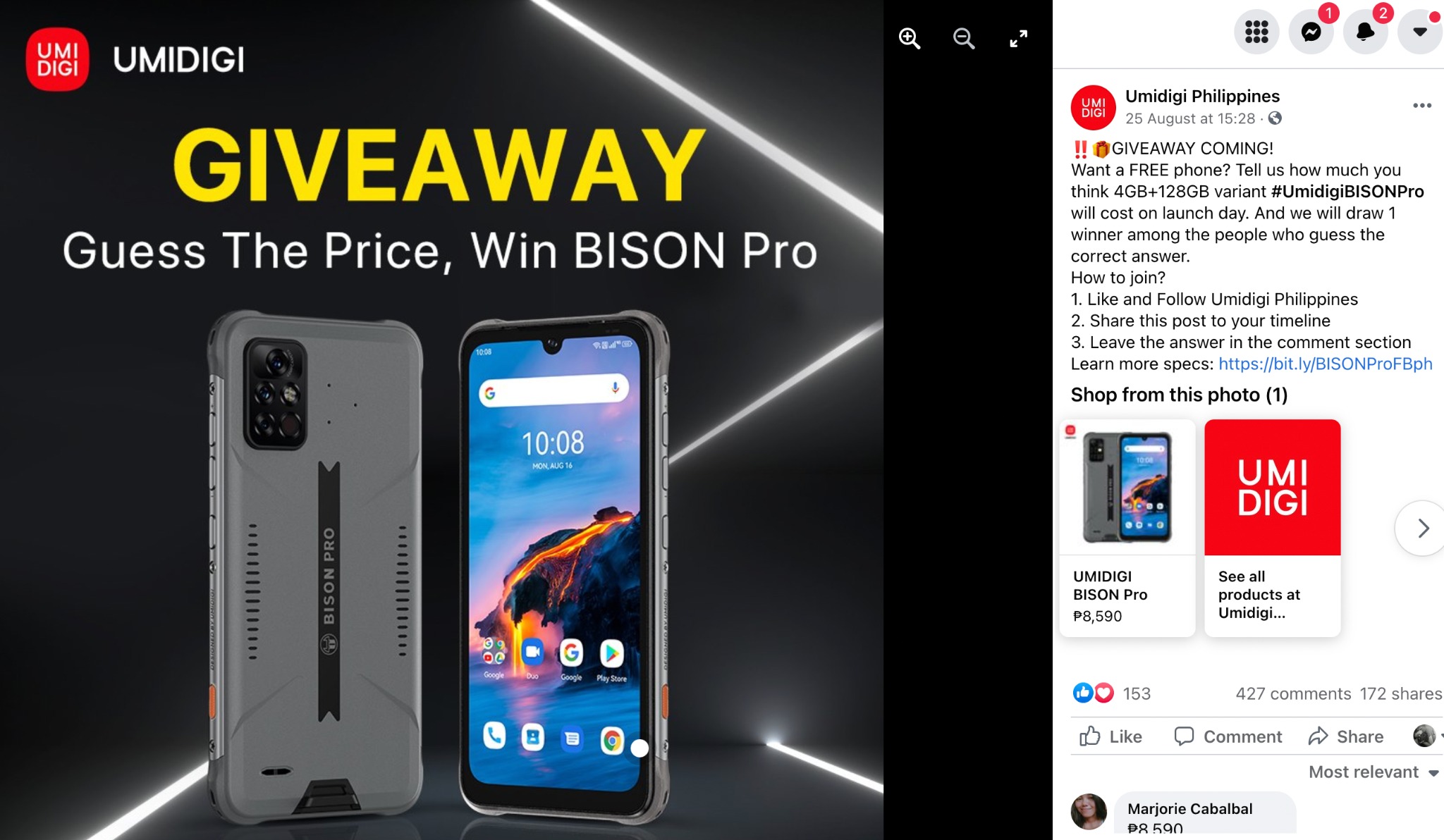 This app is best for:
Growing businesses that want to focus on social media promotion through contests.
Woobox's flexible contest options make it a potent tool, but the price is very reasonable.
Small businesses can most likely get away with using the free version, but as you grow, you will want to upgrade to a paid plan, which starts at $32/month.
The paid plans offer more customization and more participants.
Why pay for an app when you can make a Facebook competition for free?
By now, you're probably wondering if the paid apps are worth it when there are such good options for free.
Here's my answer: Maybe.
Let's look at 3 reasons you might want to choose one of the paid apps instead of a free one.
Larger businesses
First, larger businesses will most likely need to pay to get the scale that they need.
If you're running a business the size of Nike, you should probably pay to ensure that you have all the options possible.
You don't want to sacrifice anything just to save a few bucks (so the cost doesn't matter that much to you anyway).
Smaller businesses usually have to pinch pennies, so they can do without some of the advanced features to save some money.
You want more info
Second, you might want to go for one of the paid options if you're a data nerd.
The basic apps allow you to run incredible contests, but they don't give you much data after the fact.
If you're trying to improve over time, that data can be really valuable for you.
As you grow, you should consider switching to one of the paid options so you can make use of that data to continue growing.
Your competition format isn't supported
Finally, you might need to choose a paid app if the type of contest that you want to do isn't supported or if you're going to host the contest on other platforms.
For example, you might want to host the contest on your website and link it to your Facebook. It might be a video or gif contest, which isn't supported on some of the free apps.
If you fall into one of these 3 categories, you should consider trying one of the paid apps.
All of the apps mentioned in this article offer free trials, so give them a try before you start to pay for them!
3 Tips for running the best contest possible
Regardless of what Facebook contest app you use — if you use one at all — it's essential to make sure your contest is following best practices for Facebook promotions:
Make the prize relevant to your company!

– an iPad is not relevant if you own a craft store.

Choose rewards that make sense given the niche of your business.

Ensure the prize value equates to your product

– a $30 Gift Card for $600 watches is not a motivating deal!

Make the prizes worth your participants' while, and you will get more sign-ups (which equals more followers, shares, and sales!)

.

Keep the contest moving!

– don't run a month-long contest. The attention span of Facebook fans is short.

Your contest should last a few days (maybe a week, tops).

Make it long enough to get more participants, but not long enough to bore your followers.
Conclusion
Facebook giveaways are a great way to generate interest in your page, but they can be a lot of work!
Using an app drastically cuts down on the complexity of running a contest on your page, and it makes it fairer for your fans too! If you follow the tips in this article, you should be able to host an excellent contest that will generate engagement on your page and provide you with a list of new leads!
How have you used contests to boost interest in your social media pages in the past? Let us know in the comments below!