Running a successful Facebook contest for your business doesn't happen by luck.
It takes careful planning and promotion.
But...if you do it right, they can be a great addition to your marketing strategy.
We've seen the benefits first-hand over the last 12 months. With just one monthly Facebook contest, we were able to:
Increase engagement
Bring in new contacts, and
Boost page exposure
And the great news?
You can too!
Below are the 23 steps we've tested and proven to work. If you want to run your best Facebook contest, here's your guide!
Looking for the Exact Formula to Conquer Facebook Marketing? Here's Your NO-FAIL Strategy!
23 Proven Steps For Running A Successful Facebook Contest
1. Set Goals and Objectives
Creating a contest is much more than just rewarding current customers with prizes.
A well-created contest isn't an isolated event. It rolls over into your overall marketing strategy and helps meet specific objectives.
To really understand what you'd like out of a contest, you must remember and understand the modern marketing funnel.
Going from attracting customers to engaging them will be a huge win for your business. Don't just throw together a half-baked contest.
Be strategic!
That's where your real value in contests comes from. And by leads, in most cases, I mean email addresses.
Getting people on your regular email subscription list gets them, virtually speaking, into your door. They are the ones who will read your content and take part in your events.
From there you can start building a customer profile and providing the content they really want.
There is a place for promotions with the goal of getting more likes, but, in most cases, that doesn't generate strong, qualified leads.
Some goals and objectives you may have:
Higher brand awareness
New emails and leads
User-generated content
Product development crowdsourcing
More engaged and loyal fans
Immediate sales
New product/event awareness
Greater insight into your fans' likes
More traffic to your e-commerce store
2. Know Your Target Market
One common mistake businesses make when defining their target market is casting a wide net.
You need to remember that marketing to everyone means you're marketing to no one.
There are so many demographics and populations of people and it's up to you to figure out who your product is optimized for.
Targeting certain demographics will give your contest higher quality entries. These will be people who are actually interested in your product. You'll also get more entries in general.
By knowing your target market, you can run more than one contest targeting different groups.
For example, if your fans are split between genders, you can run one contest for men and one for women by using different themes and messages.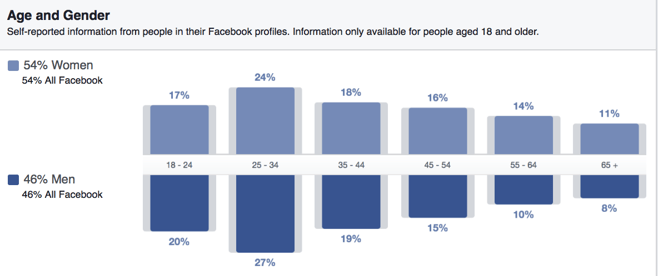 3. Choose the Type of Contest
There are about 15 different types of contests you can run on Facebook. The top three for all businesses, in general, are sweepstakes, photo contests, and referral promotions.
Each has its own advantages.
Sweepstakes are a great first contest to run, while photo contests are great at involving your fans.
As for referrals, while more advanced, they are a perfect way to generate leads.
4. Sweepstakes
These contests are great because they are very easy for participants to enter.
In fact, some businesses get so many qualified leads out of sweepstakes contests that they run them every month, building up excitement for their audience.
If you're running a sweepstakes contest, it makes sense to also include a pop up that asks the participant to Like your Facebook page.
It won't turn people away because they will always have the option of not liking the page, and still being able to sign up for the contest.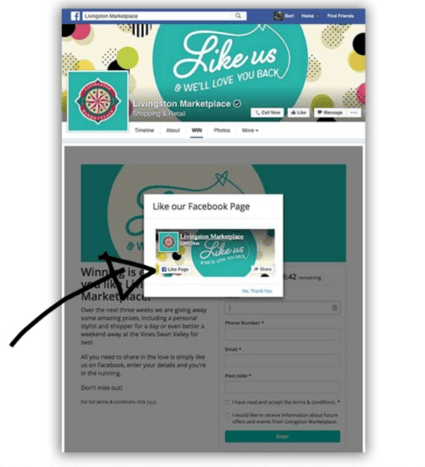 5. Photo Contest
Photo contests are a great source of traffic.
After people upload their photos, you can structure the contest in a way that lets others vote on which photos they like best.
The participants usually share their entree with their network, asking everyone they know to vote for them.
And that means major exposure for your brand.
Some companies even pick 2 winners: one from the photos, and one random voter-winner. This provides an incentive for everyone to participate or vote.
Another great idea is to ask fans to submit photos of them using your product. This is fantastic for brand involvement and sense of community.
Such photos are also the perfect type of user-generated content.
You can later use them as social proof, and to show your potential customers how much your current customers love you.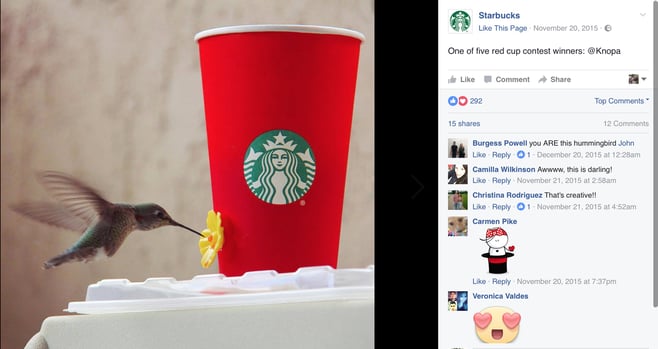 6. Referral Promotion
Referrals are the perfect source of new qualified leads for your business.
For example, a mascara brand can give away a free mascara to anyone who refers five friends to their company.
Those five people must also enter, referring five others. This is smart marketing!
Instead of sending out an ad to people who are totally uninterested in makeup, this strategy gets people who are already interested, to refer those they think may also be interested.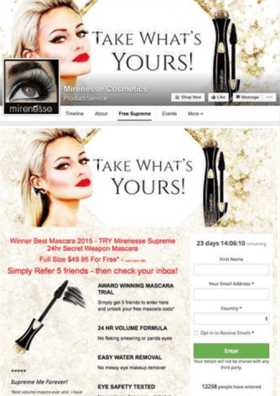 7. Determine The Budget and Choose Appropriate Prize
In order to increase value in your contests, you need to give away something that's related to your business.
You can give away a gift card to your business, a product you sell, or a lifetime subscription to your content.
After all, if your hair salon gives away an iPad, you'll get entrants who are interested in a free iPad, not necessarily your salon.
What's more, those people will unsubscribe once the contest ends and not care about anything else related to your business.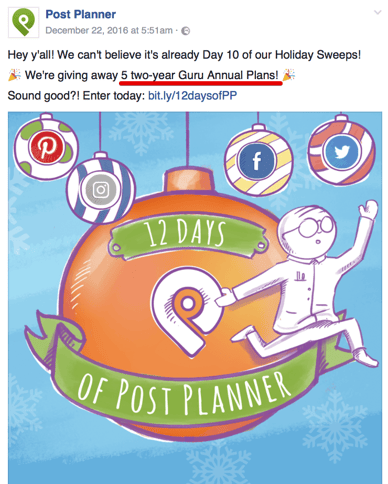 8. Choose the Contest Entry Method and Guidelines
There are many ways to structure your contest, and there's no one right way to do it. The key is to choose the structure and the entry method that best aligns with your goals.
Also, try to keep it as simple as possible.
You can ask people to like your page, submit an email address, answer a question, or submit a video.
9. High Converting Promotional Page Tips
If you want to create a promotional page that gets you many qualified leads, follow these tips:
Write an attention Grabbing Headline. Use words such as Ultimate, Free, Amazing, and Major, as these tend to do the best.
Use a professional looking image (not one from a Google search)
Write a brief description: What is the promotion? How do people enter? Use bullet points if there's a lot of detail.
Show a prominent call to action button, like ENTER
Consider using a countdown clock as it adds urgency
Have a simple form: In general, just ask for a name and email address, unless it's a huge prize. Anything more hurts your conversion rate.
10. Determine Your Contest Time Frame
Decide how long your contest will run.
Choosing a time frame that is seasonal, a limited offer, and a quick promotion will always encourage conversion.
Most contests run for a month, but two weeks may also be long enough for your promotion if you think enough people will enter in that time frame.
The key is to make it long enough for people to hear about it from their friends and enter.
If you're a popular brand, you can even run promotions that close in one day, playing on that sense of urgency.
This works when you do lots of contests and people generate interest knowing that you run a lot of contests.
If this is your first contest, start out with a month. You can then shorten contests as interest rises.
11. Contest Ideas: Like to Win Contest
A like to win contest generates lots of engagement as it's super easy to like a post or photo.
If your goal is engagement, and you're not concerned with gaining emails, consider this type of contest. It's perfect for smaller giveaways.
You can ask users to click "like" on a post, a photo, video, or status update.
Then, to find a winner, randomly choose someone who liked the post.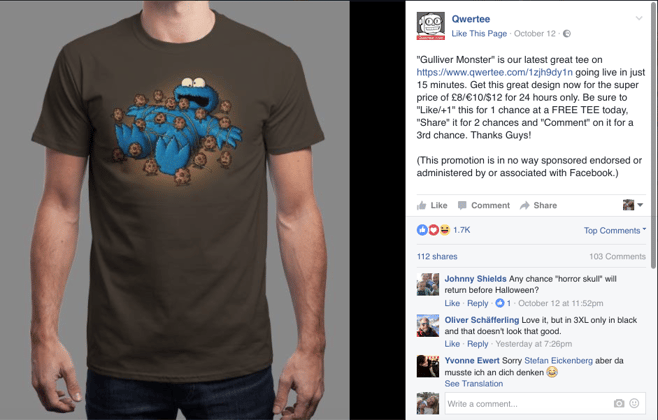 12. Comment to Win
These contests are great for generating engagement, good marketing, and crowdsourcing information.
Consider asking a question such as, "What do you like most about our products?"
Entering this type of contest requires more effort, which means you won't get as many people entering as in a "like to win"contest.
But, it's still a great way to get more interactive and engaged.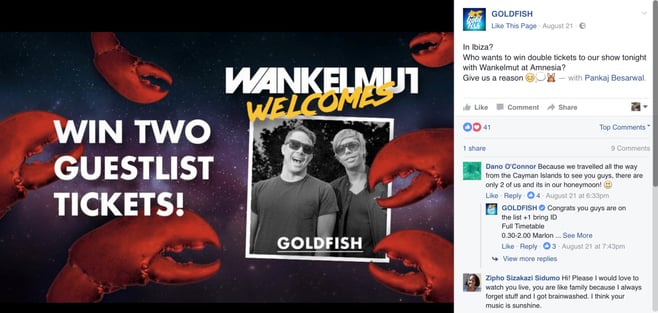 13. Like and Comment
You can go for the best of both worlds and ask your fans to like AND comment in order to take part in the contest.
That way, you'll get both, engagement and interaction.
However, make sure to give away something bigger because you're asking more of your fans for their participation.
Remember, the more effort your fans have to put in to enter - the bigger the prize.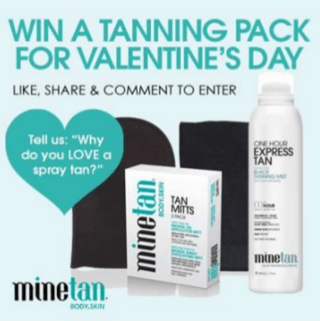 14. Caption Contest
Photo caption contests are incredibly popular.
They are usually humorous, and are a great way to generate creativity from your followers.
Post a funny photo and get people to caption it.
You can also ask followers what you should name an upcoming product. This will generate ideas for you as well as give them a sense of ownership in your product.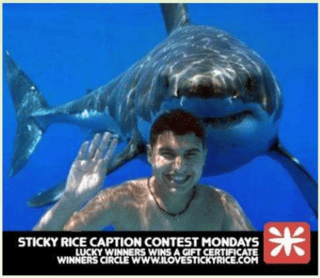 15. Fill-in-the-Blank Contest
This is the easiest participation contest.
Write an incomplete sentence and have your fans complete it. It could be something like "Oreo cookies make every day a little ____ "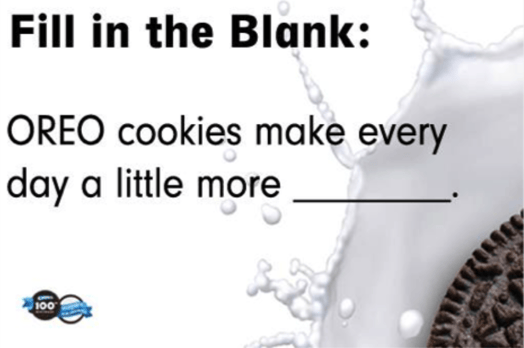 You'll get a lot of entries because it's easy for people to take part in. All they have to do is supply one witty word.
This type of contest is usually pretty fun and is great for engagement.
If you're not feeling very creative and having a hard time coming up with the perfect fill-in-the-blank, simply look inside Post Planner.
The app has a whole "status idea" section with lots of fill-in-the-blanks you can take advantage of.
16. Q&A Contest
Ask your fans a question you think they'll be interested in, and get them to submit the correct answer.
You can also ask fans to choose between two things.
One way to do this is with the products you carry, as it will get you a lot of valuable feedback from your audience.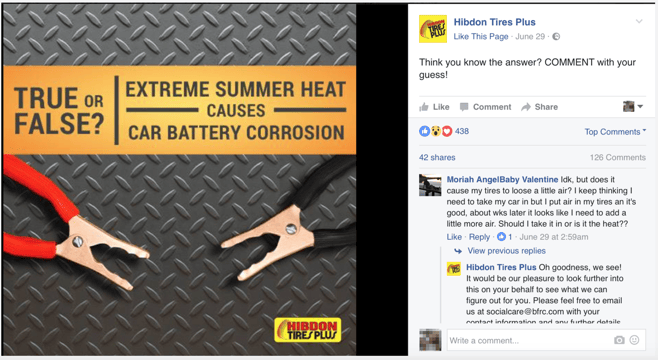 You can also use fun pop culture topics such as "Batman vs. Superman - who would win?"
17. Crowdsource Contest
People love giving feedback. Capitalize on this by asking them a question.
There are lots of ways to do this.
You can crowdsource things by asking fans to help you choose a new logo, book name or book cover, or even decide on your next blog topic.
Your fans will feel like they played a part in the decision process, while you'll be able to use their feedback for your marketing.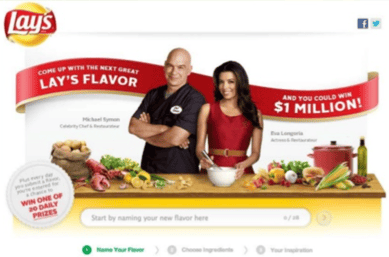 18. Promote Your Facebook Contest
You need to get your contest in front of as many people as possible, and here are a few ideas on how correctly promote it:
Send out emails before the contest starts to build anticipation. You can give subscribers an extra entry and target emails to certain demographics.
Create a campaign hashtag
Blog about the contest. Also try and get other bloggers to post about the campaign. Give other promoters the script code to embed it on their sites.
Use Post Planner to easily schedule and send out Facebook and Twitter promo content.
19. Ways to Promote the Contest
During your promotion, share posts twice a day on Facebook and your other social media channels.
Mention that it's for a limited time only and exclusive to fans. Don't forget to include great images of the prize.
Do not miss the opportunity to cross promote your contest on all the other social networks you're active on.
You can also run a Facebook Ad to target your audience.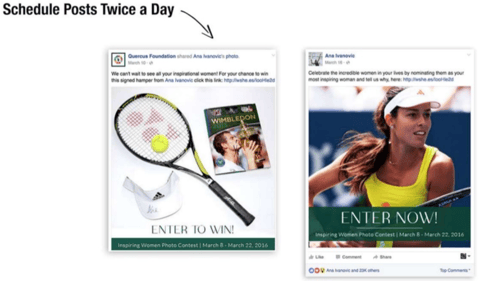 20. Monitor and Tweak your Contest
Always be data-driven. Throughout and after your contest, take a look at what's working and what's not.
Take note of any spikes in traffic at different times or from different platforms in order to learn more about your audience.
Maybe they're more engaged through Instagram, or most active in the evening.
You can do AB testing to determine what's performing the best, and adjust accordingly.
Don't forget to make changes if things aren't running smoothly.
Here are a few performance indicators to look at:
The number of participants
Likes
Shares
New emails
New Facebook fans
Sales of product
21. Post-Contest and Follow-Up
Although it may seem like the point of a contest is to get people excited about a prize, the real value comes from being able to follow up with all participants.
So, even if the contest is over, your job is not. You can send out an email to give participants more chances to engage with you and your content.
Give them a consolation prize like a discount code, and use drip email marketing to keep putting your brand out there.
Try not to lose leads. Instead, nurture that relationship.
22. Notify the Winner
Once you've chosen your winner, publicly congratulate them on Facebook so people can:
See that there was indeed a real winner
Get them excited about the next campaign you run, as the next person featured may be them.
23. Other Ways to Follow Up
There are many ways you can follow up and keep in contact with the entrants.
Here are a few ideas:
Write a blog post
Send out follow up emails
Share value and send them over to your next campaign if it's relevant
Send them to your website or newsletter sign up
Mention any new or special deals
Final Thoughts
Adding Facebook contests to your marketing campaigns is part of a great strategy.
People love freebies, so running contests means fans will become more engaged. And engagement increases your reach, exposing your company to a whole new audience.
From there, it's your chance to make new contacts, increase sales, and drive traffic to your website.
So go ahead, get started today. I'd love to hear how your contests turn out!