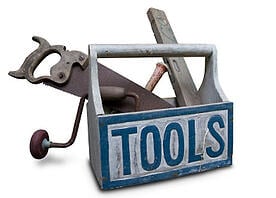 There are 2 things all successful social media marketers do really well:
they learn to adapt quickly
they use the best tools
Of course, we all have our opinions about which tools work best for which tasks. But I think we can all agree that 3rd-party tools are essential for:
running successful social media campaigns
keeping in touch with clients & team members
managing schedules
watching the latest Miley Cyrus video!
As hard as it is, I'm going to avoid discussing Ms. Cyrus's videos any further in this post. Sorry!
But don't worry!... I'm still going to cover 6 essential collaboration tools that will make your life easier & your business more profitable.
6 Essential Collaboration Tools for Social Media Marketers
Leveraging these tools for social media marketing will make you more efficient at work while helping you maintain a healthy personal life.
File Sharing
When you're on the go as much as most social media marketers, you need an easy way to share & store files. I use these 2 powerful tools:
1. DropBox
Dropbox offers an easy solution for sharing large files with anyone, anywhere.
A free account allows up to 2GB of storage. And DropBox works seamlessly on any mobile device!
2. Google Drive
DropBox is cool, but I prefer Google Drive.
It's simpler to use & easy to access.
I store images, documents, etc. in Google Drive, and access them from my phone or any computer.
My life is almost 100% Google (minus Facebook & Twitter -- although I access those on Google Chrome!)
I have an Android phone & use a Chromebook -- which makes Google Drive even more important for my lifestyle.
Communications & Conferencing
As a social media marketer, there will be times when you need to communicate privately with colleagues & clients. Here are few ways I do that:
3. Skype
Skype offers a free solution to communicate with people across the globe. The great thing about Skype is pretty much anyone can download & use it (except Chromebook users) and there is no cost if you're only looking to text chat.
Data charges may apply to voice & video calls.
I have used Skype regularly for the past 3 years after I started working virtually. I admit there are times when I'd rather keep all my chats on Facebook, but I know that not everyone is on Facebook all the time.
You can download Skype to your mobile devices, but it sometimes doesn't sync the conversations correctly -- which is frustrating.
4. WebEx
WebEx is useful for on-demand collaboration, online meetings & video conferencing from remote locations.
You can collaborate with colleagues throughout your organization, or halfway across the planet.
Whether you're meeting online or sharing files, information & expertise -- WebEx helps boost productivity & keep you connected.
The program also offers a mobile platform to connect & collaborate on the go.
WebEx has a free plan as well as paid versions suited for people with all sorts of needs.

5. Basecamp
If you're managing any kind of project, Basecamp is the tool for you!
Your team can set up to-do lists, projects, calendars & more -- all at one easy to login site.
I've been part of 2 teams that have relied on Basecamp to get things done for our apps & websites -- and the program is crucial for keeping stuff organized.
Especially with members of the team spread around the globe!
There is no free version, but you can get a 60-day trial -- and then it starts at only $24 per month after that.
In my opinion, Basecamp is worth the money even if you're by yourself -- just to stay organized.
6. MeetingBurner

There are many platforms out there that help you produce webinars -- both free & paid.
I've been a big fan of MeetingBurner since the product launched about 2 years ago.
The system is super simple to use & very inexpensive -- the most expensive plan lets you have up to 1,000 meeting attendees for only $99 per month!
I love the screen sharing possibilities with MeetingBurner because I'm not required to share everything. I can share just 1 tab, app or even an image, while doing other things privately on my computer.
MeetingBurner also works on iPads & iPhones (there is no Android app yet).
The product also records your meeting so it can be quickly uploaded to YouTube! And the registration forms are easily integrated with Aweber.
Compared to GoToMeeting & other platforms, MeetingBurner wins hands down for its price & quality.
Bonus: Social Media Scheduling
Whether managing your own accounts or accounts for clients, a smart social media marketer will schedule posts & content in advance.
Nobody in their right mind sits on Facebook all day waiting to post!
Professionals schedule their content! And the smart ones do it using this sweet little app called...
Hands down -- THE best app to schedule posts to your Facebook business pages is Post Planner!
Not only does Post Planner let you quickly schedule content to multiple pages, it also helps you find engaging material to post.
One of the social media marketer's toughest tasks can be finding relevant & hot content to post to fan pages.
Post Planner's Content Engine provides the solution.
You can search for content relevant to your niche & then quickly schedule the posts to your pages.
You can also organize & store your favorite content sources in custom folders -- so you can come back anytime to find new content for your pages.
Those of you looking for quick ways to get your fans engaged can find proven status ideas in Post Planner's Status Ideas Engine.
This engine has literally thousands of status ideas in several categories, including:
Questions
Deep Thoughts
Facebook & Tech
Family & Pets
Seasonal
Trivia - new category!
Contests - new category to help you quickly run Timeline contests
and more!
And if you're a small business that doesn't post often, Post Planner's free version is a great solution for posting a few updates each day.
What's in your toolbox?
Combine these tools & you will be well on your way to becoming an organized & productive social media marketer!
What are some of your favorite tools for social media marketing that I didn't mention here?