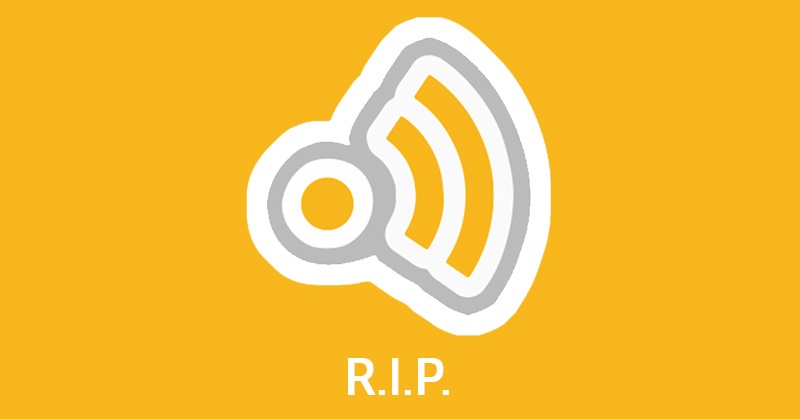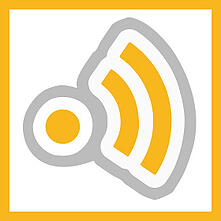 [Update 1/27/2016: Post Planner no longer supports RSS feed automation]
RSS Graffiti has called it quits.
The tool that helped bloggers auto-publish their blog posts to Facebook is no more.
As of May 1, 2015, it's gone.
Their management explained their reasons for shutting down in a note on their homepage: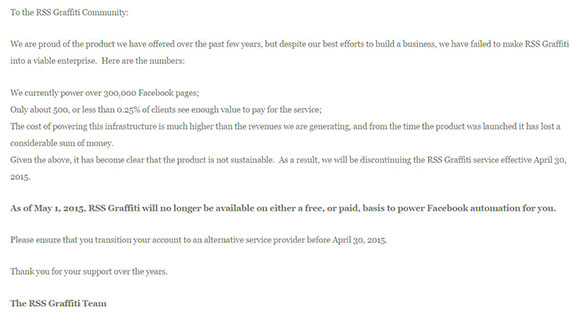 Basically, they couldn't make enough money from paid users to support their free ones.
It's a common problem for a lot of SAAS businesses.
But as subscribers scramble to find an RSS Graffiti alternative, I'm here to give you some good news...
I know a GREAT one! :)
So if you're looking to boost your reach & engagement on social media, you've come to the right place!
In this post, I'll show you why Post Planner is an awesome replacement for RSS Graffiti!
>> Click to Tweet <<
Here's the BEST RSS Graffiti Alternative for Scheduling Facebook Posts
Post Planner does a lot of the same things RSS Graffiti did.
But Post Planner also does a whole lot more.
The app helps you share your latest blog posts, yes (just like RSS Graffiti) -- but we also help you find *PROVEN* viral & trending content that actually helps you increase engagement on your posts.
In fact, our users say Post Planner is way more effective than RSS Graffiti ever was at achieving the most important goals on social:
Reach & Engagement (clicks!)
So while many people (maybe even you) are panicking over RSS Graffiti's demise -- we have great news!
RSS Graffiti may be gone... but with Post Planner you get everything they had and a whole lot more!
>> Click to Tweet <<
Post Planner vs RSS Graffiti - Which is Better?
As Joshua Parkinson, CEO of Post Planner says:
Post Planner is different from RSS Graffiti in many ways. With RSS, you can syndicate links to your Facebook wall from external sites and blogs.

While this definitely helps you get your posts out there on Facebook, these syndicated Facebook posts tend to get little to no engagement.

At Post Planner we help you syndicate blog feeds just like RSS Graffiti. But more importantly, we help you find proven viral content to post in between those syndicated posts -- so you can drive up your Edgerank and actually increase your reach & clicks!
There you have it!
If you are a business owner or internet marketer, Post Planner will help you reach more fans AND take the guesswork out of your posting & tweeting.
>> Click to Tweet <<
Here's how Post Planner delivers the results you need:
1. Helps you post consistently to Facebook & Twitter
Do you ever have a lull in your posting? One day you're on fire, and then days go by without a peep from you? Post Planner puts an end to that.
We make it easy to post consistently and stop those embarrassing lulls that kill your engagement and traffic.
2. Puts super viral & hot trending content at your fingertips
With Post Planner, you get access to the hottest content in your industry or niche.
Which means you can stop searching for content you THINK will work and instead use PROVEN content that is practically guaranteed to get more clicks.
3. Helps you laser target your fans
Are you trying to reach your exact target market?
At Post Planner we take the guesswork out of tracking your audience down. Post Planner lets you choose specific demographics, giving you HUGE click-through rates in those targeted segments.
4. Helps you time your posts perfectly!
Post Planner shows you real-time analytics -- which means you know exactly when to post to get the most engagement.
Then you just set up an automated queue and let the proven the scientifically proven viral content triple your Likes, Shares, and Clicks!
Yes... TRIPLE!
>> Click to Tweet <<
Check these Post Planner reviews:
From Brian Moran, Director of Online Sales at "Get 10,000 Fans"
Post Planner has saved us countless hours of work & provided more traffic & engagement for our Fan Page than we ever could have achieved without it. What would have taken around 5-10 hours of my time each week has turned into just minutes.
>> Click to Tweet <<
From Kim Garst, Founder and CEO of "Boom! Social"
I use Post Planner on a daily basis, and I love it! Since I started using the Post Planner app, the reach & engagement numbers on my Facebook Fan Page have consistently been through the roof! All of this happening at the same time Facebook is systematically suppressing organic traffic.

Honestly, I would have had to pay tens of thousands of dollars in Facebook advertising costs to achieve the same results I get with Post Planner. Thank you Post Planner!
>> Click to Tweet <<
How to Switch from RSS Graffiti to Post Planner
Getting a Post Planner account is quick & easy.
First Choose Your Plan, then do this:
Everything you need to know is plainly stated and easy to follow in the Guide.
Should you need help -- that's no problem. We're OBSESSIVE about customer support!
Post Planner can help your business grow
It's never easy to start over with a new social media app.
But I promise: it will be better for you & your biz in the long run.
Many good businesses fail because they can't cut through the noise and get their brand & products in front of prospects.
Let's make sure that doesn't happen to you!
When you partner up with Post Planner, you get reach like you've never seen before. Follow our simple path, and you WILL get noticed!
So come on over and take Post Planner for a test run!!
We guarantee you will love what you see. And the proof will be in the results!
____________________
RECOMMENDED ARTICLES: