Are you spending hours managing social media?
Looking for a way to shave hours off your day?
We have the tools to help!
Below you'll find the key elements of a social media marketing strategy, plus the tools that will improve your efficiency and performance.
Want to plan and schedule your social media content in advance? Here's your step-by-step guide!
15 Social Media Tools That Will Shave Hours Off Your Day
Research and Planning
Research and planning involves setting the goals and objectives, defining the target audience, creating market segmentation, and developing a communication strategy.
Use the following tools to maximize your efficiency.
BuzzSumo helps you find the most shared content and the influencers on social media. The user interface of BuzzSumo is pretty straightforward and intuitive. You don't have to go through a steep learning curve to use the platform.
You can use specific keywords to find out the most shared content. It will help you understand the type of articles which do well in your industry. It's also useful in finding the latest news and share-worthy content in your industry.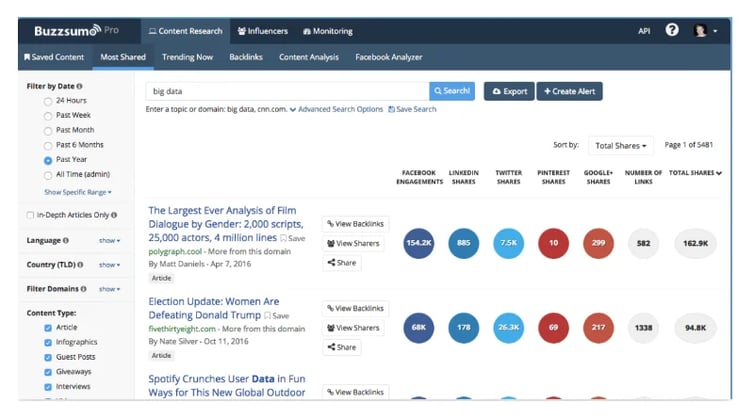 If you have a high profile target audience, then you can also find a list of the most relevant audience in your industry. Use keywords to discover influencers and users who have used the keywords in their bio, tweets, past shares or profile details.
You can create a list of powerful users who have the potential to expand the outreach of your social media campaign.
BuzzSumo can be used for defining the target audience, market segmentation, and developing an effective communication strategy. The software also comes with predefined templates which are useful in connecting with your audience.
Audiense, formerly known as SocialBro, is one the best tools to get insights about your target audience. Using this platform, you can "gather rich, on-demand insights on the people that matter to your business."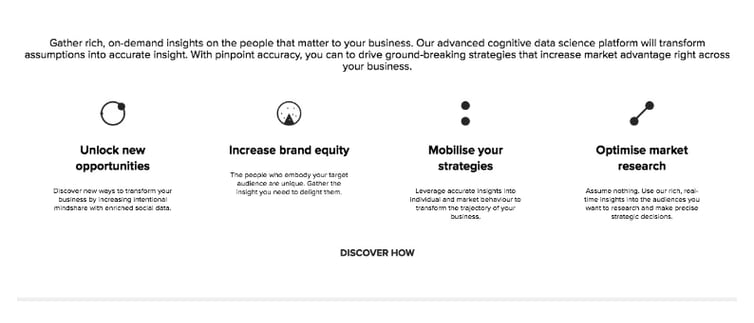 The tool has four products:
Audiense Insights
Audiense Intelligence Report
Audiense Connect
Audiense Community Manager
Each of the products is designed to generate a list of leads quickly which otherwise could be very tedious.
For instance, if you are searching for people who are US residents, between the ages 25 and 35, and who are interested in the sports car. You may use simple Twitter search to find the list of people who have used particular keywords in their profile or tweets.
However, it may be extremely time-consuming. Similarly, you can also use the Audience Manager from Facebook Ads to create a target audience for your campaign. However, this audience may turn out be broad and can be utilized only on Facebook network sites.
With Audiense tools, you can define an accurate target audience, do market segmentation, and develop a personalized communication strategy.
This tool can save a lot of time for marketers and business owners who are serious about getting tangible results from their social media marketing efforts.
Content Development
Content development is at the core of any social media marketing strategy. It's also one of the activities that consumes a lot of time.
Still, many marketers use gut-feeling and rely on simple Google search to develop content.
Use the following tools to develop better content in less time.
Tools to create great headlines
Social media marketers spend a lot of time generating great headlines. The time investment is justified as the headlines can make a huge difference in traffic, views, and engagement.
According to a recent study, a headline has the potential to change article traffic by almost 500%.
Use the following tools to generate great headlines in minutes. You can also use these tools to create a variety of headlines when you want to share an existing piece of content.
Enter the keyword and the tool will generate relevant titles within seconds.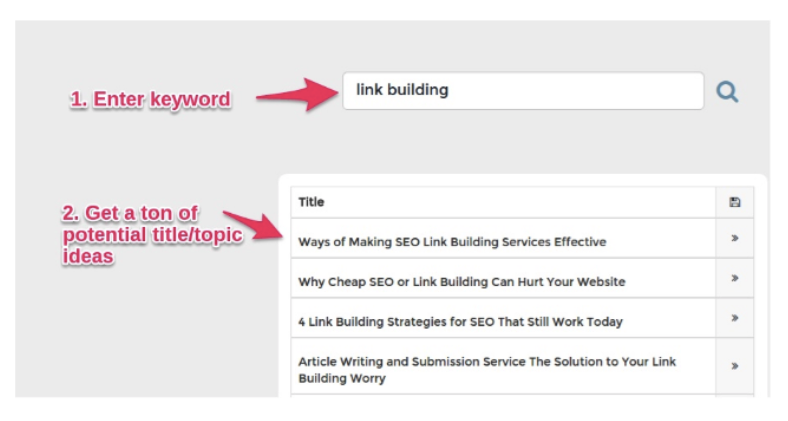 Both of these tools will help you analyze the different aspects of a headline. Use them to get an idea of how well the title will perform and your audience will respond to it.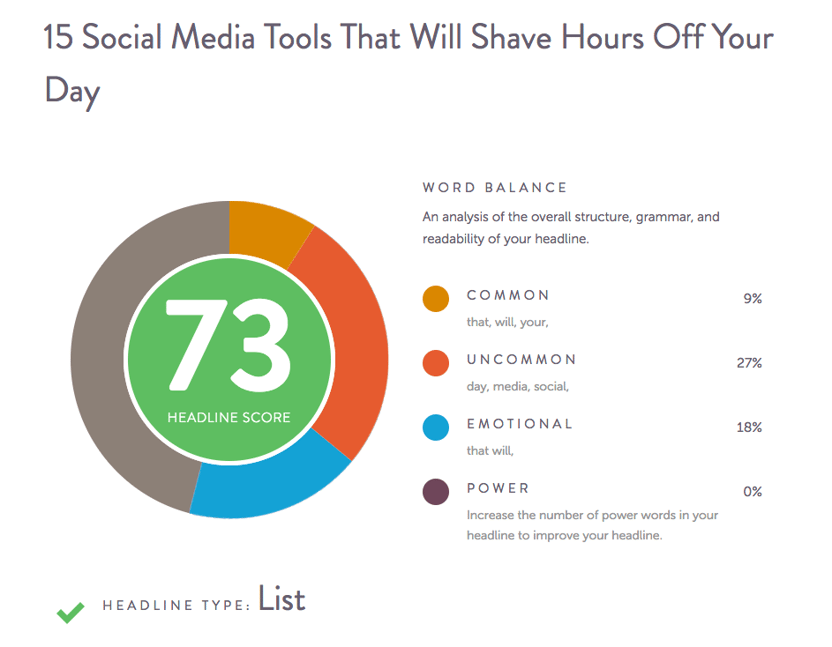 Tools to write better content
Use the following tools write better quality of content in less time:
Hemingway Editor is a very useful tool that can help you get rid of weak writing. It suggests words that can be avoided and the sentences which can be made shorter. It also suggests synonyms which will make the content more readable and persuasive.
A word of caution though, in the beginning, you may find it irritating and time-consuming activity to check the content using this tool as it points many errors.
However, once you write a few pieces of content using Hemingway Editor, your quality of writing will improve significantly and subsequently, the time taken to write the content will decrease.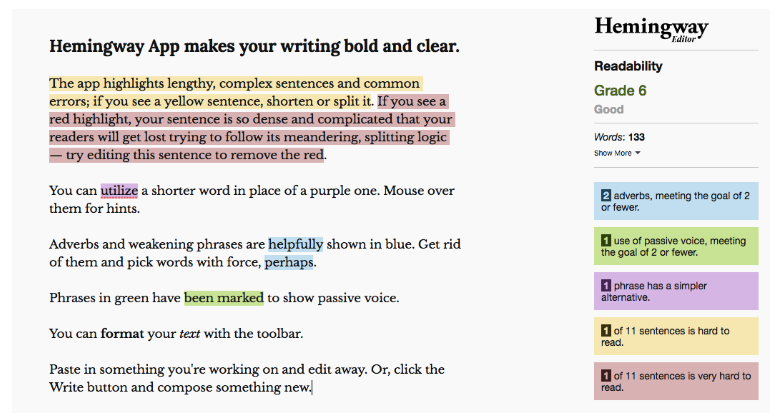 Grammarly is a great tool to check inadvertent errors which can go unnoticed by human proofreaders.
With Grammarly, you write with confidence. It will also saves you from possible embarrassment which arises due to typo or punctuation errors.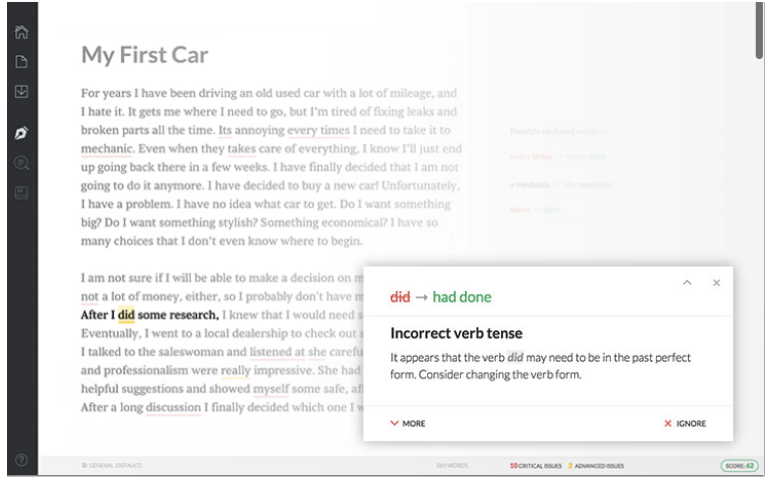 Research
Use Google Advanced search to get relevant results quickly. You can also learn these Google search tips which will help you discover relevant content in short period.
For instance, if you're writing a blog on Small businesses and need some stats to prove your argument, use the following search query on Google:
Site:forbes.com small business statistics
You'll see the most relevant results which could be pretty useful for your blog.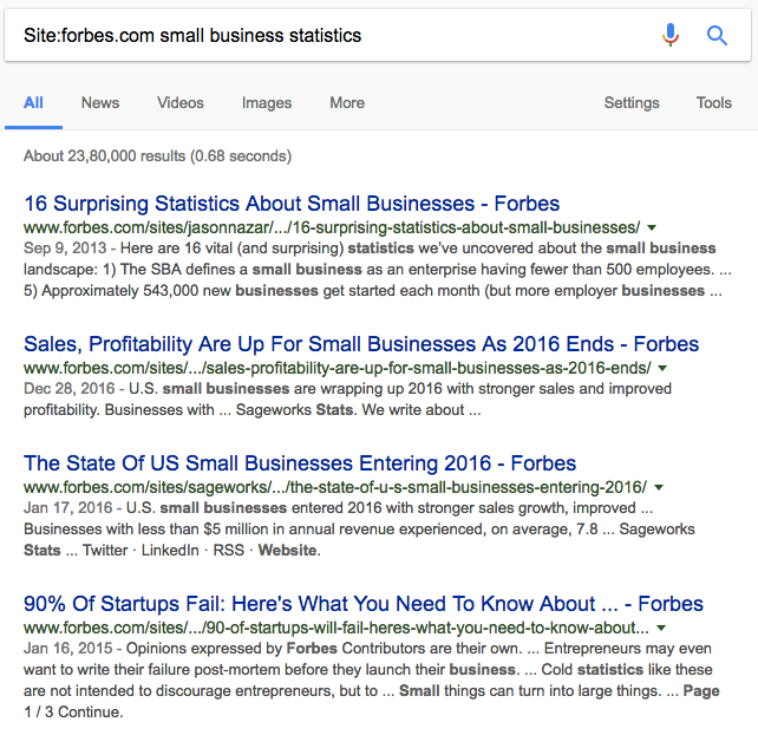 Design
Attractive images boost engagement on social media. However, developing a compelling image is a nightmare for many social media marketers who lack Photoshop skills.
Hiring a designer will not only cost you a pretty penny, but it may also create a lot of hassle in hiring the right designer, creating a comprehensive project description, and then working with them closely to supervise the quality of design.
Thankfully there are a few tools which can help you create impressive images without any graphic designing skills.
Tools to design images
Canva is a great tool to create compelling images in minutes. You don't need to learn any software. Spend 10 minutes in understanding its drag and drop editor and start creating magic with the app.
Create a canvas of any size and add text, shape, icons, picture, etc. with just a few clicks. You can easily edit any elements that you add to the canvas.
The app also has an inbuilt search engine that allows you to search from thousands of stock free images and shapes. You can also alter the shapes and sizes of the pictures and change color, brightness, etc.
The power of Canva lies in its simplicity. You don't need to go through any tutorial to learn the editor.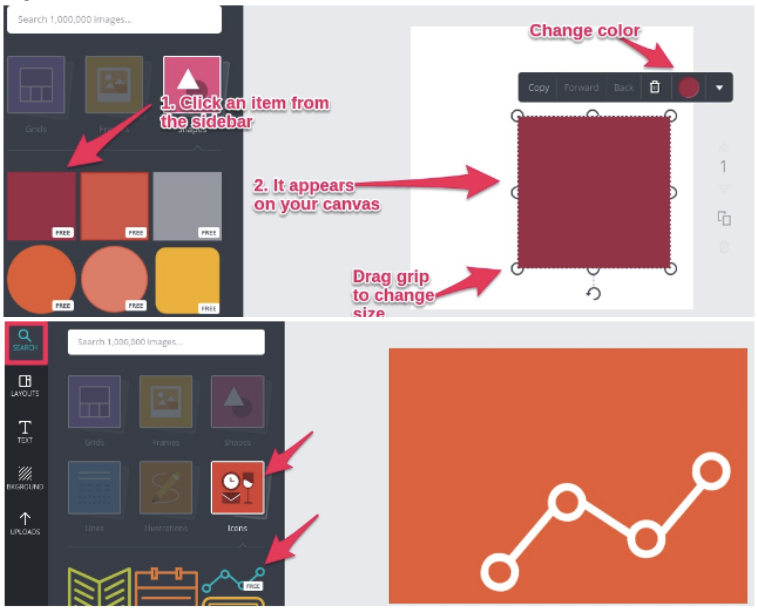 Since the app has built-in templates for each social network, you don't need to worry about the image size or if it will fit on various platforms.
Infographics are an essential element of any social media marketing strategy. They not only boost engagement and increase the social share, but also help in getting more backlinks.
Although marketers understand the importance of infographics, many use only a few infographics a month. This is mainly due to a perceived high investment required to create perfect infographics.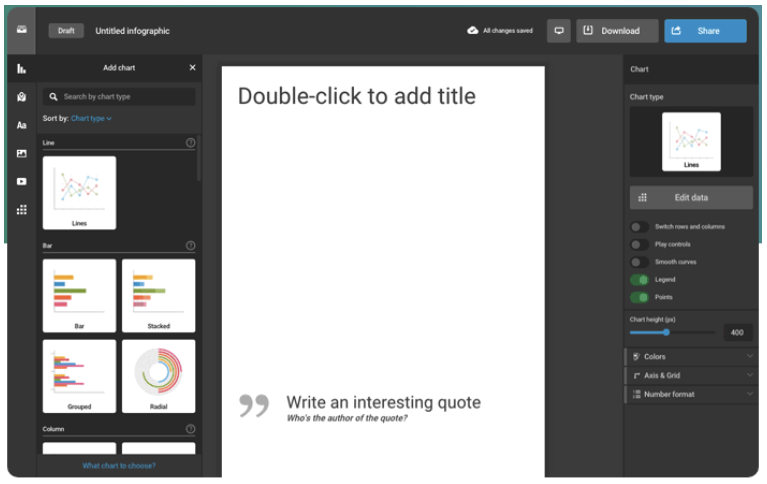 Infogr.am and Piktochart are two of the best infographics tools which can be used to create professional infographics quickly. Both sites have an option to create free accounts with limited usage.
Scheduling and Posting
Scheduling blogs on WordPress and posting the social media updates regularly are perhaps the most repetitive tasks when it comes to social media marketing.
It not only breaks the workflow but also makes the process prone to many errors. Therefore, using a scheduling and posting tool is essential to increase the productivity of your team.
It not only saves time but also improves engagement and provides actionable insights which can be used to improve the campaign performance.
Use following tools to for scheduling and posting blogs and status updates on social media:
Buffer is a great social media scheduling tool with a simple and intuitive interface. It can make your marketing team more efficient by automating a lot of mundane tasks.
Create an account and select the social networks you would like to add into Buffer. The addition and removal of social networks can be done just by a few clicks. The Content tab is used to schedule and share the content.
Before you start scheduling the posts, ensure that you have selected the right time zone. You can change the time zone using My Account and Settings tabs. The Settings tab can also be used for adding or removing team members, adjusting accounts or changing the URL shortening settings.
Buffer also comes with a comprehensive Analytics and reporting features. You can use this feature to get insights about the right time to post to get maximum engagement, the type of content which performs better, etc. You can also use these insights to improve your marketing strategy.
Its free account comes with limited features. For instance, you can't add Instagram or Pinterest profiles in the free account. Similarly, the Analytics feature is not available for free account users. However, the prices of premium accounts are competitive and provide value for money.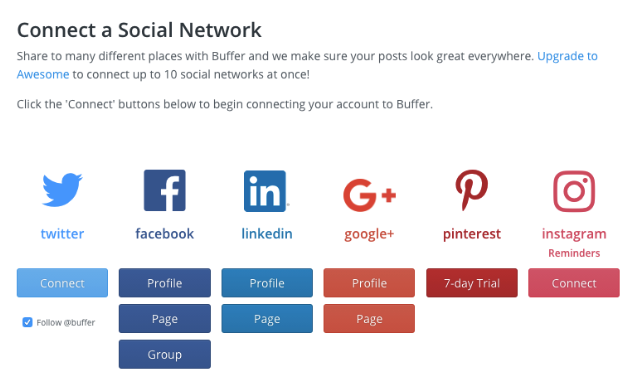 CoSchedule, has a great headline tool, but they're also perfect at planning and scheduling unpublished content. You can connect your WordPress blog and manage from a single dashboard.
Allocate work to writers, review and approve content, plan the content publication and schedule unpublished blogs on social networking site.
The pricing for this software starts at $30 per month. All the plans come with a free 14-days trial.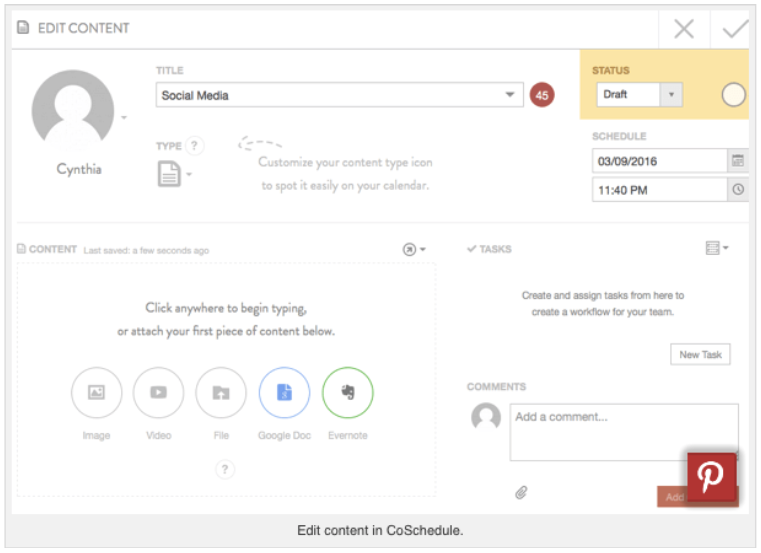 Engagement and Monitoring
Monitoring and engagement let you connect and intereact based on certain triggers, events or auto-interactions.
Although the tools initiate the conversation with the prospects, you need to start conversations so that your audience feels that real people are behind your business.
Socdeo is an excellent tool to initiate engagement with potential customers on Twitter. Specify your goals and the type of people you want to connect with on Twitter.
Write a message that you want to send to approved leads. Socedo will take care of rest. It will suggest potential leads that you need to accept or decline.
You can also specify what action Socedo takes once you approve a lead.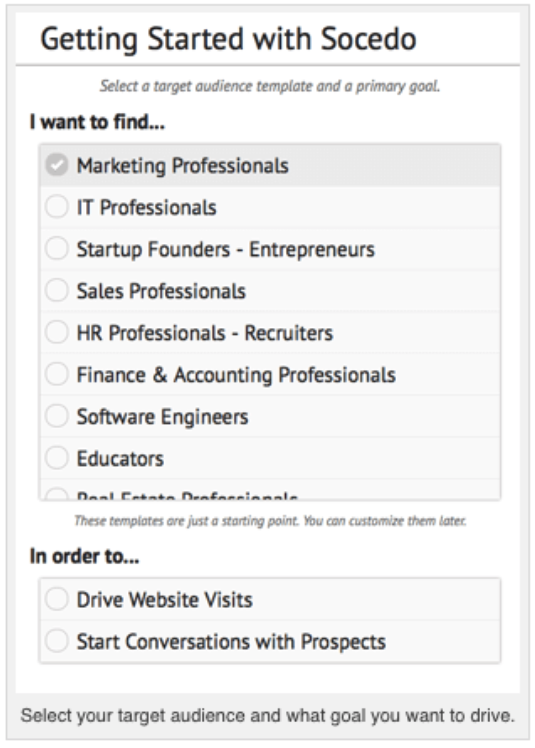 With Post Planner, you can schedule posts to Facebook and Twitter, plus pin to Pinterest.
Not only does Post Planner let you quickly schedule content to multiple locations, it also helps you find engaging content to post.
If you're having a tough time finding relevant and top trending content to post, Post Planner's Content Engine provides the solution.
You can search for content relevant to your niche and then quickly schedule the posts to your pages.
You can also organize and store your favorite content sources in custom folders -- so you can come back anytime to find new content for your pages.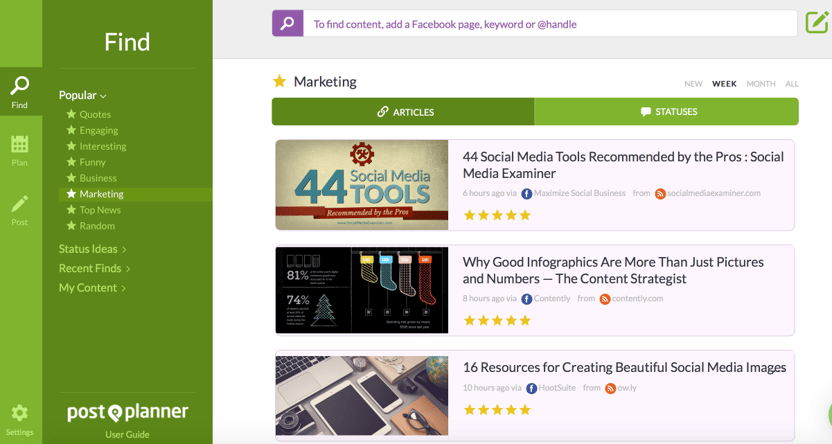 Conclusion
Keep an eye on the latest automation software and experiment with new tools.
The tools mentioned above can automate many tasks and boost the efficiency of your marketing teams.
What tools did I miss? Let me know in the comments below!