Right off the bat, you're thinking "there's no way I haven't read this article before."

"Facebook Marketing Tips for Business" - perhaps the most overly-written article on the internet.

I'm with you. I've taken a break from writing this article because I wrote it so many times in 2013 and '14 that I got ill every time I wrote "Keep your Facebook posts short!"

No sh*t.

There's a lot of info on Facebook marketing which is consistently given to readers and webinar attendees like it's new, exclusive, secret information. Believe me, 95% of this stuff was said by Rebekah Radice or Mari Smith in 2011.

This article aims to deliver something a bit different.

Original content.

*Gasp!*

This article will give you a list of all those Facebook Marketing Tips you've likely seen 100 times (but can't ignore).
Then - the fun stuff - 10 more super valuable strategies which I struggled to find anywhere else online.
Want to increase your Facebook Engagement overnight? Try these 101 creative ideas and watch your engagement soar!
22 Facebook Marketing Tips For Business You Can't Afford To Miss
12 Facebook Marketing Tips That Should Go Without Saying…
Let's not beat around the bush. None of what's below is new, but neither can it be ignored.
Just check and make sure that you're doing all of these things before venturing into unknown waters:
If your Fan base is large enough, use Facebook's Post targeting to reach a group more likely to respond (based on the time you're posting or the content).
Share Fan-created content and tag/mention the Fan who created it.
Stick with the 80:20 rule - 80% non-salesy (fun, educational, inspiring) and 20% promotional. Of course, this can change if you're in ecommerce or if you've tested it and can prove me wrong.
Include a high-quality photo which follows Facebook's image guidelines.
Treat your fans to social media-exclusive coupons or discounts.
Include a call-to-action in your posts like "Click below to learn more!"
Tap into what people are thinking about with current events/holidays.
Use video if you have the resources. Video marketing is the future.
Keep posts short. Posts with less than 250 characters have shown to get about 60% more engagement.
Educate Fans with how-to-guides. You know those gif recipes? Try to do something similar, even if it's with text.
Try "fill-in-the-blank" posts, "caption this photo" posts, and "remember when?" posts. Look those up if you're curious.
Give Fans a peek behind-the-scenes at your business.
Here's a "peek behind-the-scenes" Facebook post example from Lush cosmetics: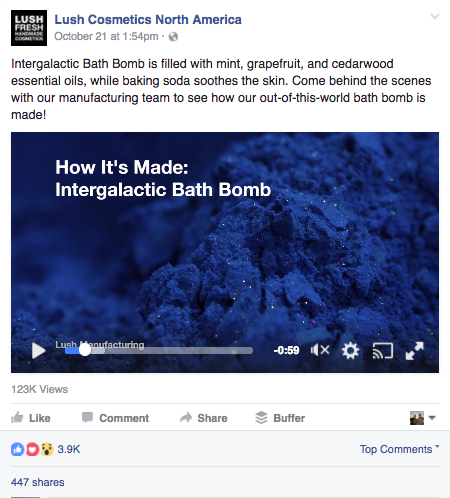 10 Facebook Marketing Tips Which Don't Go Without Saying...
1. Hide the comments of "Trolls" instead of deleting them
Your other Fans won't see the comment but the Troll (and their friends) still will.
Being deleted is one of the Troll's goals, because they can further denounce you if it happens.
2. Cross-Promote on Facebook and Instagram
BuzzSumo found that images posted to Facebook from Instagram receive greater organic reach than Faceook originals.
Facebook is trying to encourage cross-platform usage and is rewarding Pages which do so.

So, try to cross-promote on Facebook and Instagram wherever possible. Facebook has been pushing very hard in the past year or so to get people to use both.

They have 1.4 billion Facebook users but only 600 million Instagram users. They'll be pushing to get Instagram's numbers up for the next few years, and cross-promotion is going to be a key part of that strategy.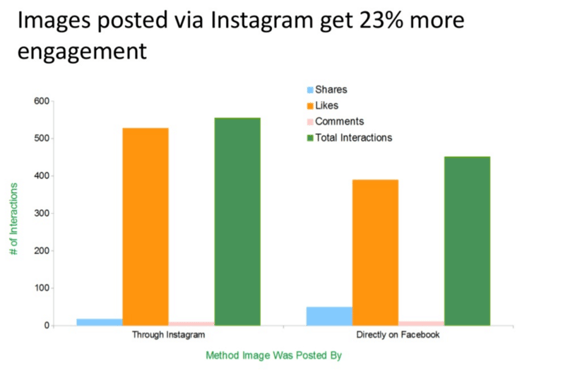 (Source: Buffer)
3. Upload videos to Facebook directly rather than embedding a YouTube video
When posting, just upload the original video file, rather than embed a YouTube URL.

Here's an example from Canadian outdoors company Mountain Equipment Co-op:
4. If you're looking to generate leads or subscribers from Facebook, keep them on the platform
Instead of sending people off-platform with a link in a Post, drive them to a Tab with your form, Facebook contest page or landing page embedded.
You'll get a higher conversion rate on whatever you're asking of them. As soon as you send them off, they'll drop off.

What to "Tab" on Facebook:
Event Pages
Calendars/Schedules
Pricing or Plans Pages
Newsletter Subscription
Pinterest/Instagram Feeds
5. If you have a larger Facebook Fanbase, use geographic targeting when posting
If you're in North America, try targeting a post at the Eastern timezone exclusively, then Mountain time, then Pacific Time.

Let's say you've found that posting at 9am EST gets you the highest engagement (best practices say 9am, 1pm and 3pm). The problem is that posting at 9am EST means your PST Fans are still asleep. Post three times and geo-target instead!

* Note: Visitors to your Facebook Page would see these Posts right on top of each other, so be sure to click "hide from Timeline" for a couple of them.
6. Be active in the comment section, even going so far as to start the conversation yourself
Have you ever been in a conference (or even back in school) when the presenter would ask if anybody had a question and nobody would put their hand up? Until that one person took it upon themselves to step into the void, and then the room erupted with hands?

Sometimes people need a push. Commenting with a question on your own post can give them the impetus they need to respond or ask the question they wanted to ask all along.

Check out this example from Starbucks:
7. Optimize your Facebook Page for Search
Okay, so perhaps this one isn't as unheard of as some of the others, but I'll emphasize it nonetheless.
More and more people are using Facebook's search as a way to find businesses. So you need to optimize your page for that search.

Even if you're not focusing on engagement, growing your Fanbase or driving customers, your Facebook Page is still an incredibly valuable resource for people looking to find your address, contact information or a little about what you do. So make it "findable."

We don't know as much about Facebook's search algorithm as we do about Google's, but we know some...

A few Facebook SEO best practices:
Ensure your business' relevant keywords are included in your Facebook Page information with a high density.
Include a link to your website in the first 75 characters of your Page info.
Ensure your Posts include relevant keywords related to your business.
Engagement is also a vote in your Page's favor when it comes to Facebook SEO. Encourage commenting, sharing and Liking as much for SEO as because it makes business sense.
And if you want to dive into what Facebook has said about their search algorithm, feel free to do so here. Be aware, that page isn't for the beginner.
8. Focus on getting Fans to not just watch, but complete, the videos you upload
"As we continue to understand how our community consumes video, we've realized that we should therefore weight percent completion more heavily the longer a video is, to avoid penalizing longer videos."

A few strategies for getting video completion rates up:
Add your script in large font around your head (see the example from Dylan Marron below). Remember: Facebook videos don't play with sound automatically. So a big component of getting people to watch is helping them understand what your video's about in the first place.
Add a countdown timer to clearly show how long your video is. People like to know what they're committing to. They also feel inspired to finish what they've started; a countdown timer gives them the feeling of having started something.
Find a way to "reveal" something within your video - a new product, a new campaign, a new employee. Do so only after the halfway point (Facebook considers your video "compelling" if people watch past the half).
9. DO NOT ask for Likes, Comments or Shares
The funny thing about this one is that when I first started writing on social media strategy, the posting formula I recommended most frequently was that old "Like vs Share" post.
I would prompt people to "Like this Post if you like cake. Share if you like pie!"

It worked wonders: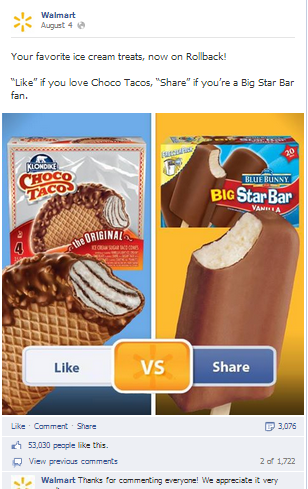 Those were the days.

It's not like that any more, and any confusion about this needs to be left at the door.

Facebook has made this clear for a couple years now.
Since the "misinformation" scandal of the 2016 presidential election, they're cracking down on what they call "Universal signals to determine whether a post might be authentic."

They're doing a number of things to ensure authenticity, of course, but they do specifically mention "Pages [...] posting spam or trying to game feed by doing things like asking for likes, comments or shares."

No confusion, okay?
10. Use a Facebook contest to create engagement but, more than that, drive sales
Here's a step-by-step strategy for running a successful Facebook contest which drives lasting, real-dollar success:
Run your contest in conjunction with an event or holiday exclusively relevant to your target market:

Identify an event which only your target market is aware of or cares deeply about. Run a contest in conjunction with that event and you ensure that only people in your target market will enter.
Choose prizes appealing exclusively to your target market:

This is the big one. Avoid giving away a prize which is universally appealing, and you avoid having the universe enter. A few ideas for ecommerce/retail are gift cards or products. For SaaS, run a co-promotion with a business with the same target market as you. Give away a year's subscription to your platform.
Use the networks of your entrants to spread your campaign's reach

There are three primary strategies for this:

Run a referral promotion: each entrant is incentivized to share the contest because every person they refer adds to their chance of winning.
Run a photo contest: each entrant is incentivized to share because they've submitted a photo in hopes of winning the grand prize. Every person who votes on their photo adds to their chance of winning.
Add a "share incentive" click popup upon entry: encourage entrants to share the contest to get extra entries (see below). People are at their most "sold" and most desiring of the prize at the moment of entry. Share incentive popups are pretty exclusive to Facebook contest apps, but are seriously powerful in spreading your contest and getting new Fans.
4. Follow up your Facebook contest with an email campaign with prize-related discounts

Once your contest is over, the fun is just beginning. You have to turn these people, primed though they are, into customers.

The best way to do that is with an automatic email campaign (a drip, for those of you familiar with the term):
Send a follow-up email as soon as they enter encouraging them to share, and thanking them.
Send a notice when the contest is over commiserating with them on their loss and offering a discount for the exact prize they entered to win.
Send an email a week after (if they didn't take you up on email #2) reminding them of the limited-time availability of the discount.
Send an email two weeks after (if they didn't take you up on email #2 or #3) informing them that the discount expires in 24 hours.
If that campaign doesn't work, don't just drop your contest entrants into a black hole of newsletter list.

A couple strategies to convert contest entrants long-term:
Retain them as their own segment. Then, the next time you want to run another contest similar to the first, ensure they receive their own, personalized, email about it.
Remember them when you run a sale on the product they wanted to win.
Notify them specifically with personalized messaging like "We know you love [X Product] and wanted to let you know that, until Saturday at midnight, it's on half-off!"
Final Thoughts
Hopefully these Facebook marketing strategies are new to you or provide inspiration for something you haven't yet tried.
Facebook marketing is all about pushing the envelope - doing the things you know you should, but also trying things you haven't seen before.
We don't half understand Facebook's algorithm, so testing and trialling are crucial components of a successful strategy.

Questions or comments? Let me know in the comment section!