Does your business serve local customers?
If so, you MUST HAVE a Google My Business listing.
People visit 1.5 BILLION destinations — every month — because of a Google search (Google's Consumer Insights).
And posts on Google My Business are a great way to increase your visibility in search.
Google My Business Posts: How to post on GMB & win customers
This guide will teach you how to get more local customers by posting on your Google My Business.
You'll learn:
What are Google My Business posts?
Google My Business posts are similar to social media posts — except they're for your GMB profile.
They combine images, text, and CTAs to market businesses in local search.
The difference between GMB posts and social media posts is that any person using Google can see your posts.
Viewers don't have to belong to any social networks or sign up for anything.
So, if someone searches on Google, your posts will be accessible.
Why post on Google My Business?
Google My Business posts help your business's local search presence.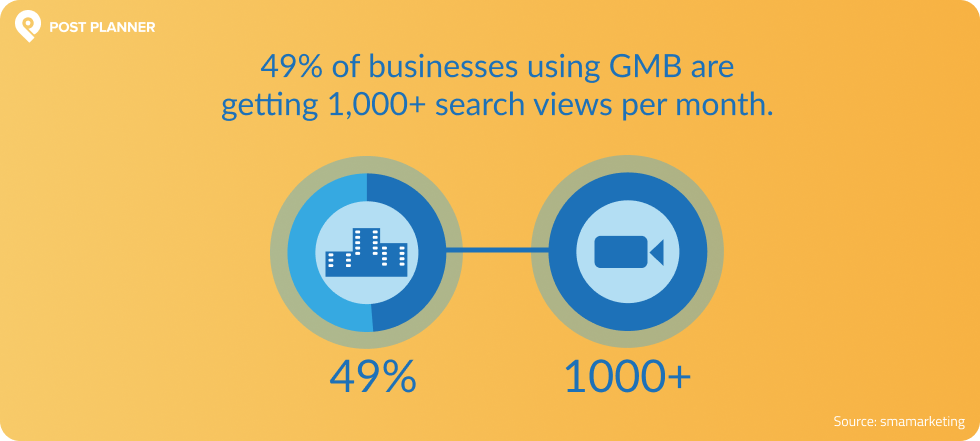 This helps the right customers find your local business.
Google My Business posting is another opportunity to market your business on Google.
You can use posts to reach your potential customers — before they decide to visit.
Which gives you a chance to make the right offer, at the right time, and place.
And the best part?
Google My Business posts are free
As a 100% free option, all you'll need to invest is some time to post on your GMB.
Your local business gains visibility and engages with customers right in the Google search results.
It's an easy way to use a free tool — to provide free value — to your potential customers.
Which will pay you back for your time in revenue.
GMB posts are a low-cost investment opportunity.
They're free, easy to post, and quick to create.
This makes the potential ROI very worth it.
Google My Business posts help SEO
Regularly creating high-quality GMB posts will help your local SEO.
Local SEO is critical for local businesses because you can show up in search results where your ideal customer is geographically.
This positions your business as the right option for your perfect customer.
Take it straight from Google:
Updating and maintaining your Google My Business listing can improve your local ranking, making your posts contribute to positive local search results.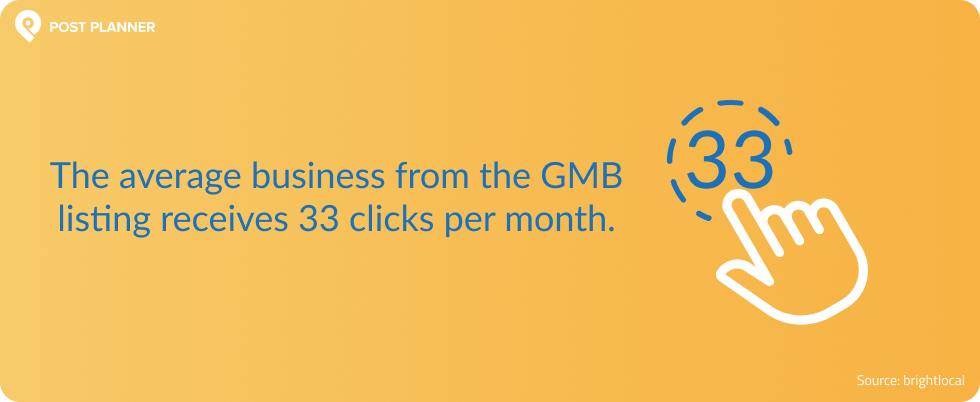 So yes, local SEO is critical for businesses with a physical location.
According to Think with Google stats, 76% of people searching on mobile for a business visit within a day.
That's a huge majority, so you'll want to be seen on local search.
Shops, physical locations, and food and drink establishments need local SEO and GMB posts help.
Plus, the content you create provides a more robust profile, showing that you keep things up-to-date.
Are GMB posts right for your business?
Here are 3 questions to ask yourself to determine if Google My Business posts are worth it for you.
Do you have an up-to-date Google My Business listing?
If so, GMB posts will help you communicate with visitors and build your digital presence.
If you're a local business and you don't have a Google My Business listing, get one.
GMB gives your potential customer all the info they need to get in touch with you.
Do you have a brick-and-mortar business location?
If your business offers tangible products for sale, GMB posts are right for your business.
You want local customers to find you when they search for the exact products you offer — GMB posts can get your offers in front of the right people.
Do you serve customers in a specific region?
If so, you want to be the go-to business in your region for your product or service.
GMB posts let your local customers see your messaging — alongside reviews, photos, and location information.
Which helps convince them to buy your products or services.
4 Google My Business post types (& examples)
Have you ever posted on Facebook?
Think of a Facebook post you'd create to promote your business.
Now imagine it appearing on Google.
GMB offers 4 types of posts to fit your business goals.
Choose one of these post types to get started:
1. What's New posts
Times change quickly, and businesses need to be able to pivot.
Using the "What's New" post type lets you give real-time updates to your customers.
Are you expanding your business hours?
Moving to a new location?
This post type can improve brand awareness, as it shows up-to-date details.
It also tells your customers that you care about keeping them in the know — an essential trait for business in the digital age.
What's New post examples
Here's an informative update post with a CTA.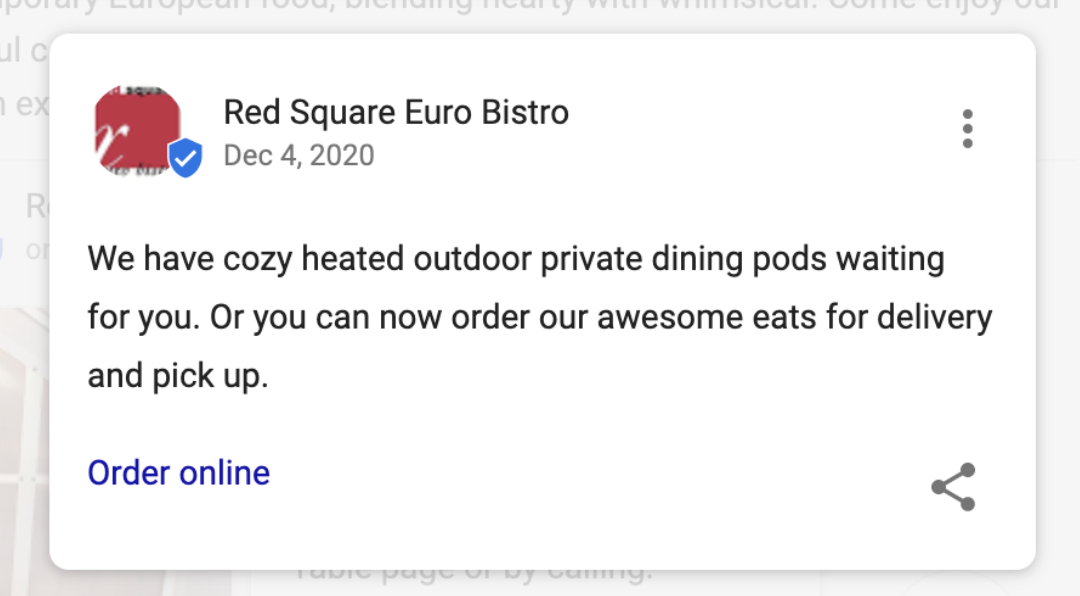 See how Red Square Euro Bistro announced heated outdoor seating — or delivery and pick-up options.
The "Order online" CTA takes you right to the ordering page, reducing a step in the customer's journey.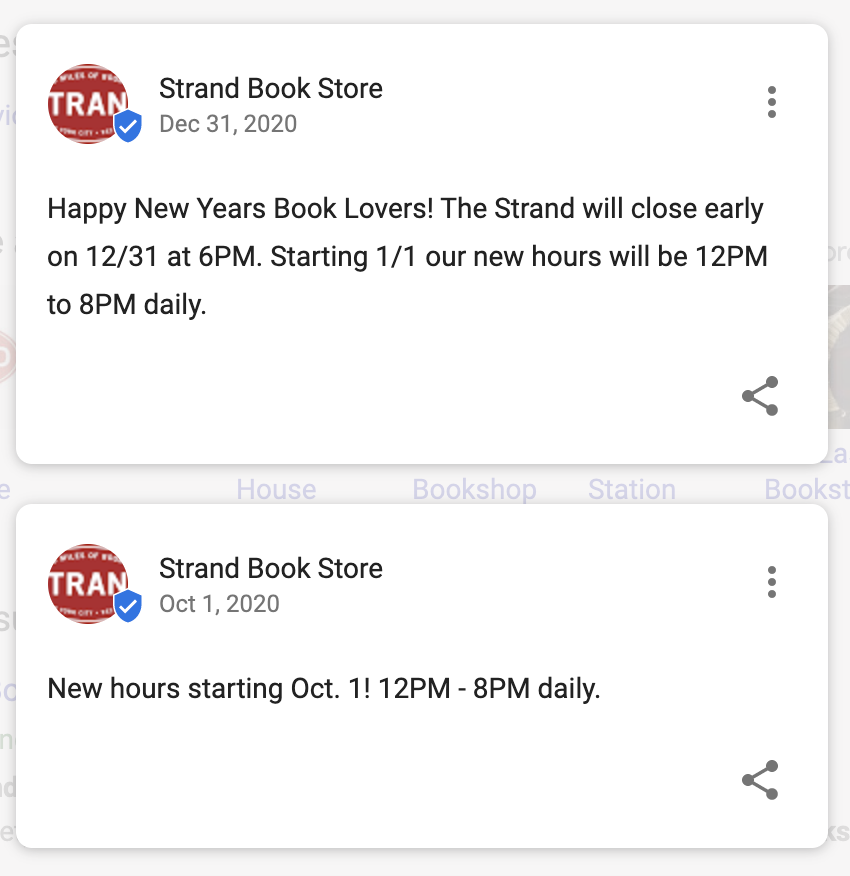 As another What's New post example, The Strand Book Store in Manhattan used What's New posts to update customers on permanent and temporary changes in-store hours.
2. Events posts
Google My Business Events posts let people know about events your business is hosting or promoting.
Think of events posts as 100% free publicity to potentially interested people in your area.
Events posts are a super helpful GMB post option that you take advantage of for free event marketing to your local customers.
Event post example
Guard and Grace restaurant in Denver, Colorado, used a GMB event post to promote a wine dinner event.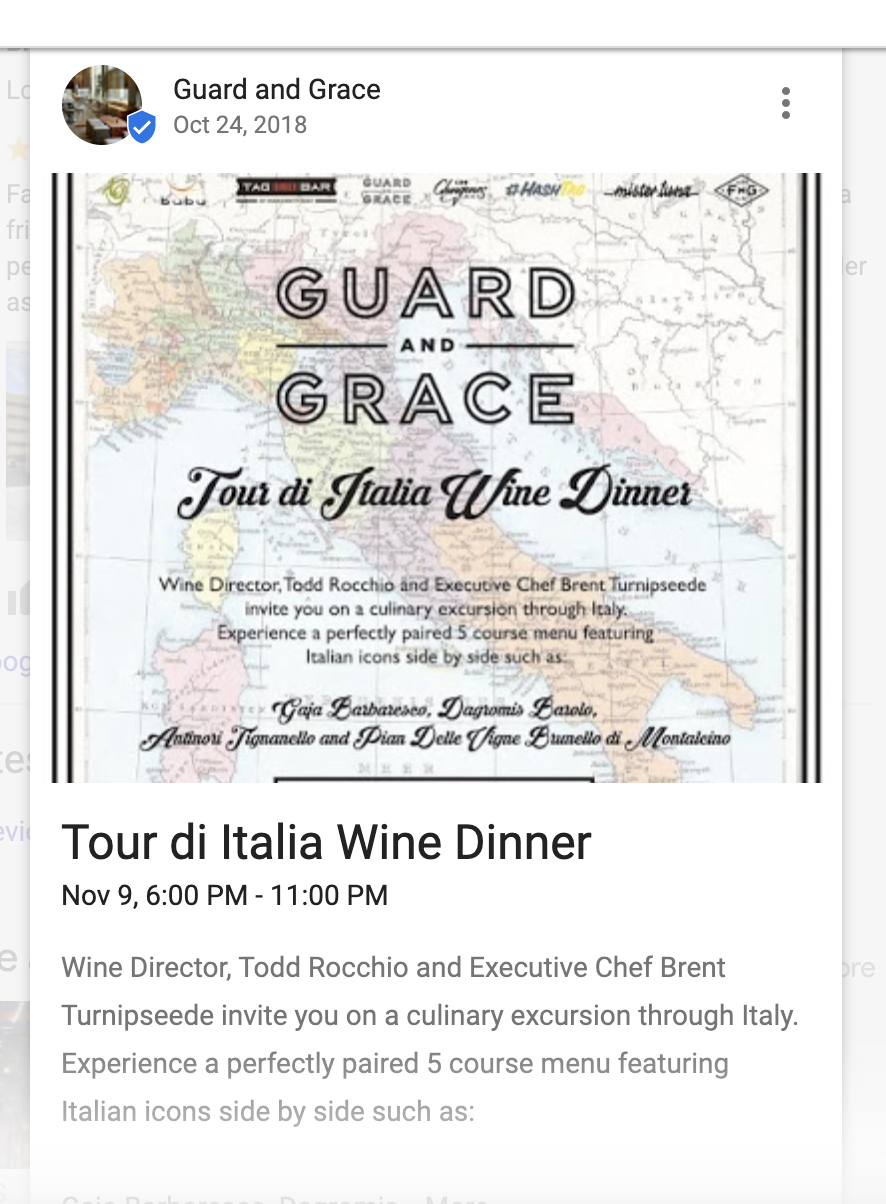 They created the post with a promotional image, event date and time, and a detailed but concise description.
3. Offers posts
Another great advertising tool, Offers posts let you advertise:
Products

Promotions

Coupon codes

Specials

Anything else your business offers.
These posts are the best option for letting customers know about your latest deals to get them to shop.
The "View Offer" button in these types of posts lets you take your reader off to another page on your account where they can opt into your offer.
Offers posts are helpful and convenient features to use to your advantage.
Offers posts example
A BMW car dealership near Philadelphia, Pennsylvania, uses GMB to advertise specials on car leases.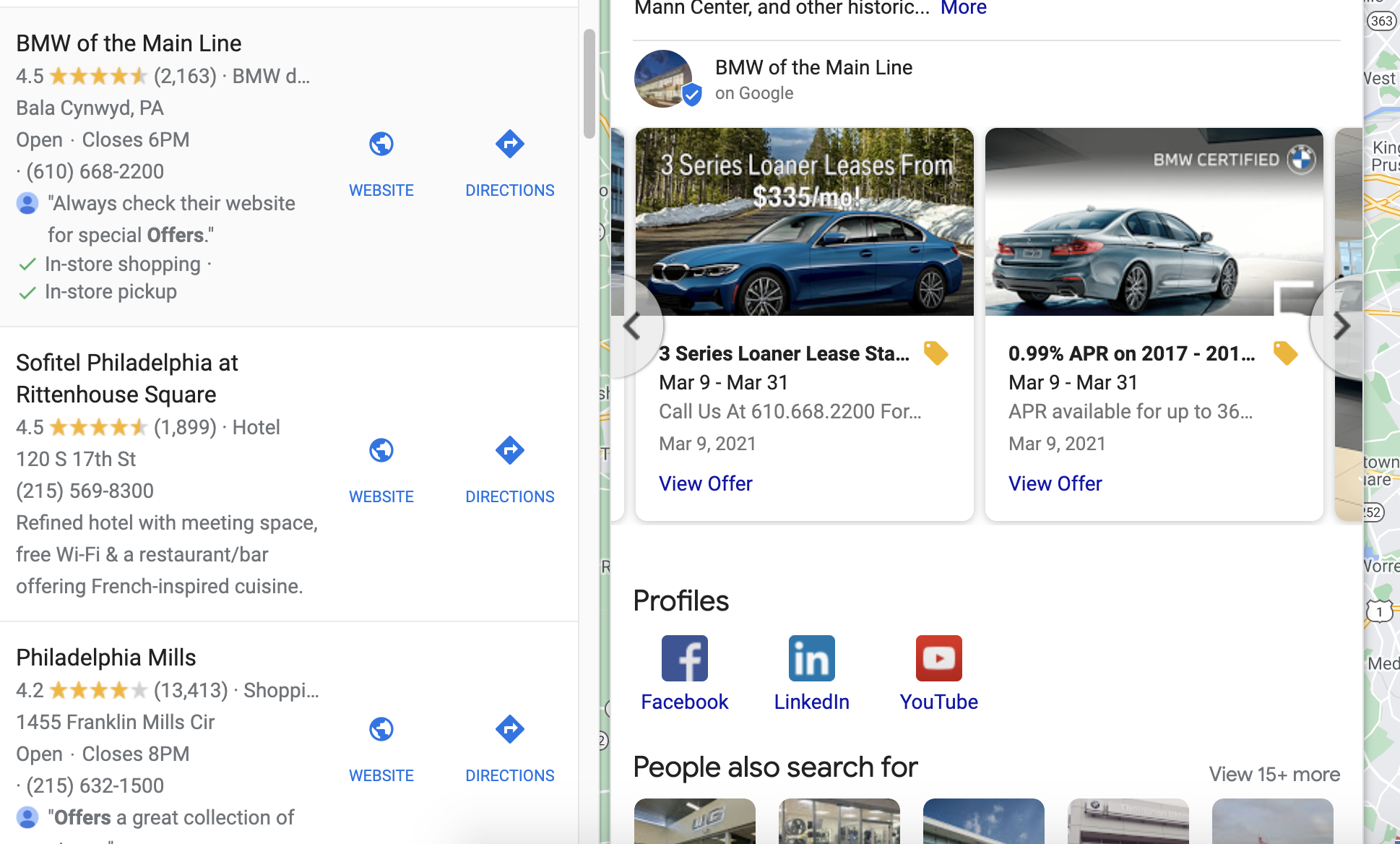 It has contact information and a "View Offer" link, so the business is ready for a customer looking to lease a BMW to opt into their deal with ease.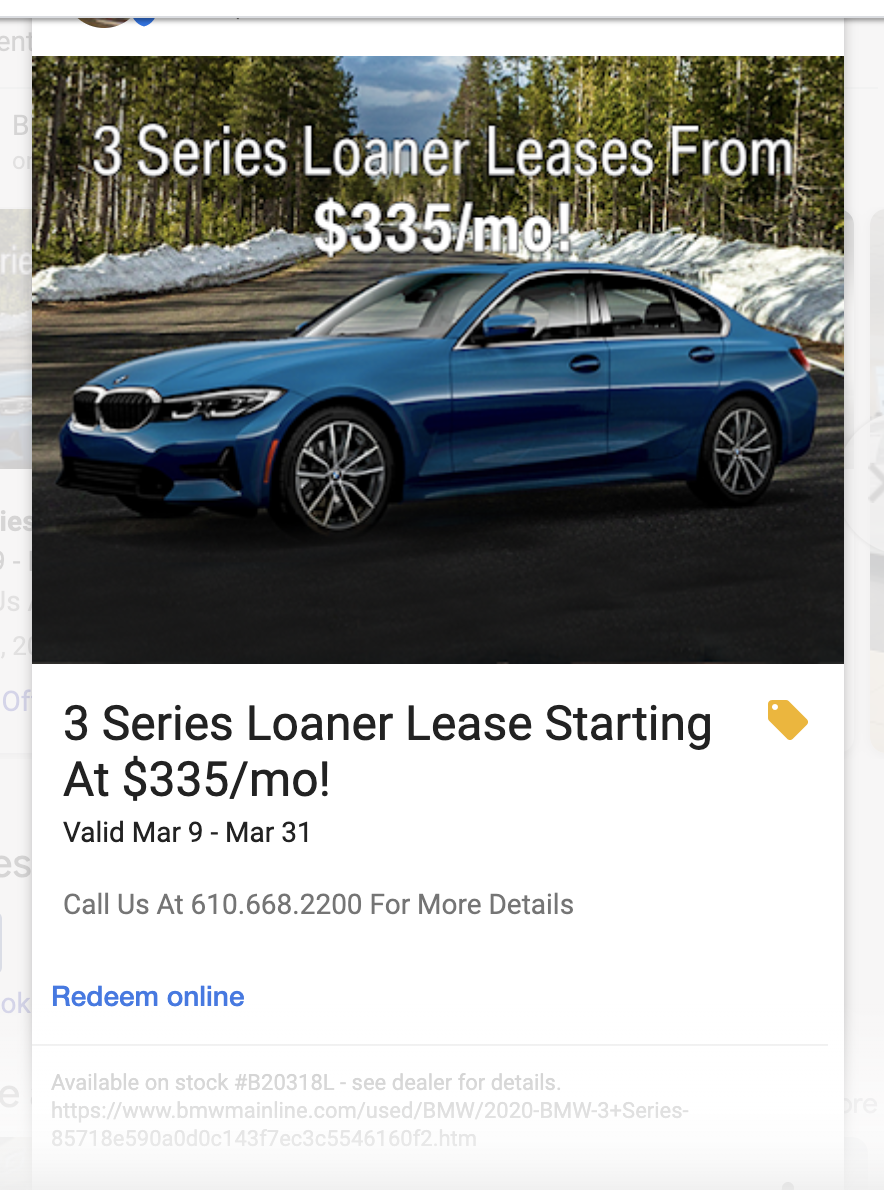 When you click "View offer" under the post, the second image below shows up with a "Redeem online" CTA.
4. Products posts
If you have a shop or sell physical products, Product posts are for you.
You'll want to take advantage of the products post feature. Products posts show up as an image carousel with:
Your product's image

Description

Pricing

"In Stock" note

A direct link for your customer to visit your purchase page and buy
Products posts example
FERAL outdoor store appears in a local search for "outdoor gear" in their city.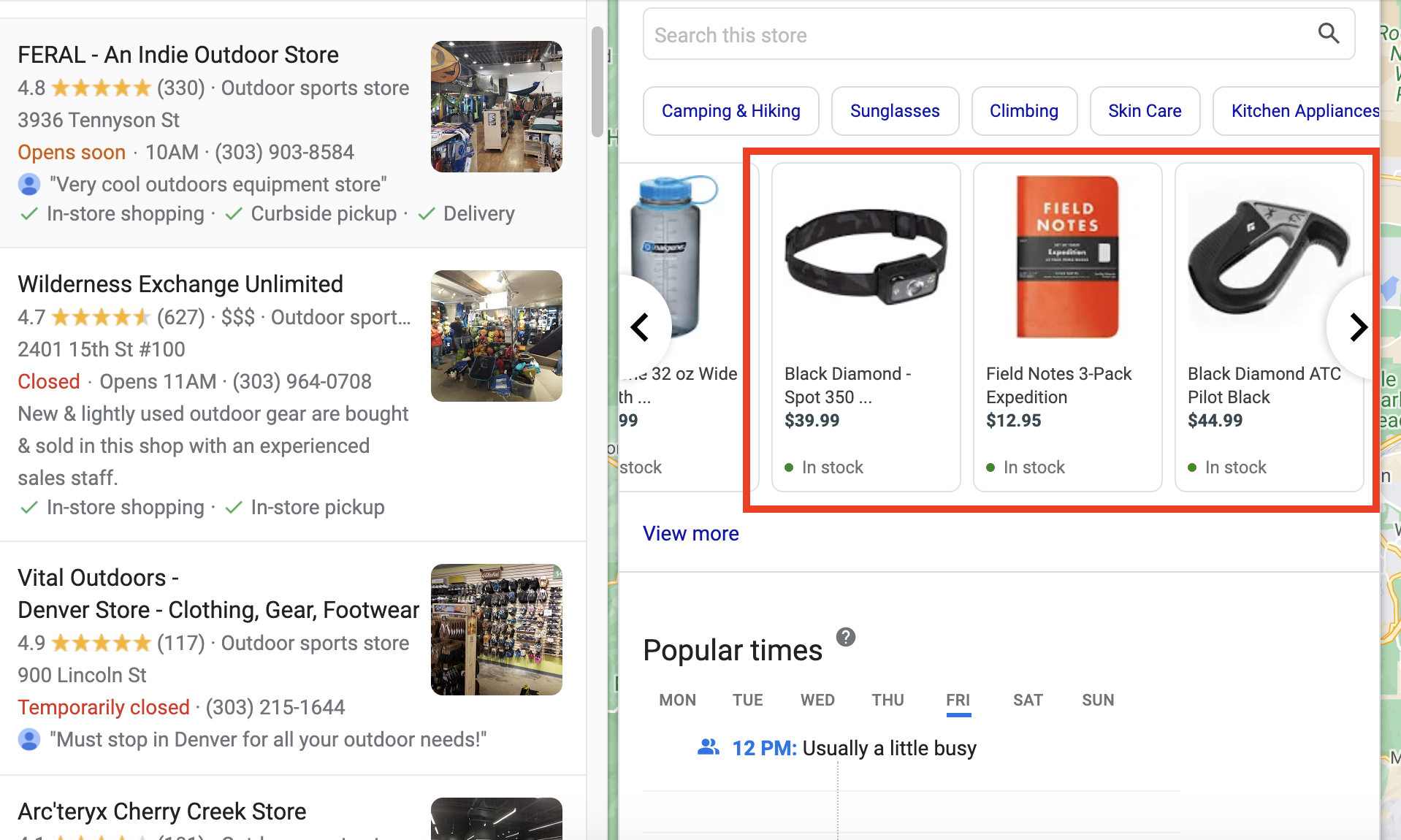 Their Products listing shows images, prices, and descriptions to optimize their listing for quick online sales.
The user can use the "search this store" bar or classify products by clicking on a category.
Best practices for posting on GMB
Google My Business posts can be part of your full scope organic content marketing plan.
Here are 5 best practices to keep in mind when crafting your posts to keep up your engagement.
Make sure your content provides value
Is your post valuable to your customers or potential customers?
Value can include things like helpful information, limited time offers, or discounts.
Answer your customer's questions before they even need to ask.
Let current and prospective customers know about your business and what might interest them.
If you're not posting value on your GMB, searchers will have less reason to pay attention to your profile.
Keep it short and sweet
GMB posts aren't blogs or social media posts.
You only have one moment to capture your potential customer's attention, so get to the point.
Grab the reader's attention, be clear, and get your point across.
The key here?
Make engaging, easy-to-understand, and readable posts for your potential and existing customers.
You want your customer to have a seamless experience between hearing about you and opting into your offer (or whatever action you want them to take).
The less friction your customer experiences between awareness and purchase — the better.
As you already know, people search on Google at lightning speed.
They don't spend time reading lengthy content on the search results page.
That means you have to give them their answers fast!
Add a compelling CTA
Informational posts are great (like What's New posts)
But think about how you can include a CTA to take your customer to the next step.
For example, if you're a restaurant owner offering online ordering, go ahead and include the link to your online ordering platform — like Red Square Euro Bistro did: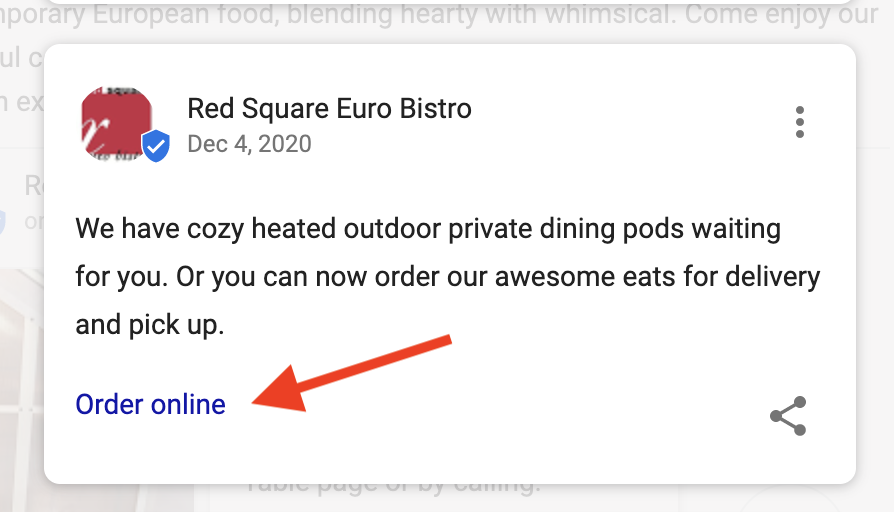 Potential customers are looking for what you provide.
Make it easy for them to take the next step!
Use a CTA link to take them right to the page you want them on.
Follow the content policies set forth by Google
Google is known for having its users always follow its content rules.
If you stay on-topic and are relevant, appropriate, legal, and honest, you'll be fine.
The content policies prohibit content that could be spammy, dishonest, illegal, or misleading.
Don't do any of those things when creating your posts.
Track your post insights
Real-time data for Google My Business posts is tracked by Google and accessible to you within your account.
You can use your insights to see what types of content perform best to adjust your content plans for the future accordingly.
How to Post on Google My Business
Here's how you post on GMB as a local business.
There are a few ways you can do this.
1. From smartphone or tablet
First, you can use the Google My Business app.
Create a post by visiting your Home screen and clicking "+" and selecting the type of post you want to create.
Then, add the text, images, links, etc., that you wish to include, preview, and publish.
Another option is to create a post from within the Google Maps app.
Log in using your Google My Business account and open your business profile.
Go to "Promote" and select the post type you want to create.
Then, add the text, images, links, or whatever elements you want to include, preview, and publish.
2. From desktop
Sign in to your Google My Business account.
Choose which location you want to update, if applicable. Click "Posts," select your post type, select your elements, preview, and publish.
Where do my GMB posts appear?
Your posts will show up on the Google search engine results page (SERP) associated with your business listing.
The view of the post on-screen will differ depending on whether your user is on mobile or desktop.
And whether they're on the regular search results page or in Google Maps results.
On desktop, your posts will appear under the Reviews section: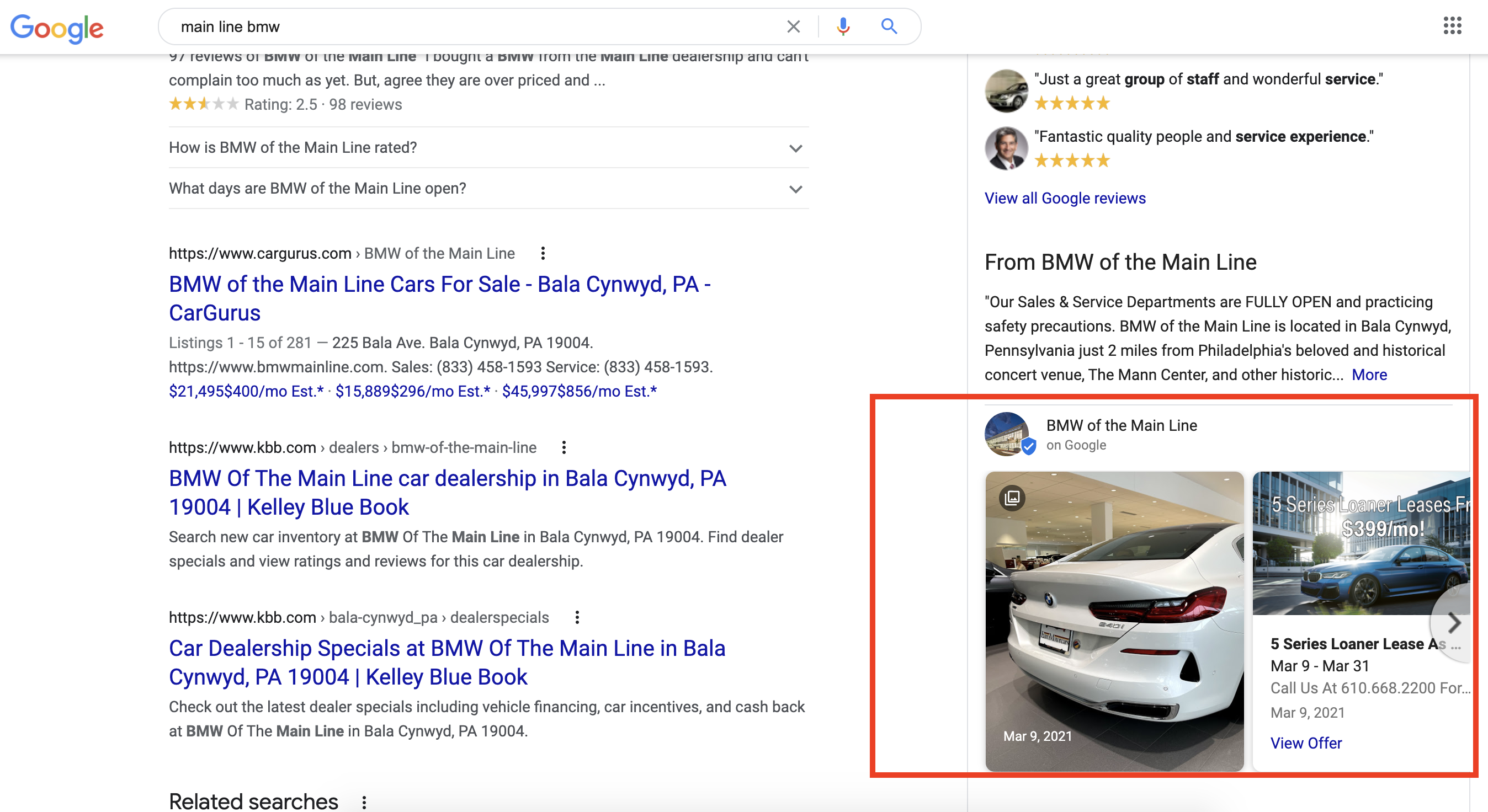 On mobile, your posts will show up under the "Updates" tab: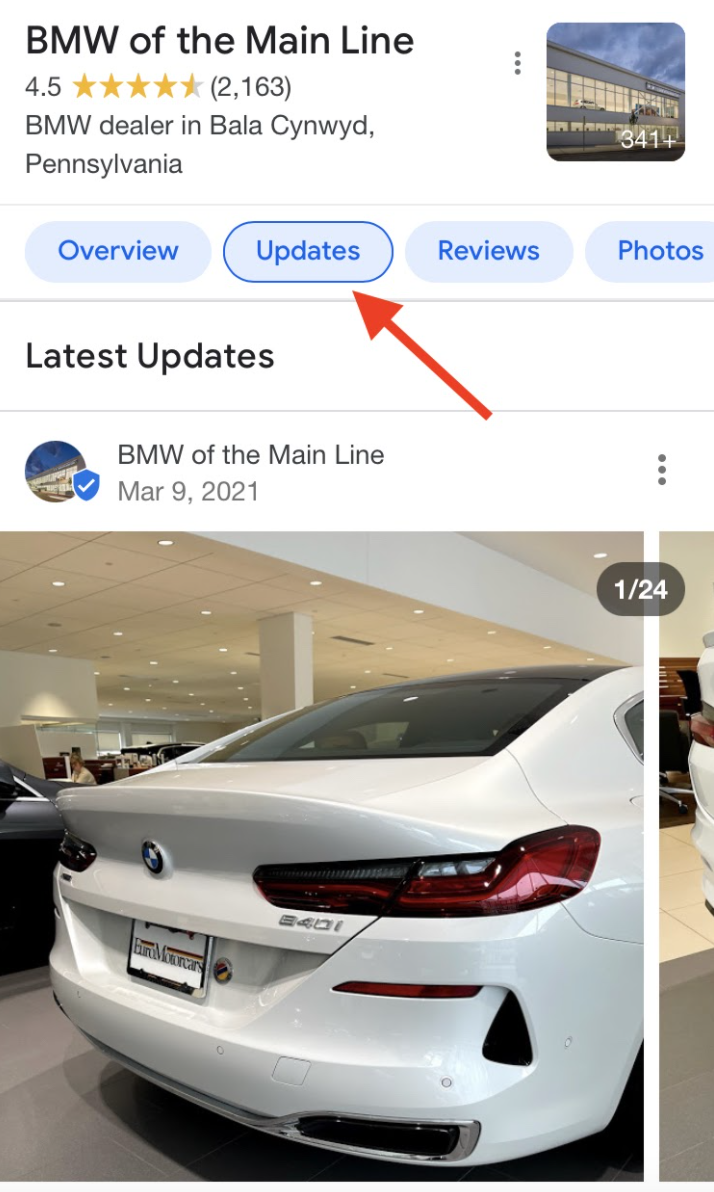 Do my GMB posts expire?
Sort of.
Posts technically expire about a week after posting — or until you post more content that pushes your older content off the screen.
This means those posts won't show up on your main Google My Business listing page.
But the posts don't disappear forever.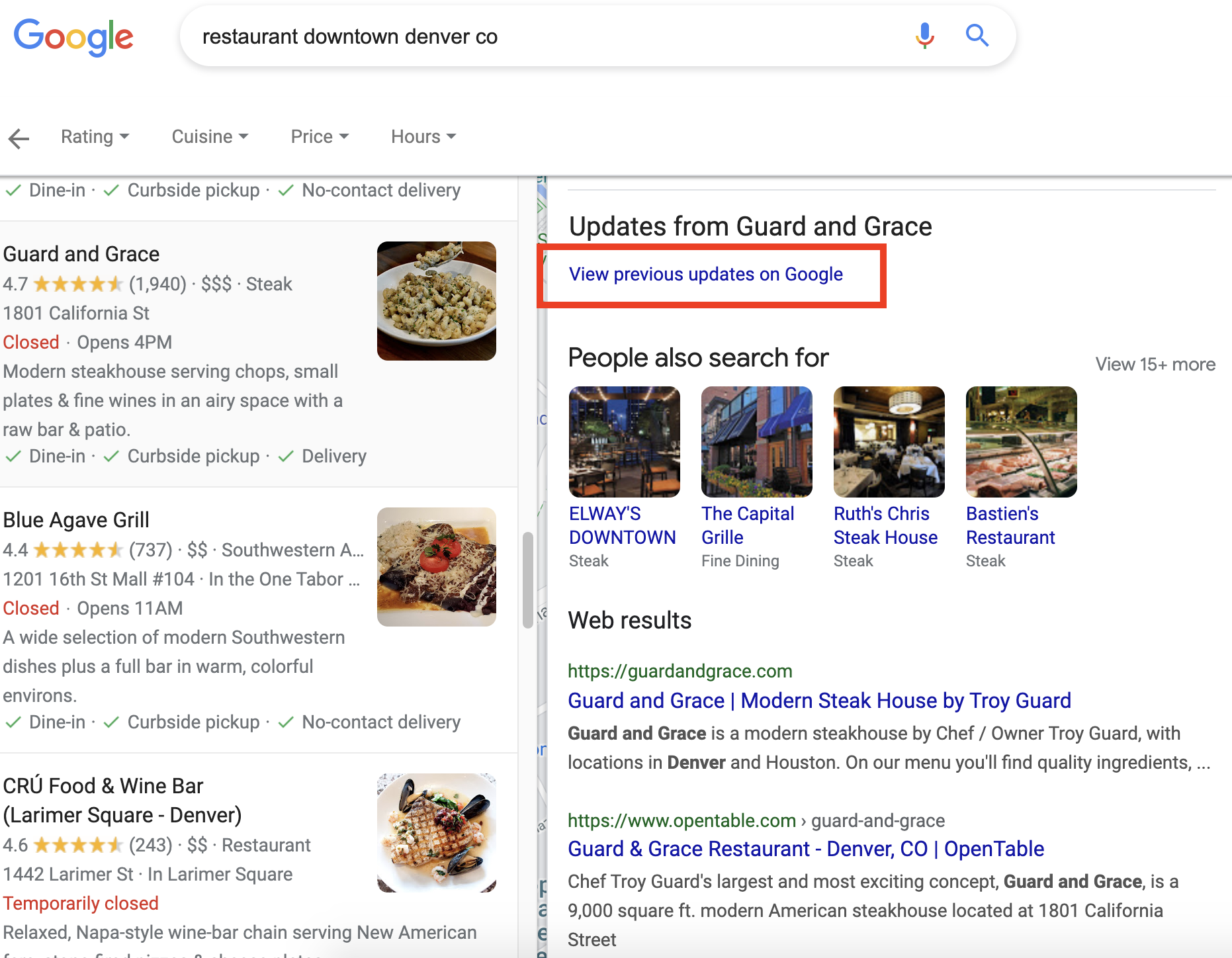 A user can click "view previous updates on Google" on your listing to see all of your old posts.
How to schedule posts with Post Planner to get more local customers
You need to use a scheduling tool — like Post Planner — to post on Google My Business.
Otherwise, you cannot schedule posts directly from within Google My Business.
GMB only allows manual adding and posting for all 4 of the post types they offer.
Post Planner helps you schedule all of your social media content in one easy-to-use platform.
You can create a posting calendar, set it and forget it.
This saves businesses TONS of time.
Just ask Melanie: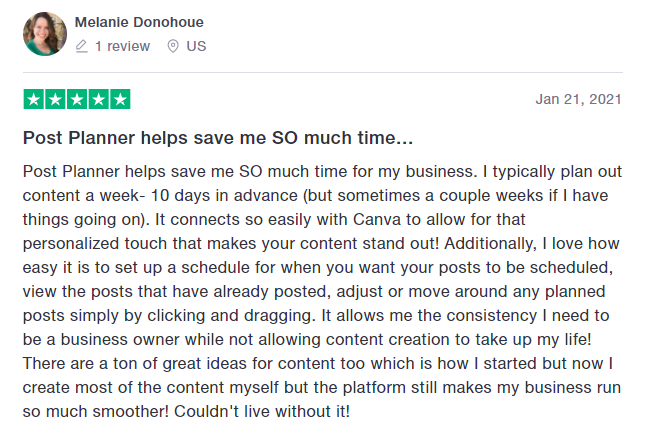 Want to see how Post Planner will sky-rocket your engagement? Sign-up for an account today!