Is your Facebook page bringing you new customers every day?
If not, what's the problem?
What if none of these are the problem?
What if your Facebook page just doesn't have ENOUGH reviews??
Lack of reviews causes potential customers to LOSE trust in your business...
So getting more reviews is essential!
This article will show you how to get MORE Facebook business reviews to get more customers and grow your business.
We'll cover:
How to get reviews on Facebook and attract new customers
Getting more Facebook reviews is easier said than done.
But it's vital for the success of your business!
If you've tried in vain to get more reviews on Facebook, but nothing seems to work, read on!
We'll show you how to get more Facebook reviews AND the top 3 tools to help you get more reviews.
Why Facebook business reviews are important
Should you take time out of your busy schedule to work on learning how to get reviews on Facebook?
Is it even worth it?
YES!
Reviews are the most significant source of customer trust online.
Put yourself in your customers' shows.
Imagine clicking on a Facebook business page only to find out that they don't have ANY reviews.
What do you do?
I know that I'll click onto the next page and keep looking!
I'm not alone, either.
97% of online shoppers read reviews online, and 90% read reviews to decide if they want to buy the product or not!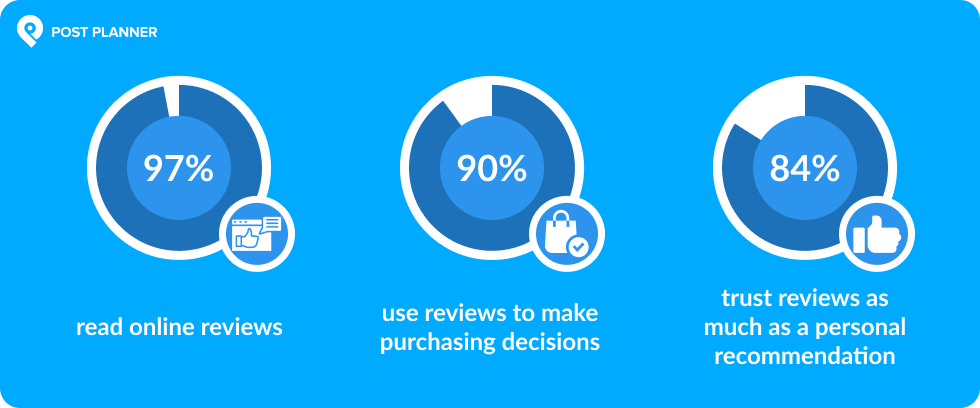 With that in mind, let's look at 3 of the main reasons why focusing on business reviews on Facebook is worth your time.
Reason #1: Get more testimonial
s
84% of online customers say they trust reviews as much as a personal recommendation from a friend.
That means getting more Facebook reviews is like generating a referral machine!
When people see that others have purchased your product and loved it, they feel confident purchasing from you.
Reviews can also act as a promotional tool for your business.
For example, you can incorporate positive reviews in your marketing material by using past customers' testimonials to generate new customers.
In other words, you NEED Facebook reviews to lend credibility to your business in the form of customer testimonials!
Reason #2: Grow your brand
The second aspect of online reviews?
They generate brand awareness!
When your customers leave a review of your business on your Facebook page, all their friends will be able to see the review they left.
So even if they don't click over to your page instantly, they're still more likely to recognize your brand in the future.
Over time, these reviews can create brand awareness that'll help you grow your customer base and reputation.
No business can survive without a positive brand reputation.
So don't overlook this detail of Facebook business reviews!
Reason #3: Attract new customers
When you start to generate customer testimonials and brand awareness, you'll start to see new customers flowing in.
Why's that?
We imagined a business with no Facebook reviews earlier.
Now, let's imagine another company with 15 positive Facebook reviews.
How much more likely would you be to buy something from this business than the one with no reviews?
In most cases, potential customers are EXTREMELY more likely to buy from a business with reviews than one without them.
Since nearly half of all online shoppers think the quantity of reviews is essential, the more reviews you have — the BETTER.
Why can't I get reviews on my Facebook page?
Most people think that the reviews will roll in as soon as their Facebook page is up and running.
WRONG!
Most people don't leave reviews!
They simply don't think about doing it.
Because of this, it can be tough to start getting reviews on Facebook.
That's why many Facebook business pages flounder with no reviews.
This section will go over our top 3 tips for getting more Facebook reviews than ever (then we'll show you some tools that'll speed up the process).
Your page isn't up to date
Is all the information on your Facebook page up to date?
If not, people might not even know that it's connected with your business.
Sometimes, I'll look up a local business on Facebook, but their page is several months or years out of date.
It makes me wonder if they even use that page anymore, so I look for information in other places.
NEVER let this situation happen to your business!
Your Facebook business page should always be entirely up to date, including:
Operating hours

Pictures

Location

Contact info

Menu/product offerings
The moment anything changes with your business, your first reaction should be to update your online profiles like Facebook to match the new info.
You aren't posting regularly
Nothing is worse than a dead Facebook business page.
How often have you stumbled upon a business page whose last post was from 6 months or a year ago?
It happens way more often than it should, and it leaves you with a BAD taste in your mouth about that business.
DON'T let your business fall into the same trap!
Instead, spend time learning about Facebook strategy:
Then, get on Facebook and DO IT!
Ensure your page is active so your customers know where to leave their reviews.
You aren't asking
Do you ask satisfied customers for reviews?
Not many people do, but they should.
Most customers satisfied with your service will be more than happy to leave a review, but they won't think about it unless you ask them.
To fix that problem, just ASK!
Many business owners feel like they're being pushy when asking for reviews.
But I've NEVER had a customer turn me down on this request.
On the contrary, everyone has been thrilled to help me out by leaving positive reviews!
How do you ask for a review on Facebook?
After wrapping up your business with a customer, send them a brief message asking them for a 5-star review.
For example:
"Hey _____, we loved getting to help you out with (whatever your product/service is).
If you have a minute, we'd appreciate it if you'd leave us a review on Facebook to let other people know about our service. If there's anything we can do better in the future, please contact me directly and let me know how I can help. Thanks so much!"
That's all there is to it!
You can even feel free to copy and paste that message (after making your edits) directly to your customers.
How do you respond to a negative review on Facebook?
What happens when the inevitable negative review pops up on your Facebook page?
We have 3 "don't" rules and 3 "do" rules. Let's look at the don'ts first.
DON'T accuse the customer of dishonesty.

DON'T be rude.

DON'T act like the review doesn't exist.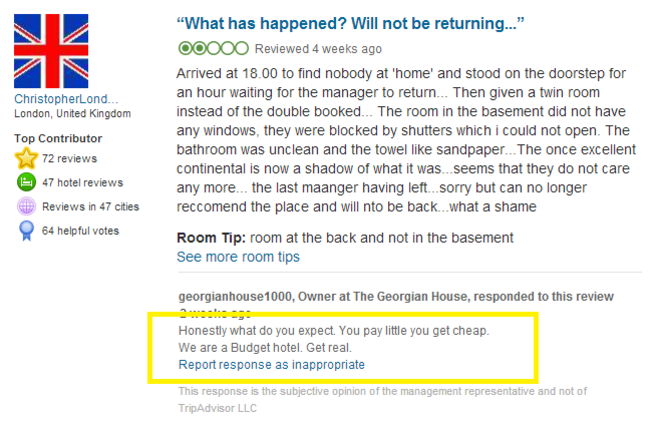 You can't ignore negative reviews, but you also can't stoop down to their level.
So, what should you do?
DO respond as quickly as you can.

DO be polite and courteous.

DO apologize and thank the customer for their criticism.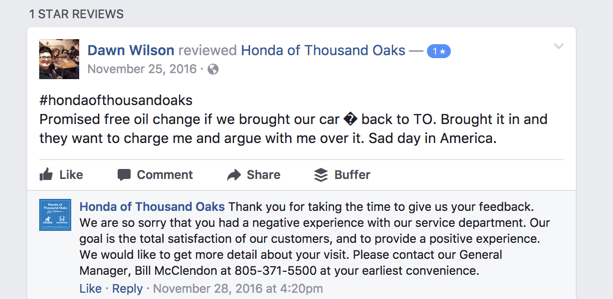 Negative reviews aren't actually a bad thing.
They give you the chance to show off how well you treat your customers (even when they're not kind to you).
Turn those negative reviews into positives by responding to them, addressing the complaint, and apologizing for the inconvenience.
Top 3 tools to get more Facebook business reviews
Now that you have a good idea about the theory behind Facebook reviews for your business, let's get more specific.
An online review tool can drastically improve your online presence by making getting and managing reviews easier.
Below, we'll compare our top 3 tools for getting more Facebook business reviews and show you how they might be able to help you.
Post Planner
Post Planner is our number 1 pick because they hit ALL of the needs of a review tool while keeping their interface simple and easy to use.
With Post Planner's review tool, you can:
Request reviews

Update your online profiles

Collect data about your online reputation

Track multiple business profiles in the same place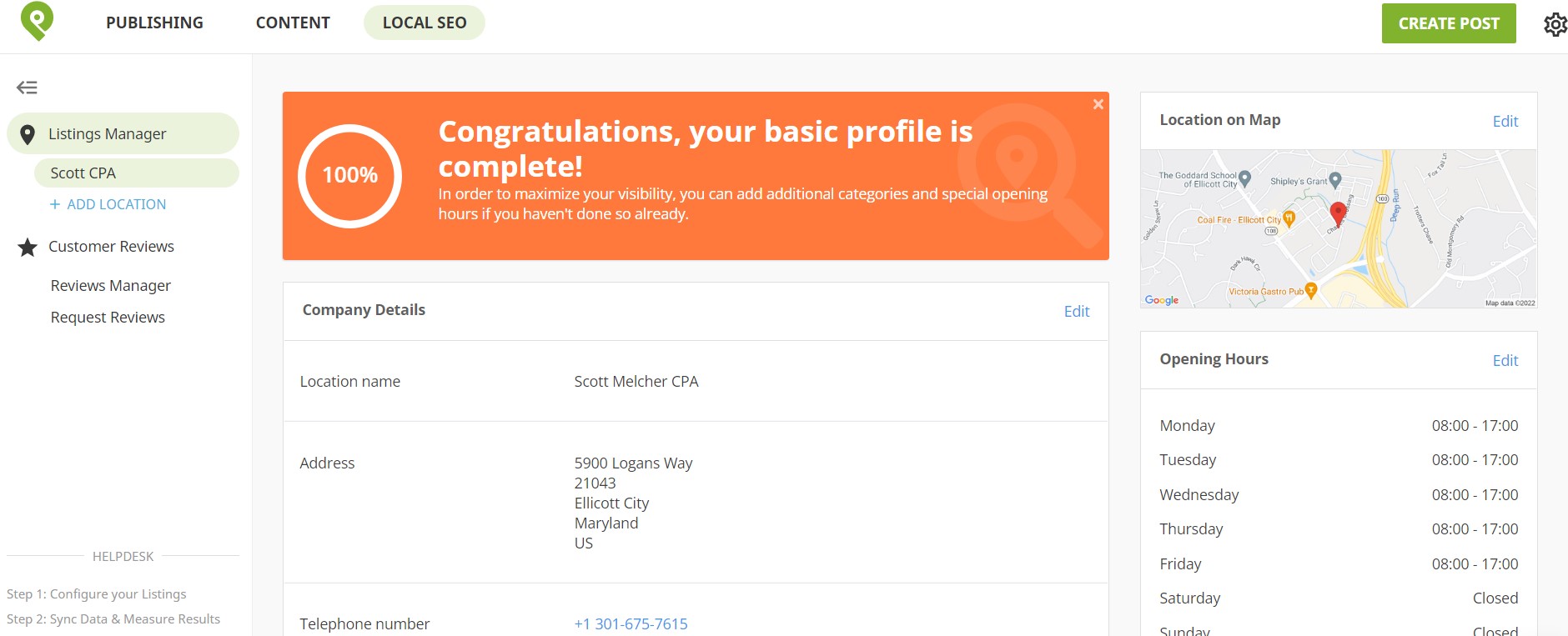 The Reviews Manager tool makes it easy to see critical data about your business's reviews.
Post Planner boils your reviews down to a "Satisfaction Score" that'll show you the general attitude toward your business online.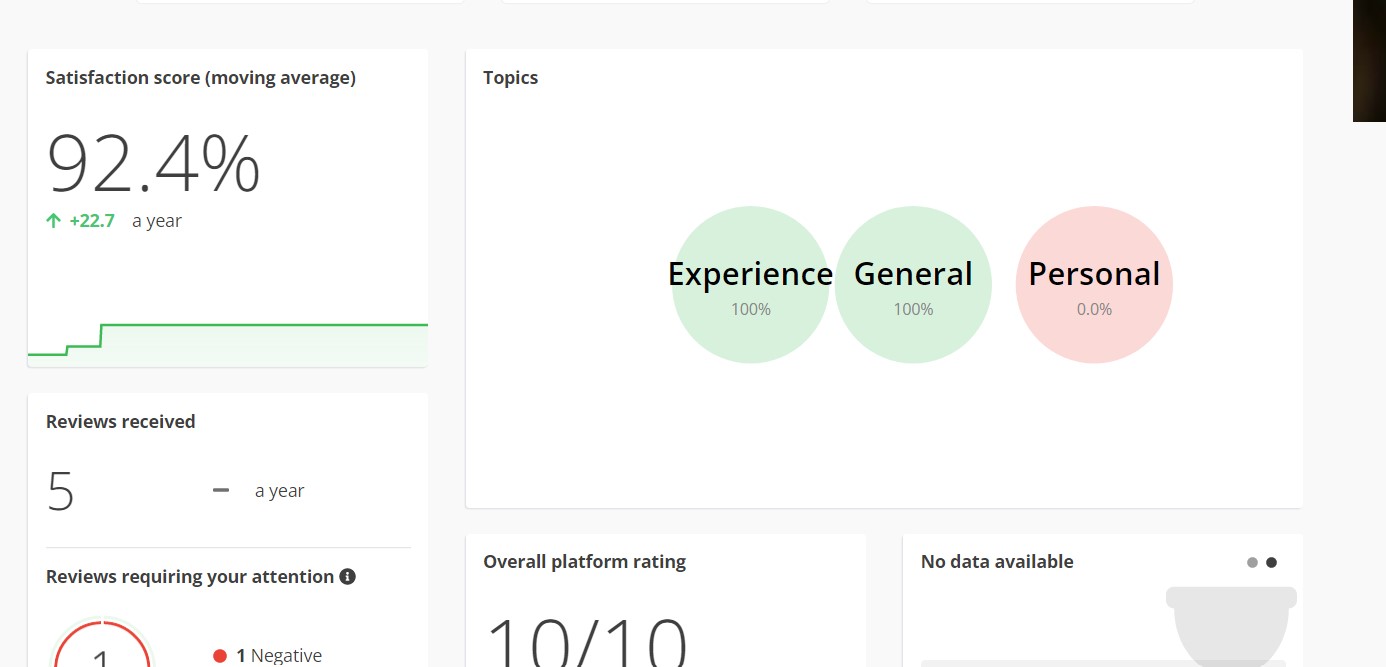 The "Request Reviews" tool simplifies collecting reviews from your recent customers. Just create a custom campaign to collect reviews quickly!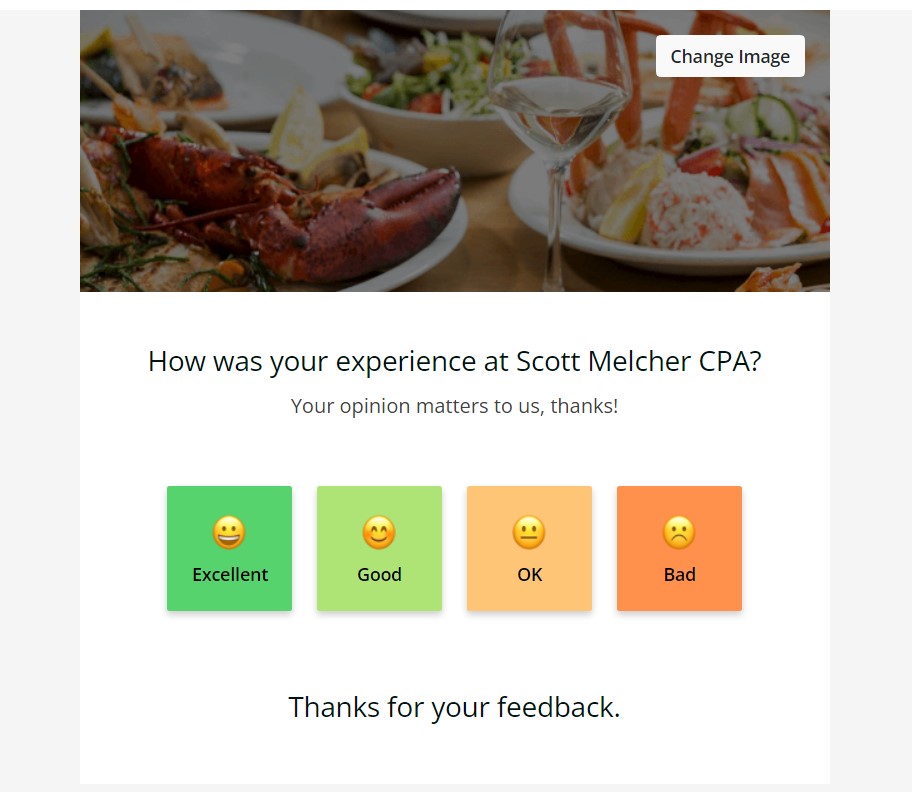 Post Planner offers a range of helpful tools while keeping the process simple, making it the perfect tool for small businesses or individuals.
Review
Trackers
Review Trackers is a customer acquisition tool, and a major part of customer acquisition has to do with online reviews.
With Review Trackers' Reputation Management tool, you can:
Manage online profiles in multiple directories (including Facebook)

Respond to reviews

Track overall opinions of your business

Request reviews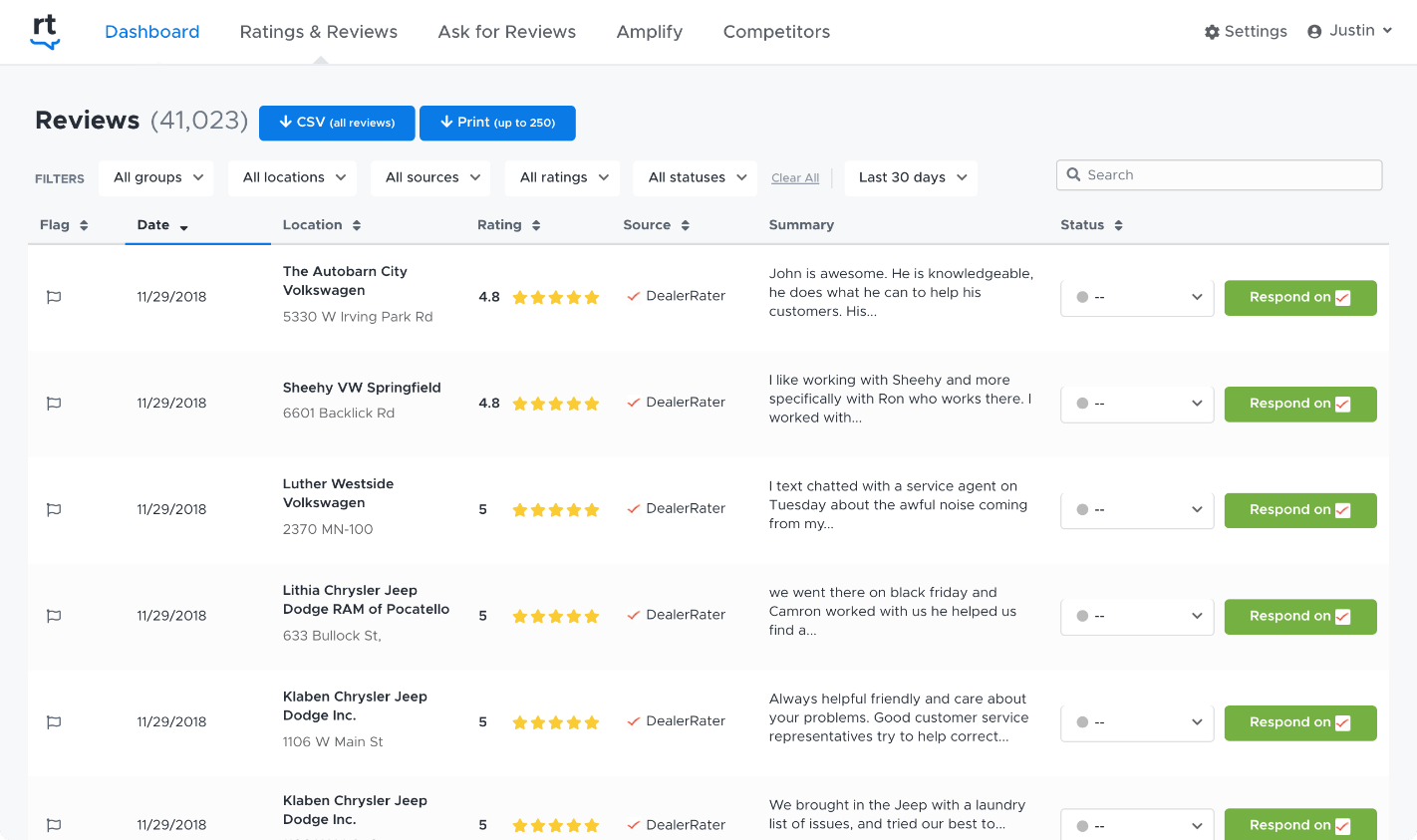 Review Trackers offer a way to keep up with your online reviews.
They also offer a range of other tools like competitor analysis, local SEO, and customer experience analytics.
There are many businesses that'll benefit from these extra tools, but many small businesses will not be able to use the full range of capabilities that the tool offers.
This tool is more suitable for larger businesses.
Capture
Review
Capture Review is designed to make it as easy as possible to get more reviews on your online profiles.
What we like about the tool is its simplicity and focus.
It's designed purely as a tool to reach out to recent customers to ask them for a positive review.
It even has a built-in negative review prevention tool.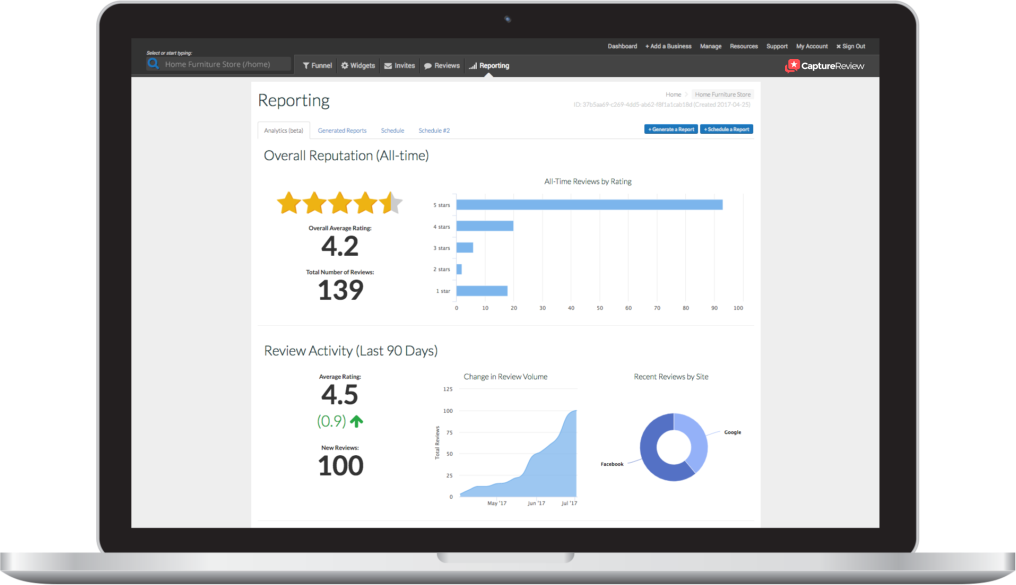 On the other hand, Capture Review doesn't offer any tools for keeping your online business profiles up to date.
If you choose to work with Capture Review, you may need to use a second tool to manage your online listings.
How to use Post Planner to get more Facebook reviews
Post Planner is the #1 review management tool for your business because it's focused while still offering a range of helpful tools.
But a tool is only as good as the person using it, so let's talk about how to use Post Planner's review tools.
We'll show you 2 key ways to use Post Planner to stay on top of your reviews and improve your reputation online.
Stay up-to-date on what people are saying about you
The Reviews Manager tool will be your go-to for understanding what people say about your business.
Click on "Local SEO" at the top of the dashboard.

Click on "Reviews Manager" under "Customer Reviews" on the left-side toolbar.
This tool will show you all the critical data points about your reviews:
How many reviews you're receiving

The overall rating your business receives

Topics/keywords mentioned in your reviews

A breakdown of your reviews on each online directory

A timeline of your recent customer satisfaction scores
You check this dashboard frequently!
One of the best ways to lose control of your online reputation is to forget to monitor it often.
Using the Reviews Manager tool will save you a ton of time while giving you access to data points you wouldn't get otherwise.
Respond to all new reviews (good and bad)
As you monitor your reviews with the Reviews Manager tool, you should also ensure that you're responding to ALL your new reviews.
When you get good reviews, thank your customers for the kind words and tell them how happy you were to get their business.
It can be tempting to respond to negative reviews with nasty comments, but you shouldn't do that.
Instead, thank the customer for their comments, apologize for the issues, and offer to make it right.
You can quickly respond to reviews on different platforms from Post Planner by clicking the "Reviews and Posts" tab in the Reviews Manager tool.
Then, click "Go to Review" to quickly jump to the review and respond to it.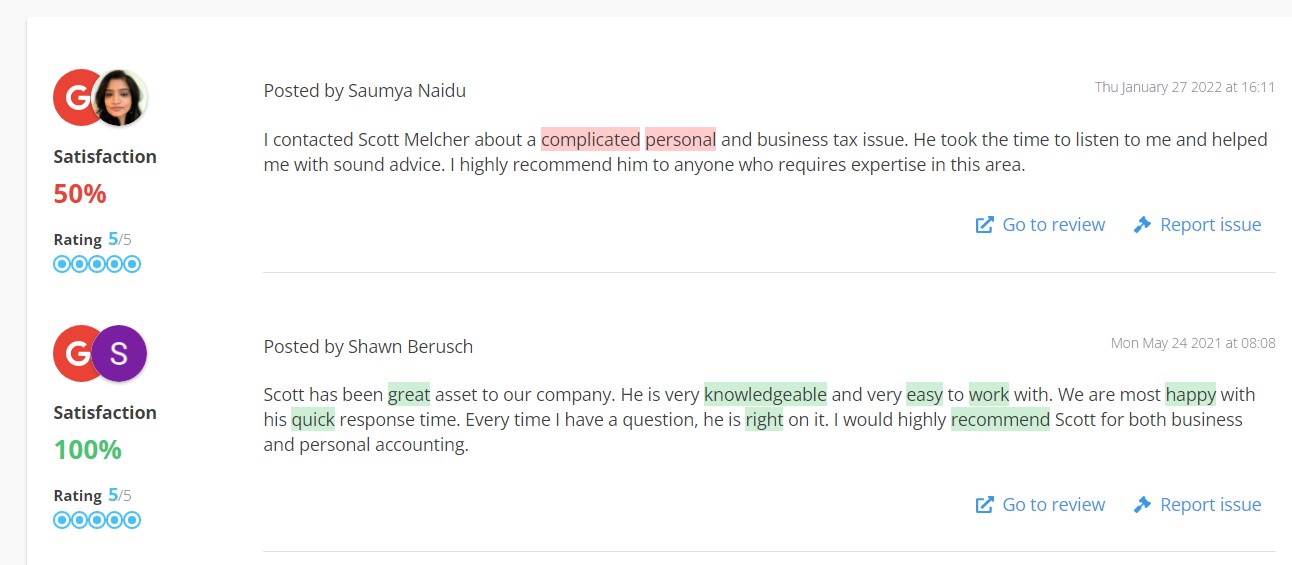 Conclusion
Facebook reviews are an essential part of your business's online reputation.
Unfortunately, many business owners don't pay much attention to managing their reviews.
Over time, their online profiles become outdated and filled with negative reviews.
By following the steps in this article, you can avoid this business crisis!
Using a review manager like Post Planner will ensure that your profiles stay up-to-date and attract new customers regularly!
If you still aren't sure if a Facebook review tool can help you out, try signing up for Post Planner and see how much it can add to your business.
Good luck!