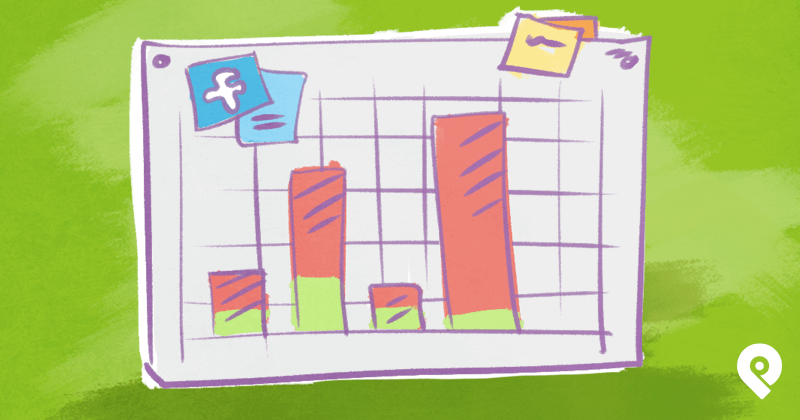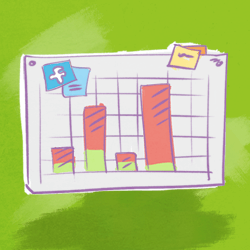 Any social media marketer knows the battle against Facebook's algorithm for reach and engagement has never been tougher.
Every 60 seconds on Facebook: 510 comments are posted, 293,000 statuses are updated, and 136,000 photos are uploaded.
Every hour, there are over 3 million links shared.
That's A LOT of competition for your fans' attention.
If you've tried everything to get seen in the news feed, but nothing works, I have good news.

You have a secret weapon right in front of you – and it's FREE!
What's this magical no-cost lifesaver you ask? Facebook Insights!

In order to grow your engagement, you need to know what tactics work, and which ones don't.
To do that, you need to know how to track and measure results.

And that's exactly why I'm sharing my top 5 favorite ways to use Facebook Insights to improve your social media marketing – and get the engagement you've been dreaming of!

Ready to dive into the data?!
How to Use Facebook Insights to Improve Your Social Media Marketing
How to Use Facebook Insights to Improve Your Social Media Marketing http://bit.ly/2doRUfE (by @MarketingLMC on @PostPlanner)

Click to Tweet
1. Use "Pages to Watch" to Monitor the Activity of Your Peers
My favorite part about Pages to Watch is that you see exactly what kind of content works both on your page and others similar to your brand.
This feature isn't just about keeping an eye on the competition – it provides an easy way to follow influencers you want to emulate and learn from.
You can find "Pages to Watch" directly under the "5 Most Recent Posts" section in your Facebook Insights.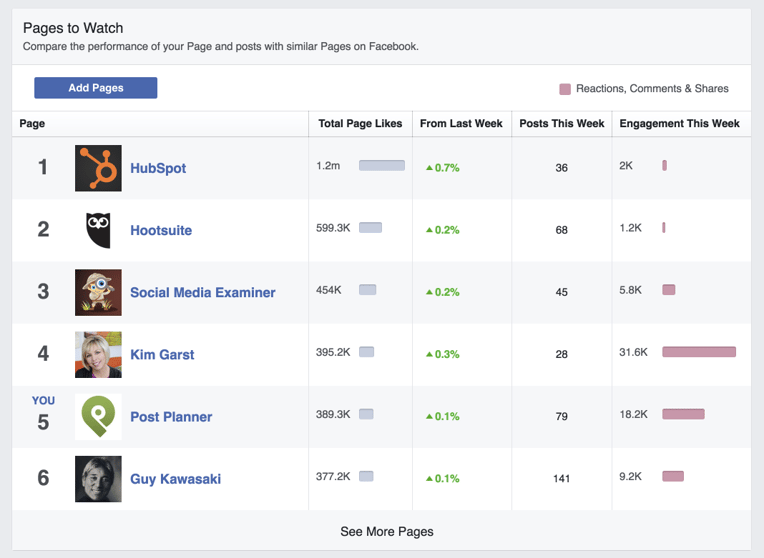 To add a page, simply type the name in the search box.
You don't even have to "like" a page to be able to add it to your list!
For each page you'll be able to see:
Their total page likes and the percent change from the previous week

How many times they've posted to Facebook this week

Their total weekly engagement
You can even click on the brand's name to drill down into all of their top posts for the week.
You can see what type of posts worked better than others, as well as trending topics or popularity of post lengths.

Get in the habit of checking this weekly and grabbing ideas to test on your own page.
Some key takeaways to note on other pages:
What time of day do they have the most success?
How often are they posting per day?
How interactive are they with their fans?
What is the tone of their messaging?
What does their content mix look like?
Not everything your peers are doing may work for your brand, but you'll likely find a few new ways to boost your engagement!
2. Monitor CTA Clicks to Urge Users to Take Action
Facebook's Call-to-Action (CTA) can link to anywhere you'd like to drive traffic.

Currenly Facebook provides 11 options you can use on your business page. They include:
Book Now
Call Now
Contact Us
Send Message
Use App
Play Game
Shop Now
Sign Up
Watch Video
Send Email
Learn More
A great example of using the CTA to urge fans to take action is social media pro Peg Fitzpatrick's page.
Her graphic ties in with the message, encouraging fans to "learn more" about her brand.

The CTA is one of the first things fans see when they come to you page - and you'd be crazy not to take advantage of that!
In fact, adding CTAs to your Facebook page can increase click-through rate by 285%!

Need another reason to make sure you're optimizing the CTA button?
Over the course of a three-week test, the Sign Up call-to-action button delivered a 2.5x higher conversion rate versus other comparable social placements aimed to drive new user acquisition.
— Brian Kim, Director of Acquisition, Dollar Shave Club
That conversion rate sounds pretty good to me!
So where can you find your stats?
Click on the "Action on Page" option from the left navigation inside Facebook Insights.
You can choose the time period you'd like to view (by week or by month) and then see how many people reacted to your CTA.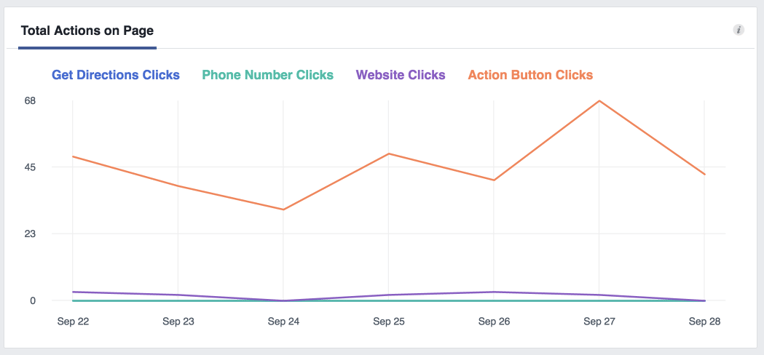 As with everything - test, test, test.

For example, here at Post Planner, we swap out our cover images and CTA button at least once per month.
We quickly learned that asking people to "use app" in our CTA wasn't as effective as "sign up" or "learn more" in exchange for an ebook or infographic.
The likely culprit?
The buyer's journey: Our Facebook fans are looking to learn more about social media marketing, not hop in an app they're not sure how to use yet.
3. See When Your Fans Are Online to Create Custom Posting Schedules
This is probably one of the most obvious tips.
Why waste your best content when there's no one there to see it?!
As you can see below, Post Planner's audience is on 24 hours a day - so our posting schedule reflects that.
We post 12 times per day and that does well for us.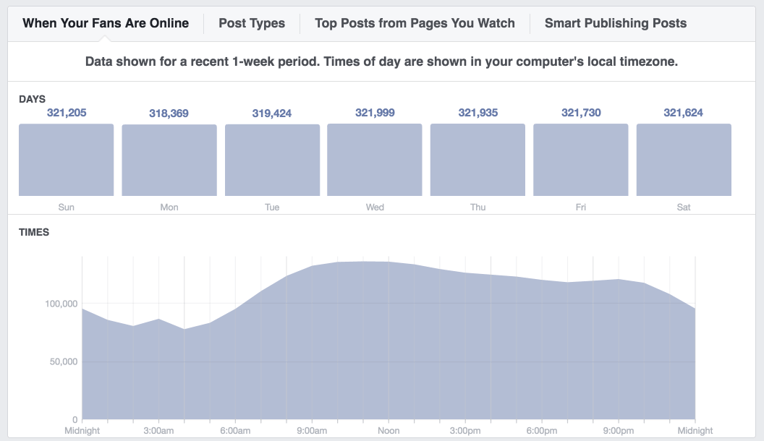 But not everyone's audience is International, so determining when to share your content is key.
To access this data in Facebook Insights, you'll want to click on "Posts" from the left navigation.

There you'll see when fans are most engaged, and also have the option to download a detailed report.
Shortstack, an awesome social campaign creation tool, shared a story with Adweek where adjusting their Facebook posting times was key to reversing their declining reach.
The company told Adweek: "Facebook's algorithm hit our Facebook reach. Hard. Our posts went from being seen by 2,000 to 3,000 people to just 200 to 300 people. Even worse, they were getting no engagement. Something had to change."

So they did a deep dive into the data and set out to find the best times for reach and best times for engagement.

As a result, the team was able to cut down the top 12 best times for engagement and reach to six different posting times.
And after making the necessary adjustments, Shortstack watched their engagement shoot back up, and moved on to tackle our very next point...
...testing the type of posts your fans engage with the most.
4. Track content performance to fine-tune your posting strategy
At this point, it's probably safe to say we all know the stats...
Content with relevant images gets 94% more views than content without relevant images.
46% of marketers say photography is critical to their current marketing and storytelling strategies.
Facebook posts with images see 2.3X more engagement than those without images.
While it's clear that images are HOT HOT HOT, they are only one part of a content posting strategy.

There's also link posts, text-only status updates, and videos.
The key is finding the right mix for your audience to keep them coming back for more.
Facebook Insights gives you a great way to see what's working at a glance.
You can access your post list through the "Overview" tab or through "Posts."

It appears in reverse chronological order.
You can filter reach by:
Reach (overall)
Reach: Organic/Paid
Impressions: Organic/Paid
Reach: Fans/Non-Fans
Post Clicks/Reactions, Comments & Shares
Reactions/Comments/Shares
Post Hides, Hides of All Posts, Reports of Spam, Unlikes of Page
Engagement Rate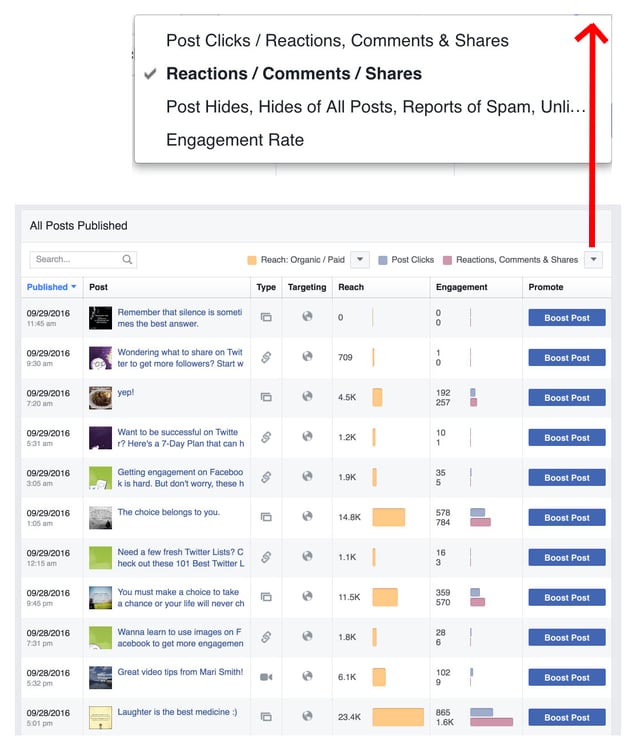 You can also view engagement by type of post, rather than looking at each individual post: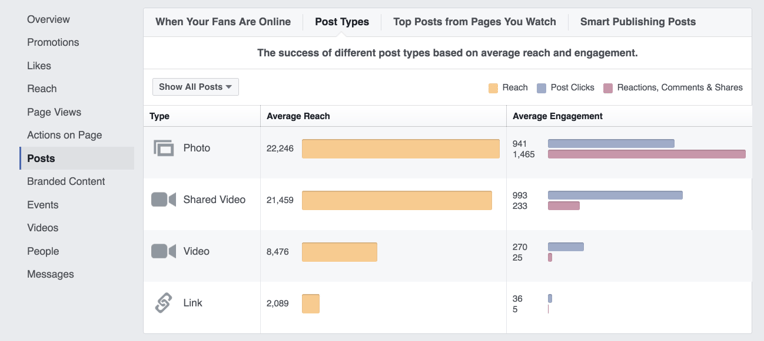 At Post Planner, our content posting strategy (which we used to grow our page by 193% in 1 year) is best explained through our CEO Josh Parkinson's fishing analogy.
Not familiar with it? Let me boil it down for you.
To improve social media engagement, you need to attract and catch the fish (your audience).
To kickass on social media and get your fans and followers interested, you're going to need 2 types of content - chum and baited hooks.
Your chum content is engaging visual content that gets a lot of engagement and clicks.
Each time someone engages with that chum content, Facebook is notified that the person wants to see more of your content -- and Facebook will start showing your content to more people.
Your baited hooks content links back to your blog, landing pages and/or website.
Examples of these would be your blog posts, infographics, ebooks, tutorials, videos, etc.
Those baited hooks are what turns people into customers, which drives your business forward!

So use Facebook Insights to see which chum and baited hooks your fans interact with the most - and do more of it!
5. Use Video Metrics to Determine the Best Ways to Encourage Engagement
Did you know that video posts receive 135% greater organic reach than photo posts?
That's a pretty powerful tool right at your fingertips.
But like everything else, it's important to look at the number of views, their duration, and completion rates of each video.
You can use this data to determine:
What your fans are looking for in video content
What you can create to keep them coming back for more
As you can see below. Post Planner's video reach over the past couple of weeks has been pretty varied.
Two are viral videos we shared from other pages, one is our own Facebook Live event, and the third is from Facebook expert Mari Smith.


This tells us a few things:
Keep those viral videos coming!
And we need to spice up our own lives events to attract more eyeballs.
By clicking on the video title, you can get even more detailed data which allows you to further tweak your video strategy.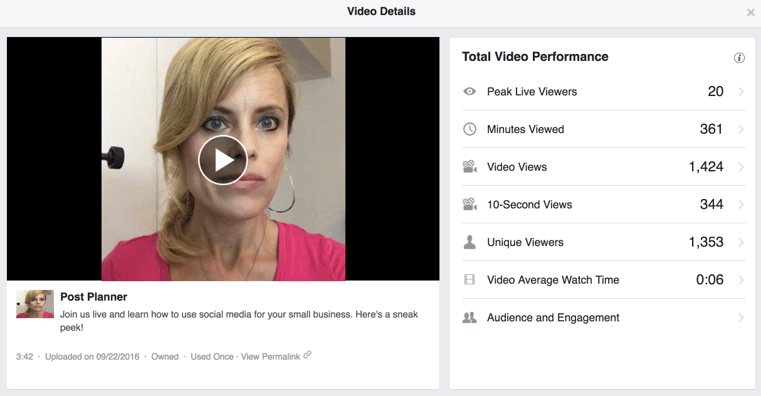 Final Thoughts
So, are you ready to ramp up engagement?!
With Facebook Insights, you're able to make data-informed decisions and continuously monitor the progress of your marketing strategy.
Now that you can get a clear picture of what works best for your page, you need to make sure you're checking Insights weekly and optimizing your posts.

I promise your fans will take notice - and start liking, commenting and sharing more than ever before.

And if you want to take an even closer look at your business page's data and don't mind investing some dollars, here's a great roundup of 6 powerful platforms you can choose from.
Did I miss your favorite Facebook Insights feature? Let me know in the comments!