What are the big trends for social media marketing in 2017?
Good question!
And luckily, a bunch of smart people have already provided answers. I found the top blog posts from the last 4 months about 2017 social media trends.
The authors of these posts are some of the top players in the social media space -- like Hootsuite CEO, Ryan Holmes. And our own CMO at Post Planner, Rebekah Radice.
I figured I would summarize 8 these articles here, so you can quickly learn the big trends and adjust your business accordingly.
Ok, let's get started.
Want to plan and schedule your social media content in advance? Here's your step-by-step guide!
Key Social Media Trends for 2017 (according to 7 Expert Articles)
Publisher: Linkedin
Publish date: December 2016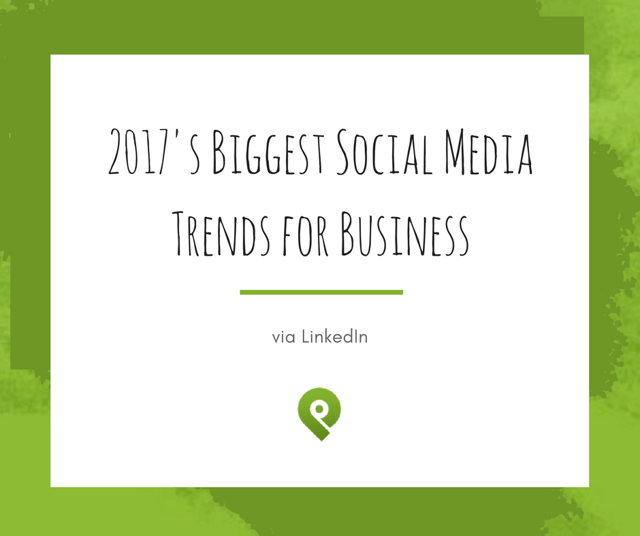 Here are the trends named:
Paid social media becomes the new normal
Summary:
More companies will be paying social networks to reach followers. News feeds are more competitive than ever because of the onslaught of content. The sure way to increase reach and target the right audience is to pay the social networks to do so.
Quote:
"All the networks have evolved their own native ads — promoted posts and updates that look just like the real thing. In 2017, it's time to start using them. The good news is that once the "sticker-shock" wears off, these ads are actually a smart investment."
Employee advocacy on social media takes off
Summary:
More companies will be leveraging their employees to spread their content. This could mean hundreds to thousand to tens of thousands of shares FOR FREE!
Quote:
"Advocacy can't be forced. Employees need to want to share company posts, and the content has to align with their own audiences. There's little point in staff blasting out B2B pitches on their personal Facebook profiles, for example. And the process of sharing has to be dead simple."
The social media skills gap at work gets worse
Summary:
More companies will fail at getting their staff trained to use social media properly. This year the costs of such failures will become more and more apparent.
Quote:
"This digital skills gap manifests itself in everything from missed opportunities to pursue sales leads via Twitter to embarrassing corporate gaffes on Facebook. This problem is only going to get worse in 2017, as employees are expected to use ever more channels in more diverse and sophisticated ways, though some hope is on the horizon."
Executives finally get on social media
Summary:
The 60% of company executives who are not active on social media will start to get active. Platforms will encourage this with special features for them.
Quote:
"In 2017, expect to see more executives take the plunge into legacy channels like Facebook, LinkedIn and Twitter, as well as fresher platforms, from Instagram to Snapchat. In many respects, it's no longer an option but a business necessity."
Social selling and customer service become expected
Summary:
More of the customer lifecycle will move to social media, from discovery of products to purchases to customer service. Chatbots will be part of this change.
Quote:
"AI-powered bots are already guiding customers through an array of tasks in a natural, conversational format, from ordering a pizza to booking flights or even managing finances. In the year ahead, the rise of the bots promises companies a way to quickly scale social selling and customer service efforts, offering users the equivalent of 1:1 service, without necessarily requiring additional employees."
Publisher: Linkedin
Publish date: February 2017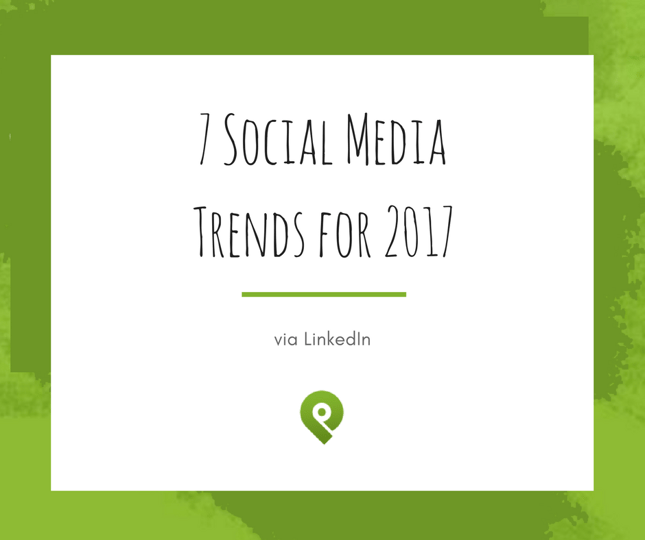 Here are the trends named:
Social Messaging and the Growth of Dark Social
Summary:
People are sharing ever more content via private messaging apps (text message, Whatsapp, FB Messenger, etc.). This sharing via "Dark social" will continue to increase -- and continue to present challenges to companies in measuring its impact.
Quote:
"Almost 70% of online shares are taking place within "dark social" mobile messaging. Dark social is difficult to measure because the tools don't yet exist."
Live Video Streaming
Summary:
The big social media players, especially Facebook and YouTube (Google) will continue to promote and enhance live video offerings.
Quote:
"With the priority Facebook is giving to video, along with reduced organic reach, you need to be experimenting with live video in 2017."
Using Video to Gain Share of Voice
Summary:
More and bigger brands will devote more resources to creating and promoting video on social media.
Quote:
"Facebook is rapidly becoming full of video content. The simple reason is that people watch the content. For most brands, just 10% of their budget is allocated to creating video content, 90% to boosting content through ads. To gain the majority share of voice in 2017, brands will need to focus 90% on creating unique and useful video content and 10% on ads."
Paid Social Advertising
Summary:
Companies will need to spend ever more money on ads to reach their target audience on social.
Quote:
"The algorithm changes brought about by the social networks mean that organic reach is greatly reduced, in Facebook's case from 15% to 2%. Brands have two choices: spend more on ads, or have a true understanding of the content your audience wants and provide it to them. Even then, you need to think about how you can maximize sharing, and engage influencers to increase reach."
Plan for Mobile
Summary:
Mobile will continue to dominate desktop and companies will need to put mobile first!
Quote:
"Mobile traffic has overtaken desktop on the web this year. Google is also now working on a new, mobile-first web index. These changes mean that it is more important than ever to make the mobile experience as great as possible."
Co-collaboration with Super Fans, Influencers and Brands
Summary:
More companies will see success on social media by collaborating with their followers.
Quote:
"In 2017, collaborating with others should become an important part of your overall content strategy. Collaboration is the fastest way to grow your fan base and attract new audiences. Focus on finding ways to co-create content together."
Artificial Intelligence and Chatbots
Summary:
AI-powered virtual assistants and chatbots will become more prevalent and important to the interface between companies and customers.
Quote:
"Chatbots will have profound effects on how customers interact with brands on social. They will deliver human-like conversational interactive experiences and provide capable customer support. Linking a purposeful chatbot to website content will mean consumers can ask and pull information more quickly/deeply than visiting a product landing page."
Publisher: ClaytonJohnson.com
Publish date: February 2017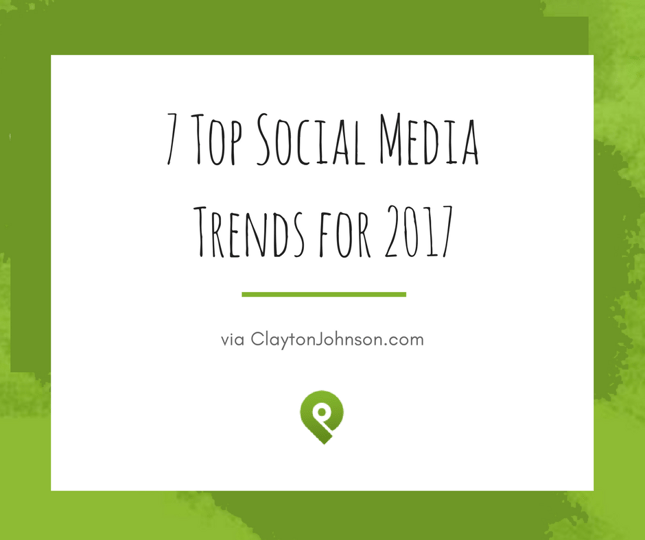 Here are the trends named:
Platforms Blend Together
Summary:
As they compete with each other, social networks will become more and more like each other, offering most of the same features.
Quote:
"The blending of features and standardization of platforms is sure to continue throughout 2017. Facebook is already set to incorporate trending stories (á la Twitter) and YouTube's already set to allow users to share text/image content (á la Facebook)."
Importance of Social Messaging
Summary:
Usage of messaging apps will continue to outpace usage of the social platforms (private sharing will dominate public sharing).
Quote:
"The popularity of social messaging apps means a lot more attention is being placed on marketing towards their audiences. In 2017, you'll see more companies trying to incorporate these apps into their overall social media marketing plan. Brands of all sizes will likely start using these messaging apps for client support and e-commerce applications."
Growth of Live Streaming Video
Summary:
The ease of click-button live video will make it ever more common and useful to marketers.
Quote:
"Video has long been considered "the future of content marketing." And the increase in live streaming features on social platforms makes incorporating video into your overall marketing strategy all the easier and more powerful."
Chatbots Become a Staple
Summary:
Chatbots will become better and better at simple tasks and start to get good at more complicated tasks, making them essential for marketers.
Quote:
"In addition to providing 24/7 customer support, chatbots free up human customer support representatives to desk with in-depth questions and requests without worrying about simple queries."
New Uses of Virtual/Augmented Reality
Summary:
VR/AR will get more powerful but won't be useful to the SMBs in 2017.
Quote:
"Facebook, HTC, and Google are all investing heavily, so there will be major advances in VR and AR for social media in 2017. Of course, they probably aren't technologies small business owners can invest in, but you should still keep a close eye on how the top brands adopt them as part of their social media marketing efforts."
Optimize for Mobile
Summary:
Mobile first. Mobile first. Mobile first. And desktop second.
Quote:
"In 2016, mobile traffic overtook desktop traffic for the first time ever. What this means is that you absolutely need a mobile-friendly website. If your site isn't optimized for mobile, a huge percentage of your potential audience is going to look for similar services elsewhere."
Selling on Social
Summary:
Social media will continue to increase its importance in driving sales -- and this effect will become more measurable in 2017.
Quote:
"More people than ever before want to buy products/services through social media platforms. It's a smart idea to look into this for your small business. Facebook is already offering new features that allow brands to sell directly through their social network. Other social platforms are sure to follow."
Publisher: Forbes Magazine
Publish date: January 2017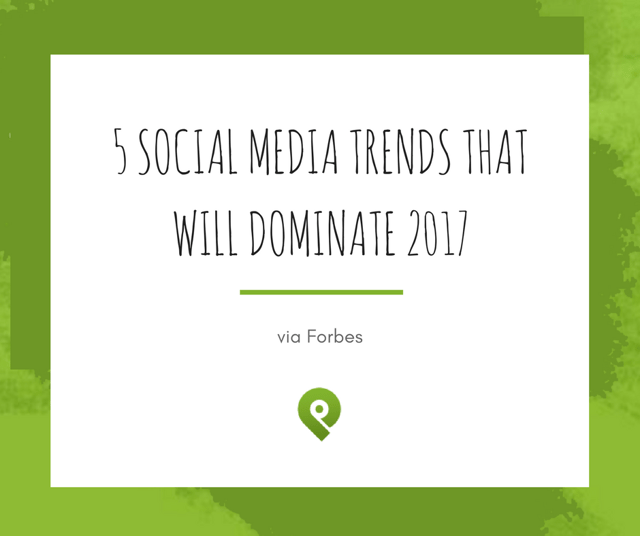 Here are the trends named:
Social messaging
Summary:
People share more on messaging apps (than social networks), and millennials share the most on them. Businesses simply HAVE to have a marketing strategy for social messaging.
Quote:
"Over-the-top (OTT) messaging and SMS messaging are millennials' preferred form of communication. 62% of millennials are more loyal to brands that engage them via those channels and an estimated 2 billion users will be messaging through OTT apps by 2018. Why? Millennials want the personal touch, transparency and collaboration that the one-on-one communication allows."
The fight against fake news
Summary:
Social Networks will get better at (and be forced to get better at) dealing with the fake news phenomenon that they have given rise to.
Quote:
"Facebook is already taking steps to curb fake news appearing on the site. These "news outlets" are no longer allowed to advertise on the platform. But the fight against fake news isn't likely to stop there. Germany is already considering legislation to fine social media sites that let fake news proliferate. That's bound to catch the attention of all the major platforms."
Authentic content (a.k.a. live video)
Summary:
The real, unfiltered nature of live video will make it ever more compelling to audiences and ever more enticing to the social networks.
Quote:
"Social videos have much more engagement than any other content format, and have been responsible for a lot of growth on Facebook. Even news sources are citing Facebook Live videos when covering major events. The world of media is changing thanks to live video."
Augmented reality
Summary:
The advances exemplified by Snapchat selfie augmentations and Pokemon Go will become more common and useful to companies and their customers.
Quote:
"Just like live video, augmented reality create new opportunities for brands to connect with their audience by sharing experiences, rather than just information, on social media. Almost 75% of millennials are interested in virtual reality, and 2017 may just be the year they blow up the idea of self insertion into media."
Chatbots
Summary:
Chatbots will become more useful to businesses and start to creep into marketing strategies and budgets.
Quote:
"Chatbots already have the intelligence and ability to help people consume content, answer questions, and complete transaction. Many people already prefer social media over a phone call for customer support. Millennials want self-service via tech as it's fast, efficient, and brief. Soon, brands might not bother having a website at all, and conduct all their customer relations through social media."
Publisher: RebekahRadice.com
Publish date: December 2016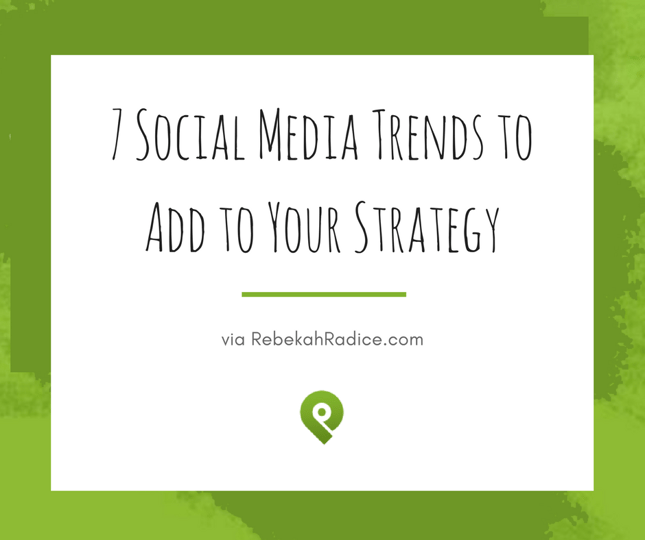 Here are the trends named:
Omni-Channel Marketing
Summary:
Companies will attempt to make their customer experience seamless across all platforms, online and off.
Quote:
"From online to offline, one device to the next, omni-channel is fluid. Whether shopping online, in store, on social media, a tablet, phone, or desktop, each customer touchpoint and platform is blended together perfectly. And the good news? It's easier to implement than you might think."
Live Streaming Video
Summary:
Live video will become more universally adopted by marketing teams and begin to transform our social fabric.
Quote:
"Many companies are adding video to their marketing campaigns because it offers a relational perspective into the company and helps explain concepts in a simpler way than words or pictures."
Short Form (Expiring) Content
Summary:
More companies will see the value of creating relevant ephemeral content for "stories" on Facebook, Instagram, Snapchat and the like.
Quote:
"With the release of Snapchat clone feature Instagram Stories [and now Facebook stories], live expiring content has become bigger than ever. The fact that content disappears after 24 hours means it's ultra-relevant, boasting a low production cost as viewers expect an "in the moment" experience."
Relationship Marketing
Summary:
2017 will be the year when businesses return to true community building based on real relationships.
Quote:
"Relationship marketing appeals to the emotions of your customers. If they associate your brand with value and positive life moments, they will continue to purchase from you. Coca-Cola is genius at relationship marketing. They've been selling the same basic product for years and yet are the most recognized brand in the world. How? They link their soda and people with happiness."
Quality Reigns Supreme
Summary:
It will be harder than ever in 2017 to fake quality content. People expect high quality more than ever today.
Quote:
"We're saturated with messages from all sides, so for your brand to stand out, you've got to pull away and offer a unique, fresh approach to the solution your company offers. Create a customized experience that speaks directly to your audience. How? Finish the sentence: "Only we ____." Once you identify how your company stands out, you can also identify what will make your company successful, and why."
24/7 Intelligent Customer Service
Summary:
More and more customers will expect instant, friendly, helpful customer service in 2017.
Quote:
"Gone are the days of waiting on hold for a customer service representative who doesn't know how to fix your problem. Today, an unhappy customer can effectively shout from the rooftops about their bad experience as easily as posting a tweet. That means no company, including yours, can afford to overlook intelligent customer service."
Empathy as an Artform
Summary:
Marketers who empathize with their customers will win.
Quote:
"Companies that take empathy from an idea to an artform will not only survive, but thrive. And the statistics prove it. The top 10 companies in the Global Empathy Index 2015 increased in value more than twice as much as the bottom 10 and generated 50% more earnings. Average earnings among the top 10 were up 6% in 2016, while the average earnings of the bottom 10 dropped 9%."
Publisher: Social Media Today
Publish date: January 2017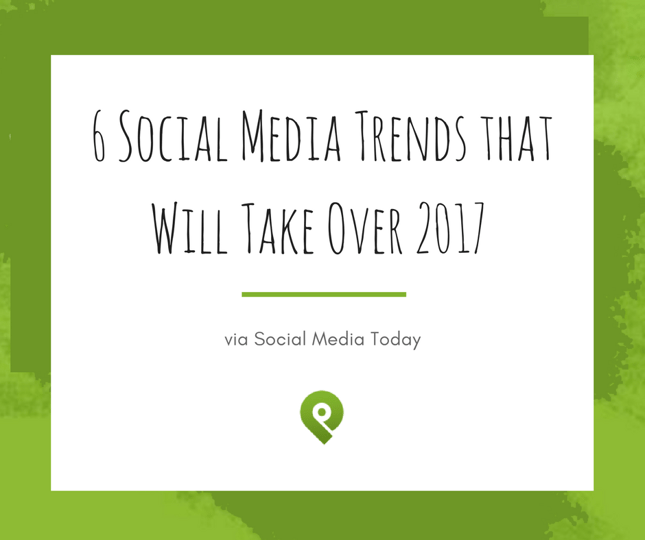 Here are the trends named:
AI lenses for Facebook and Instagram
Summary:
Facebook/Instagram will follow in Snapchat's footsteps with compelling AI Lense offerings.
Quote:
"The growth of Instagram Stories means a major social media trend could be AI lenses across all networks."
More Customer Service Chatbots
Summary:
Automation in customer service via chatbots will become an economic no-brainer for many businesses.
Quote:
"The rise of social customer service means more businesses will look to automate simple requests from customers"
Paid Content Continues to Reign
Summary:
Quote:
"Social media algorithms make it harder for brands to get ads in front of users. Focusing on quality and engaging content still holds merit, but paid continues to flourish."
Priority on Business Features and Analytics
Summary:
Businesses will focus more and more on social metrics and the opportunities they offer.
Quote:
With networks prioritizing business needs, most brands are beginning to understand the value of social media analytics. Expect even more focus on native platform business tools."
Move Away from Automation
Summary:
Rote automation will be replaced by smart automation that increasingly looks like SM management.
Quote:
Social media automation is more likely than ever to simply turn into social media management. Automation feels robotic, while consumers want real, humanistic interactions.
Social Shopping and Instant Purchases
Summary:
More sales will start to take place directly on social sites, offering massive opportunities to businesses.
Quote:
Social commerce isn't slowing down and more networks are providing brands with easier ways to sell to customers. Instant purchases are available on Instagram, but social media trends point to faster sales across the board."
Publisher: Forbes Magazine
Publish date: February 2017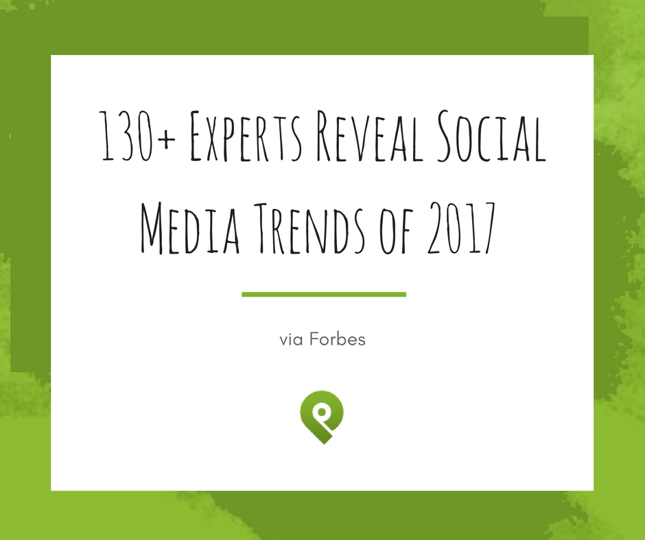 Here are the top 5 trends named:
Live Streaming
Summary:
Live streaming via live video will become mandatory for any marketer with his/her salt.
Quotes:
Kathryn Aragon: "Facebook Live is a game changer. We already knew videos are the rock stars of social media, but live video is certainly going to take over. It makes video accessible even to small and solopreneur businesses with small budgets."
John Paul Aguiar: "2017 will be the year we all go LIVE. Live video will be used more and more. For me video doesn't have to go viral to be helpful, I believe we will see more people using video more frequently, used in the same way you would a blog post, share information, be helpful, get watchers to take action."
Mandy McEwen: "We expect to see live video become even more popular in 2017 and becoming a 'necessity' in the coming years. The best marketers use real-time content to increase their mobile and social media email opt-ins to keep building their contact lists across channels."
Advertising and Pay-to-Play
Summary:
Social ads management skills will become a basic requirement for most social media managers as pay-to-play on social media becomes the default.
Quote:
Helvijs Smoteks: "WhatsApp will start offering ways for companies to advertise. Instagram will keep polishing its business tool and become very attractive advertising platform. Facebook will keep testing new advertising options as the ad revenue is starting to plateau."
Lisa Sicard: "Social media will be more personal and targeted. I believe the social media networks will do this to provide better advertising platforms for their advertisers to target consumers more precisely. It will become a more Pay to Play scenario.
Greg Nunan: "More advertising options for brands – With pressure to turn user bases into revenue, social media platforms will continue to provide new and innovative ways for brands to engage with users. More advertising options, along with competition for ad revenue, is good news for brands."
Influencer Marketing
Summary:
Influencers and their relationships with their audiences will become one of the most enticing things to businesses in 2017.
Quote:
Ron Sela: "Influencer marketing is right on trend in 2017, as it rightfully should be. The ideal win/win situation is more achievable through influencer marketing than ever before. In a social media driven market, it is very simple to contact an influential person, or several, with followers in your target market. Followers know their influencers. Therefore, generic and scripted promotions of your service or product can sometimes backfire."
Evan Carmichael: "Influencer marketing is still underpriced and a great way to connect with audiences More brands will add influencer marketing to their strategy in 2017, driving up the cost of programs Successful brands will have to navigate the willingness to give up creative control of content to allow the influencer campaigns to bring the best ROI"
Elise Williams: "Paid social media influencer usage will grow significantly in 2017. 2016 saw a good boost but we'll see it accelerate. Social media influencers are realizing how much money they can make by promoting other sites and products to their communities. They will further monetize their followings but users will start to notice. Some social media influencers will cross the line and monetize too much and their following engagement will drop."
Artificial Intelligence
Summary:
AI powered chatbots and other technology will bring massive changes to our understanding of how marketing works.
Quote:
Joe Williams: "2017 will be the year artificial intelligence takes off and becomes mainstream in social media marketing. Customer service bots will become more common and more useful. Facebook and Instagram will piggyback on Snapchat's facial filters which uses artificial intelligence."
Tim Hughes: "The most significant trend to impact Marketing in 2017 will be artificial intelligence (AI). As an Amazon Echo user, I no longer need to go to my local supermarket or purchase grocery items from the internet, I just ask Alexia for them."
Casandra Campbell: "We're going to see a lot of movement with artificial intelligence. Bots are already being used regularly on channels like Messenger, Instagram, and Twitter, but as they continue to improve they will start to play a bigger role on other social channels as well. When customer service and other more utilitarian parts of social media are being handled by AI, it will free up more time for social media marketers to focus on creative campaigns and higher quality native content.
Customer Personalization
Summary:
Content and the news feeds content is delivered in will become ever more personalized in 2017.
Quote:
John Rampton: "Another social media marketing trend in 2017 will be enhanced personalization through the increased use of machine learning and artificial intelligence like we have seen with chatbots and personalized content (paid and organic)."
Tom Gorski: "Personalization will rule 2017. People are tired of the amount of content which appears in social media, especially on their newsfeeds. What's even more frustrating is that majority of the content which can be found in newsfeeds is irrelevant. Changes in algorithms of most popular social media suggests that personalization of content will be of utmost importance in years to come."
Roundup of Social Media Trends
Your head is probably spinning with social media trends at this point. I think it's time to summarize the most popular predictions.
They come down to these 6
Rise of paid social and social ads
Rise of messaging apps
Rise of AI-powered chatbots
Rise of video and especially LIVE video
Rise of social commerce
Rise of influencer marketing
But now I'll turn it over to you. Do these social media trends ring true to you right now?
And are there any we missed? Please add them to the comments below!