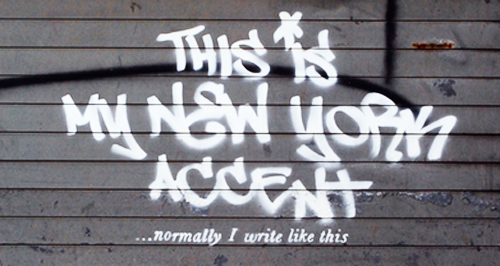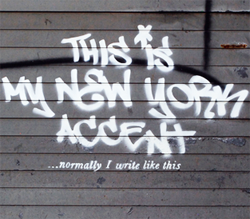 What does a content strategist at Facebook say when asked about content strategy on Facebook?
3 things:
Know your Voice!
Know your Voice!
Know your Voice!
Knowing your company's voice is what Facebook's Margot Merrill emphasized most in a recent presentation in San Francisco.

I was lucky enough to attend the presentation -- and in this blog post I'm going to summarize her main points, along with a few tips she offered afterward.
Does Your Facebook Content Strategy Begin With THIS Crucial 1st Step?
You probably realize now that the "crucial 1st step" here is knowing your company's voice.
But how exactly do you do that?
How do you know your company's voice if you've never even thought of it before? Where do you begin?
It's actually not as difficult as it sounds. Here are a 4 ways to get started:
1. Identify your 'Always' and 'Nevers'
Try filling in these blanks for your company:
Our company's voice is always __________ and never __________.
See if you can list 5-8 words for each blank.
"A simple checklist of always & nevers really helps you stay on voice," Merrill explained. "These are things your voice as a company always needs to be & never should be -- and it's no more complicated than that."
Merrill engaged in this exercise while a content strategist at Hot Studio – a design firm recently acquired by Facebook.
Here are a few "always" and "nevers" Merrill helped identify for Hot Studio:
Always respectful, never snarky
Always inclusive, never know-it-all
Always genuine, never slick
You can also try thinking of your company's voice as a character in a book -- and then get into that character when posting.
"The voice of a character in a book (like the voice of who you are) is something consistent -- it remains the same. So you might be in a bad mood one day, but you're still the same person."
Same thing with your company's voice.
"You might speak differently to different audiences, but you're still the same person," Merrill said.
"Whether you're an optimist or a pessimist, or you want to be a creative thinker, or you're very structured in how you talk & think -- these are things that are consistent."
So before you can deliver effective messaging in social media, blogging & other online arenas, you need to understand what is consistent about your brand -- "what always has to be true" as Merrill puts it.
2. Identify your Top 3 Attributes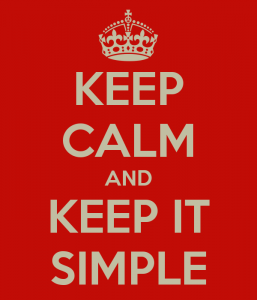 Defining your brand attributes is key to cementing a powerful, genuine, original voice that resonates in your community.
This isn't rocket science. So keep it simple!
"Brand attributes are a list of words that are what your brand always has to express -- no matter where it's experienced," Merrill explained.
"If you don't have that, every piece of content you create will need to be reviewed on its own" -- which is neither scalable nor fun.
Your company's voice & personality will emerge as you use your brand attributes & list of always & nevers to guide the creation of your content.
For well-established companies that have already produced a lot of content, Merrill said those firms should turn to their existing material to identify personality characteristics.
Newer companies are free to create their voice & personality from scratch.
Merrill uses PayPal as an example when discussing how to define brand attributes:
Simple
Safe
Secure
The company uses these 3 concepts to define its brand.
"Are there 3 main things that your company is trying to say to people?" Merrill asked.
If you can't think of anything, try to define the 3 most important things you'd like to communicate to customers -- your 3-part value-proposition.
3. Identify your Target Audience
You need to identify & understand your target audience so you can choose the most salient brand attributes to emphasize.
"Try to understand what people's needs are. What are their pain points?" Merrill said. "Who are these people & what do they want?"
Consider 4 questions when trying to understand your audience:
What do they want?
What do they need?
What are their questions?
What are their concerns?
4. Change your Tone to match your Audience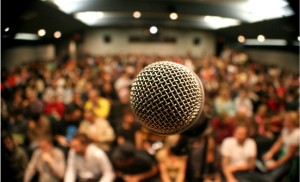 What is the difference between voice & tone?
Simple: your voice doesn't change. Your tone does.
The voice of your company is constant. And every piece of content you create -- whether a blog post, tweet, ebook or Facebook status update – should reflect that voice.
The tone of your voice, on the other hand, should change in different situations & for different audiences.
For example, tone can depend on:
Who you are talking to (audience)
What you are talking about
The context & timing of the conversation
"Adjust tone depending on the audience," Merrill explained. "This is something we all naturally do as people -- and as writers."
Elements of tone include:
your style of enunciation
your choice of words
length of sentences
Remember, your tone changes to suit the audience you're trying to reach.
"The tone thing also makes you more human -- the tone thing makes you not feel like a robot," Merrill said.
How do I rise above all the noise?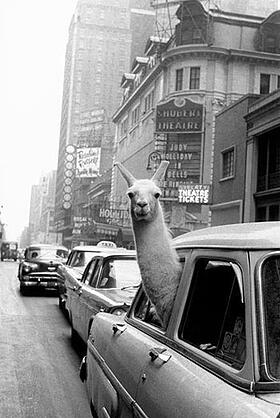 Once you've established your voice, how do you rise above all the internet noise so your customers actually hear what you say?
"Back in the day, a company would have an idea for a brochure. They would hire somebody to write it & grab images from somewhere & hire a designer, and it all came together," Merrill said.
But everything has changed since then.
"Now we're in a world where just the sheer volume of content that is produced is astronomical," Merrill said. "The numbers are truly staggering."
There are "a trillion" web pages, she exclaimed.
"We can't control it anymore & the old model for marketing is about control," Merrill said.
So it's out of date.
With so much online content & so many channels to distribute the content, creating entertaining, engaging, shareable stuff that stands out is getting ever more difficult.
Facebook's the spot!
Though the Facebook news feed is getting more crowded by the day, Facebook is still a great place to reach a targeted audience and set yourself apart from the competition.
Hosting a Facebook contest is one of the best ways to get the attention of existing fans while recruiting new Likes for your page. And there is no shortage of Facebook contest ideas.
Just make sure yours is built to stimulate as much fan response as possible.

"If you want to run a contest, do something specific -- like ask fans to show you a picture of your messiest closet if you're a home organizer, and then reward them with something," Merrill suggests.
But don't be surprised if Facebook contests don't work for your business.
Every business is different -- and each must test different Facebook marketing techniques to see which work best for their business.
I've defined my Voice, now what should I post?
On this blog, we're always recommending questions & fill-in-the-blank posts -- because they work so well for fan engagement.
But you'll need to experiment to identify the best post types for your particular fan base.
I asked Merrill for some Facebook posting tips, and she had this advice for aspiring Facebook pros:
Make your posts visual
Marry nice, audience-specific language with images. And make them look beautiful.
Think about your own news feed & what attracts you
The most exciting thing about Facebook is realizing that you're creating content that will appear in somebody else's news feed.
Add photos
Bring things to life! Post pictures of employees, pictures of the recent things you've made, pictures of the work environment.
Be strategic when you post
Hopefully you've asked the right questions about what you're trying to communicate & what people want. Before you go post stuff, figure out what your fans want/need, what you're trying to say, and what makes you different.
Done is better than perfect
People want to be perfect, but you have to experiment a bit to find out what works. I want to lower people's fear about it. We're all human -- and that's kind of the joy of it.
It's all about authenticity & transparency
If somebody asks you a question & you don't know the answer, just tell them! Say you don't know the answer & are looking into it. Then follow up with them.
Encourage more engagement by figuring out what people want & need
I've seen too many pages just ask 'how are you today?' and expect a big response. That's just not going to provoke me to answer. Ask questions that are useful to both the audience & you.
Be yourself
The most important thing is to be yourself & generally want to connect with people.
It doesn't all have to come from you
Share content & articles that are related to your industry -- do it as a service to the people that are following you. But make sure the content is useful & relevant.
Respond to & start conversations with your fans
If you don't really want to connect, maybe Facebook is not the right medium for your business.
Your turn now...
What do you think? Are these tips helpful?
With Facebook, content marketing strategies are always evolving.
What have you done to establish a voice for your business? How do you make sure that voice is conveyed in the material you publish online?