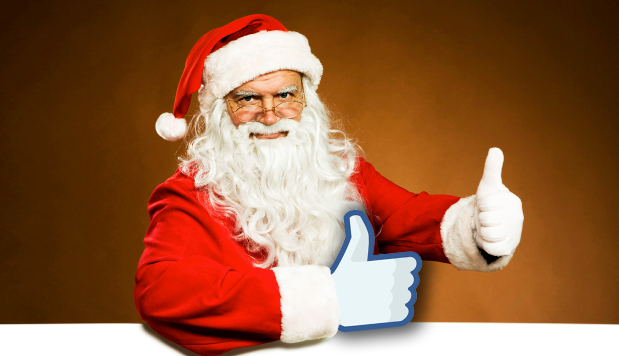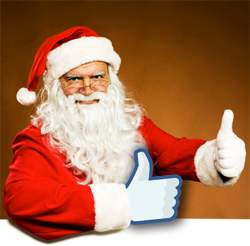 Why do people follow brands on Facebook?
Stealing a quote from politics:
It's the content, stupid.
But how can businesses know their content is interesting to fans, especially when planning holiday campaigns?
It starts with knowing your fans:
Are they men or women?
Are they online shoppers?
What are their general interests, both online & off?
When are they online?
In this post, I'll cover these topics so your business can prepare its most effective holiday posting schedule yet.
Finding the Best Content (and Times) for Holiday Facebook Posts
To get the most engagement on your posts, you need to align their content & context with the interests of your fans.
How do you discover the interests of your fans?
Try using a Graph Search tip I picked up from Jon Loomer.
Graph Search is one of those hugely beneficial yet mostly untapped Facebook resources. You can use it to search phrases & then learn more about your audience or the audience you want to attract.
Here are some search phrases your followers might use on Graph Search:
Pages liked by people who like [your page] and [a page similar to your page]
Favorite interests of people who like [your page]
Pages friends of people who like [your page] like
Groups of people who like [your page]
Pages liked by marketers who like [your page]
Page liked by people over [age] who like [your page]
Pages liked by [gender] who like [your page]
[Gender] over the age of [#] who live in [place] who like [your page]
Pages friends of people who like [your page] who live nearby like
You can go on & on with Graph Search search phrases, so get creative. You never know what you might discover about your fans.
Making assumptions
Once you discover the interests of your fans, start making some assumptions.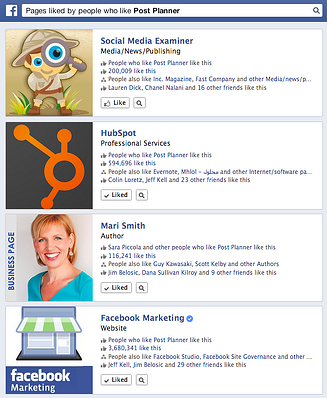 For example, from the Graph Search results (to the right here), I can conclude that Post Planner's fans are social media marketing enthusiasts who are most likely interested in social media best practices, news & tips.
Knowing this, Post Planner should craft their post content to match these interests. (Good job, Post Planner, you already do!)
And here's a little bonus: the info you get from your Graph Search results is even more valuable if you use it for Facebook ads & boosting your Timeline posts.
Learn the Best Times to Post This Holiday Season
When you share is just as important as what you share.
My advice: don't rely on generic averages from a study outside your business to tell you when to post.
Posting between 9am & 12:30pm does not guarantee engagement for all businesses. It's better to test things out for yourself & determine when vital posting times are for your business.
Here are a couple of tips on ways to do this:
1. Check out your Page's Insights
Learn When to Post...
This past July, Facebook updated their Insights panel. And since then, they've continued to add new features.
If you go into your Page's Insights under the "Posts" section, you'll find some really helpful data like:
When Your Fans are Online
Post Types
The info you find here will give you the best idea about your ideal posting times -- the times that will get the most engagement.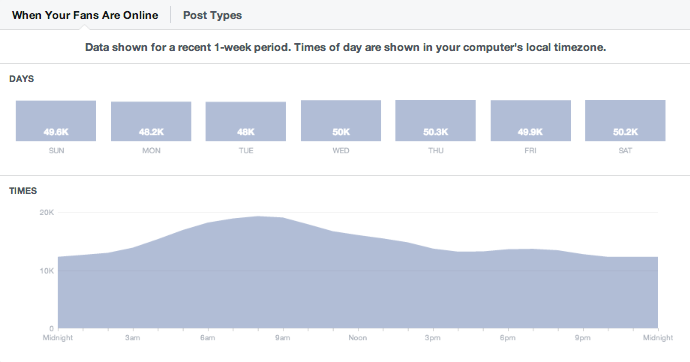 From the screenshot above, I can conclude that between 6am & 9am, the ShortStack Page gets the most engagement.
In your graph, the spot where the shadow is highest is probably the posting sweet spot for your business.
And Learn What to Post
My company ShortStack is constantly testing out different kinds of posts to see which ones perform the best with our audience.
For example, an update with a funny meme or a pretty photo doesn't always motivate our fans.
Here's what our page Insights tell us:

As you can see, regular text status updates are awesome for us.
Below are some examples of text-only example posts that got high engagement & feedback from our fans.
Notice how in the posts we speak directly to one of our biggest target audiences -- small & local businesses -- and address topics like social media -- that are of interest to them.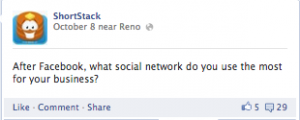 2. Plan posts around busy shopping days
During the holiday season, there are a handful of important shopping days your business should take note of.
Black Friday
Cyber Monday
Small Business Saturday
etc.
To make sure your business is posting at the best times during these next couple crucial weeks, don't take any chances. Plan ahead & use Facebook's post scheduling feature or a third-party scheduling tool like Post Planner.
These tools will allow you to schedule your holiday posts at the times you discover are best for your business's audience.
Now It's Your Turn
The holiday season means your business should have a more strategic posting schedule.
Now that you have a few tips under your belt about what & when to post on your Facebook page, start preparing your holiday status updates today.
Remember:
Content that's interesting to your fans + posting at the best times = door-busting success
Let me know in the comments below what your business is doing to prepare for the holiday season.
Are you planning to post any seasonal promotions or deals for your fans?