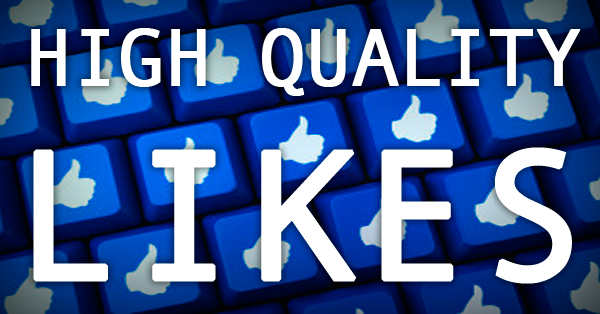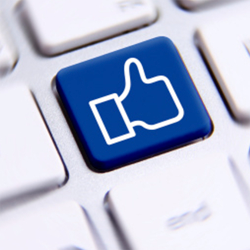 Here's the harsh reality:
Not all Facebook Likes are created equal.
Some Likes are high-quality -- and some aren't.
You should want the high-quality ones so you can reach the most relevant people.
Then you can get them engaged & eventually turn them into customers.
Having a bunch of male fans, for example, isn't going to help you much if your products are fashion accessories for women.
Female fans who are interested in fashion accessories would be higher quality Likes for your page.
Remember -- as Facebook tweaks the news feed algorithm to decrease reach for business pages, every post counts more & more!
You can't afford to waste a single one.
>> Click to Tweet <<
And if you have too many low quality Likes, it makes practically every post a waste.
So today I'm going to give you 5 tips for getting high-quality Likes on your Facebook page -- Likes from people who are:
5 Ways to Get High Quality Facebook Likes that Actually Help Your Biz
1. Restrict Some Countries from Your Page
Here's something you probably haven't considered before.
Did you know you can add country restrictions to your Facebook page?
>> Click to Tweet <<
The general settings on your page provide 2 options:
Only show this Page to viewers in these countries

Hide this Page from viewers in these countries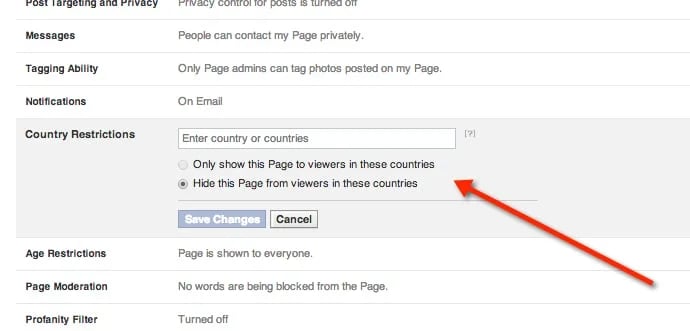 This works GREAT for many reasons.
If your business operates in America, use the first option to only show your page to viewers in the U.S.
The second option works well if your page attracts fans from countries that don't even speak your language.
For example, Gerber restricts fans on their Facebook page. About 98% of the Likes are from the United States.
When I key their Facebook URL into my browser in Asia, I'm sent to my Facebook home page instead.
2. Post Awesome Content
To get quality Likes, you must post awesome content on your page.
Imagine a free seminar where the topic is good, but the content is so boring that you nearly fall asleep. Would you attend the seminar again -- even if it was FREE?!
The same goes for your Facebook posts. You must provide value while also entertaining your fans.
People go to Facebook to RELAX. They catch up with friends & family, read news & generally want to be entertained.
They don't go to Facebook to be bored to death by you.
>> Click to Tweet <<
Need help finding valuable & entertaining content to post?
No problem -- Post Planner's got you covered. Our new viral photo finder lets you find & share the most viral & popular photos from any Facebook page.
3. Host Contests with Amazing Prizes
Facebook contests are great ways to get more Likes -- when done correctly.
Businesses too often give away products that aren't relevant to what they do.Prizes like iPads will attract the wrong kind of fans -- people who won't ever Like or share your posts.
You risk diluting your brand & creating unnecessary competition in areas that aren't even relevant to your business.
Decal Drama frequently run contests -- but only with prizes their fans really enjoy: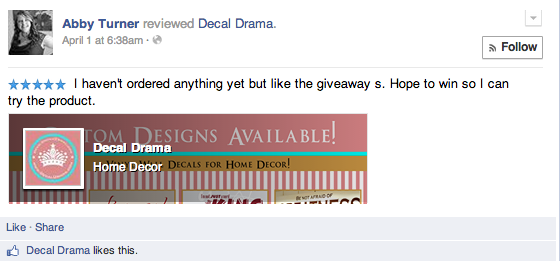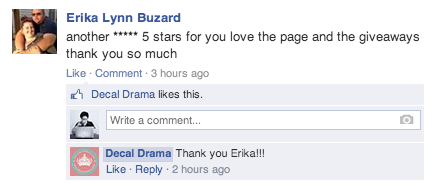 4. Never Buy Likes
Repeat after me: I will never buy Likes -- no matter what I'm promised in return.
>>Click to Tweet <<
It's impossible to buy a high-quality Facebook Like.
Good Likes aren't for sale!
I don't care what the latest snake-oil salesman on Fiverr tells you.
5. Use Targeted Facebook Advertising
Another way to find relevant Likes for your page is through Facebook advertising. Facebook ads let you reach a whole new group of people.
Use advertising to complement your contests & content -- and you'll have a recipe for success on Facebook.
>> Click to Tweet <<
I recommend you read Jon Loomer's blog if you're new to Facebook advertising. Loomer is the man when it comes to properly managing Facebook ad campaigns.
Remember to target users who will be interested in your page.
It may be cheaper to get Likes in Asia, but if your business only serves customers in the U.S. -- what's the point?
Summary
Quality trumps quantity every time when it comes to getting the right Facebook fans.
So go for the high-quality Likes!
What do you do to find high-quality Likes for your page?