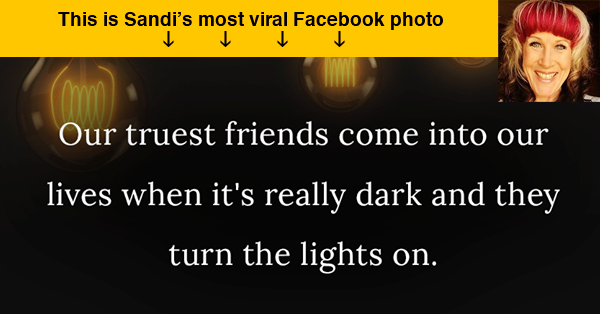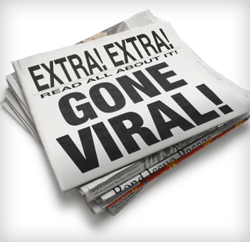 I've written before about the Forbes Top 50 Social Media Power Influencers -- and how to get on that list.
People on the list post awesome content & get tons of engagement from followers.
But what if I want to see the most viral photos these influencers have shared on their Facebook pages?
Is there an easy way to do this?
Turns out there is... NOW. ;)
>>> Tweet This! <<<
Yep, I'd use Post Planner's new photo finder. The tool makes it easy to find viral photos on any Facebook page.
To try it, go to your Post Planner app & click the Photos box on the right:
How to Find the Most Viral Photos from Forbes Top 50 Social Media Power Influencers
Once you get to your app and click on "Photos", you'll see 5 default folders:
Awesome Quotes
Engaging Photos
Funny Photos
Crazy Photos
Beautiful Photos
We added these just to get you started with some highly shareable photos from some great pages.
But I also created my own custom folder named "Forbes Top 50 Social Media Power Influencers".
And the cool thing is you can add MY folder to YOUR Post Planner app.
To do so, just click "Find more Photo Feeds":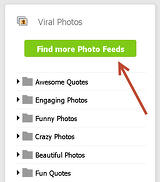 "Feeds" & "Fan Pages" are selected by default. Change the setting to "Folders" to find my social media influencers folder:

Once you do that, your folders list should look something like this:

Red means I've already added the item to my personal library of feeds. For you, the "Forbes Top 50 Social Media Power Influencers" folder will likely appear in black.
The "48" you see in the above screenshot is the number of people who have added this folder to their Post Planner app -- as a source of content for their Facebook page.
Click "Add" and the folder will be accessible from the Photos box on your app -- as shown below: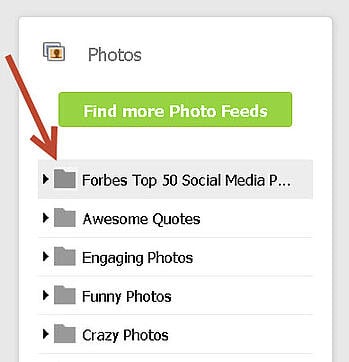 To see all the photos these influencers share on their Facebook pages, click the folder name & watch photos load on the left.
I can't provide a screenshot of all these photos, but you should see something like this:
You'll have the option to choose "Most Recent", "Most Popular" or "Most Viral".
What does "Most Viral" mean?
Here are the definitions:
Most Recent -- these are the most recent photos
Most Popular -- these are the photos with the most Likes, comments & shares
Most Viral - these photos are ranked based on the number of shares in relation to the number of fans
The "Most Popular" and "Most Viral" photos are most important because viewing those lets you see images that got lots of Likes & shares.
These photos may bring a similar response from your fans if you post them on your Facebook page.
This image from Sandi Krakowski is the most viral photo posted by any social influencer on the list. I found it by clicking the bubble marked "Most Viral":
>>> Click to Tweet <<<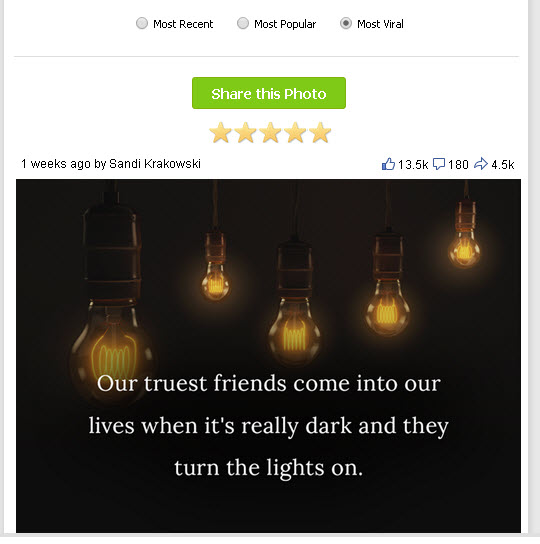 To use Post Planner to share this photo on your Facebook page or profile, just click the green "Share This Photo" button.
The photo is added to your publisher: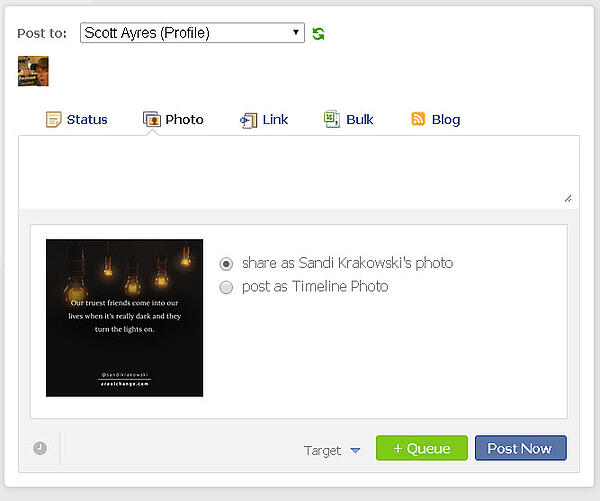 I now have 2 options for sharing the image:
Share as Sandi Krakowski's photo (which displays on Facebook as a shared link from the original source)
Post as a Timeline Photo (which uploads the image directly to my Timeline)
It's up to you. And both options have merit.
Posting it as a Timeline photo will automatically generate a short link leading back to the source of the photo -- so credit IS given where credit is due: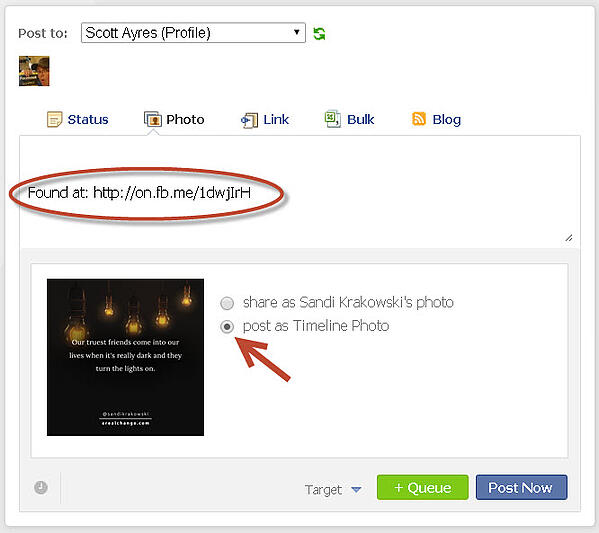 Next, enter the text you would like published with the photo. Then schedule a time to post the image.
Or just post it now. ;)
View Individual Pages in the Folder
You can also view individual pages in the folder, to see each person's most viral image.
For example, the most viral photo on Boom Social with Kim Garst was this image from about 3 months ago: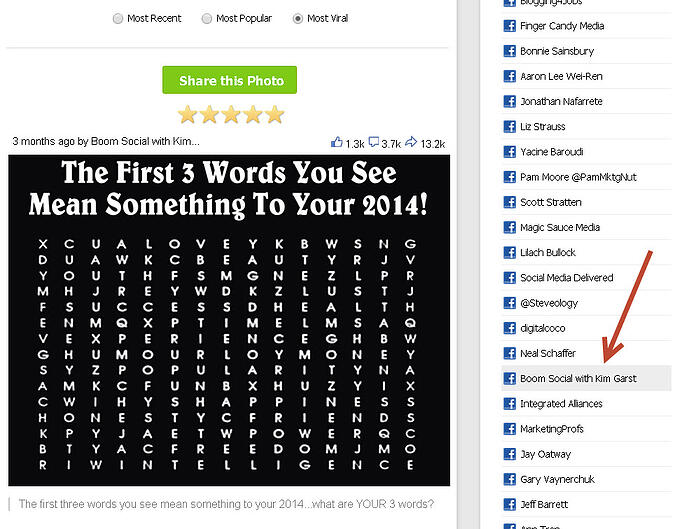 This was a holiday-themed post, so it doesn't make sense to share it at the end of March.
But scroll down & you'll find that Kim's second-most viral photo could be shared on any page -- at pretty much any time:
>>> Click to Tweet <<<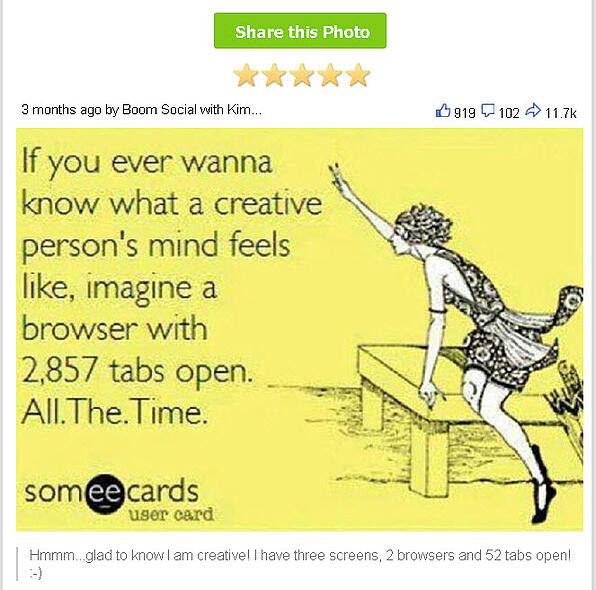 Power of Sharing Viral Photos
You're realizing now that sharing viral photos from others can be a powerful way to boost fan engagement on your Facebook page -- and also network with some of the most influential people in your industry.
>>> Tweet this Fact! <<<
These photos already got big results, and chances are your fans will respond in similar ways.
Bonus tip!
Here's one last piece of advice for using Post Planner's new photo finder:
Click the photo in Post Planner & you'll be taken to a new tab to view the original Facebook post -- which makes it easy to read the comments
Woohoo!
There are so many ways to use the photo finder.
How do you see your page taking advantage of this valuable new tool?