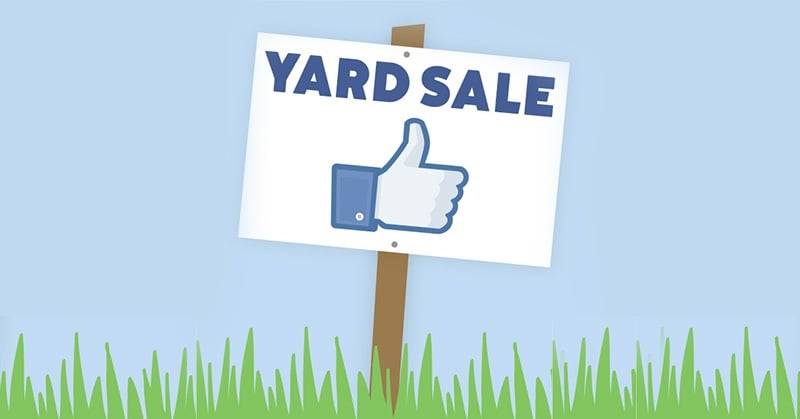 Did you know you might be sitting on a gold mine??
Yep, I'm talking about all the stuff lying around your house right now collecting dust.
It's time to sell this stuff & make some cash!
And guess where the best place to sell it is??... FACEBOOK GROUPS!
I've been selling a bunch of my old stuff in groups lately -- which makes it so I don't need to have a garage sale or set up a fancy website. I can just start selling my stuff on Facebook.
And thanks to the Facebook Groups app, I can even do it from my smartphone!
If this sounds appealing to you, then read on. In this article, I'll show you how I do it!
5 Ways I Use Facebook Groups to Sell My Stuff Online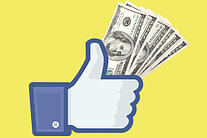 I love attending storage auctions, and buying entire units full of "junk".
Once I've assessed the junk, I post photographs in Facebook groups where I think members might be interested in the items.
The stuff is usually gone within a day or 2!
So yeah... Facebook groups seem to be a great place to sell your stuff!
And you don't need a whole storage unit to make some cash.
>> Click to Tweet <<
Look in the garage, your kid's room, the kitchen & den -- you likely have stuff everywhere that hasn't been used in years. Instead of hosting a pesky garage sale, post photos in some local Facebook groups.
But before you post photos of your broken TV, here are 5 steps I follow that help me sell my stuff on Facebook: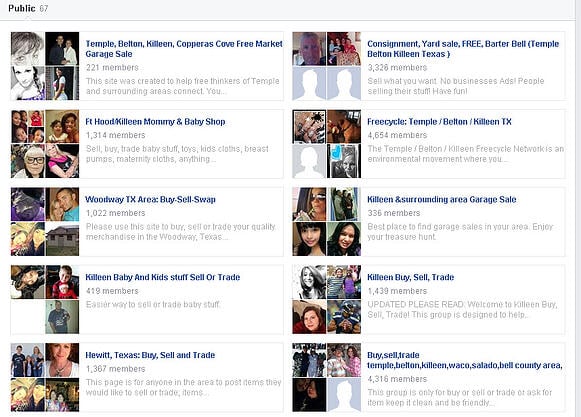 1. Post Strong Photos
Photos from your smartphone are fine, just make sure you can see the whole item.
Take your photos outside to get the best lighting. If you have to shoot indoors, make sure to use a flash.
Also, make sure there's not a bunch of additional clutter in the photo. This distracts potential buyers.
Here's a good post from a group I run on Facebook: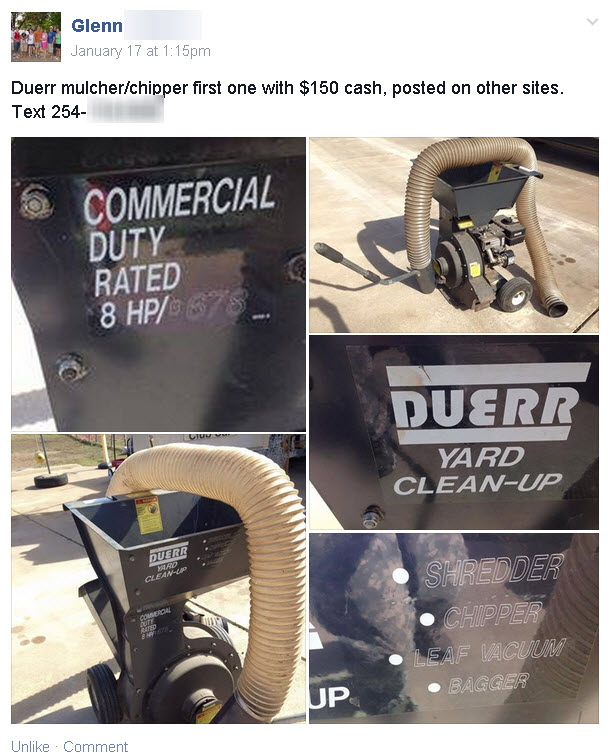 Buyers won't be surprised when they show up to look at this unit above!
I also suggest that you post more than one pic to really show off the merchandise.
These next photos were too dark. You need to lighten things up if you hope to bring in top dollar.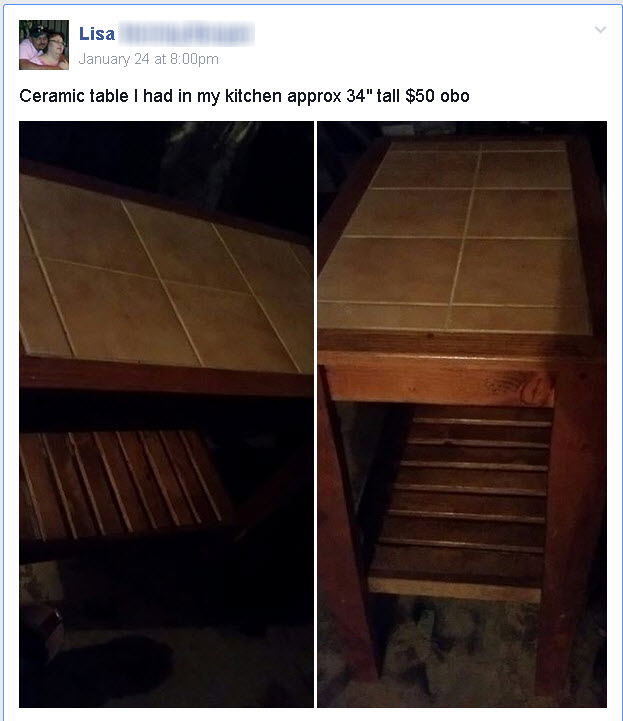 2. Write a Good Description
You don't have to be a professional copywriter! Just describe your item in a positive, detailed way.
Amanda showed us how it's done: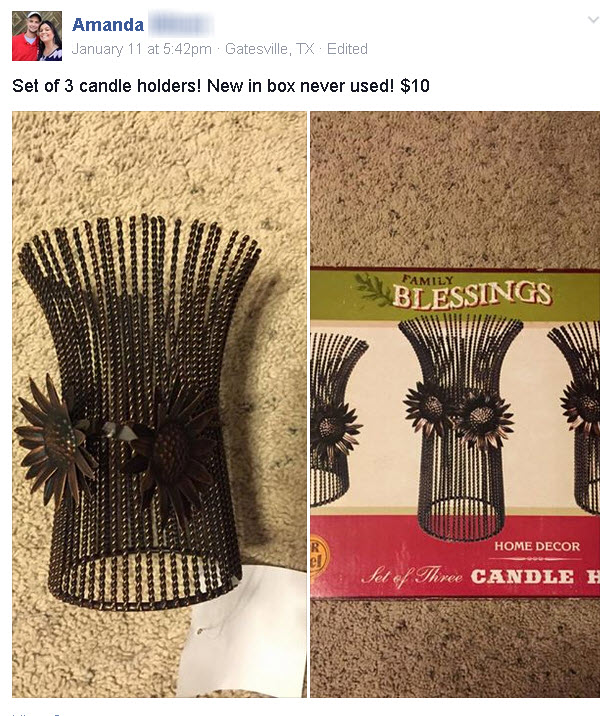 Here are some things to include in your description:
Condition of Item
Number of Items
Price
Age of Item
General Location
Dimensions
Price of Item New
3. Be Honest
Never exaggerate about the condition of something you're trying to sell!
If the chair has a stain, let people know. Tell people about the dent in the back door.
You lose credibility when you don't tell the truth.
I made sure people knew the tires on this bike needed new tubes: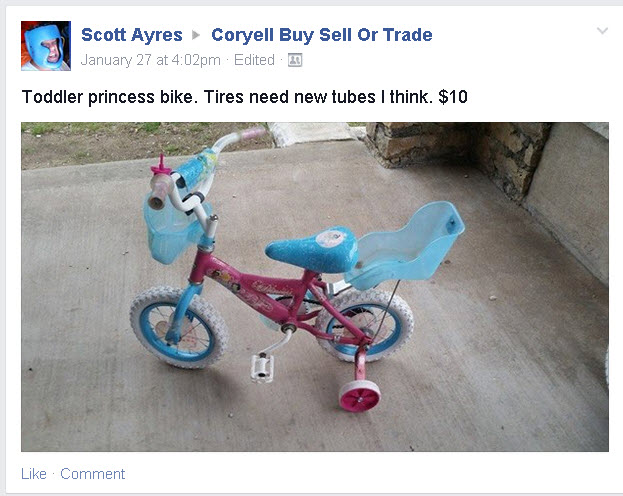 4. Keep Prices Reasonable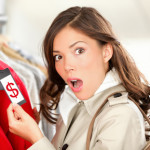 You'll never sell your stuff if you price it too high.
Most of your items aren't worth what you paid for them.
I usually price the items I sale on Facebook about a third of what the stuff sold for new.
>> Click to Tweet <<
Also... be flexible with your pricing! You might need to adjust the price for the item to sell.
Everybody wants a deal!
5. Follow the Rules
Most Facebook groups have rules.
You might get banned from a group if you don't follow the rules. It even happened to me! ;)
The group's rules will govern what types of items you can sell & how you choose a buyer. Trust me!, you'll sell more stuff on Facebook if you follow the rules.
Be Safe Out There!
Always be safe when doing business online.
Some people are more comfortable doing the transaction in a public place, rather than inviting buyers to their home.
As for finding Facebook groups to post your stuff, I recommend checking out the Suggested Groups or Local Groups from Facebook. There you'll find groups that are Open, Closed & Secret!
Anything you post in an open group can be seen by your friends & those who follow you.
You'll have to request access & be approved to join closed groups.
Secret groups cannot be found in Facebook search results. These groups usually aren't the best places to sell your stuff online.
Now you know how to make Facebook groups your secret weapon for selling your stuff online.
Good luck (and tell me about your first sale in the comments below)!