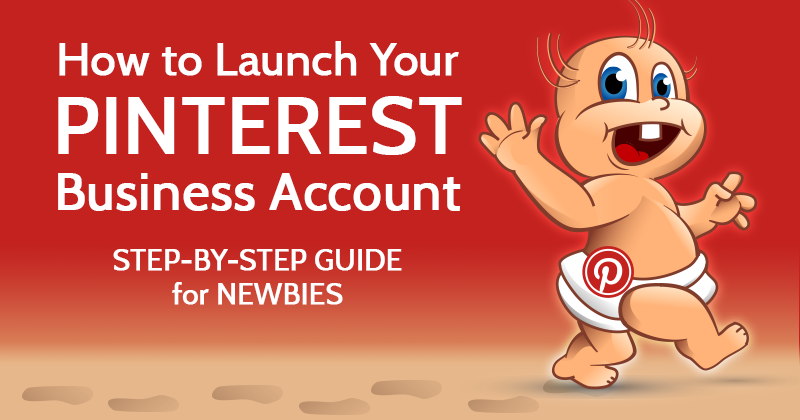 Strategy without tactics is the slowest route to victory. Tactics without strategy is the noise before defeat.
Sun Tzu told us that in "The Art of War" sometime around 500 BC.
And it's still true today.
When you don't pair tactics with strategy -- regardless the type of campaign or goal -- failure is imminent.
But when you do?
Get ready to succeed in a way that may blow your socks off!
In this article, I'll show you the exact steps we took to launch the Post Planner Pinterest Channel (and how you can do the same in your business).
C'mon. Let's get started!
>> Click to Tweet <<
How to Launch a Pinterest Business Account: Step-by-Step Guide for Newbies
While Sun Tzu couldn't foresee the emergence of social media or the explosion of a little visual marketing site called Pinterest (now tallying over 70 million registered users) his advice is absolutely relevant.
If you want to succeed, you have to work smart. That means putting a plan in place and taking an integrated, strategic approach.
That is EXACTLY what we did when we launched the Post Planner Pinterest channel.
We looked at our current presence on Facebook, Google Plus, Twitter and Instagram then determined how to best leverage our virtual assets.
We believed Pinterest could help us really make some noise -- and the stats say we've done exactly that.
Here's how YOU can do the same...
>> Click to Tweet <<
STEP 1 - Set up your business account the RIGHT WAY
As Mark Twain said,
The secret of getting ahead is getting started. The secret of getting started is breaking your complex overwhelming tasks into small manageable tasks, and starting on the first one.
And boy is he right -- especially when it comes to setting up a Pinterest account properly.
The first task, account optimization, can MAKE OR BREAK the success of your Pinterest channel.
Do a little research. Look at your competitors across Pinterest. Are they ranking for your industry's most important keywords? If your answer is "No," then here's where your opportunity begins.
Take the time to make sure you are search friendly. If you've already set up your account, go back through to ensure the most critical information (for your visibility) is added.
Here's a checklist of what you'll want to add and optimize:
Name of your company
Company logo or professional headshot with optimized image metadata
Keyword rich bio that's short, catchy and speaks directly to your target audience
Location of your business
Verified website (add your website URL, then take appropriate steps to verify through Pinterest)
Here's what that looks like:

If you've already set up a personal account and want to transition that to a business account, you can do that as well.
Either way, begin with the checklist above to properly position your Pinterest account for search.
STEP 2 - Get off to a good start by following the social media Golden Rule
As I shared in this article, your Pinterest board names play a major role in your content getting found.
While there are many factors to growing a solid Pinterest following, the top three in my opinion revolve around your boards.
Setting up your Pinterest boards:
Begin by setting up your boards with optimized board names based on a keyword strategy. This goes back to the research we discussed above.
Start pinning eye-catching images to each board. These are the eye candy that will draw followers in.
Deliver WHAT YOU PROMISED. Make sure your content consistently offers value to your followers. NEVER USE bait and switch to point links at affiliate content (something Pinterest has just put the kibosh on) or headlines that grab attention -- but there's only fluff and no substance behind them.
Make your followers lives better by always asking, "How will this content help my audience?" (the Golden Rule of social media).
And one important note: As you begin to create your boards, make sure your Pinterest board names not only reflect your industry/niche, but are also specific to your company culture.
For example, are you fun and carefree or technical and serious?
Your Pinterest account is no different than any other social network. It should be an extension of who you are offline -- giving followers a unique look into the visual aspect of your business.
>> Click to Tweet <<
STEP 3 - Make pinning something you do WITH others (not TO them!)
The idea behind pinning is simple: Pin content your target market is craving.
Pin it from your website, your YouTube channel, your Etsy store – wherever your branded content hangs out.
Then pin great content from OTHERS. If you want to grow a loyal following, you need to create reciprocal relationships.
Do you have favorite bloggers you follow or peers you respect? Hop over to their blog and start pinning. You enjoy their content, so I'll bet your followers will too!
And don't forget to follow your faves on Pinterest. You'll find an immense amount of inspiration in the content pinned by them. You'll also begin to make VALUABLE connections
Follow these tips to get your Pinterest network growing
Spend time researching your competition. What are they pinning and what's receiving a significant number of repins? Study it, understand it, and then make it better.
Ask! Have a Facebook page? Let your fans know you're getting ready to launch a new account on Pinterest. Then ask them what type of content they'd like to see.
Use your blog to test the waters. Write an article about Pinterest marketing, and mention the role it's going to play in your online marketing. Ask for comments from those actively using Pinterest. What are they using it for – business, pleasure? – and what kind of content are they pinning and interested in repining? Again – ASK and then LISTEN. It's amazing what you can learn when you take time to invest in your fans, followers and blog readers.
STEP 4 - Get the word out (you must escape obscurity if you are to succeed)
Once you've set up your account, created boards and begun to pin content – now it's time to start promoting your new social channel.
Do this to draw more interest to your Pinterest boards:
Use a tool to help share content and identify top people and brands to follow. Right now, Tailwind is tops for scheduling pins, finding trending content, and tracking results. Word on the street, though, is that there will soon be a new sheriff in town :)
Add a Pinterest board or pin widget to your website or a "Follow me on Pinterest" button. If you're a WordPress user, you can make that happen via the Pinterest widget (it just takes a little code) or a Pinterest plugin.
Cross-promote your Pinterest campaign across Facebook, Google +, and Twitter. Many businesses forget that each social network can be used as a promotional arm of another.
Be mindful of image sizing. For example, we create graphics that perform well on Pinterest and Google +. Our optimal size is 735 x 1200 pixels – a size we've tested repeatedly. We share our pins on Google + and encourage our followers to join us over on Pinterest.
Tweet the news that you're now on Pinterest. Share one board you know will resonate with your followers.
STEP 5 - Be consistent on Pinterest... everything you do matters
Determine your posting frequency. How often will you post and how will you spread that content out over time?
Excessive pinning will be annoying to followers, while too little pinning might make your followers forget you exist.
Create a pinning schedule then gauge your follower's reaction afterwards. Doing that before increasing or reducing your pinning frequency can DRAMATICALLY improve your engagement!
Add this information to your Google Analytics – a tool you should never overlook – and you can create a winning Pinterest posting strategy.
STEP 6 - Get comfortable with Pinterest analytics
Speaking of analytics, Pinterest offers a sizeable amount of information right within your business account.
Don't forget to add this to your checklist: Review your analytics weekly. Keeping up with analytics will help you better understand what type of content your followers want. Take a look at your profile impressions, repins, audience data, and shares from your website.
Want to gauge your success as you get started? Here are a few stats from Post Planner's analytics over the last week:
Currently, Post Planner is receiving an average of 42 repins per day (up from 29 just 2 weeks ago)
Engagement (as measured by the # of our pins with at least 1 repin) is currently at 66.5% (continuing to push towards 100%!)
Profile views are up 50.65% and impressions are up 34.91% -- over the past 2 weeks
Pinterest is now our 3rd most productive social traffic referral source!
Pinterest - Everything points to the Bottom Line
As you know, there's no quick way to succeed in social media. It takes time, commitment, strategy... and consistent execution.
If you add Pinterest to your overall marketing strategy and commit to a SOLID schedule of pinning, liking, following and sharing -- you will see results. I guarantee it!
Where can you find great content? Post Planner, of course! (And I expect a very special Post Planner announcement about Pinterest will be coming soon.)
>> Click to Tweet <<
Ready to start driving additional traffic to your blog through the power of Pinterest?
Follow this basic strategy for Pinterest -- everything you need to grow your audience and your BOTTOM LINE!