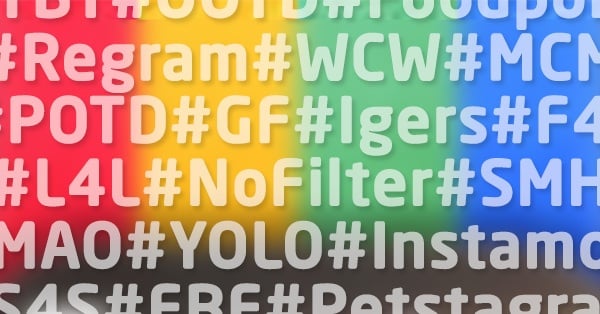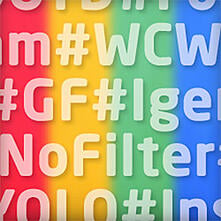 Do you speak Instagram?
If not, you better learn. :)
Using hashtags, acronyms & the right slang is a great way to get more Likes and followers on Instagram.
Terms like #TBT, #WCW & #MCM can be confusing at first. I was lost when I first started using Instagram!
I always wished I'd had a handy guide to explain all the lingo.
That's why I wrote this article -- because speaking the Instagram slang is such an easy way to get more followers.
So here are definitions for 32 of the most common Instagram terms.
Make sure to bookmark this for future reference!
Instagram Slang: A Guide to Becoming an Instagram Lingo NINJA
1. #TBT
TBT is short for "Throwback Thursday". Thursdays are when Instagram users share photos from the past.
Maybe a shot from your childhood or a photo of your trip to the Grand Canyon.
Businesses even use #TBT photos to market on Instagram, like this example from Quest Nutrition:
2. #OOTD
OOTD means "Outfit of the Day". Share what you're wearing on Instagram!
3. #Foodporn
Foodporn is a hashtag for photos of your lovely meals.
Whoever coined this term might have felt guilty after indulging in such decadent delights.
4. #Regram
A Regram is a reshare -- similar to a retweet on Twitter.
5. #WCW
WCW or "Woman Crush Wednesday" encourages Instagram users to share photos of the women they admire the most.
6. #MCM
And "Man Crush Monday" is just the opposite. Mondays are when you share photos of your favorite guys.
7. #POTD
POTD is an acronym for Photo of the Day -- posts from users who think the pics are their best shots.
8. #Igers
Igers means Instagrammers -- people who use Instagram.
9. #IG
IG is short for Instagram.
10. #GF
GF means "Gang Family" or "Global Family" -- a community that supports talented photographers around the world.
11. #Fitfam
Fitfam is used to inspire and motivate Instagram users.
12. #Fitspo
Fitspo photos usually show how to live a healthy, active lifestyle.
13. #F4F
F4F means "Follow for Follow" -- somebody will follow you if you follow them back.
14. #L4L
Similar to F4F, L4L means somebody will Like your photo if you Like theirs.
15. #S4S
A "Shoutout for Shoutout" is when you ask people to follow somebody in exchange for someone asking their fans to follow you.
16. DM
DM is an abbreviation for direct message.
17. #TransformationTuesday
The fitness industry uses this popular hashtag to motivate people on Tuesdays.
This transformation is inspiring!
18. #FBF
Similar to Throwback Thursday, #FBF (Flashback Friday) is when people share old photos on Fridays.
19. #SMH
Short for "shaking my head", this hashtag is used many ways.
20. #FF
What began as Follow Friday, #FF is now used to tag any Instagram photos on Friday.
21. #LMAO
Laughing my a-- off... of course!
22. #YOLO
Trying to decide what to post on Instagram? You only live once! ;)
23. HT or H/T (Hat Tip)
A hat tip is a way to compliment someone's work.
24 #Instamood
Here's how to draw attention to somebody's mood.
25. #NoFilter
This hashtag is reserved for photos produced without Instagram filters.
26. #Petstagram
Use this hashtag when you post a photo of your pet.
27. #Instapug
Lots of pugs fans! Follow the photos with #instapug.
28. #Instapup
This hashtag is almost too cute for words.
29 #Repost
Use this hashtag when you post someone else's content on your Instagram account.
30. #SelfieSunday
This hashtag has been used more than 10 million times.
31. Kik Me
"Kik me" means somebody is asking you to connect with them on Kik.
32. #GOTD (Gram of the Day)
Instagram users use this hashtag to mark their best photos of the day.
Slang Summary
Not a bad list, right?
Using Instagram may seem daunting at first, but learn a few cool Instagram tricks and you'll get used to it very quickly.
And remember: learning the language is the first step toward becoming an Instagram Ninja.
So now what? Ready to up your Instagram game even more?
Check out our blog post on how to use Instagram automation to take your Instagram marketing to the NEXT level.
(You'll be glad you did!)