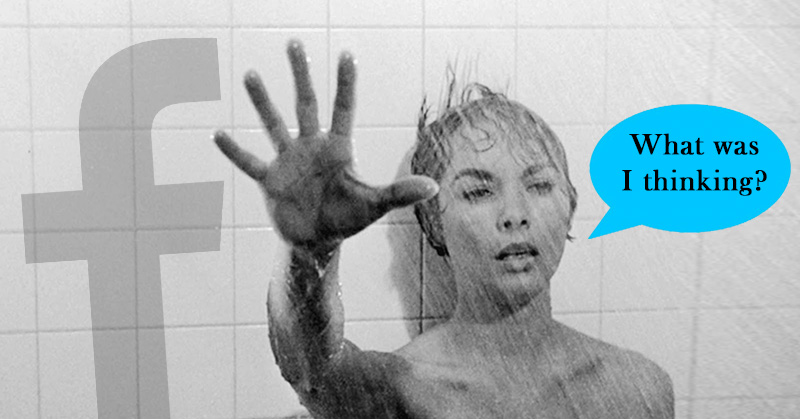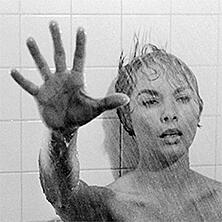 Facebook mistakes happen to the best of us!
Inappropriate comments & accidental posts can & WILL occur.
Especially on a social network where 71% of Internet users now spend a good chunk of their day reading & consuming content.
And some of the biggest mistakes marketers make on Facebook are missed opportunities -- which put your page at a disadvantage.
So, what mistakes are you making on Facebook and how can you avoid them in the future?
Read this post to find out!
>> Click to Tweet <<
Top 10 Fatal Facebook Mistakes That Might Be Killing Your Page
Below are 10 common Facebook mistakes that could be killing your page -- and why you need to stop making these mistakes TODAY!
1. Not Creating Differentiation
Are you clearly articulating what sets your business apart from the competition? If not, you're walking a dangerous line.
A tactic called "me-too marketing" is often employed as businesses look to the competition for what's working on Facebook -- and then mimic it on their own page.
Unfortunately, there are significant drawbacks to this type of marketing.
Standing out in a crowded online space is tough enough with the element of differentiation. If your marketing is cookie cutter at best, you're rendering your chances of standing out almost impossible.
I won't deny the fact that me-too marketing can work in certain situations, but it won't give you the competitive advantage. Stop imitating what your competitors are doing & begin setting the tone on your own!
I use my brand colors, font & overall look & feel across all my social channels -- including Facebook.
It streamlines my branding -- creating a consistent consumer experience.
There's no cookie cutter marketing here!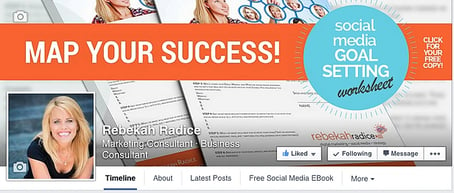 2. Not Using a Custom Cover Photo
Your Facebook cover photo is the first thing most people landing on your page will see. An attractive & well-designed cover will help you catch their attention & encourage them to take action.
Think of your Facebook cover photo as an online billboard!
Would you rather have a generic image representing your page or one that immediately conveys who & what you are?
Don't miss the chance to make a strong visual impact with a customized cover photo. Use this space to share your product, service or story -- and it's important that you share what makes you unique.
Peg Fitzpatrick is a master at this. She rotates her cover image frequently -- keeping her page fresh & interesting while aligning it with all her online properties.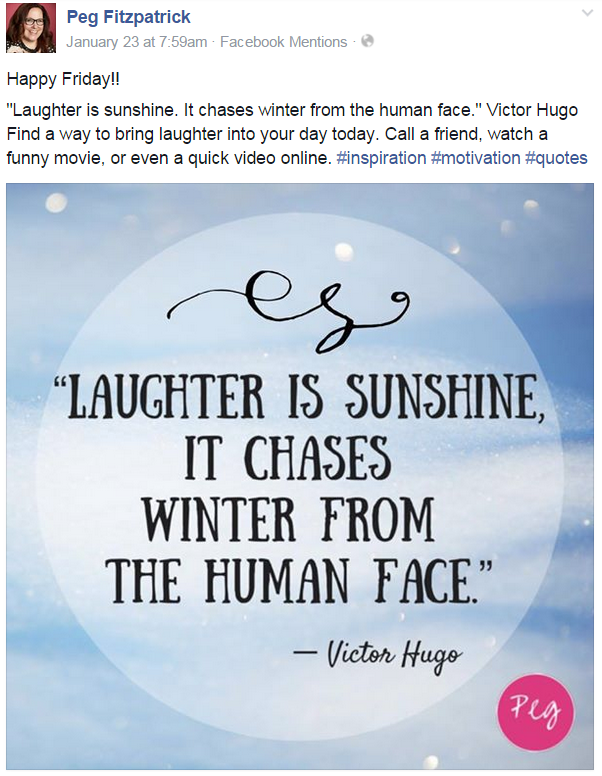 3. Not Branding Your Graphics
Along the same lines as your custom cover photo is the use of branded images within your posts.
Donna Moritz of Socially Sorted does an excellent job standing out in a cluttered news feed. Her graphics are always high quality, compelling & consistent with her online brand.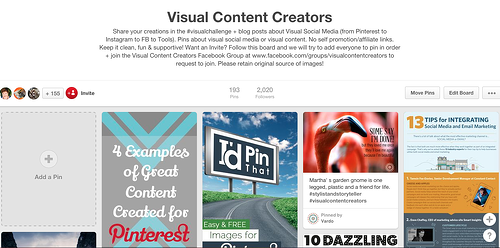 4. Not Using Facebook Ads
Facebook advertising can be a smart complement to your current advertising budget. Facebook ads let you grow your page without adding a hefty expense.
Have you used Facebook's Power Editor? If not, you're missing an opportunity to get hyper-specific with your ad targeting.
Not only can you target your specific market through age group, gender, city, state or country -- but you can also manage multiple campaigns all in one convenient location.
If you're simply boosting your posts, then you're not taking full advantage of Facebook ads. Before you begin, let me caution you:
Pushing forward with an ad campaign without defined goals is a recipe for disaster.
Ask yourself what you're looking to achieve through Facebook ads before you create an ad, spend money & fail to see strong results.
What's your goal? Keep in mind -- you may have 2 or 3 objectives.
For example:
Drive traffic to your website or blog
Grow your database through high-quality content
Improve brand awareness
Expand reach
Engage with current & past clients
Build your Facebook page
5. Not Aligning Your Facebook Page with Your Marketing Strategy
Are you posting without a plan?
Is your content an after-thought & your custom images non-existent?
If this sounds like you, you need a Facebook strategy that's aligned with your overall marketing goals.
With a strategy in place, you post on purpose instead of haphazardly. You also use consistent branding in your content & graphics. This leaves no doubt in the mind of your fan that it's your content showing up in their news feed.
Constant Contact is a great example.
No matter where I connect with the brand, I'm sure to see a similar look & feel. This means that the images on their blog are translated to their Facebook page & all other social networks to match their brand style.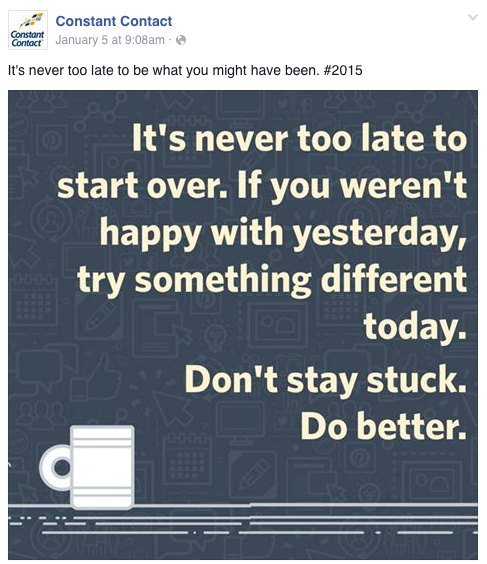 6. Not Engaging Your Facebook Community
One of the fatal mistakes many businesses continue to make is the "post and run" strategy. This is seen when a page posts & then never returns to interact with fans.
Have you fallen victim to this one in the past? If so, the key to engagement is easy.
>> Click to Tweet <<
CREATE a STRATEGY – how & when you will post – and a system for follow up.
I'm a firm believer that what doesn't get put in a calendar -- doesn't get done.
Set 2 calendar reminders per day to return to your page, answer questions & monitor on-page interaction between your fans.
Three ways to engage your fans:
Go out of your way to make your fans feel special. Ask questions that deepen your relationship & respond thoughtfully & in a timely manner.
Pay attention to what your fans are saying. What are their needs & how can you solve their problems? Listening is an art & one that can pay off for years to come.
Stay involved in the conversation & always provide relevant & informative content. Maximize your visibility by posting often & consistently.
7. Not Completing Your About Information
Your Facebook "About" section projects the image of your business.
Therefore, this is an incredibly important step when setting up & optimizing your page. You want to ensure that your "About" is complete & sends the right message to anyone visiting your page.
Katie Lance of Katie Lance Consulting does a great job sharing as many details as possible, including her background, skills & talents.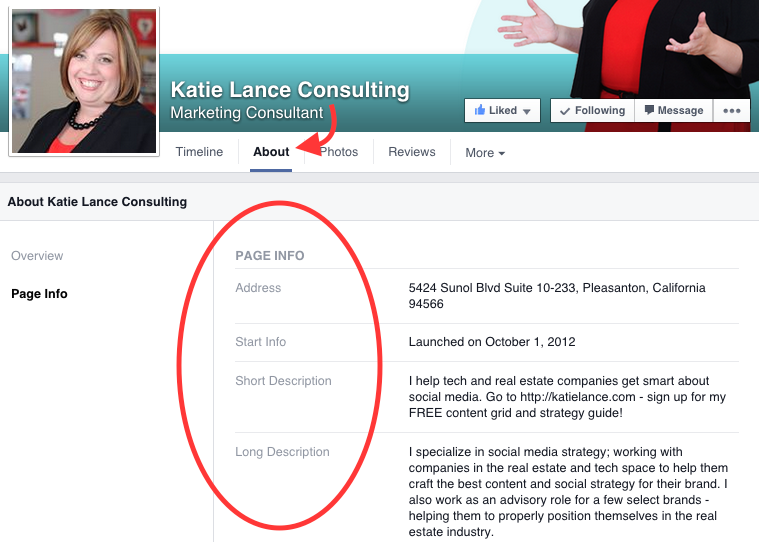 Tips to Help You Write a Killer "About"
Add your founding details. How did your company begin & when? What's your mission & what drives your company on a day-to-day basis?
People are quickly scanning your content. Add your most important details within your first paragraph.
Add keywords, terms & phrases that anyone searching for your business, product or service would use. Keywords matter in social media as much as they do within your website & blog. Don't overlook them!
Answer questions that your community needs answered in order to make an educated decision. This is a place to create differentiation & separate you from the "me-too" pack we discussed above.
Give a sneak peek into your product or service. How does it solve your client's problems & what can they expect?
Share success stories & provide testimonials from clients you've helped throughout your company history.
Keep industry jargon out of your "About." Your customer doesn't work in your industry -- so don't speak to them as if they do. Keep your language easy to read & relatable.
8. Not Sharing Consistent Content
Sharing consistent content on your Facebook page might feel overwhelming. There's no doubt that curating & creating content is a challenge all businesses face.
So, where can you find inspiration for your Facebook posts?
Post Planner, of course!
Your RSS reader like Feedly that pulls in all your favorite blog content
Google alerts that can be created for top queries around your business or industry
Traditional marketing collateral such as newsletters or flyers
You're only limited by your own creativity.
Look to the content you've created in the past or to current content that you've used on other social platforms. Now decide how you can repurpose that material for a whole new audience.
9. Not Customizing Your Facebook Tabs
Your Facebook page contains standard & also customizable tabs.
You can use the customizable tabs to post relevant details concerning your business.
For instance, you recently wrote an ebook that you want to make available. Creating a custom tab can direct fans to special content within your page -- allowing anyone to instantly gain access & download the material.
You can create awesome tabs with Shortstack, Heyo and many others.
10. Not Using a Clear Call-to-Action
Never assume your Facebook fans know the next step you want them to take.
Don't leave fan action to chance!
For example, you're sharing a blog post. Rather than simply drop the link with the title of your post -- give your fans a teaser into your content.
If the title of your post is "Visual Marketing Strategies to Pump Up Your Facebook Page", your call-to-action might be:
Are you using visual marketing to create eye-catching images that capture your fans' attention? Click the link and take a look. Then leave a comment. I'd love to hear what you think!
Other clear calls-to-action include:
Sign Up Now
Register Here
Get Started Today
Find Out More
Click Here to Download
Get in Touch
A confused mind won't take action.
Make sure you're crystal clear about how you want your fans to interact with your page & what that next step is.
Final Thoughts
Not every Facebook mistake will be fatal -- but most can cause a tremendous loss in momentum or an earned opportunity.
Before you make another post, take a look around your page.
What mistakes do you see?
Make a commitment today to overcoming those mistakes.
Move forward in a positive & productive way!