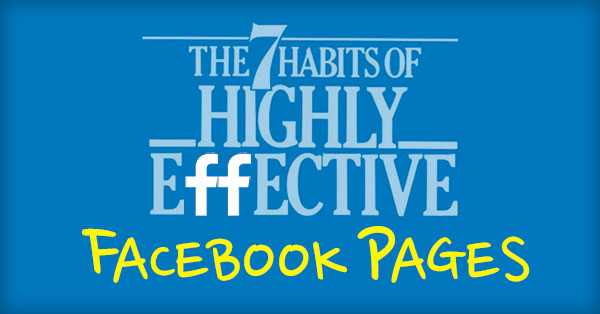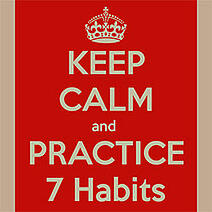 We talk a lot about what, when & how often to post on your Facebook page on this blog.
Sometimes the advice comes from high-profile social media experts. Other times Post Planner team members provide tips.
And we often write about strategies that have worked on our own Facebook pages.
In this article, I'll examine 7 awesome Facebook pages to see what they're doing well so you can use the same effective techniques on your own page.
Remember: to learn and not to do is really not to learn. To know and not to do is really not to know. >> Click to Tweet
This is a quote from Stephen Covey's famous book:
Now let's look at the 7 habits of highly effective Facebook pages.
The 7 Habits of Highly Effective Facebook Pages
1. Use a Strong Cover Image
First impressions can be the difference between making a sale & somebody never Liking your Facebook page to begin with.
People often make that decision based on a profile photo or cover image.
Check out the cover image on the CrossFit Facebook page: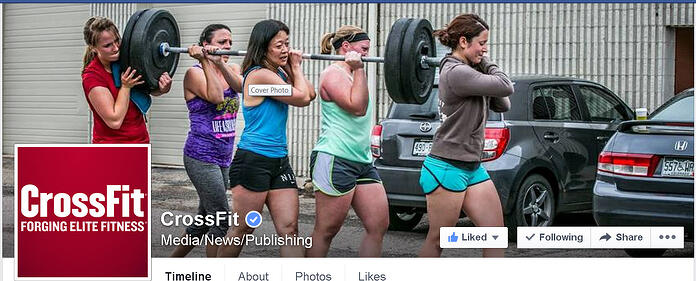 Great stuff!
This cover image speaks volumes without saying a single word. It tells me what the page is about & then some.
Powerful images like this get people excited about a page.
2. Use a Recognizable Profile Picture
I recommend using your company logo for your profile photo -- and keep it simple.
Use the same profile photo on all your social media accounts.
Dr Pepper does it right:
Instead of getting cute, they use the logo everyone knows & recognizes. This helps prevent brand confusion by keeping things simple. And the Dr Pepper profile photo hasn't changed in about 2 years.
If it ain't broke, don't fix it!
3. Post A LOT
Some people say you should only post once a week. But as long as my fans are Liking, sharing & commenting on my posts, I post as often as I can.
I've written about the posting strategy of Facebook expert Sandi Krakowski. She recommends posting 10 times a day -- and follows that recommendation on her Facebook page.
Sandi posted 19 times in the past 24 hours... 19!
And there was strong engagement on every post. She has more than 691k fans, and many of those 19 posts had thousands of Likes.
This post got the most engagement during that 24-hour period. I hope Sandi received good news from the doctors. We're pulling for ya!
4. Post Diverse Content
You'd better have a strong mix of content if you plan to post 19 times a day.
>> Click to Tweet <<
The Spartan Race Facebook page does this extremely well. Here are some of their posts from the past 24 hours:
Photo Album
Link Post
Text Post
Photo Album
Photo Post
Link Post
Event Post
Link Post
Lots of variety!
A strong mix of content keeps your fans from getting bored & ignoring your posts in the news feed.
5. Engage with Fans
What good is it to have millions of Likes if you don't engage with those who comment on your page?!
Try to reply to every comment, post & message left on your page -- even if you have millions of fans.
Dollar Shave Club is one of my favorite Facebook pages. They post great content that fits perfectly with their marketing & brand. And they do a great job replying to comments -- even when people complain.
Here they are engaging with followers:
It can be difficult to run your business & reply to comments at the same time -- but it's so worth it. Just take a few minutes each morning & evening to make sure you've replied to every comment.
>> Click to Tweet <<
This will help grow your fan base & make your fans loyal to your company.
6. Praise Others
Key to running a successful fan page is praising others on Facebook.
Sharing posts from other pages can go a long way in building relationships. Here's a great example from Canva where they shared a post & tagged other pages:
And when you're stuck & can't think of anything cool to post on Facebook, sharing a post from someone else is usually the best solution.
7. Invest Time & Money in Your Page
You need to work on your Facebook page every single day -- but you also need to spend money on your page.
That's right, I'm talking about Facebook ads.
I've used Facebook ads to build a page for my bounce house business. And I'm spending 50 cents to $1 for every targeted Like I get on my page.
There are cheaper Likes out there... but with cheaper Likes come cheaper results.
I also spend about $50 per week on boosted posts, so that more people see the content on my page.
Your page won't be successful if you don't advertise on Facebook. Set a budget & stick to it -- even if it's just $1 per day.
Be smart with your ads & make sure you target the right fans so you get as much return on your investment as possible.
Summary
For you skimmers & those with short memories here's what it takes to run a highly effective Facebook page:
I hope these tips help you succeed on Facebook.