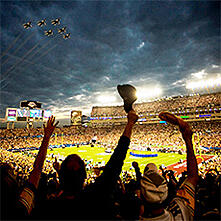 The Super Bowl is one of the biggest sporting events in the world.
And this year's game was the most watched Super Bowl in history!
But what about Super Bowl ads on Facebook?
We don't have numbers yet for this year's Facebook ad spend, but I'm thinking it was huge.
Especially since it was the first time businesses could run "real-time" ads during the Super Bowl -- and target users based on what they talked about during the game.
The new Facebook "Super Bowl Experience" also had a page called Trending: Super Bowl XLIX -- basically a roundup of posts about the game & play-by-play updates.
Some posts from your friends probably even appeared on the page. Very cool!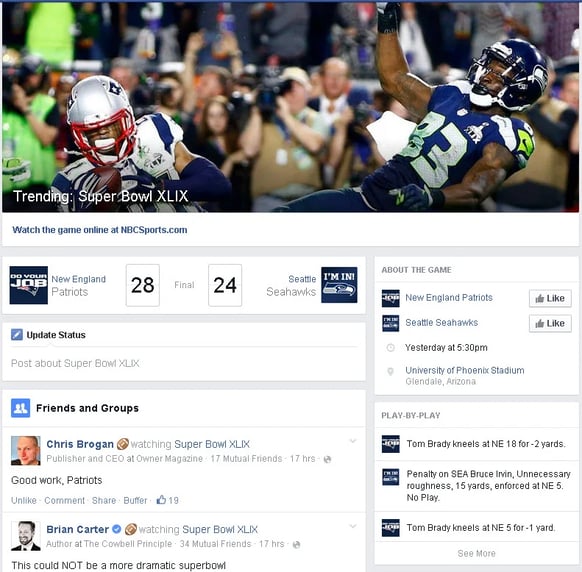 It makes sense for Facebook to leverage the Superbowl as an ad-selling event.
And I'm sure advertisers see Facebook as a more affordable way to get exposure during the big game.
So how much exactly did they leverage Facebook ads?
>> Click to Tweet <<
Here's How Advertisers Pimp Their Facebook Ads During the Superbowl
During what sporting event do businesses buy the most Facebook ads?
Super Bowl?
Olympics?
World Cup?
SocialCode did a study to find out. And I think the results might surprise you.
They examined Facebook ad campaigns from 12 Fortune 500 companies during 3 major sporting events:
Super Bowl XLVII
2014 Winter Olympics
2014 FIFA World Cup
The Olympics went for 16 days, the World Cup for 32 days & the Super Bowl was a 3-hour affair on a Sunday afternoon. It's hard to compare ad spend for the 3.
So SocialCode examined the Facebook ad spend on a per-hour basis.
And the Super Bowl blew the other 2 out of the water!
Check out these fascinating findings before you look at the whole infographic:
Advertisers spent 6 times more per hour on the Super Bowl than the Olympics & 40 times more per hour than the World Cup
Overall Facebook ad spend during the World Cup was 8.8 times higher than the Olympics & 20 times higher than the Super Bowl
Overall Olympics ad spend was 2.25 times higher than the Super Bowl
Half the advertisers ran a TV spot in conjunction with their Facebook ads
Two-thirds of advertisers ran Facebook ads during the Super Bowl, while 1/4 advertised across multiple events
Check out the infographic below for more details:

____________________
RECOMMENDED ARTICLES: