Want to take your marketing with Linkedin to the next level?
Want to reach Linkedin's 650 million users worldwide?
If the answer is yes, then you need to do more than just share a status with the link to your latest blog post.
In this post, I'll show you 17 easy steps to promote your latest blog post, video, podcast, and other content on LinkedIn.
Once you learn these steps, make sure to leverage the best social media tools for Linkedin marketing to put them into practice!
Marketing with Linkedin: 17 Easy Steps to Promote Your Content!
Preparation Phase
Step 1: Check Your Content
If you haven't already, run a final check of your content to ensure that your content's featured image and title are showing properly when you share a link to your content.
You can test it by pasting a link to your content in your start a post box on your LinkedIn profile.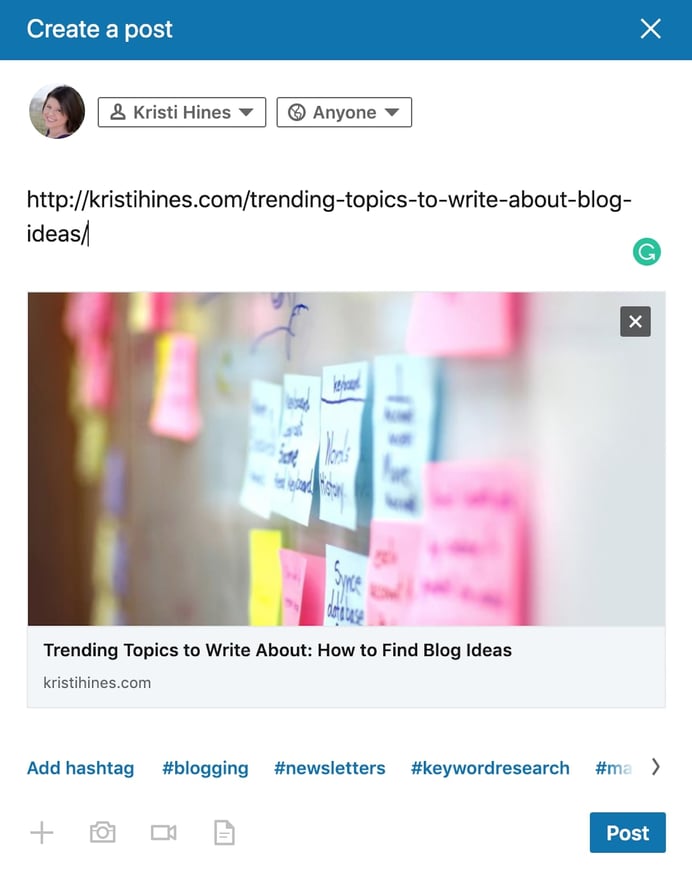 The image is especially important. According to Best Practices for Sponsored Content on LinkedIn:
"An image size of 1200 x 627 pixels is recommended. Content with larger visuals tend to get up to 38% higher CTR (click-through rates)."
Step 2: Create a Cheat Sheet
The second step of content promotion is creating a cheat sheet.
This is just a simple text document with:
some introductory texts for your content
the link to your content
additional images if relevant.
The idea is to create some variety amongst your updates.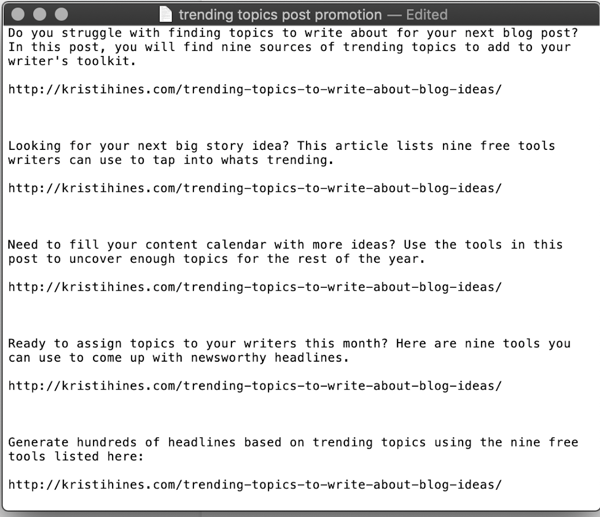 Step 3: Create a Content Promotion Schedule
Every piece of content has a lifespan.
Some content is evergreen, meaning it will be relevant for months or even years to come (with a little editing from time to time).
You may want to promote evergreen content heavily for the first week, and then taper out to one update a week or month based on the amount of additional content you promote throughout the month.
Other pieces of content have an expiration date, such as a promotion for a product launch or an event. You may want to promote these pieces heavily for a few weeks, and then archive them.
So while the following promotion tactics may feel excessive, just remember. You don't need to do all of them at once. These posts need to be spread out across your social media calendar and mixed in with other posts.
Promotion Phase
Now, we're moving into the actual promotion phase, starting with sharing our content on our LinkedIn company page. By starting your content promotion here, it gives you the option to share the post from your company page to your personal profiles later.
On the other hand, if you only have a LinkedIn profile, you can share your content in the same ways we are about to discuss. You just won't have access to the same audience targeting features.
Step 4: Share on Your Company Page as a Link
The first step of content promotion is to share the link to your content on your LinkedIn company page, along with a description that will entice anyone who sees it in their news feed to click on it.
Your update can be shared with anyone or it can be shown only to audiences who meet specific criteria.
You could use this targeting if your content is geared toward a specific audience.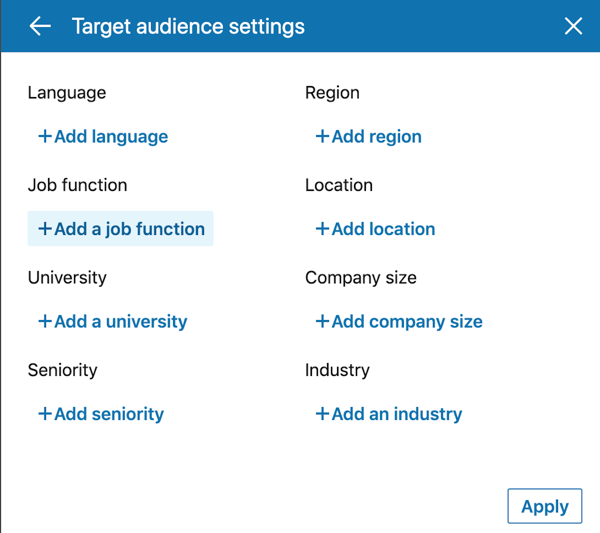 LinkedIn will also give you hashtag suggestions to help you reach more people interested in specific topics with your content.
Once you have finished targeting your audience (if applicable) and adding hashtags, you can publish your post to your company page.
Step 5: Share on Your Company Page as a Photo + Link
Another way to share your post with your audience is by using a collection of photos, text and a link. This would allow people to get a sneak peek of the content you are going to share before clicking through.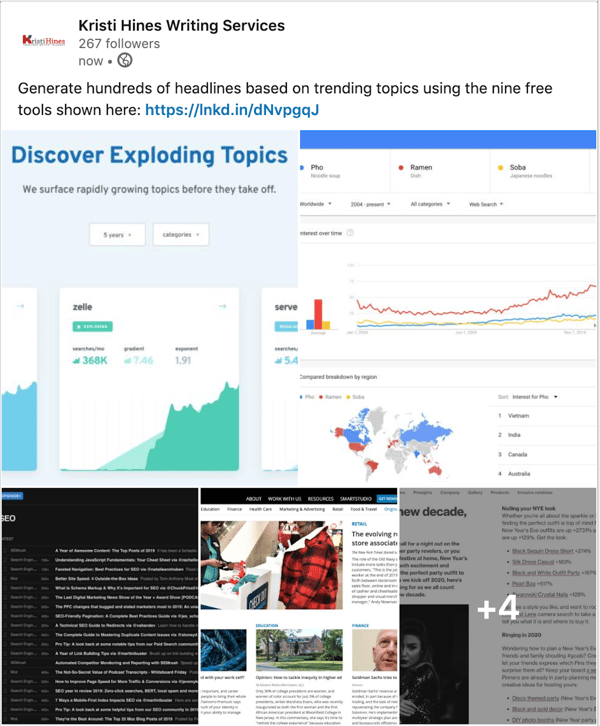 One thing to note: anything more than two lines of text above the images will be cut off by ellipses and a see more link.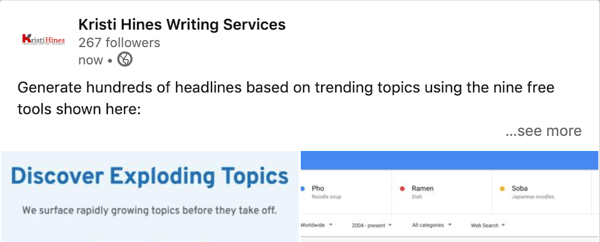 Be sure that your descriptive text and the link to your content comes BEFORE that cut off, otherwise you'll lose a lot of clicks through to your website and content.
Step 6: Share on Your Company Page as a Text + Link
If you want to take a minimalist approach, you can share your content on your company page with just text and a link.
Simply click the X when the link preview appears and your post is text only.

Again, be sure that your link appears within the first two lines of text, otherwise, it will be cut off. While this is great for people who want more engagement with their audiences in the comments, it's not so good for people who want link clicks.
Step 7: Share on Your Company Page as a Video + Link
Video marketing will be a big part of the 2020s, and 66% of video marketers plan to include LinkedIn in their content strategy.
So if you aren't including video in your content promotion, you might want to look at ways you can start including it now. Do so as relevantly as possible, of course.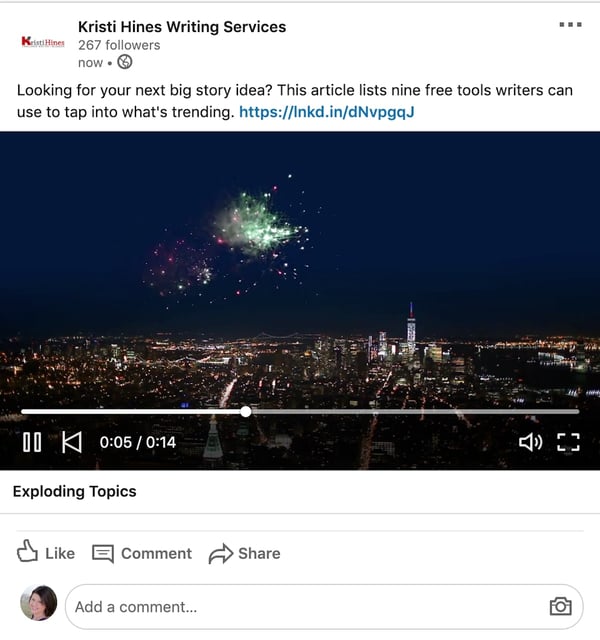 Step 8: Share on Your Profile
Just like your LinkedIn company page, your LinkedIn profile allows you to share posts with links, images, videos, text, and documents.
You can use all of these options to promote your content to your LinkedIn 1st-degree connections and followers.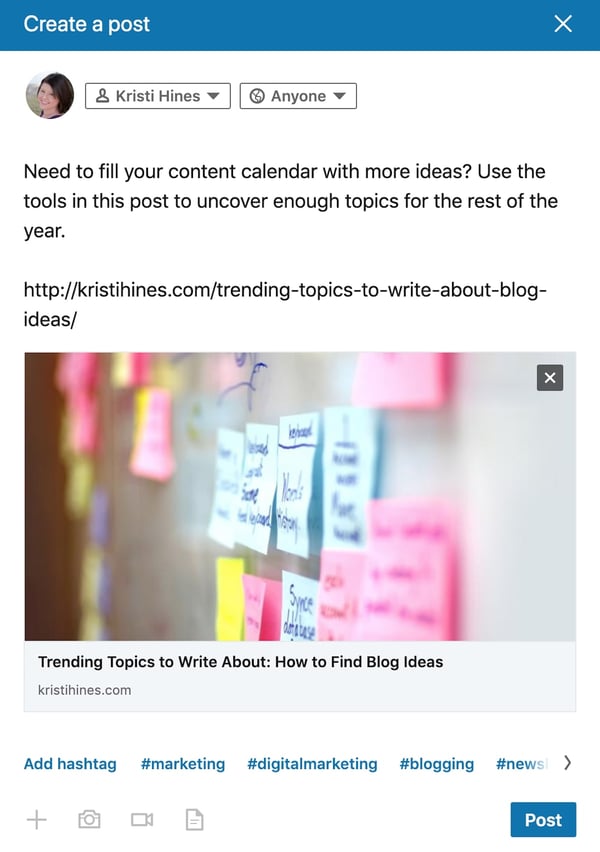 Audience targeting on LinkedIn profiles is slightly different. In this case, you can let anyone see your posts, or only let the following audiences see your content.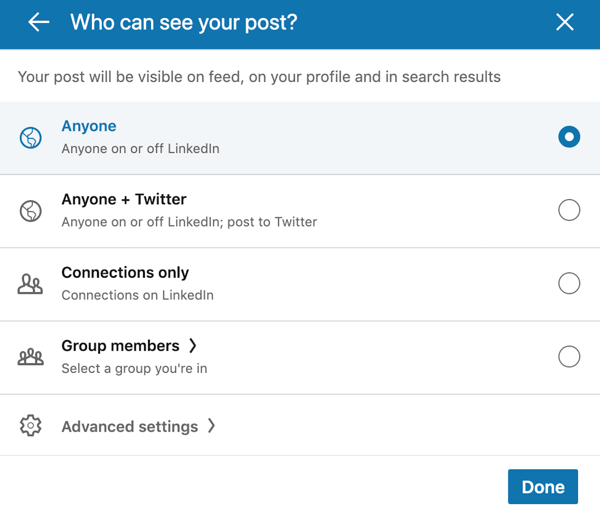 Step 9: Share on Your Profile from Your Company Page
If you shared your content as an update to your LinkedIn company page, you can share the post from your company page to your profile.
The trick is to not view your company page as an admin, but use the view as a member option at the top right of your page.

This will allow you to see the share link at the bottom of the update you want to share from your company page to your profile.
Now, your connections will also get a link to your content next to your company page with an option to follow it for future updates!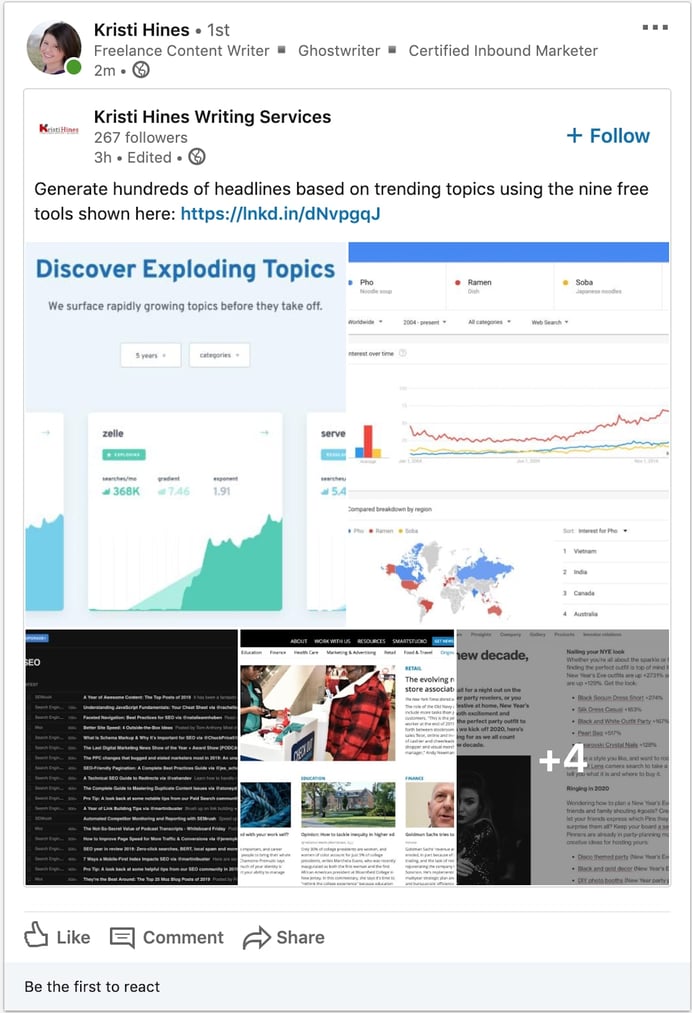 Step 10: Share on Your Profile as an Article
There are different theories about how to promote content on different publishing platforms.
Some will only offer a preview of the content, and then include link to get people from their LinkedIn article to their main piece of content, whether it's a blog post, podcast, or video.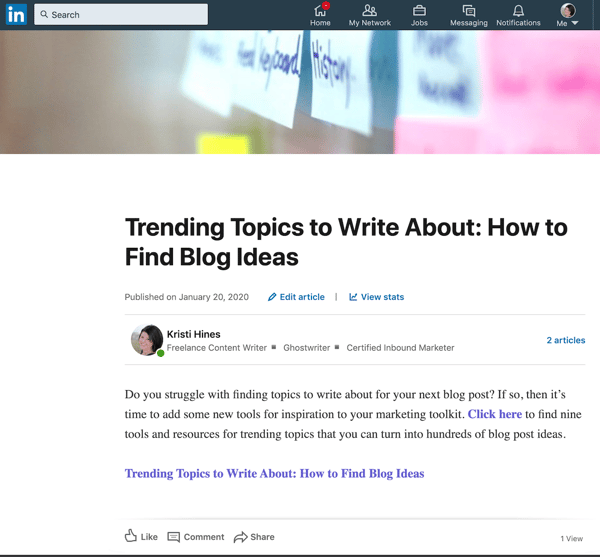 Others will include the full piece of content on LinkedIn: the entire text, the entire embedded podcast, or the entire embedded video. That way, their LinkedIn audience is able to consume the message, regardless of where.
To promote your content using an article on your profile, you can click "Create a new Post".
Craft your post accordingly and publish it to your LinkedIn audience. Based on their settings, your 1st-degree connections and followers may be notified when you publish your LinkedIn article.
Step 11: Share on Your Profile as a Publication
There are several sections you can add to your profile.
If you don't have anything currently listed under your publications, you can add a direct link to your best content in that section. To do so, go to your profile and click on the dropdown to add a publication.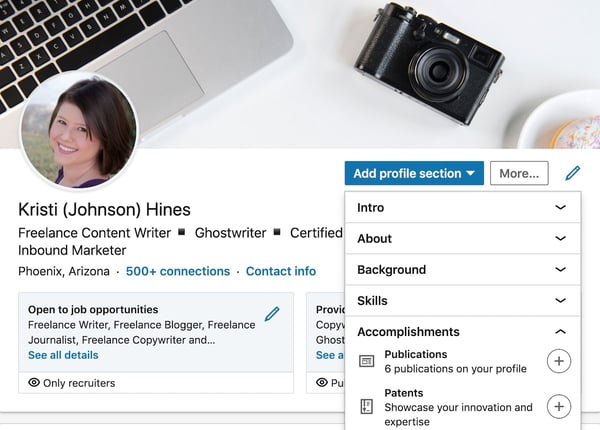 Next, you will enter details about your content.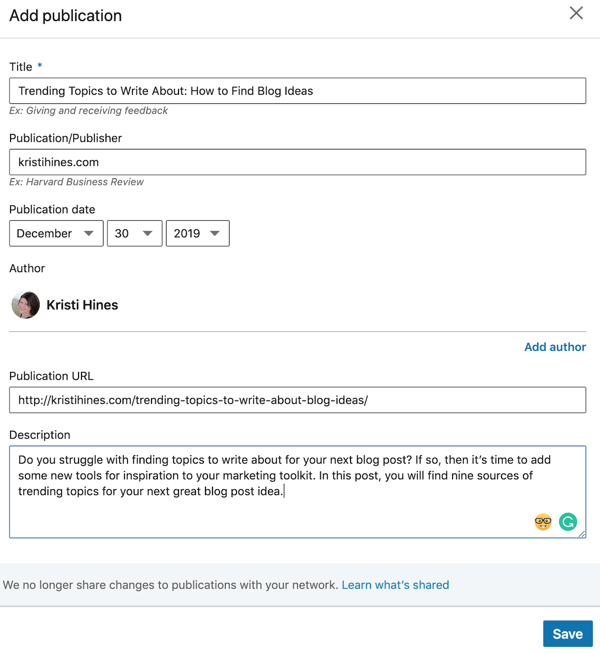 Once you are finished, you will have a link to your content on your LinkedIn profile under your accomplishments.

Step 12: Share in Your Groups as a Link Post
This one can be a bit tricky, but it can also be rewarding when done correctly. The first part is choosing your groups wisely. Start by reading the groups rules first. If they don't allow self promotion, then your efforts won't be worth it anyway as your posts will be removed and you'll likely get kicked out of the group.
You need to pick groups that aren't so unmoderated that they are nothing but spam, but not so moderated that they don't allow you to share your content at all.
Ideally, you want a group that fits your content so well that when you do share your content, it isn't considered spam. It's considered helpful.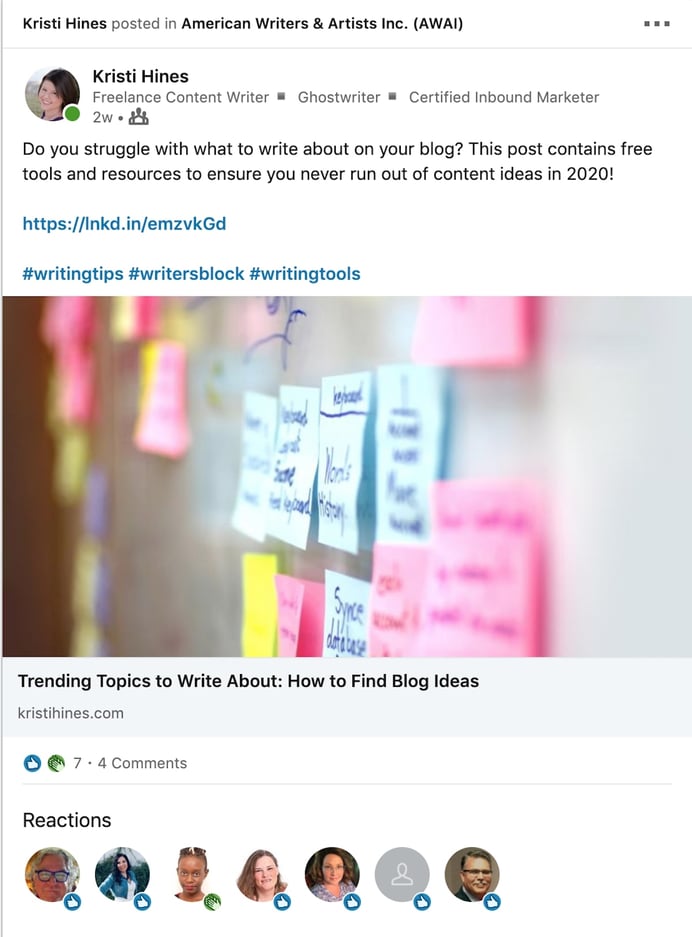 That's when you have found the right LinkedIn groups for content promotion.
One way to ensure your content is seen as helpful and not spam is to interact with group members prior to dropping in content links. Another is to interact with the group members that do like and comment on your content when you do share.
LinkedIn groups will give you what you put into them. Engage with members who have high-quality content like yours, and they will likely do the same when you start to promote your content.
Step 13: Share in Your Groups as a Link in a Comment
For the groups that are so heavily moderated that you can't actually start a link as a group discussion, try sharing your content as a comment in the group instead.
Once you're in the LinkedIn group, use the search box to see if there are any questions that relate to your content. If you find any, see if you can create an answer that leads to a link to your content.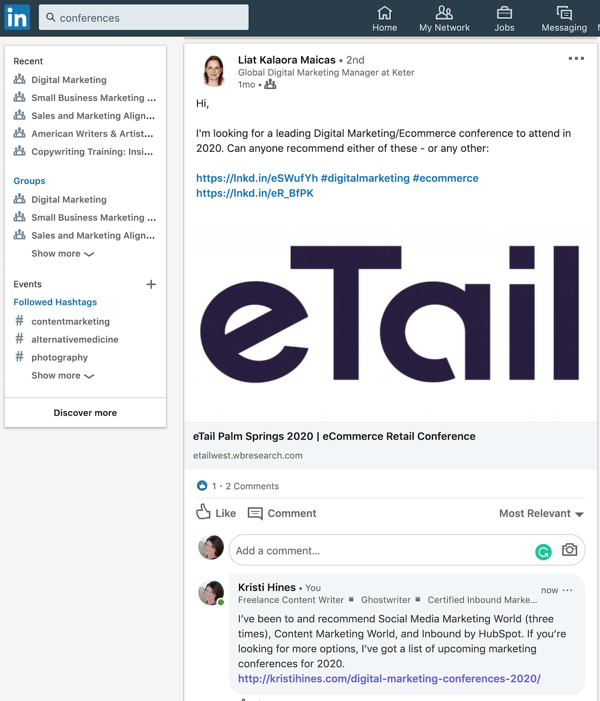 At a bare minimum, the person who posted the question will get notified of your answer. If you provided a valuable answer, they might reward you with a thank you and a share of your content outside of the group.
In some cases, where link sharing is an absolute no-go (you might get your comment deleted and a not-so-friendly warning from the group's moderator), the alternative is to message the person directly.
You may be able to do this if the person is in your 2nd-degree network since they also share a group with you. If not, you may have to reach out to the person via Twitter or their email if it's listed on their profile.
Step 14: Go Live on Your Profile or Page
If you enjoy creating live video content, LinkedIn will let your 1st-degree connections and your followers go live.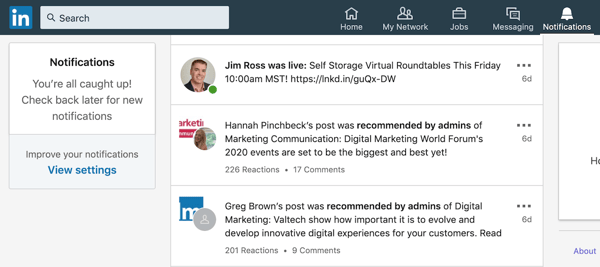 This makes it a great way to promote your content. You can create a long live event about your content, or just a quick hello to let people know that you've published something new.
Unfortunately, not everyone can go live just yet. You'll have to apply to become a LinkedIn live broadcaster here if you don't have the feature already.
Be prepared to make a compelling case about the type of exciting live video content you are prepared to create for your LinkedIn audience in your application.
Step 15: Message Your Contacts
Do you have contacts who ask you for favors via LinkedIn messaging?
Maybe they've wanted you to try out their new marketing tool or give their new ebook a review on Amazon?
If you've been helping people out on LinkedIn, and you know they're interested in the content you create, it's time to get a little something back in return.
Take a tour through your LinkedIn inbox. See if there is someone who has recently asked you what you have been up to or if there is someone who maybe owes you a favor. Let them know you have some new content.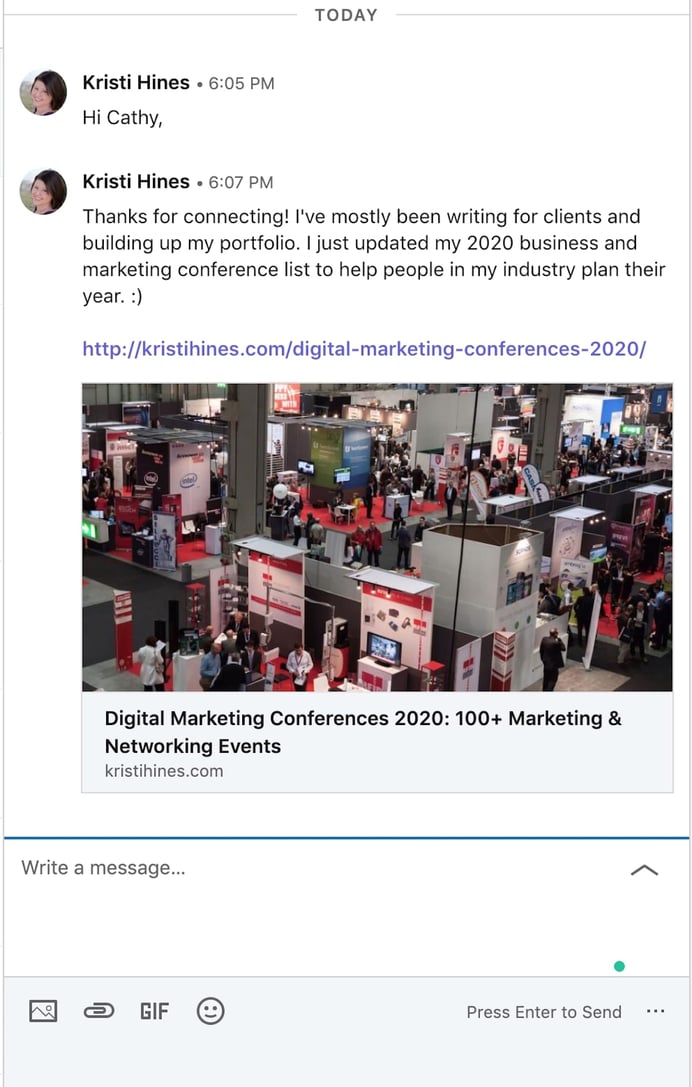 Step 16: Message Targeted Audiences
Is your content specifically geared for audiences that are in your network?
Make sure they know about your content by messaging them directly. You can search your network using LinkedIn's search box and filter for 1st-degree connections only.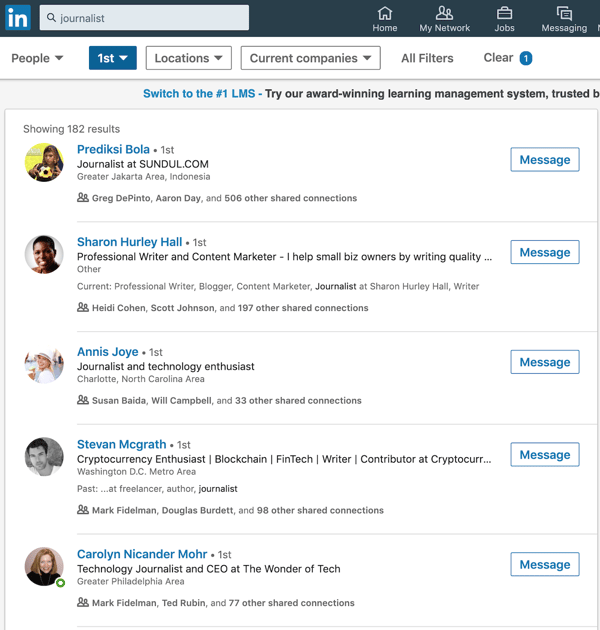 This will show you the people you can message directly about your content. Note that you don't want to spam your connections, so you'll want to make this message count.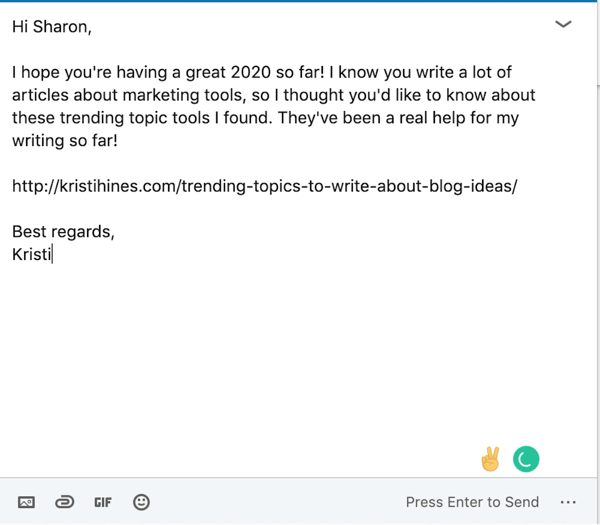 Personalize it as best you can - address the recipient by name and let them know why you chose to send them that specific piece of content.
How did it benefit you and how will it benefit them? Be specific and to the point.
Want to invest in your messaging? Sign up to be a LinkedIn Premium member and you can get InMails to message people who are outside of your 1st-degree network.
Each plan comes with a select number of InMails per month. InMails that aren't answered are credited back to your account so you can use them again to promote your content.
Step 17: Sponsor Your Post
Want to get some extra reach for your content?
If you have a LinkedIn company page, you can sponsor a post from your page to get your content in front of larger, targeted audiences.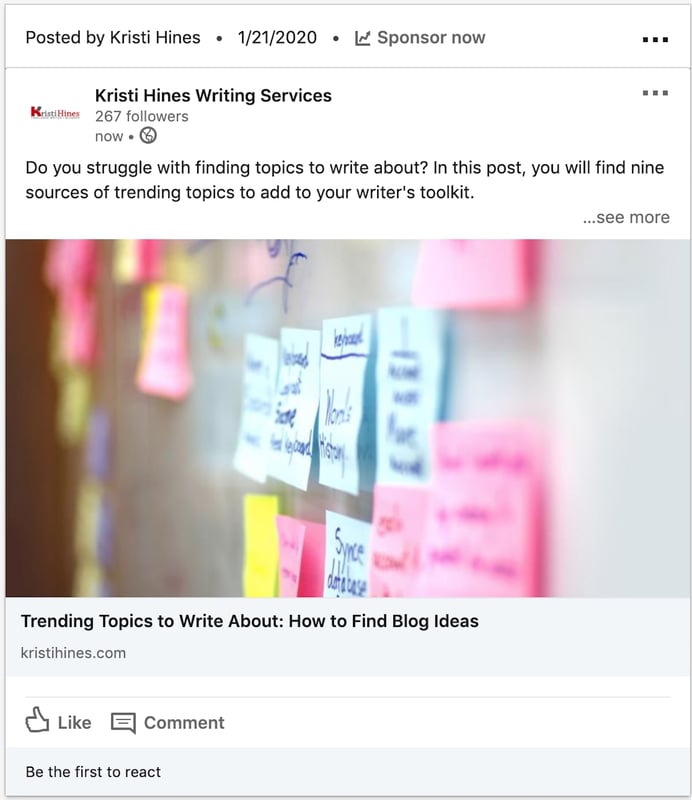 When you click Sponsor Now, you will be taken to the LinkedIn Campaign Manager to set up an account and ad campaign if you haven't done so already. You will then configure your ad settings.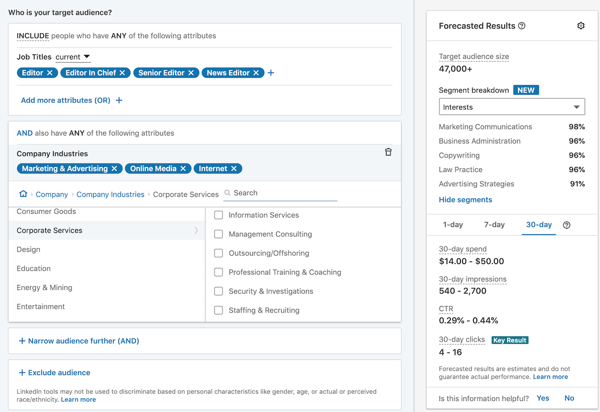 Once you have configured your ad objective, audience, schedule, and budget, you will browse from your existing content to find the post to sponsor.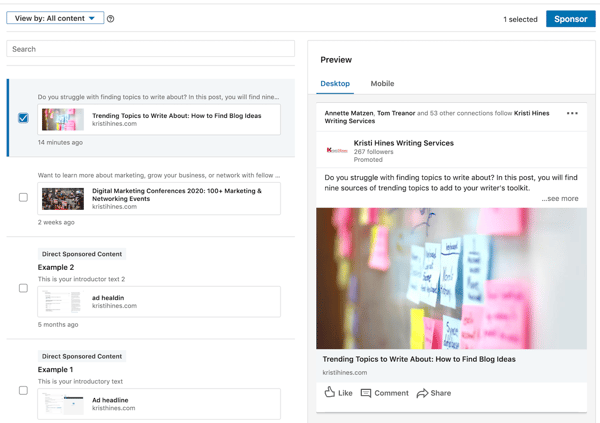 Once you're finished choosing one or more posts from your page to sponsor, you will get a summary of your ad and expected results. Examine this page carefully before you click Next to submit your ad for review.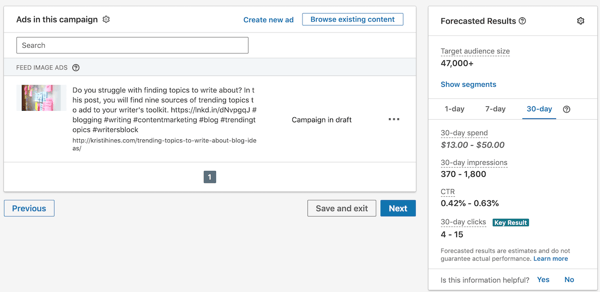 As your ad campaign progresses, check your progress in the LinkedIn Campaign Manager to see if your ad spend is generating the clicks that you were expecting. Keep this in mind for future LinkedIn ad campaigns for content promotion.
Additional Ways to Promote on LinkedIn?
You see?
Marketing with Linkedin isn't rocket science. It just takes some patience and knowing the right steps!
What other ways have you promoted your content on LinkedIn?
Let us know in the comments.