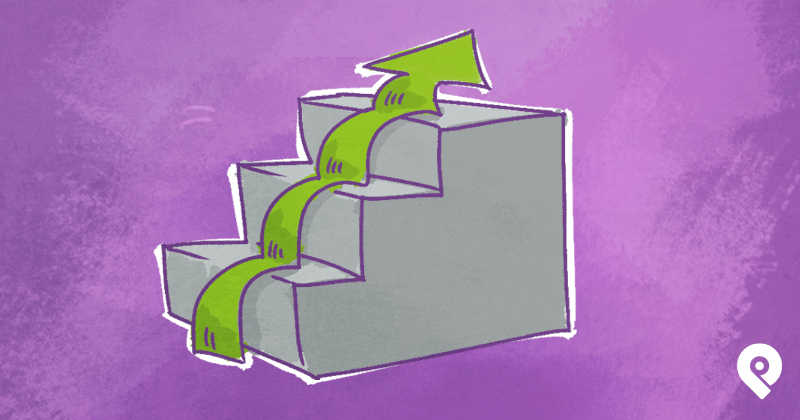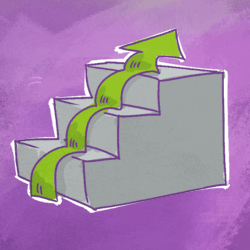 Ever wonder why influencer marketing works for others but not for you?
It can be confusing when you're not getting results from something that has been "proven" to be effective.
Did you ever think that you might have made a mistake with your influencer marketing campaign?
When marketers say that something as effective as influencer marketing isn't working for them, there's a reason. Usually, they're just not doing it right.

For instance, you could be:
These are just a few examples of the mistakes you could be making with influencer marketing.
In this post, you will learn the most common reasons influencer marketing campaigns fail.
You'll also learn the 3 easy steps that can improve your influencer marketing campaign and make sure your next campaign is a success.
How to Improve Your Influencer Marketing Campaign in 3 Easy Steps
How to Improve Your Influencer Marketing Campaign in 3 Easy Steps - http://bit.ly/2ekIOGb (by @shane_barker on @PostPlanner)

Click to Tweet
Step 1: Take the Time to Get to Know Your Audience
Every successful marketing campaign, whether influencer marketing or not, begins with thorough audience research.
It is an especially crucial part of influencer marketing. First, you need to know who your target audience is...
...And only then can you begin your search for people who influence the opinions and decisions of your target audience.
Some people are in such a hurry to get started with influencer marketing, that they rush through the audience research process.
As a result, their steps are based on assumptions. They can only try to guess which influencers will have an impact on their audience.
Take a look at the case of Chriselle Lim, for example. Chriselle has more than 750,000 followers on Instagram.
A majority of her posts are about fashion and lifestyle...
...So when she posted the following image promoting the new eco-friendly car from Volvo, she received a lot of backlash.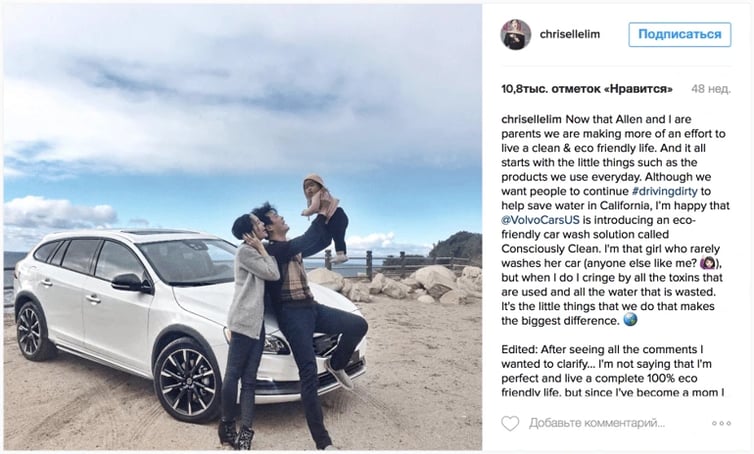 In the screenshot below, you can see that she doesn't usually post anything even remotely related to cars or eco-friendly living.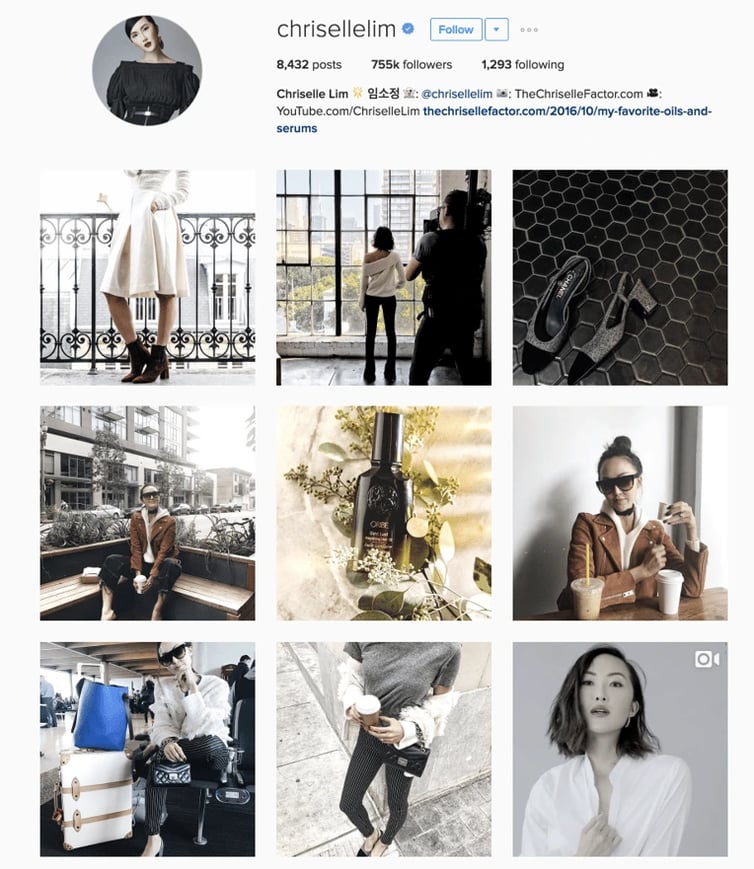 She was simply not the right choice for this specific product.
It seems that Volvo may have just reached out to Chriselle because she's a top influencer on Instagram...
...What they should have done was find the right influencer for their audience.
You need to take the time to research the likes, dislikes, behaviors, and values of your target audience.
The valuable information from your audience research will help you find the right influencers for your campaign.
The audience insights will also help you design a campaign that delivers the optimum results for your brand.
Tip #1: Monitor Audience Conversations
The best way to get to know your audience better is by monitoring their conversations.
This will help you understand their communication style and the tone(s) they're most comfortable with.
Are their conversations typically formal and straight-to-the-point? Or are they more casual and humorous? This information will give you a better idea what type of influencers will be best for your campaign.
You can monitor conversations on online forums relevant to your niche.
You can also use keywords to find relevant conversations on Reddit and Quora...
They're places where people with the same interests come together to interact. These conversations can help you understand your target audience better.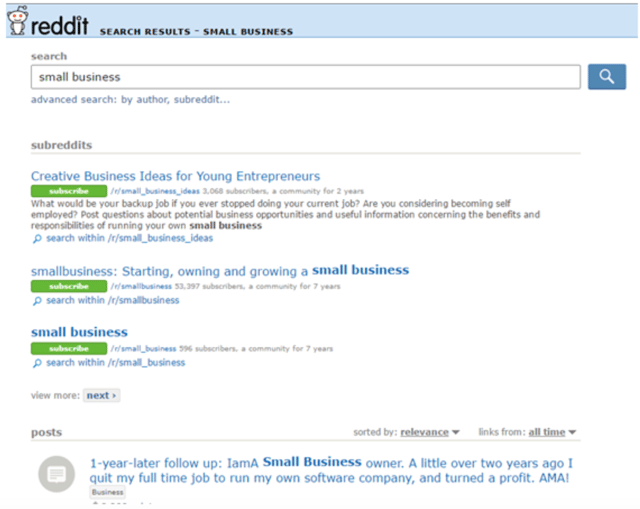 Tip #2: Find Out What They're Interested In
Another great way to get to know your audience better is by finding out what topics interest them the most.
For this, you can use tools like BuzzSumo to find trending and popular topics in your niche.
If your target audience is comprised of small business owners you can use the "small business" keyword to search for the most popular topics within this niche. BuzzSumo will show you a list of some of the most popular articles related to "small business."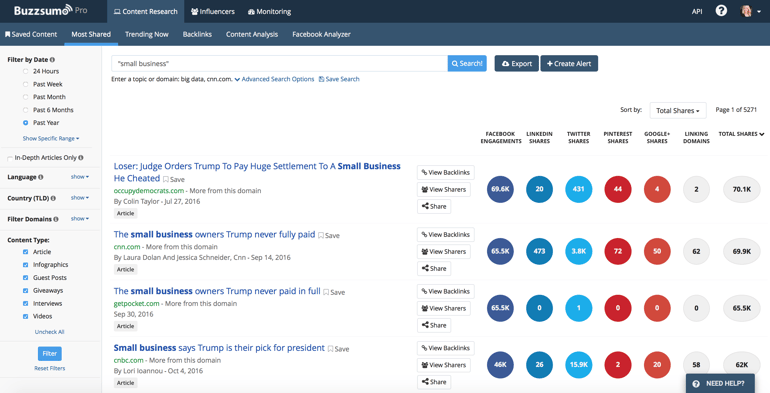 Determining their topics of interest is necessary.
After all, different influencers have different approaches for creating content.
Influencers, (even in the same niche/category), have different values and interests...
...This means the audiences they influence will be different as well.
Let's say you have a choice between two influencers in the food and lifestyle industry.
One regularly promotes healthy, natural foods and products as well as eco-friendly living on a budget.
The other focuses on luxury living, and regularly posts photos and stories about exotic foods from her luxury vacations.
If you were trying to promote a new organic product, the first influencer would have a much more significant impact on your target audience.
You can still reach out to the second influencer as well, but your main focus should be on the first.
Step 2: Choose the Right Influencers
Insufficient or inaccurate audience research is one of the main reasons brands choose the wrong influencers.
Unfortunately, many marketers focus on the wrong metrics when filtering and selecting potential influencers.
Even if you choose the right category, but don't choose the right influencers from that category, your campaign might still fail.
A common mistake businesses make when evaluating potential influencers is to rely on reach alone.
If you choose influencers based solely on their number of followers, you'll end up with people who can boost your brand's visibility, without improving conversions.
To truly engage your audience and execute a successful campaign, you need to do one thing:
Find influencers who have the right balance of reach and engagement.
Don't just focus on the number of followers and the page authority.
You should also look at their retweet and reply ratios, and other metrics.
Look at anything that will help determine their engagement level, such as comments and shares.
The goal is to work with an influencer who can add a human touch to their interactions, and help you build a stronger relationship with your audience.
Usually, micro- and mid-level influencers are ideal for this.
In fact, they can drive more engagement than top influencers and mainstream celebrities.
Let's take a look at an example on BuzzSumo.
If you use the keyword "gaming" to find relevant influencers, you'll get a list sorted by relevancy.
Usually, the top-tier influencers will be listed at the top.
As you can see below, the first influencer is Engadget Gaming with a DA of 94 and a follower base of almost 500,000.
But the reply ratio is just 8%.
Ryan Scott's DA is lower (29), and he only has about 20,000 followers. But his reply ratio is 66%, which signifies much higher engagement.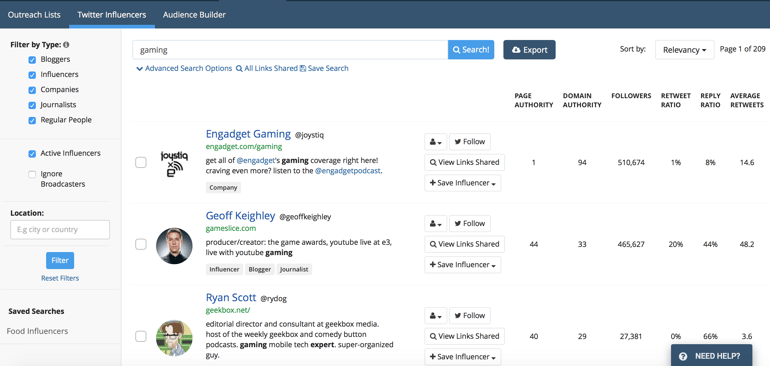 Step 3: Don't Control an Influencer's Voice
Influencers are influential for a reason.
They have a unique personality, and a unique voice with which they communicate with their audience.
Many of their followers can easily spot any difference in the style, language, or tone they use.
In an attempt to maximize your campaign's performance, you may have tried to control what an influencer said about you, or how they said it.
This is one of the worst mistakes you can make.
If the influencer loses their voice in a sponsored post, the message is going to sound fake and impersonal.
Their followers will spot this fakeness right away, and will likely ignore and/or ridicule the sponsored post.
Let's say you've approached an influencer who often speaks his mind in a blunt, yet amusing way.
His audience loves him for his honesty and sense of humor...
...But you decide to craft a professional message for him to use in the sponsored post.
Do you really think his audience is going to buy the formal tone of the message?
Probably not.
So, if you have a specific message you want the influencer to communicate, tell them what, specifically, needs to be included, then let them use their own voice to do so.
Tell them what you expect, but give them the freedom to recraft your message into something that will appeal to their audience.
After all, who knows an influencer's followers better than the influencer themselves?
Take for example Jack Douglass, who runs the YouTube channel jacksfilms.
He often creates sponsored posts in a way that appeals to his viewers. He doesn't try to hide the fact that it's a sponsored post, but instead adapts it to fit in with his regular content.
Many of his sponsored posts are created to fit his #YIAY series.
He simply asks his viewers a question, and then creates a video compilation of their answers.
For instance, he created a sponsored post for Leesa.com, the direct-to-customer mattress company.
He asked his fans about their, "Top Things to Do in Bed," and used their answers to create the video.
He ended the video with a promotional code for viewers to get $75 off their new mattress purchase.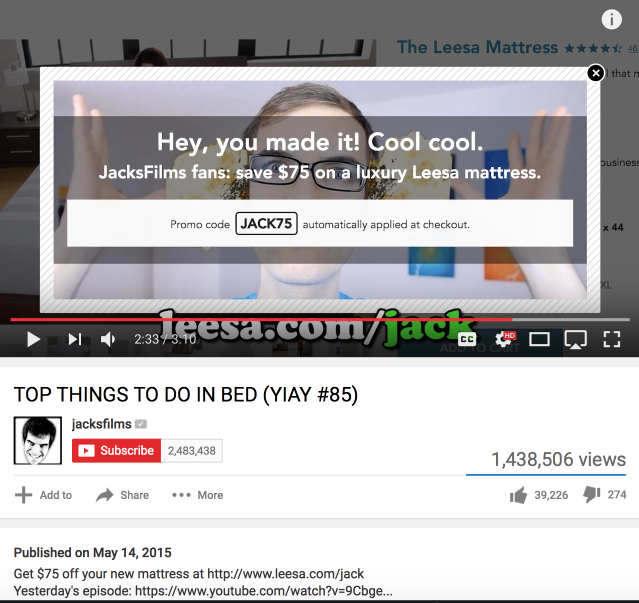 Bonus: Build a Relationship with the Influencer
Another common mistake brands make is that they don't take the time to build a relationship with the influencer.
Instead, they treat influencers like marketing tools rather than actual human beings.
No matter how well an influencer adds their voice and style to your message, it could still end up sounding impersonal and staged...
...Especially if the influencer doesn't feel a genuine connection with your brand.
If the sponsored posts don't sound natural, it can seriously harm your brand's image.
Impersonal, fake content will also be annoying for the influencer's audience.
They won't buy into it, and they may even lose trust in your brand. That means not only a diminished ROI, but a diminished brand reputation as well.
You need to work on building your brand-influencer relationship right from the start.
Picture your relationship as a tree. You need to start nurturing it as soon as you plant the sapling.
Before you contact an influencer directly to pitch a partnership, try to establishing a connection on social media. Share their content, and comment on their posts regularly so they start to notice you.
Other ways to build a genuine relationship with influencers include:
Get your influencers together for an exclusive event just for them.
This is your chance to personally interact with them in a non-business setting.
You can develop a genuine friendship with them, as your partnership flourishes.
Co-creating content with influencers allows you to work closely with them instead of simply handing them the reins.
This gives you the opportunity to share your values to create content that genuinely expresses your combined views.
Keep in mind that there's a smaller chance of clashes in interest, which could damage your relationship.
Many influencers have a cause they care about...
...It might be related to cancer, illiteracy, poverty, mental illnesses, or social issues.
If their cause aligns with your beliefs, try to build a campaign around the cause.
These campaigns often work effectively since you'll be joining hands for something that you mutually care about...
...And your shared values make way for a genuine relationship.
A good example of this is how Cartoon Network and FullBottle worked together.
Their goal was to spread an anti-bullying message through Vine influencers...
... And encourage teens and kids to speak up about bullying when it happens to them.
Currently only 20-30% of bullied kids report it to their parents or the authorities.
So, viners like Mike Bennett created short video clips for the campaign.
Mike's video included a heartfelt and entertaining message to young people affected by bullying.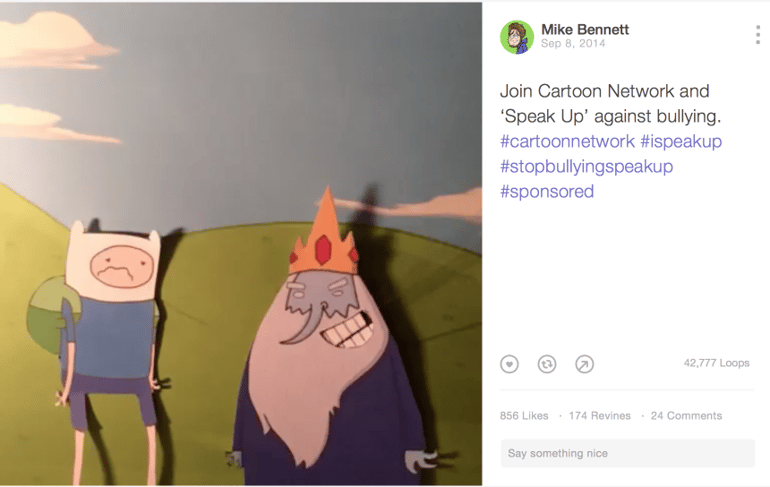 Conclusion
Now that you've seen the good, the bad, and the ugly sides of influencer marketing, you should have a better understanding of why your past campaign(s) might not have done as well as you had hoped...
...and what you can do to improve your influencer marketing campaign.
Don't forget to track your campaign's performance, so you can easily identify what is working, and what isn't.
This will help you make changes quickly to adapt your campaign for optimum performance.
What other mistakes do people make with influencer marketing?
Share your thoughts in the comments below.
If you need professional guidance to execute the perfect influencer marketing campaign, feel free to get in touch with me.