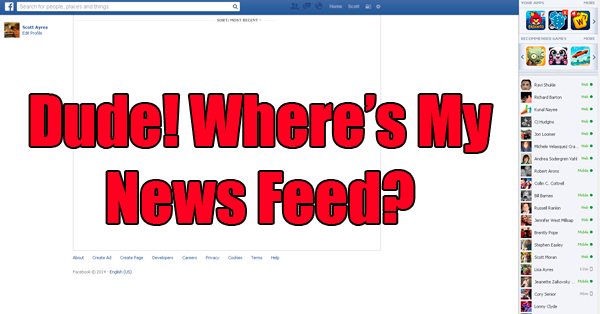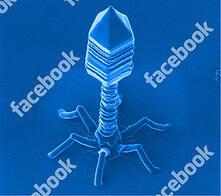 ** The following post contains a short rant about a current Facebook bug I'm experiencing -- a bug that could be KILLING your bottom line! **
It's been a tough week.
Why?
Because my Facebook homepage (including my news feed) has been completely blank since last Monday (March 17).
Here's what it looks like: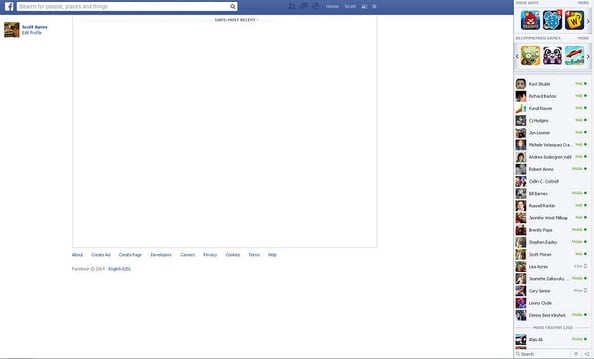 See anything missing?
Pretty much everything, right?!
And I'm getting REALLY frustrated!
This makes it so I cannot access interest lists or Facebook groups. Notifications only load when I'm on my personal Timeline -- and they load very slowly.
Yes, I've cleared my cache, cookies, etc.
I've also tried loading it in different browsers on different computers -- and got the same results.
The ticker does appear when I zoom to 175%: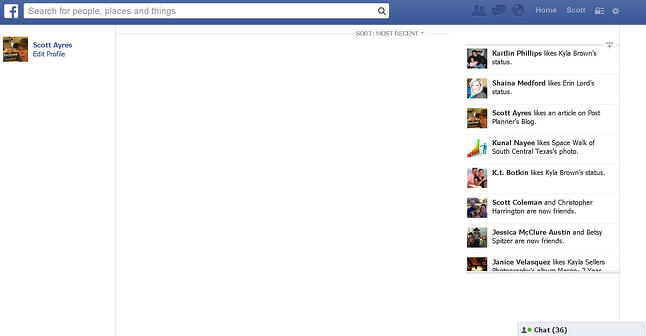 But I have to visit Timelines directly to respond to posts from friends -- or use the Facebook mobile app on my smartphone, which I'm not a fan of.
Facebook News Feed Bug Makes it Tough to Work
My duties as Post Planner's ambassador of awesomeness involve talking to people on Facebook.
And most of that communication happens on my news feed -- where I comment on posts from the people & pages I follow.
But this bug makes this critical communication nearly impossible.
And I'm not the only Facebook user having problems.
Mike Gingerich, of TabSite, reports similar issues: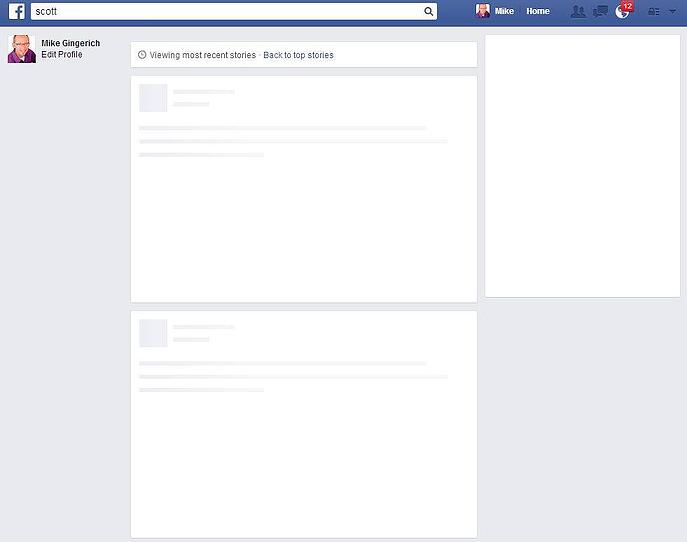 Mike has the most recent version of the Facebook news feed. My page has an older feed.
Apparently, this bug can impact anyone.
Since Mike & I are both experiencing problems, let me break down some possible impacts:
I have 597 friends. Counting myself & Mike, that means 2 out of 598 people are experiencing this issue -- about 0.3344%.
If that percentage held true across the website, of Facebook's 1.3 billion users, more than 4.3 million might be experiencing the blackout.
Average users see about 1,500 news feed stories per day, which means more than 6.5 billion stories may not be getting viewed.
Wow!
Lost Revenue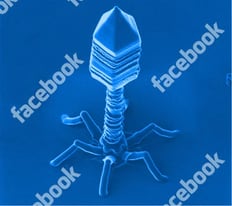 If 4 million people aren't seeing posts in their news feed, Facebook may be concerned about how this bug might impact advertising revenue.
That's millions of eyes not seeing Sponsored Stories & other ads.
That's like hiding Facebook from San Diego, Houston & Washington, D.C. -- combined!
The lost revenue could be huge.
I Reported the Bug to Facebook
I reported the bug to Facebook, but I'm skeptical I'll get a reply.
And finding bugs or other "known issues" in Facebook's Help Center is not exactly easy.
Here's how to report a Facebook bug:

I accessed "Report a Problem" in my settings (via the gear icon).
Why the Bug Should Concern Page Managers
Social media managers SHOULD be concerned about the bug since it could mean a drop in Reach, Likes, comments & shares on posts.
If fans can't see your status updates -- they can't engage! And fan engagement is key for getting more people to see your posts.
Don't expect fans to visit your Timeline to view updates -- it ain't gonna happen!
If there is good news here, it might be that most Facebook users are viewing the social network on mobile devices -- and the issue doesn't seem to be affecting them.
But there are fewer Facebook ads on mobile, and I'd guess mobile users are less likely to make purchases than those using a desktop computer.
What about you?
Have you got the bug?
If so, tell me about your experience in the comments below. Even better, post a screenshot of your page.
How might the bug impact Facebook pages moving forward?
**Update: As of 10am March 26th my home page (sidebars and news feed) seem to be working again, as well as Facebook groups. Maybe writing this post got someone to fix the darn bug!!