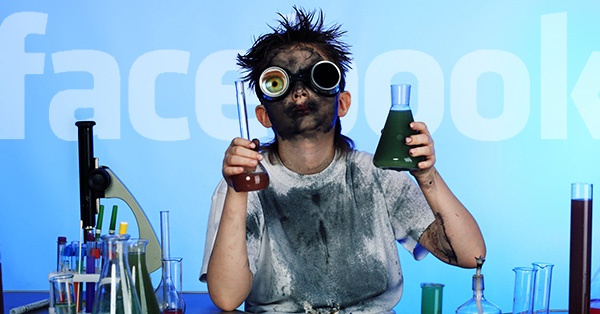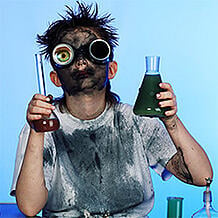 I recently did something crazy!..
I went 14 days without looking at the Facebook newsfeed.
And it wasn't that hard!... because I was on vacation with my family most of that time.
I removed the Facebook mobile app from my phone as we drove to Disney World during a 10-day vacation. And I didn't have time to use my laptop since I was busy rubbing elbows with Buzz Lightyear!
Once home, I didn't access the newsfeed for 4 more days.
My 2-week experiment depended on it! I wanted to see what posts showed up after going that long with no activity.
The only things I did on Facebook during those 2 weeks were:
Interact with posts for which I received notifications
(mostly from pages & groups)
Interact in Facebook groups
(using the new Facebook Groups app to visit groups directly)
Work on pages I manage
(using the Facebook Pages Manager app)
In this blogpost, I'll analyze the posts that appeared in my newsfeed when I returned from my 2-week hiatus -- both in the "Top Stories" and "Most Recent" parts of the feed.
I looked for ads, friends & followers, and activity from lists. Here's what I found.
>> Click to Tweet <<
Here's What the Facebook Newsfeed Showed Me After My 2-Week Hiatus
I almost always have my newsfeed set to "Most Recent" -- whether I'm using Facebook on my phone or computer.
That provides the most up-to-date posts from the profiles & pages I want to see.
When I returned to the newsfeed after my 2-week break, I kept track of the first 100 stories I saw in the "Top Stories" and "Most Recent" parts of the feed.
Top Stories
I don't have the dates, but here's a breakdown of the first 100 posts in the "Top Stories" part of the feed: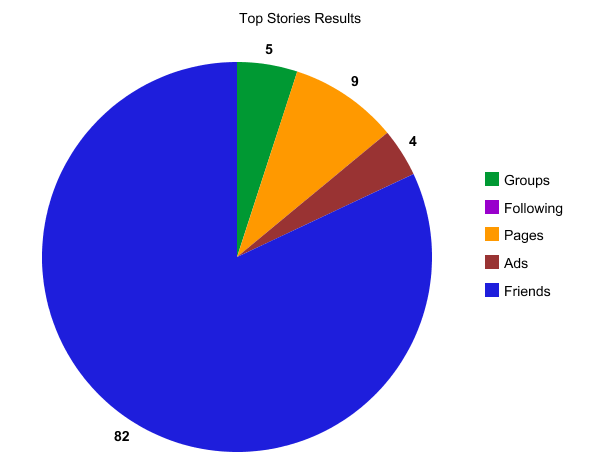 Yes, most of the posts were from friends.
I actually thought that was a mistake, so I checked the newsfeed a few minutes later. Guess what? Same results!
Only 9 posts came from pages I'd Liked.
That's less than 10 percent of the posts coming from business pages. And there were no posts from people or Interest Lists I follow!
Most Recent
I created a similar chart for the first 100 posts from the "Most Recent" part of the newsfeed: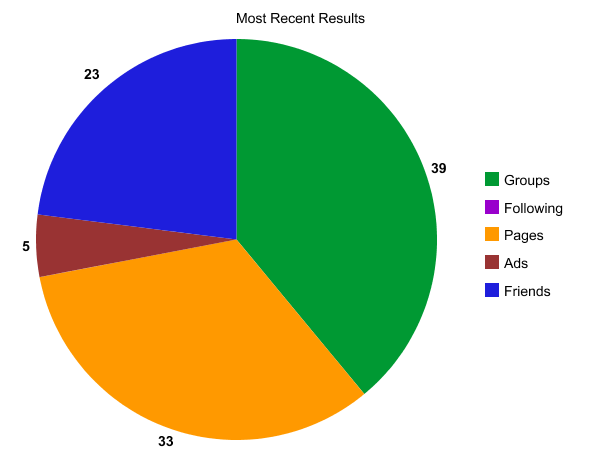 Most of these posts came from groups. About a third came from pages I Liked.
There were no posts from the people & Interest Lists I follow. And the number of ads was about the same as the "Most Recent" feed.
Of the 39 group posts, 32 came from friends posting in groups I follow. The other posts came from other group members I chose to follow in the feed.
Most of the stories from pages were about a Dallas Cowboys football game the night before. I'm a big Cowboys fan & post often about my love for the team!
Facebook must deem these stories important and "trending" for me.
Not So Recent
One striking thing I found was that most stories from friends on the "Most Recent" feed weren't recent at all. Most were published November 23 & 24 -- when I wasn't active on Facebook.
And these posts hadn't seen much activity in days.
I wish I knew why Facebook didn't show more recent posts from my friends.
The algorithm decided instead that I'd missed stories that were popular with my friends weeks before & these posts were displayed in the "Most Recent" part of the newsfeed.
Wouldn't "Top Stories" have been a more appropriate place to display these older stories?
Conclusion
These were the most significant discoveries I made during my 14-day experiment with the newsfeed:
Friends are #1
Facebook appears to prioritize posts from friends over posts from pages.
The "Top Stories" part of the newsfeed especially favored posts from friends.
>> Click to Tweet <<
Facebook Ads
About one ad appeared for every 20 to 25 stories. Make sure your Facebook ads stand out or they'll be overlooked in a newsfeed filled with posts from friends.
Groups Matter
Only follow the most important groups, otherwise, your feed might get overrun with annoying posts.
Interest Lists are Dead
There, I said it!
Not a single post on my newsfeed contained stories from Interest Lists I'd followed.
Those I Follow Get Overlooked
I also didn't see any posts from the people I follow on Facebook.
This newsfeed experiment showed me that I should only interact with the pages & people I want to see posts from on my newsfeed.
One big-time takeaway is this: turn on the notifications for the pages, friends & groups that you want to see every time -- so you can see everything they post!
I think you'll find that you waste less time aimlessly scrolling the newsfeed & see more content from the people & pages you care about the most.