How many more click-throughs can a blog post get using a social media calendar?
That's a question we wanted to answer. So, we used our own to schedule a series of tweets promoting a post, measuring the individual performance of each one.
The results? Our blog posts got 31.5 times more click-throughs—a whopping 3,150% in one week—because of our social media calendar.
That's way more than quadrupling your traffic. I just have no idea what the word is for getting 31.5 times more traffic from social media. 😀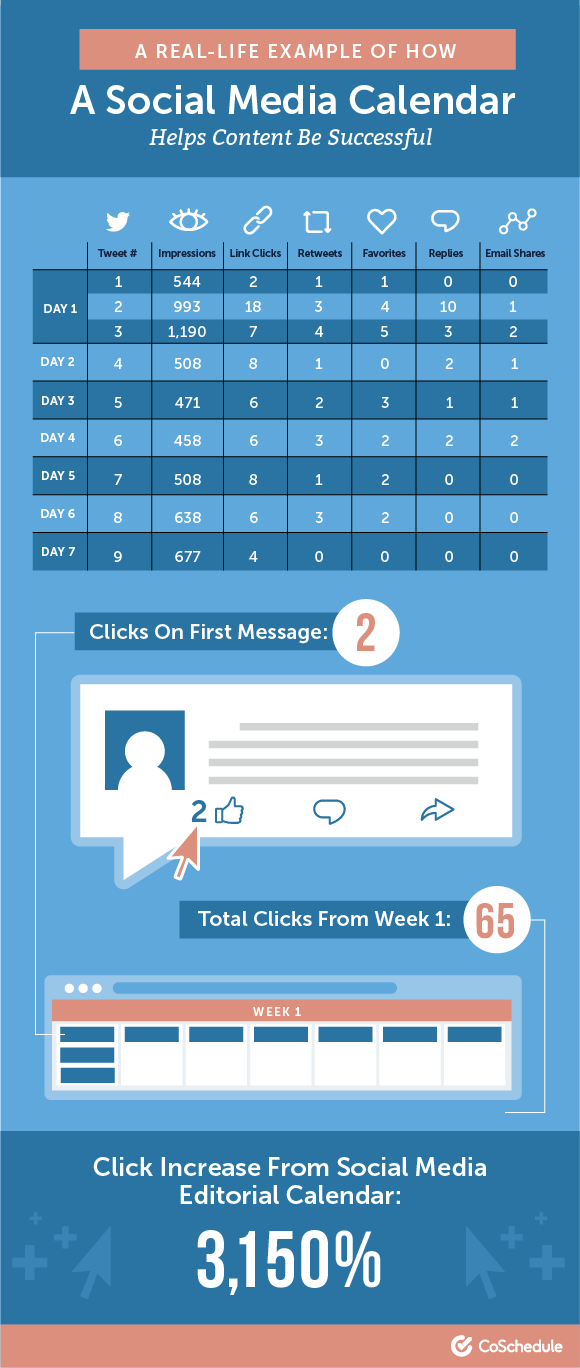 And that was just on Twitter. We share our content on multiple social media accounts, so you can imagine the advantage a comprehensive social media calendar provides our content.
The good news is that it doesn't take that long to set up your calendar, and you'll boost your shares and traffic with near-immediate results.
Of course, there are a few things to know that'll really help you out when you create your own social media calendar. So let's get started.
Let's Quadruple Your Social Media Traffic With a Social Media Calendar
First, make sure you grab a copy of your free social media calendar template here (it's hosted on Google Sheets—just click File > Make a Copy).
It includes three different levels for planning, which we'll describe below.

1. The Broad And General Calendar
This calendar provides an overview of your topics and themes throughout the year. Consider planning these around four to six months in advance, planning around things like holidays and seasonal buying cycles.

2. The Content Calendar
When you need a more granular look at your content strategy, use this tab. It details the editorial content you're creating that will need social media promotion.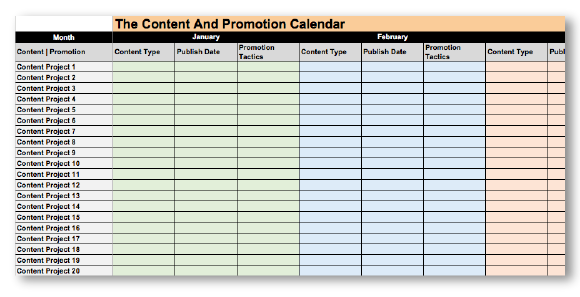 3. The Promotion Calendar
Now, this is where you plan your social media posts. Include:
The title of content you're sharing

. This makes it easier to know which piece of content each post is associated with.

An image link (to Google Drive or Dropbox) if you'll have one

. This makes finding your images easy.

The article URL

. Make sure it's accurate.

The time it needs to be posted

. Consider setting up reminders on a Google Calendar.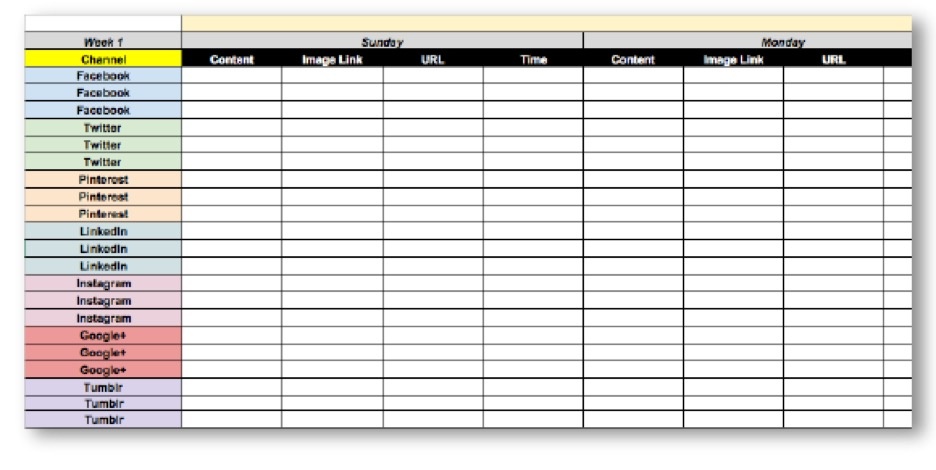 1. Understand Why Your Audience Shares Your Content
Once you understand the psychology of why your audience shares, you can create content in ways that are most likely to connect with them.
This will help you plan awesome content from the get-go, and help you interact—socialize—with your audience using social media.
A report from The New York Times Customer Insight Group found five major reasons why people share content with their networks:
84% share to support a cause.

78% share to stay connected with those they know.

69% share to feel involved in the world.

68% share to define themselves.

49% share for entertainment or to provide valuable content to others.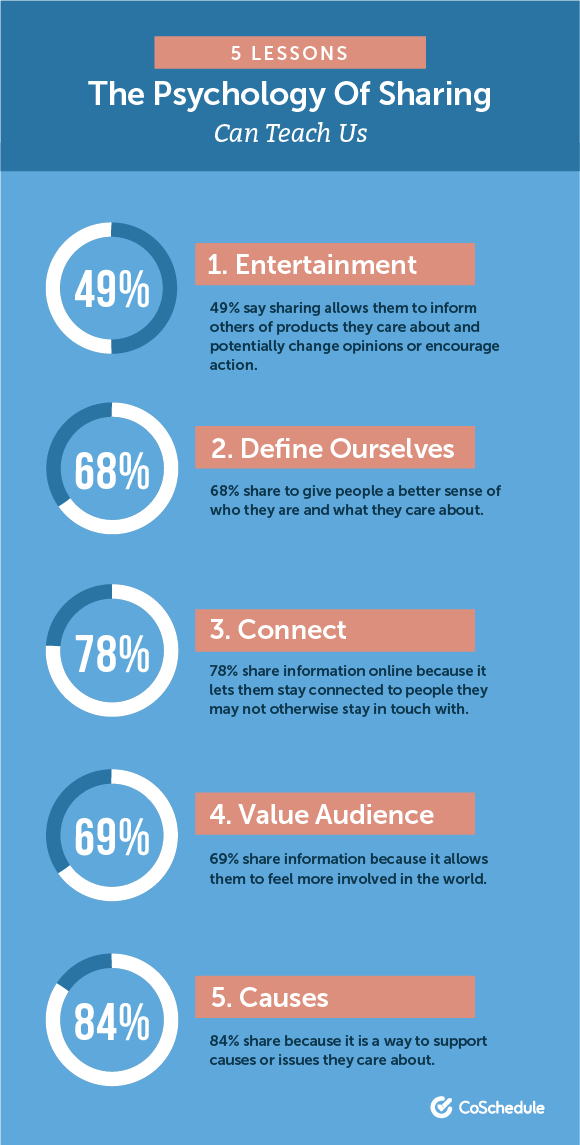 The study also found that 73% of the survey takers shared content to understand the information more thoughtfully.
As you can imagine, there are a lot of lessons to learn from this knowledge. As you plan your social media calendar, keep this in mind.
2. Understand Which Types of Content Users Prefer on Each Network
Generally speaking, it's best to create unique posts for each channel.
That's because people don't use each network for the same purposes.
So, tailor each post to what people expect to see on a given platform.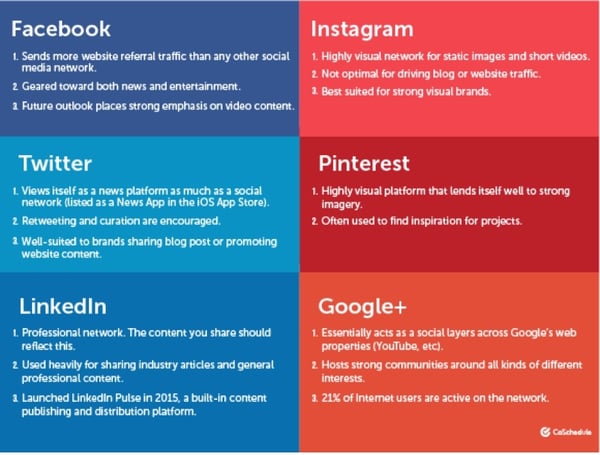 Here's a quick rundown for reference:
Facebook

: Works best for entertainment and news content.

LinkedIn

: Share industry news, company announcements, articles about professional development, and job listings.

Pinterest

: Anything with strong visual design may work well here.

Twitter

: Share industry tips, relevant articles, and a little bit of personality (GIFs are great).

Google+

: Tends to prefer a mix of professional and personal content. Works best for tech-centric businesses.

Instagram

: Share a great image and include a link in your bio.
Keep these thoughts in mind as you're planning social posts.
3. Don't Share The Same Message Too Often.
While you should share your content more than once on your social networks, it gets redundant to use the same wording over and over.
You have to mix up your wording and visuals to keep your audience interested.
Changing out your messages with quotes, key ideas, helpful takeaways, and more may draw in someone who ignored an earlier message.
Remember, while you can share your same content on multiple different social networks, your audience uses those for different purposes.
Try to connect your social messages in the best way that is right for each network.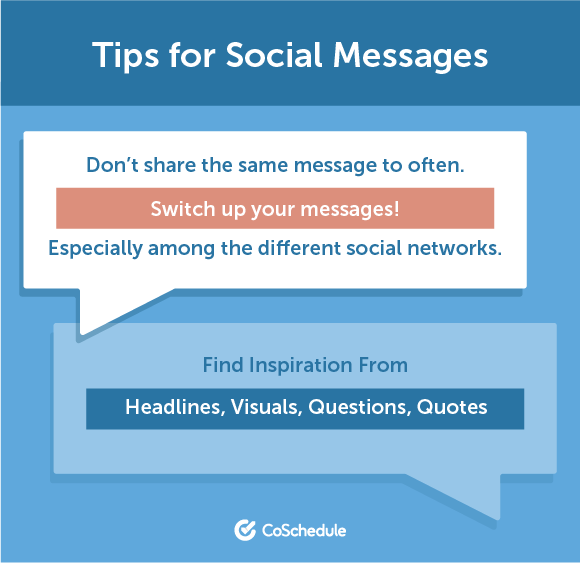 So where can you find inspiration to switch up your social messages?
Use A Few Headline Variations To Diversify Your News Feed
If you're like us, you go through a ton of headlines before you find the one that's just right.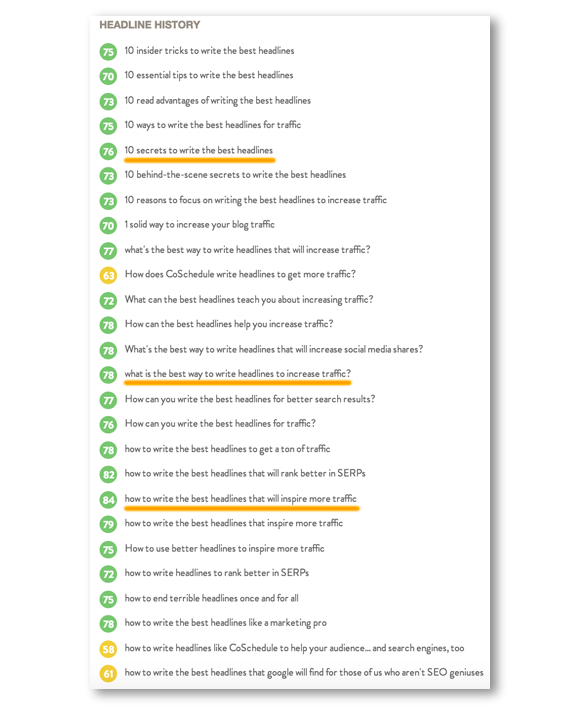 We write at least 25 headlines for every single one of our posts, and we use some the best ones for our social messages.
This is an easy practice to help you get more social shares from the get-go, so why not maximize the work you've already done?
Use A Variety Of Visuals To Stand Out In Your Followers' Busy News Feeds
If your posts are packed with visuals, share those with tidbits of what they're about.
This not only helps your messages stand out from each other, but your audience can learn from each of the multiple lessons in your post.
Ask Questions To Encourage Engagement
Ask your audience questions to see how they'll respond. Think of straightforward and rhetorical.
Some people may even answer your questions. But this will at least catch their eye since people inherently feel the need to know the answers.
Share Quotes To Inspire Your Audience
You can easily find your best quotes from your content and use them directly. Unique perspectives, analogies, and metaphors could help your message stand out.
Share Takeaways To Instantly Help Your Followers
Sharing helpful takeaways from your content is a great way to share enough information to pique your audience's curiosity to click through.
4. Plan An Appropriate Sharing Frequency
Know how many times you should share your content on specific social media channels.

Same time as publish

— Schedule your first social messages for a few of your networks. Optimize your messages for the appropriate channels.

Same day as publish

— Plan a few more messages throughout the day for the right networks (Twitter is a good one).

Day after publish

— Schedule a couple messages.

Week after publish

— Give your content another subtle run with a few messages scattered throughout the next week across your different social media.

30 days after publish

— Schedule a reminder for yourself to check if the post was successful. If it was, set up another share queue.
The opportunity is endless. Just don't spam your fans, followers, and subscribers.
From the example earlier, we would have lost tons of click-throughs if we only shared the post once.
In fact, we had the highest amount of click-throughs with our second tweet of that post!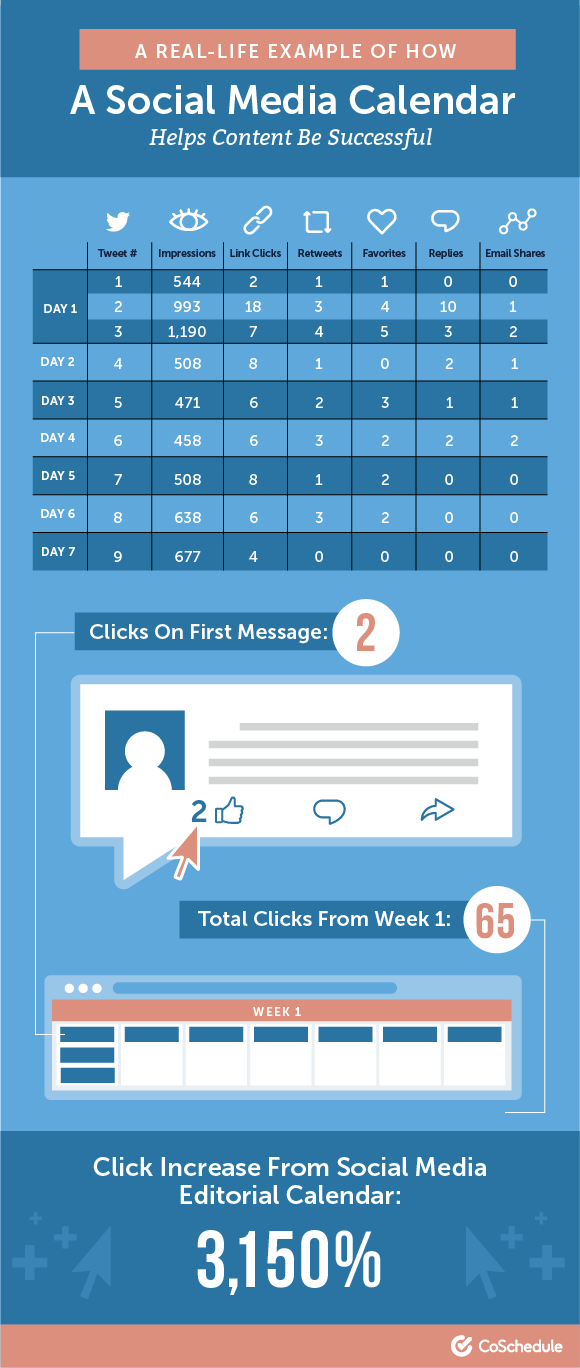 5. Stop Sharing Your Content When The Time Is Right
If you're no longer getting click-throughs on your social media messages, it's time to reassess.
This is as simple as spot-checking the stats for a couple of your messages. For example, check Twitter Analytics to assess your click-throughs.


Afterward, you can redefine your sharing frequency so you don't come off like you're spamming your social media accounts.
You don't have to go into great detail to make these tweaks. Just find a few of the posts you've shared for a single piece of content, and determine when the breaking point is to stop sharing it.
That breaking point is the law of diminishing returns for your blog content: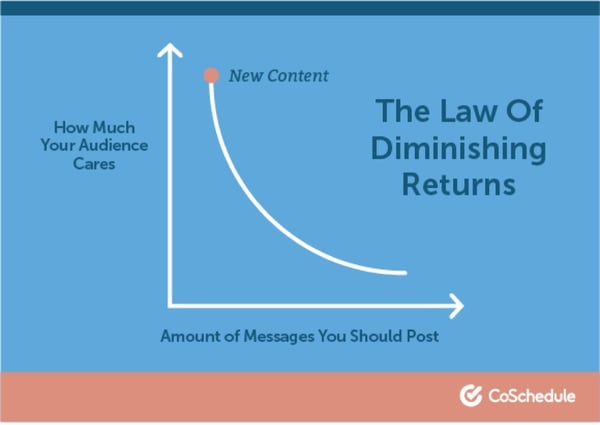 Really, you're just sharing multiple messages for the same piece of content while the size of your audience remains relatively stable.
When that happens, your audience will likely stop caring after a while, and you should provide new content.
Don't let the law of diminishing returns stop you from sharing your content multiple times initially. One-and-done social media shares are how you'll miss out on your own 31.5 times more click-throughs.
6. Combine Curated And Earned Content With Your Own
Spread The Word With Earned Content
If you're guest blogging, help spread the word to get some traction for the company you blogged for.
If you received positive reviews, thank people and spread the news. If you were mentioned positively somehow, thank that person and share their content.
Look out for mentions of your name and contribute to the conversation.
Share How Smart Your Friends Are With Curated Content
Curated content helps you spread the word of other smart people you know—who your audience will really enjoy—and helps you so you don't come off as a pompous, self-indulged, narcissistic self-promoter.
Share awesome content from other people with your audience.
The world is social. It's personal. Share other people's content like you'd want them to share yours, and you'll open the doors to build your relationships.
7. Share Your Best Content Again
Take a look at your best content. It's the best for a reason—share it again because others probably want to read it, too.
8. Plan Your Social Media Messages Ahead Of Time
Now, all of this seems like you'd only do it after you write your content, right?
Nope.
You can—and should—plan your social media calendar ahead of time. Think of all these tips from the beginning and figure out the solution that's best for you:
Understand what your audience truly wants

from you to know from the get-go that the content you're creating has a high likelihood of getting shared.

Get to know which social media your audience uses

, why they use those networks, and how they use them to share content. Get your game plan together on how you'll create the messages that will draw them in.

Mix up your wording and visuals

across all of your social networks.

Understand the appropriate frequency

for each social network and maximize it.

Know when you'll check the frequency

to see when you should stop sharing your content.

Figure out how you'll combine earned and curated

content with your own.

Know how you'll measure each post's success

, and share the best ones again if they're evergreen.
You can do all of these things before you're even done creating a piece of content.
Plan your social media calendar to save a lot of time sharing your posts—you won't have to reinvent the wheel because you'll have a template to follow.
Conclusion
If you've used a social media calendar before, what has worked best for you?
Share your top tips below and help get the conversation started.