How many more clicks could you get using a social media calendar to strategize posts?
If you've never asked yourself that question, you could be losing valuable business.
Don't believe me?
60% of the BEST B2C marketers have a planned content strategy.
So if you aren't using a calendar to plan your content, you're almost certainly missing out on being the BEST in your industry.
This actionable guide will show you how to create a social media calendar that drives engagement and builds followings.
Let's get started!
NOTE: Be sure to read to the end to get access to an app with a built in Social Media Calendar Template.
(Want to go straight to the app? Try Post Planner for FREE today!)
Social Media Calendar Template: Beginner's Guide + Content
A good social media calendar keeps you in front of your audience.
Why's that important?
The more your followers see from you, the more they'll be thinking about your brand.
Keep reading to get answers to these questions:
Creating a social media calendar template is CRUCIAL to running a successful strategy.
But you've got to have a good understanding of the basics first!
Here are 8 fundamental social media calendar tips to know as you plan out your content.
1. Understand why your audience shares your content
Your social media plan works best when you have FANTASTIC content on your website.
Understanding the WHY behind what your audience chooses to share will help you create content they connect with most.
Then you can double down on what WORKS.
In other words, it's a positive feedback loop that works like this:
You create content you think your audience will like on your website.

You share that content on your social media.

Analyze what content gets the most engagement.

Create more content like it on your website.

Repeat!
Unless you're a social media influencer, your goal isn't just to get more likes.
It's to drive traffic to your WEBSITE (where your products and services are accessible)!
The reason you use social media for marketing your brand is to better connect with your target market.
When you post content your target market loves, something AMAZING happens!
They start marketing FOR you!
A New York Times Customer Insight Group report found 5 significant reasons why people share content with their networks:
84% share to support a cause.

78% share to stay connected with those they know.

69% share to feel involved in the world.

68% share to define themselves.

49% share for entertainment or to provide valuable content to others.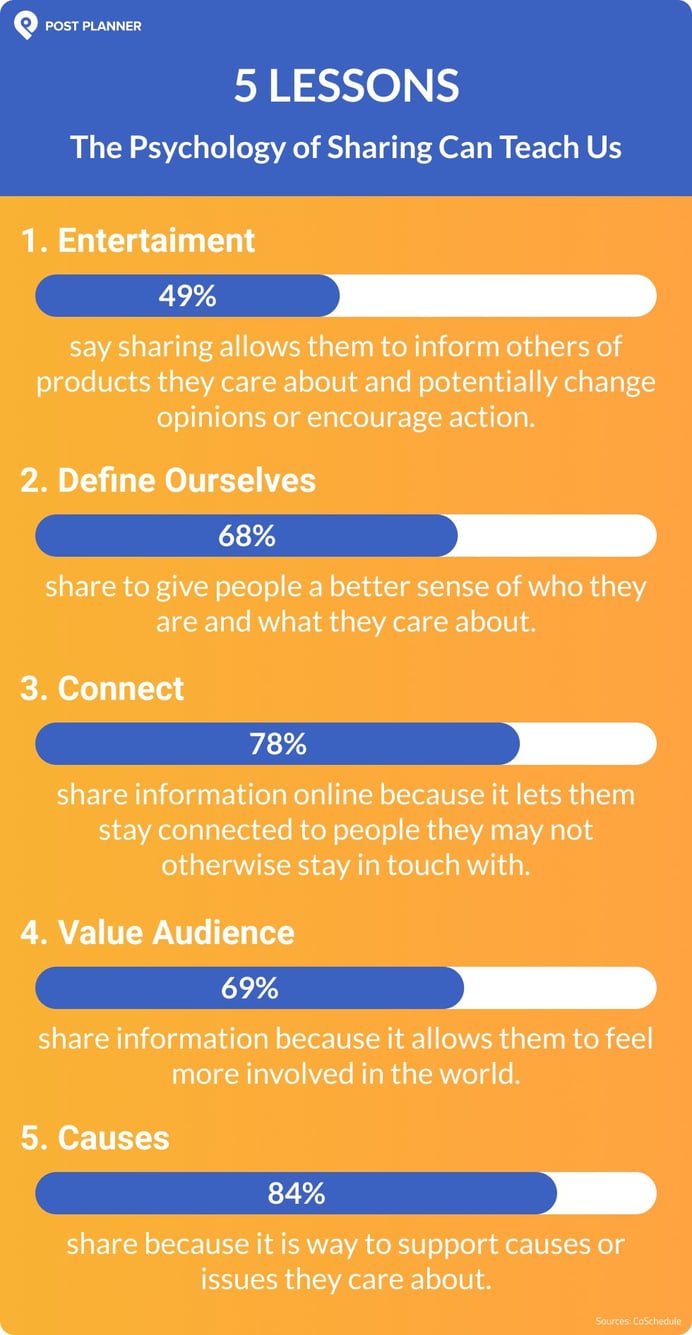 Funny and entertaining posts get a lot of likes.
But entertaining posts are the LEAST likely to be shared.
2. Understand which types of content users prefer on each platform
Are you posting on more than one social media platform?
Get the most out of each account by creating unique posts for each channel.
Yes, that takes more work.
But it's worth it.
Why?
Every social media platform is DIFFERENT.
They vary in several important ways:
Age and gender of users

Primary use of the platform (photos, articles, news, etc.)

Type of content expected (funny, informational, entertainment, etc.)
For example, people on Facebook are statistically older than Instagram users.
The age difference can drastically impact the content you share on the platform.
Customizing posts by platform improves your relatability to niche audiences.
Here's a quick rundown of how people use the most popular social media platforms:
Facebook: Works best for entertainment and news content.
LinkedIn: Share industry news, company announcements, articles about professional development, and job listings. LinkedIn is a professional network, so content here should generally be related directly to your industry.
Pinterest: Anything with a solid visual design works well on Pinterest.
Twitter: Share industry tips, relevant articles, and a little personality (GIFs are great).
Instagram: Share high-quality product pictures, video updates, and other visual content.
As you're planning social posts, keep these differences in mind to maximize the engagement you get out of each post.
Every time you publish a promotional social media post, follow this ONE rule to direct traffic:
INCLUDE A LINK to the content you're promoting.
On Facebook, LinkedIn, and Twitter, you can post the link in the caption or comments.
On Instagram, post the link in your bio (use your caption to direct people to your bio).
3. Don't share the same message too often
Sharing your content more than once on your social networks is a SMART tactic (which we'll talk about more later)!
BUT you should mix up your presentation to keep your audience interested.
Changing your approach may attract someone who ignored a similar message.
You can emphasize different aspects by varying the presentation of these elements:
Key ideas

Helpful takeaways
Here are a few ways to shake up your social media posts that might help you get more clicks:
Use a few headline variations to diversify your newsfeed
If you're like us, you write a ton of headlines before you settle on one that's just right.
We write at least 25 headlines for every single one of our posts.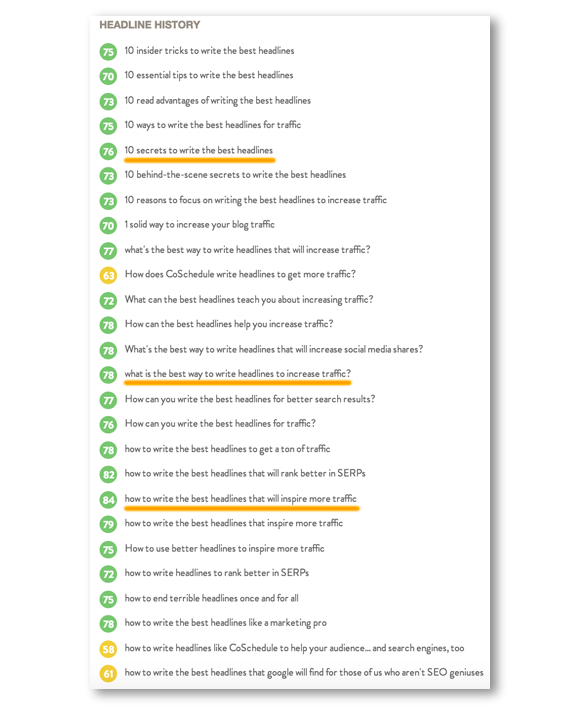 Then we use some of the best ones for our social messages.
Using multiple headlines lets you share the same content across social media channels (in a way that targets that platform's primary audience).
For example, I could use a headline I think would appeal to a younger audience on IG.
Facebook is a better platform for a headline written to an older audience.
I get to post the same blog to all my social media channels without sounding redundant!
Use a variety of visuals to stand out in your followers' news feeds
Including visual content in your blog posts makes them more exciting and enjoyable.
In other words, you should DEFINITELY be including visual content in your blogs!
Then, you can use those same visuals on social media to promote your articles.
Sharing visual content from your blog posts is an easy way to create engaging promotional content on social media.
Here's how:
Share the visual from your blog post (photo, GIF, video, etc.) on social media.

Write a short text that will interest viewers in learning more about the visual content.

Prompt readers to click a link to learn more.
As you repeat this process with more articles, vary the type of visual content that you highlight.
You can even do this multiple times with the same blog post.
This helps your messages stand out, AND it allows you to reuse content over time.
Ask questions to encourage engagement
Try asking your audience questions to see how they'll respond.
Straightforward or rhetorical questions are two great ways to get your audience interested in clicking through to your website.
Here are examples of intriguing questions:
"Have you ever wondered how to increase your website traffic?"

"Why do so many businesses use SEO on their websites?"

"Is your social media strategy as great as it could be?"

"Are you missing one of these essential marketing tools?"
Some people may answer your questions, but most won't.
That doesn't mean they don't WANT to know the answers to your questions.
The more enticing you make your questions, the more likely you are to get clicks.
Share quotes to inspire your audience
Try these 2 types of quotes to encourage your audience to engage with your posts:
Quotes from your website or blog content

Relevant quotes from other sources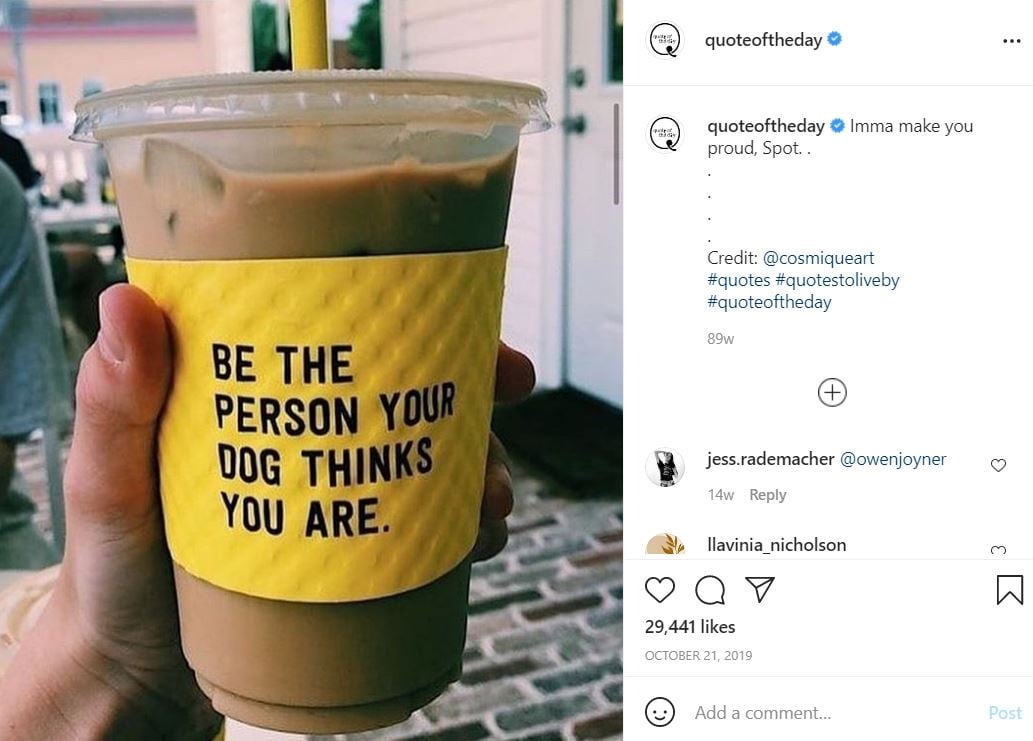 We encourage mixing both types of quotes into your social media calendar.
When choosing original quotes, select the best parts of your content, such as:
Unique perspectives

Analogies

Metaphors

Statistics
The best sentences and most helpful information make the most valuable quotes.

For curated quotes, you can use a tool like Post Planner's content streams.
This tool makes it EASY (and fast) for you to find quotes relevant to your brand.
Share the quote you find with a brief caption connecting it to your niche.
Share takeaways to instantly help your followers
Sharing educational resources on social media adds variety and utility to your feed.
Look through your content for the most critical points.
Ask yourself what would be helpful to your audience, EVEN if they just skim the content.
The best takeaways encourage your followers to explore your site for more.
4. Plan an appropriate sharing frequency
Did you know that you should be posting on Twitter more often than on Facebook?
How often you share your content on each platform is VITAL to successfully implementing your social media calendar.
There are no set rules about how often you should post.
However, aim to post on each social media channel AT LEAST 3 times per week.
Don't exceed 5 posts per week on Facebook, LinkedIn, and Instagram.
However, Twitter and Pinterest are slightly different.
You can post up to 3 times PER DAY on those platforms without bothering your followers.
So how can you figure out what works best for you?
Experiment on each platform!
Follow these steps and monitor engagement to figure out how often to post:
Start with 3 posts per week.

Add an additional post.

Check your engagement metrics.

If they go up, repeat steps 2 and 3 until they plateau or go down.

If they go down, reduce posting frequency until they go back up.
Over time, you'll figure out exactly how often you should be sharing on each platform.
5. Determine when to stop sharing a particular post
Have some of your social media posts stopped getting click-throughs?
It may be time to stop promoting that type of content (for now).
This is as simple as spot-checking the stats for your posts.
For example, you can check Twitter Analytics to assess your click-throughs.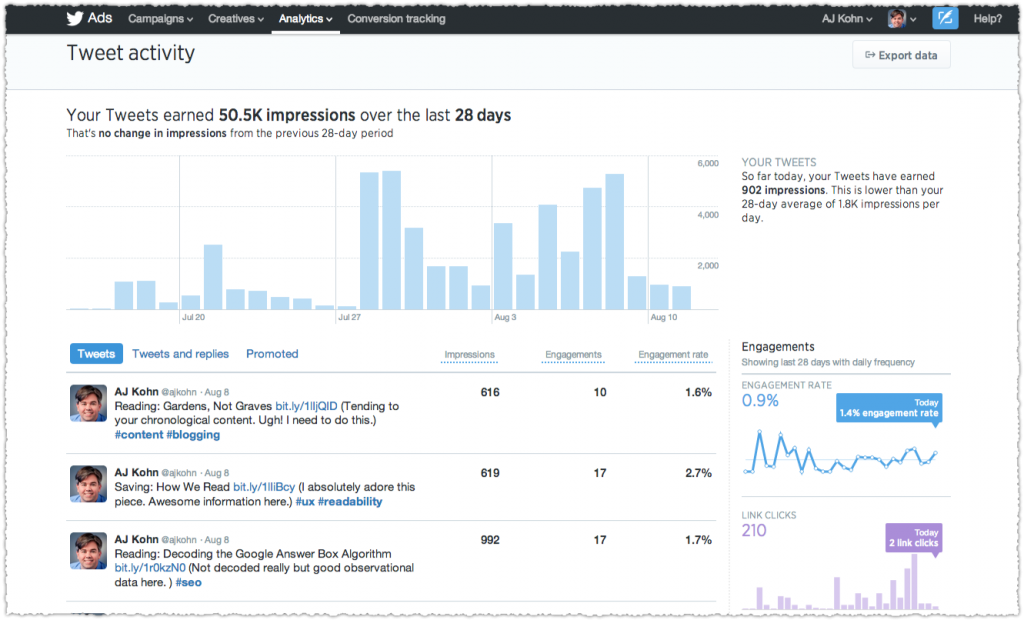 Is engagement going down on posts promoting certain content on your website?
Then start pushing something else!
You don't have to go into great detail to make these tweaks.
Just find a few of the posts you've shared for a single piece of content.
Then determine when the breaking point is to stop sharing it.
The breaking… what?
The breaking point — the law of diminishing returns for your blog content: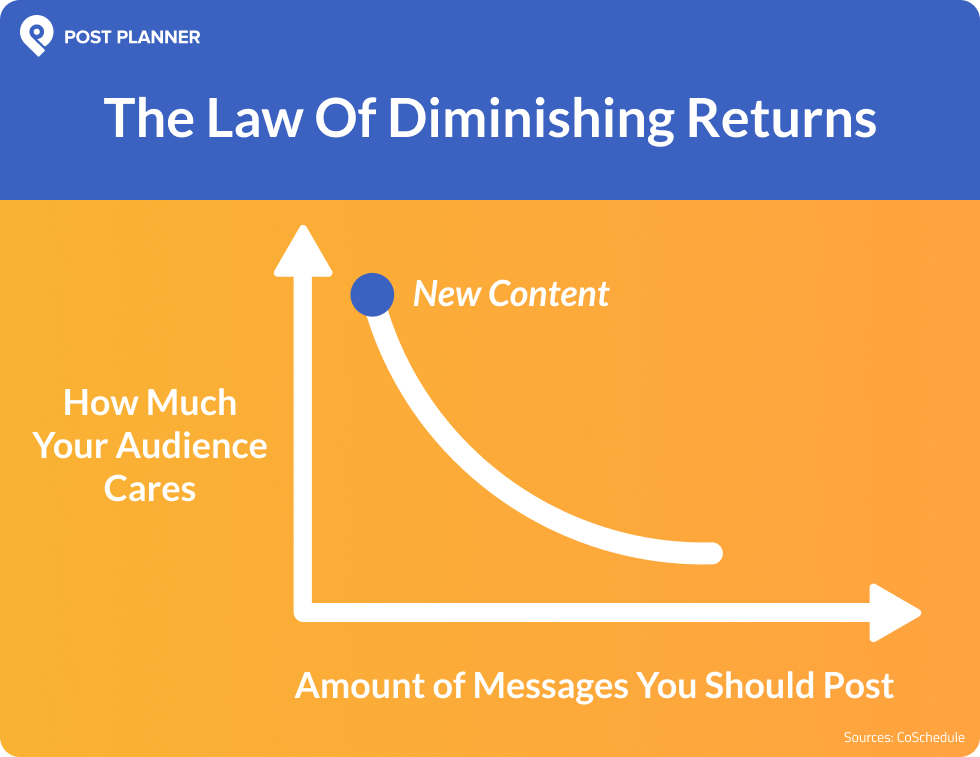 It's normal for your engagement to rise and fall over time.
So don't let the law of diminishing returns stop you from recycling content.
You just don't want to spam your audience with content they've seen 100 times before.
A consistent downward engagement trend signals that it's time to let that content go.
6. Share curated, earned, and original content
Seem counterintuitive to share OTHER people's content on your social media page?
In fact, sharing earned and curated content can SKYROCKET engagement!
Spread the word with earned content
Earned content is anything about your brand that you didn't purchase or create.
In other words, earned content is when someone ELSE talks about you!
If you received positive reviews, thank people and spread the news.
Posting positive reviews lets your audience know that people love working with you!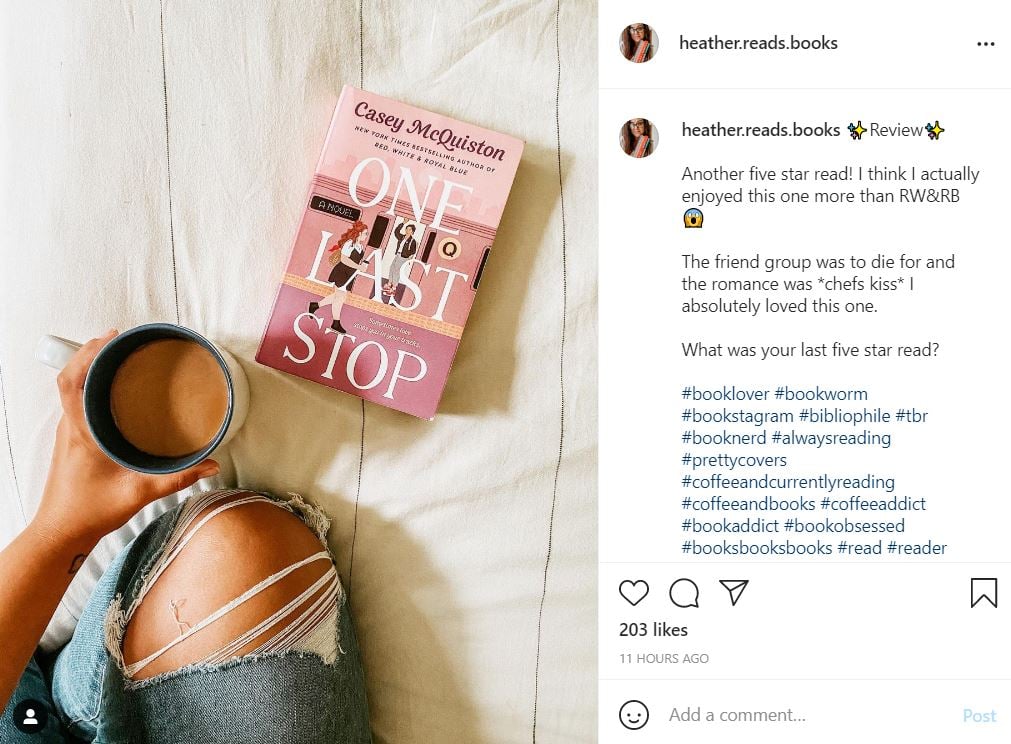 If you were mentioned positively somehow, thank that person (and share their content).
Look out for mentions of your business name and contribute to the conversations.
If you can maintain a positive presence on social, you'll become a follower-MAGNET!
Share how smart your friends are with curated content
Curated content is fantastic for 4 reasons:
It helps other people out.

It shows off your connections to other businesses and influencers.

It's way faster than creating your own content.

It increases the chances that others will also share your content.
Share excellent content from other people with your audience.
The world is social.
It's personal.
Share other people's content like you'd want them to share yours.
That's how you open doors to build new relationships.
BUT looking for curated content can be a time-suck.
We'll tell you the fastest way to find the most relevant curated content for your followers at the end of this article.
7. Share your best content again
Do you have any posts that knocked it out of the park?
If it's been a few months since you posted that content, consider sharing it again!
If your follower base has grown, your new followers will benefit from seeing it.
Even your old followers will probably enjoy the chance to review the helpful material.
If you're using Post Planner, it's effortless to recycle content.
Just toggle the recycle button on your most popular content.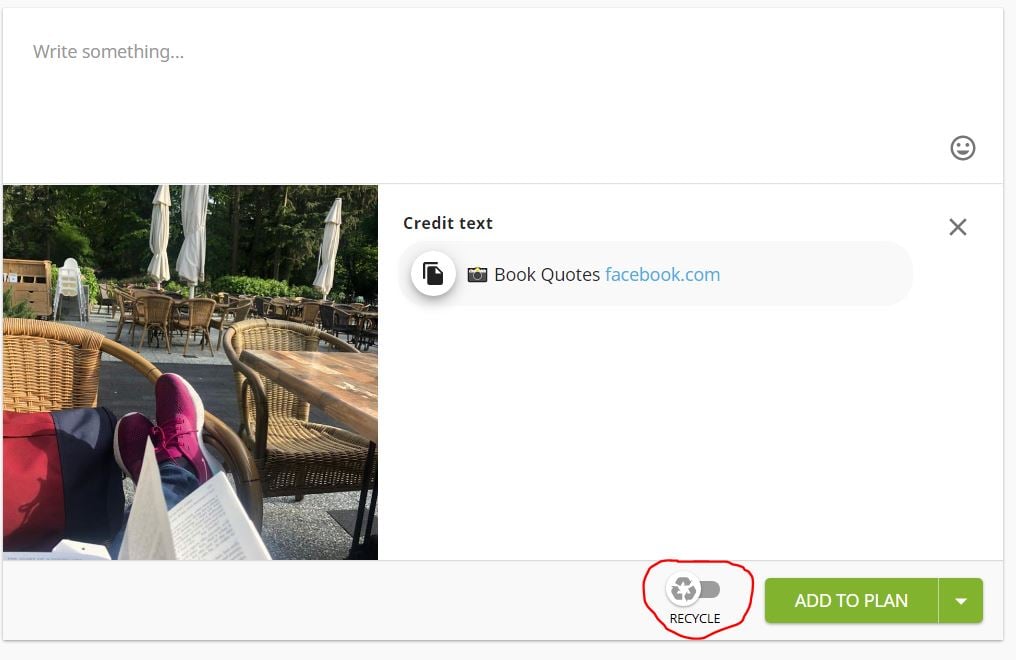 8. Plan Your Social Media Messages Ahead Of Time
You need to do this every day you post content on your social accounts, right?
Nope!
You can — and should — plan your social media calendar AHEAD of time.
Don't wait until the DAY OF to consider these tips:
Understand what your audience truly wants. If you understand your audience, your content will be more appealing, and it'll get more clicks on social media.

Get to know which social media your audience uses, why they use those networks, and how they share content. Get your game plan together on how you'll create the messages that'll draw them in on those platforms.

Mix up your wording and visuals across all of your social networks. Repetitiveness kills clicks, so make sure you go through our suggestions for keeping your presentation fresh.

Experiment with different posting frequencies on each platform. Post frequently enough to maximize engagement, but not so often that you spam your followers.

Keep an eye on engagement to know when it's time to retire a piece of content.

Figure out how you'll combine earned and curated content with your own.

Know how you'll measure each post's success, and share the best ones again (if they're evergreen).
You can do all of these things BEFORE you're even done creating a piece of content!
Apply these tips into a social media calendar, and get more clicks than ever before!
How to make the world's best social media calendar template with Post Planner
So now that you know WHAT to put on your calendar, we need to talk about HOW to make a social media calendar that can quadruple your traffic.
By now, you probably realize that creating a good social media calendar is a TON of work.
You have to:
Come up with ideas about what to post.

Decide when to post it.

Log on at the right time to post content to each social media platform.
That doesn't even include the time it takes to find content, media, and all of the other things that go into your social media plan.
Back in the dark ages, we used spreadsheets to keep track of what to post and when.
But those days are long gone.
Using a social media calendar tool is the FASTEST way to create the best social media calendar possible.
Let's look at how Post Planner cuts down on time spent on social media planning (while improving the quality of your social media presence).
Choose posting times for each social media account
Remember how different platforms require different posting frequencies?
Post Planner allows you to select the days and times you want to post on each channel.
All you have to do is:
Create a plan and give it a name like "Instagram Plan."

Assign different social media accounts to the plan.

S

elect the days and times to add to that plan.

Select what types of media are eligible to post on each day and time.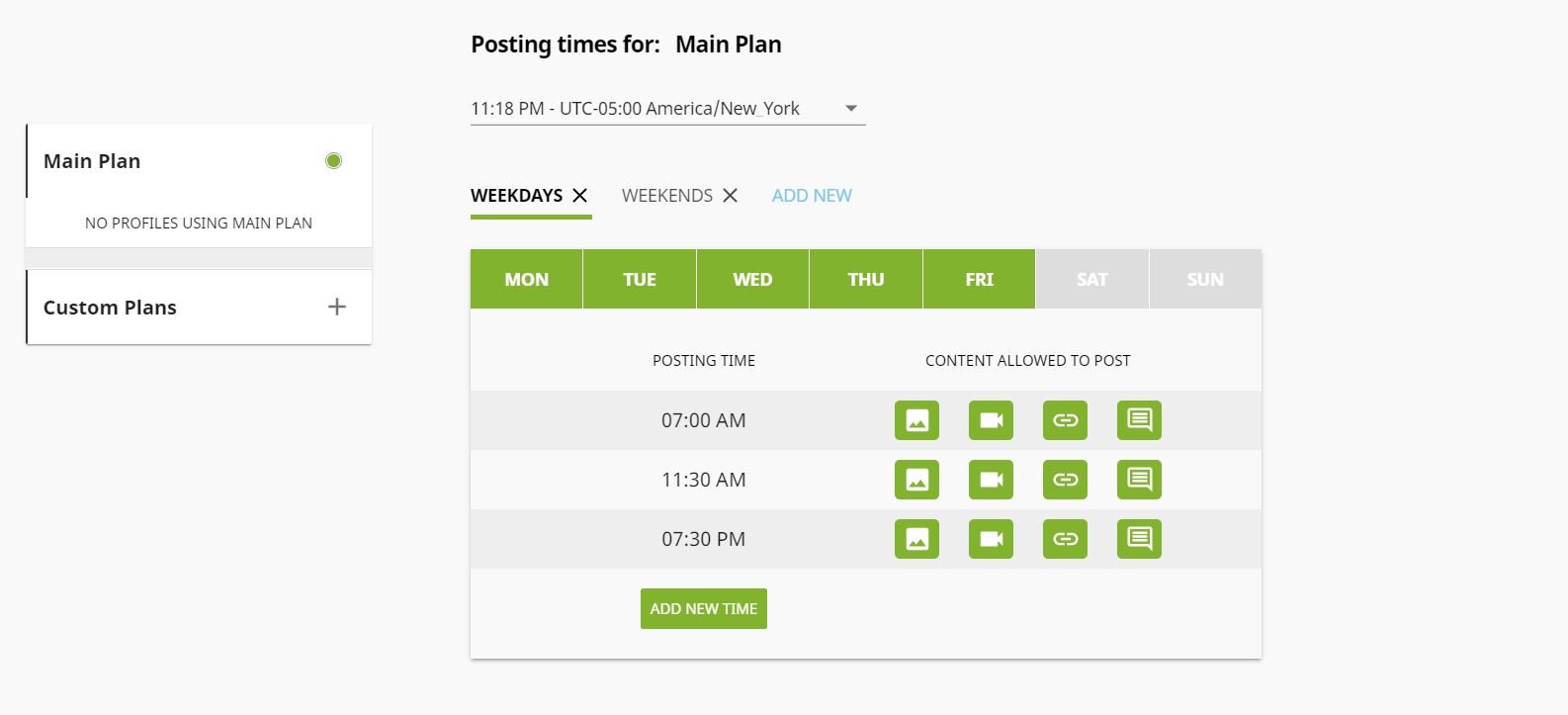 That's it!
You can create as many plans as you need.
For example, you might want to put your Facebook and LinkedIn on the same schedule and then put your Instagram and Twitter on a second schedule.
Or you could put all 4 on different schedules.
Post Planner AUTOMATICALLY fills in those schedules with the content you assign to that social media plan!
It's completely customizable and beats manually filling in an Excel spreadsheet.
Find or create content
Once you've chosen posting times for each of your social media accounts, you can start filling up each slot with curated content, pictures, videos, and GIFs.
There are 2 ways to do this:
Use Post Planner's content streams to find things to post.

Create your own post in the scheduler.
The first option is great for filling your social media feeds with high-quality, curated content from around the web.
All you have to do is create a content stream in Post Planner about a specific theme or topic.
Then browse for the perfect post to add to your social media calendar.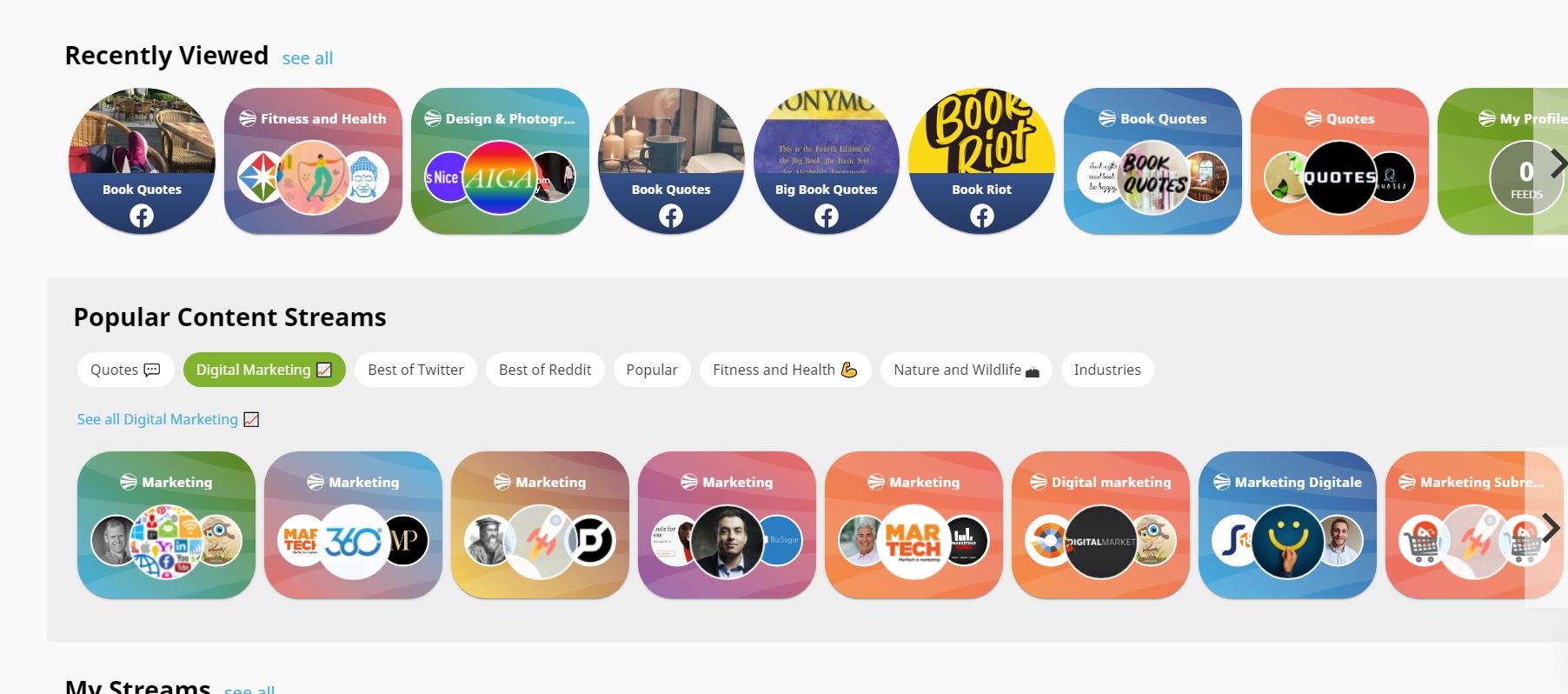 When you choose something to schedule, you can also add your own comment to it.
The second option is perfect for when you are promoting original content and want to drive traffic to your website.
All you have to do is:
Click "Create Post."

Write your caption (don't forget to include a link to your website's content).

Click "Add to Plan."

Post Planner will autoMAGICALLY add that post to the social media calendar for the accounts you selected.
Fill in your social media calendar
Your calendar will fill up in the order that you add posts to your plan.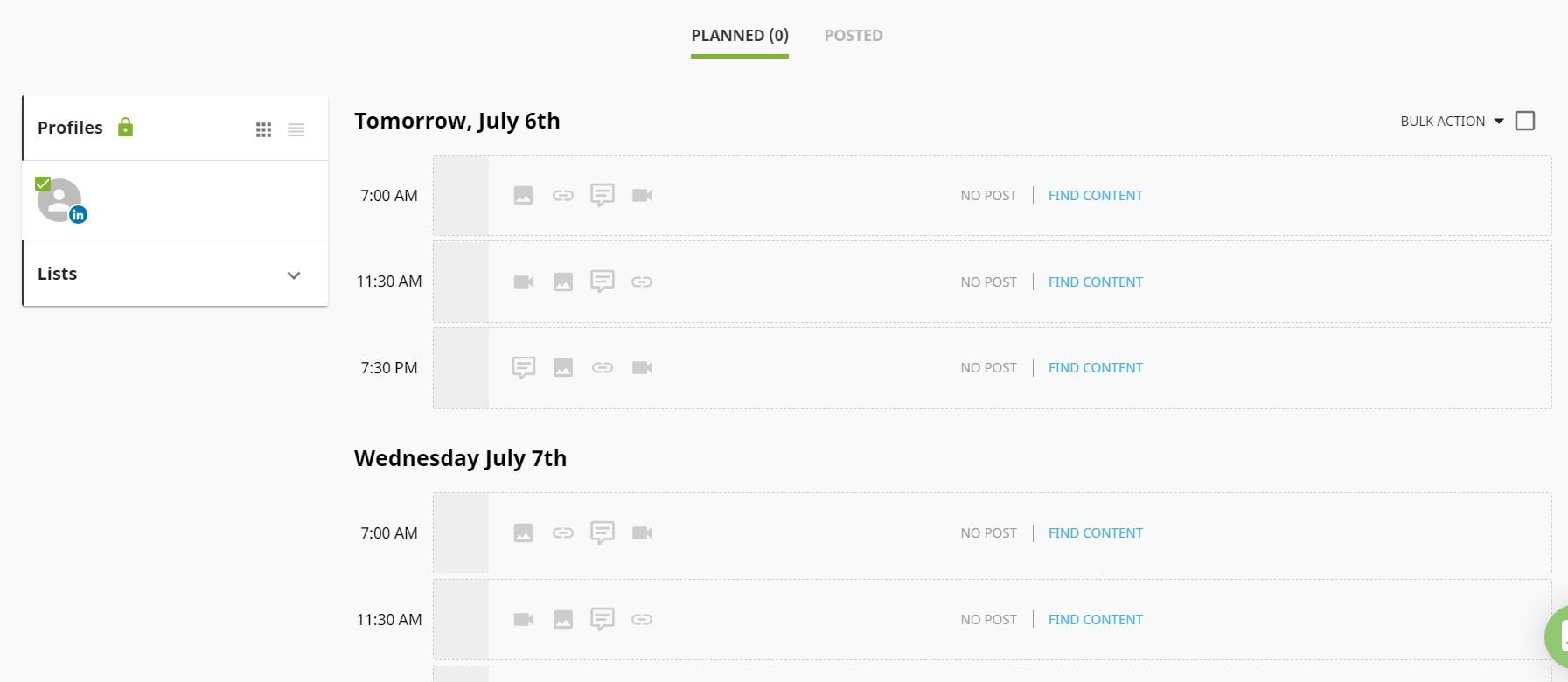 From this calendar page, you can add more content, recycle popular posts, shuffle things around, or cancel posts.
Post Planner links directly to your social media accounts, so your posts will automatically publish at the scheduled time.
You won't even have to log in directly to your social media accounts!
Creating this type of calendar is a huge time saver.
Even more importantly, it keeps you consistent.
Consistency on social media is key to staying in front of your audience at all times.
And that's how you quadruple your website traffic with a social media calendar.
Final thoughts on using a social media calendar template
These social media calendar tips WILL boost engagement and web traffic.
A calendar is the fastest, most organized way to get that done.
The reason why is simple. Calendars keep your content in front of your followers.
If you've used a social media calendar before, how's it worked for you?
What have you done to maximize its effectiveness?
Leave your thoughts below!